CMAQ: Advancing Mobility and Air Quality
Intermodal Freight Transfer Facility-Auburn, Maine
Type of Project
Intermodal
Project Cost
CMAQ Cost: $3 million
Total Project Cost: $5 million
Context and Background
Intermodal service involves moving containers between rail and truck, or other modal combinations, and is a fast growing part of the railroad business because it enables railroads to deliver goods miles from their rail lines. Intermodal services can increase efficient transportation services and energy efficiency because a train loaded with containers can carry the same load as dozens of trucks. This, in turn, can contribute to reduced truck traffic on congested highways, reduced damage to highways from heavy trucks, and improved air quality.
To provide infrastructure for its railroad lines to grow, the State of Maine partnered with local rail lines to build a truck-to-rail intermodal facility in Auburn, located about 40 miles north of and inland from Portland, Maine. Auburn is well situated as an intermodal hub because of its proximity to rail lines, an airport, the Maine Turnpike, and the State highway network; both the railroads and local authorities saw an opportunity for growth. Auburn is bisected by the St. Lawrence & Atlantic Railroad, which runs 260 miles between Portland and St. Rosalie, Québec. The St. Lawrence & Atlantic connects with Canadian National Railway at Richmond, Québec, which gives Maine access to deep-water ports at Halifax in the east and Vancouver in the west. Shippers on the West Coast with products from Asia have the option of using two rail lines that cross the United States, but the journey across Canada bypasses congestion in Chicago and can be less expensive for shippers. The Auburn terminal is less than 3 miles from the Maine Turnpike and 140 miles from Boston.
The Project
The St. Lawrence & Atlantic Railroad partnered with the Auburn/Lewiston Metropolitan Area, the State of Maine, and FHWA, to build the Maine Intermodal Terminal in Auburn. The 35-acre terminal opened in 1994, and consists of a double-track, gravel-yard facility for transfer of containers between truck and rail. The project improved track and added parking and container storage, a weighing and freight-control operations center, and a lift provided by the railroad. A mechanized packer now lifts cargo containers between flatbed rail cars and truck frames for a range of products.
Among the goods are: containers filled with clothing from Asia headed toward L.L. Bean in Freeport, wine from California's Napa Valley headed for state liquor stores in New Hampshire, and a range of consumer goods headed to major New England markets. Trucks arriving with westbound cargo deliver: rolls of Maine paper for a printing press in the Midwest, Maine-made fiberboard for construction in California, and Poland Spring bottled water headed for the West Coast. Results and Status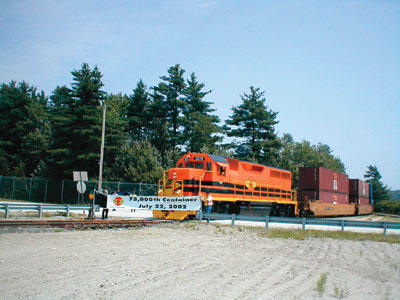 Auburn's Intermodal Freight Transfer Facility celebrates
its 75,000th container.
Results and Status
Only a decade ago, there was no intermodal traffic in Auburn. In its first year in operation, the Maine Intermodal Terminal handled about 6,000 containers. It was estimated that in order to break even the facility needed to move between 10,000 and 12,000 containers a year. In 2001, it handled a volume of 15,000 containers. It is the largest of three intermodal cargo facilities in the State, and since opening in 1994, has moved more than 75,000 shipping containers.20 Results from the first phase of the project were so successful that in 2001, increased storage was added at the facility, using $0.5 million in CMAQ funds.
The intermodal facility has made Auburn a central point for transportation exchanges in the Northeast. Its location near Canada allows freight to move by rail straight from Vancouver, British Columbia, into Auburn for local and regional distribution. Given an increase in the amount of international containers, the facility is trying to bring an on-site customs agent to the facility, or expand the agency's Portland district to include Auburn and assign a visiting inspector. Currently, when Customs Service inspections are needed, the containers need to be taken by truck to Portland.
Freight originating in the Midwest now can be moved by rail, thus reducing the flow of long-haul truck carriers into the area. This reduction of long-haul truck traffic has generated air quality improvements and enhanced the viability of local trucking services. The local economy has improved through an increase in the number of regional distributing companies, and additional warehousing space. Additionally, goods producers needing raw and bulk goods have moved to the area, further bolstering the local economy.
Estimated Emissions Benefits
7 kg/day VOC, 77 kg/day NOx (First Phase)
Contact
Alan Bartlett
Maine Department of Transportation
207-624-3560
20 "Where the Rail Meets the Road." Portland Press Herald. July 21, 2002, page 1F.