Chapter 1. Literature Review
This chapter reviews available literature to document the state-of-the-art and state-of-the-practice implementation efforts in Asset Management and data collection. The chapter covers general background on Asset Management, decision levels supported, required information, data collection, management and storage methods, and domestic and international implementation efforts.
Asset Management
The concept of infrastructure management, particularly of transportation infrastructure management, is not new to the United States or to the rest of the world. In the second half of the 20th century, these efforts and approaches focused on managing individual transportation infrastructure asset types. Pavement, bridge, tunnel, traffic equipment, congestion, public transportation, and various other types of management systems have emerged during the last decades. Ongoing research in these areas is producing important findings and is continually progressing. Pavement management systems are the oldest and most abundant of these engineering management systems because pavements constitute almost 60 percent of the total infrastructure assets managed by transportation agencies (Haas et al. 1994).
During the last decade of the 20th century, there was a slow but consistent movement toward a more holistic approach to the management of these assets. Transportation agencies in the United States and around the world began to acknowledge the merits of a more comprehensive methodology for managing their infrastructure. This holistic way of dealing with the management of transportation assets, coupled with more business-like objectives, has led to what is today commonly known as Asset Management.
The FHWA defines Asset Management as follows:
Asset Management is a systematic approach of maintaining, upgrading, and operating physical assets cost effectively. It combines engineering principles with sound business practices and economic theory, and it provides tools to facilitate a more organized, logical approach to decisionmaking. Thus, asset management provides a framework for handling both short- and long-range planning. (FHWA 1999)
However, there have been many other definitions that consider different aspects of the business strategies pertaining to Asset Management and also widen its scope beyond solely physical assets (McNeil 2000), such as the following:
Asset Management is a comprehensive business strategy employing people, information and technology to effectively and efficiently allocate available funds amongst valued and competing asset needs. (TAC 1999)

Asset Management is a methodology to efficiently and equitably allocate resources amongst valid and competing goals and objectives. (Danylo and Lemer 1998)
Finally, the Organization of Economic Cooperation and Development (OECD) emphasizes the service to the public, which is the end customer of the road agencies and administrations:
[Asset Management is] a systematic process of maintaining, upgrading and operating assets, combining engineering principles with sound business practice and economic rationale, and providing tools to facilitate a more organized and flexible approach to making the decisions necessary to achieve the public's expectations. (OECD 2000)
The genesis of the movement toward Asset Management in the United States has been an understanding of the need for it. Highway agencies in the United States have moved their primary focus many times during the last 50 years. There was a shift from expansion to preservation from the 1960s to the mid1980s, then the focus changed to reinventing government from the mid1980s to the beginning of the new century. From that point of time until now, the focus has been on employing sound business practices. This new focus has many implications, including embracing quality, emphasizing the need to address strategic rather than tactical issues, integrating economics and engineering, and taking advantage of the progress made in information technology (AASHTO 1999).
The reasons for this new approach to infrastructure management are many and include limited funds leading to scarce budgets, technological advancements, lack of expert personnel, and public demand for better quality of service and accountability from the people in charge (AASHTO 1999). Taking into account that the estimated value of U.S. transportation infrastructure sums up to more than $1 trillion (estimated by the FHWA in 1999), the need to effectively and efficiently manage this infrastructure with the best and most cost-effective approach has become paramount.
Meanwhile, Asset Management has already been widely accepted by the private sector worldwide and has been practiced since the mid-1990s by transportation agencies in the United Kingdom, Australia, and New Zealand (Stalebrink and Gifford 2002). Hence, transportation agencies in North America had one more reason to investigate whether this was an approach that they wanted to endorse and apply (McNeil 2000).
GASB 34
Another milestone in the development of Asset Management has been the Statement No. 34, "Basic Financial Statements-and Management's Discussion and Analysis-for State and Local Governments" (GASB 34), issued by the Governmental Accounting Standards Board (GASB 1999). This statement established a new financial reporting model for both State and local governments and has been regarded by many as the biggest change in history to public sector accounting (Wilson 2004).
GASB 34 intends to make financial reports more useful to legislators, investors, and creditors and "establishes methods for governments to be more accountable to bond market analysts and underwriters, citizens, and other financial users" (GASB 1999). Furthermore, "the potential impact of GASB 34 extends beyond financial reporting statements and may influence the manner in which infrastructure is thought of by citizens, legislators, and others interested in public finance and infrastructure performance" (FHWA 2000).
GASB 34 requires government financial managers to provide a section on Management's Discussion and Analysis on their financial reports. This section consists of a nontechnical narrative that summarizes the financial performance of the agency and compares it with the previous year's performance (Kadlec and McNeil 2001).
Furthermore, public transportation agencies have to record in their books all their capital and infrastructure assets and all corresponding investments and account for their value by reporting it on a regular annual basis. Because most of the infrastructure assets deteriorate with time due to usage, environmental effects, and aging, agencies can choose to report their value either by depreciating it or by using a modified approach. In the first case the asset value is reported as a historical cost minus depreciation, usually determined by using a straight line depreciation method. In the modified approach:
Infrastructure assets are not required to be depreciated if 1) the government manages those assets using an asset management system that has certain characteristics and 2) the government can document that the assets are being preserved approximately at (or above) a condition level established and disclosed by the government. Qualifying governments will make disclosures about infrastructure assets in required supplementary information (RSI), including the physical condition of the assets and the amounts spent to maintain and preserve them over time. (GASB 1999)
The described Asset Management systems must comply with certain specifications in order to be acceptable by the GASB 34 standards. The systems must have a regularly updated inventory, clearly established condition assessment criteria, and accurate reporting capabilities of the annual expenses dedicated to the infrastructure preservation (Kadlec and McNeil 2001; FHWA 2000).
Although GASB 34 was introduced separately and for different reasons than Asset Management, the two have evolved to be complementary and beneficial for both the accounting and engineering departments of transportation agencies (Wilson 2004). In reality, there is still some impeding hesitation from the accounting profession in choosing the modified over the straight line depreciation approach (Koechling 2004), and there are several other implementation hurdles to overcome (Nemmers 2004). However, transportation agencies that choose to apply Asset Management principles and tools are one step closer to managing their infrastructure more efficiently, complying with the financial reporting mandates of Statement No. 34, and producing other benefits for the agency managers and employees and for the general public (Kraus 2004).
Asset Management Characteristics
Asset Management is a generic framework of tools and methodologies aimed at enhancing infrastructure management by emphasizing good business practices and asserting the holistic approach. It incorporates elements of various diverse disciplines such as accounting, value engineering, life-cycle cost analysis, economics, risk management, and user satisfaction (Danylo 1998). It also differs from the traditional management practices in the following ways:
Applies strategic, rather than tactical, measures, goals, and policies.
Addresses decisions in a network, system-wide fashion rather than at a project level.
Integrates existing individual infrastructure systems and databases in a common interoperable environment.
Introduces and incorporates financial and economic performance measures, ideas, and theories and treats the infrastructure management process as a business, which requires efficiency and effectiveness.
Models internal processes after the private sector.
Establishes efficient documentation and communication of the decisionmaking process, which yields two significant benefits: (1) making management decisions transparent to all kinds of shareholders and (2) rendering decisionmakers accountable for their choices.
As presented by FHWA (1999) and illustrated in figure 1, an Asset Management system has the following major elements, which are constrained by available budgets and resource allocations: establishment of goals and policies, data collection and development of asset inventory, establishment of performance measures leading to condition assessment and performance modeling, development of management systems to evaluate alternatives and control optimization, decisionmaking regarding short- and long-term project selection, implementation of designed programs and evaluation processes, and use of evaluation results for overall process feedback, redevelopment, or refinement.
Figure 1. Generic Asset Management system components (after FHWA 1999).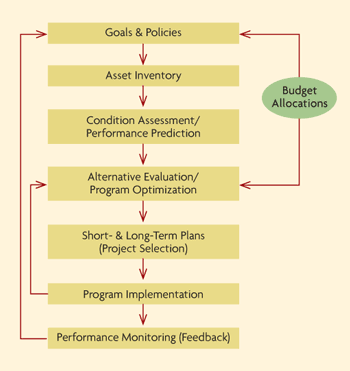 Many transportation agencies, educational and academic institutions, and governmental and industrial organizations have rigorously investigated the theoretical concepts behind Asset Management. Research is still ongoing, and the worldwide literature on the subject is annually enlarging. Few results, however, have been reported so far from the implementation of Asset Management in practice. Although several States and countries around the world have welcomed and incorporated the new concepts in their state-of-the-art, the corresponding state-of-the-practice has yet to catch up, and actual implementation has proven more difficult than initially anticipated.
Many of the reasons for lag between the theory and practice have been acknowledged and documented in previous studies (AASHTO 1996). The most commonly mentioned hurdles to overcome include no unique way to establish an Asset Management system and the large number of alternatives from which to choose, difficulties integrating existing databases, and individual infrastructure management systems in spite of the advances in information technology and its applications.
In that context, there have been several domestic and international reports on the progress and challenges faced by private and government transportation agencies on their way to implementing Asset Management. These efforts and milestone examples that are of interest to this research are presented in more detail later in the report.
The American Association of State Highway and Transportation Officials' "Transportation Asset Management Guide" represents a milestone domestic reference (AASHTO 2002). This guide was prepared to assist State DOTs in tailoring a generic Asset Management framework to their individual needs and characteristics. It was developed in the context of the National Cooperative Highway Research Program (NCHRP) and based on up-to-date experience and research findings. This guide describes Asset Management as a strategic approach to managing infrastructure assets and identifies two major clusters of decisionmaking: resource allocation and utilization. Figure 2 illustrates a schematic representation of the overall Asset Management process with emphasis on resource allocation and utilization. The described process is oriented to the actual implementation of the Asset Management concepts and methodologies.
One of the key building blocks of any Asset Management system is a comprehensive inventory of highway infrastructure assets and their respective conditions. Most transportation agencies have basic bridge and pavement data for their transportation network; several of them have also made a great effort over the years to collect, store, manage, and analyze comprehensive inventory data for their other highway
Figure 2. Framework for transportation Asset Management as a resource infrastructure assets. For example, the allocation and utilization process (after AASHTO 2002).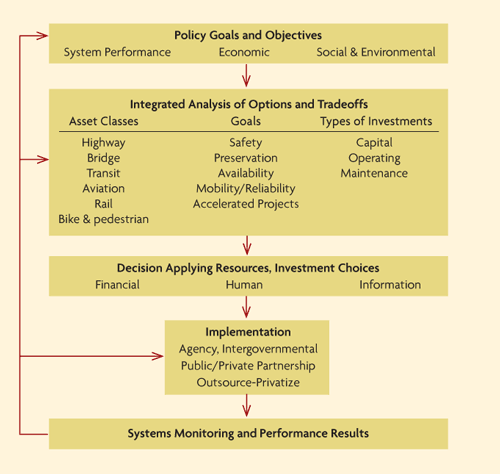 Virginia Department of Transportation (VDOT) is developing an Asset Management database and inventory information system. VDOT conducted a pilot for a comprehensive Statewide highway inventory system by utilizing stateof-the-art procedures and cutting-edge technology (Larson and Skrypczuk 2004a, 2004b). The cost of the venture and the size of the resulting database led to the conclusion that such a practice was not necessarily the best one and created skepticism of the real value and usefulness of the collected data.
An important result of this effort-in addition to the creation of the database- was an Asset Management data collection dictionary that encompassed detailed descriptions of roadway asset data and their condition-specification needs (Larson and Skrypczuk 2004b). Furthermore, and in continuation of its previous efforts, the agency has also created an Asset Management data collection guide in order to identify, facilitate, and enhance Asset Management-related data collection (VDOT 2004).
Asset Management Decision Levels
All forms of management have an internal hierarchy of decisionmaking levels. The structured process inherent in most corporate systems aggregates information and generalizes the scope of decisions to be made higher in this hierarchy. Infrastructure management and Asset Management are not exceptions. There are various decisionmaking levels that represent different perspectives on the system, ranging from very specific, detailed, project-oriented views to generalized, comprehensive, strategic ones. The decision levels pertaining to Asset Management as identified in literature are the strategic level, network level, and project level (Haas et al. 1994; Hudson et al. 1997; AASHTO 2001). Although Asset Management is mostly perceived as a strategic level tool, it nevertheless affects-and can be equally successful as- lower levels of decisionmaking within a transportation agency.
The various decisionmaking levels are strongly interconnected. In many cases, they significantly overlap because of the need for permeable and flex-ible boundaries in an organization's decisionmaking and because communication between the various levels is paramount for the overall success of the management process. The decisionmaking levels do have, however, different scopes and require different data and information inputs in order for the decisionmaking to be carried out effectively and efficiently.
The strategic decisionmaking level is the broadest and most comprehensive. It pertains to strategic decisions concerning all types of assets and systems within the civil engineering environment, one of them being the transportation sector. Within transportation, it may consider all different modes and all assets pertaining to these modes. The strategic level of decisionmaking is concerned with generic and strategic resource allocation and utilization decisions within the constructed environment.
The network decisionmaking level pertains to determining the overall agency-wide maintenance, rehabilitation, construction strategies, and works programs. This decision level considers system-wide decisions, but its scope is narrower than the strategic level's. Overall budget allocation and transportation planning are the key focus areas. This decision level is often broken down into program and project selection levels (Haas et al. 1994).
The program decisionmaking level is concerned with the overall, network-wide programming of actions and allocations. It is involved in policy decisions, and the aim is the system-wide optimization of funds allocated to rehabilitation, maintenance, or new construction of infrastructure assets.
The project selection level is concerned with decisions on funding for projects or groups of projects. This level generates decisions at a higher level of aggregation than the project level, but it requires more detailed information than the program and network levels. It serves as a link between the network level and the subsequent project level of analysis.
The project level of decisionmaking and analysis pertains to the specific, mode-wise, asset-wise, and geographically determined projects. It addresses the design of the projects included in the overall work plan needed to meet the agencies' performance measures. It is also called "field level" or "operational level" and refers to how the actual work is going to be done.
Although all the above hierarchical levels of decisionmaking are clearly defined, there exists significant overlap in what the management needs to do at every level. The identification of the actual data needed in every decision-making level is a very challenging task. This is partly due to that significant overlap between the various decision levels, as well as the lack of relevant research initiatives in this field.
Asset Management Decision Processes
Asset Management decision processes are the individual decisions that need to be made in every level of decisionmaking, be it strategic, network, or project focused. Decision processes can therefore be concerned with budget allocations, network optimization, works programming, and selection of alternative implementation methods, among other things. Decisions made at the different levels of Asset Management are heterogeneous, and the supporting data needs are bound to be quite different.
To systematically approach and identify the data needed to support Asset Management decision processes, it is necessary to first define the level of decisionmaking these processes support. The analyst can then assess the level of aggregation of the data needed and identify the data needs for those specific decisionmaking processes and problems.
According to Haas et al. (1994), the specificity of information required, network size considered, and the complexity of the analytical models used have a specific relation to the different levels of decisionmaking. Different levels of decisionmaking have different foci: Higher levels are mostly concerned with overall budget allocations and system utilization, whereas lower levels tend to focus more on the administration, funding, and engineering of specific functions and processes. In addition, decisionmakers have different backgrounds and different interests. As a result, the decisions at each level are different in scope, as are the data aggregation level and the corresponding detail and quantity of the collected data. Higher levels require more generalized information whereas lower ones tend to need more detailed and specific data. This is illustrated in figure 3.
Figure 3. Relation between the different decisionmaking levels and decisions and the corresponding detail and amount of required data.