ACTT Workshop: Minnesota
June 14-16, 2004, Minneapolis, Minnesota
Executive Summary
Accelerated Construction Technology Transfer (ACTT) is a strategic process that uses innovative techniques and technologies to reduce construction time on major highway projects while enhancing safety and improving quality. The process is implemented by conducting 2-day workshops for State Departments of Transportation (DOT). The American Association of State Highway and Transportation Officials (AASHTO) and the Federal Highway Administration (FHWA) jointly fund ACTT workshops.
In June 2004, the Minnesota Department of Transportation (Mn/DOT) hosted a workshop that applied ACTT principles and practices to its Crosstown Reconstruction Project (I-35W and Trunk Highway 62 interchange), which will expand capacity along 6 mi (9.6 km) of I-35W and 2 mi (3.2 km) of Highway 62 with an estimated construction cost of more than $200 million.
Figure 1. Project Area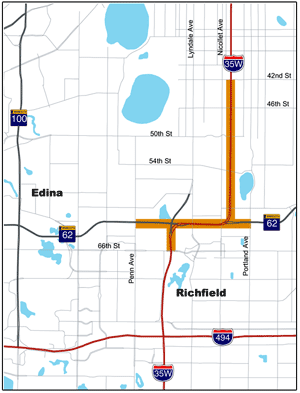 Originally constructed in the 1950s and 1960s, I-35W traverses the Cities of Minneapolis and Richfield and shares lanes with Trunk Highway 62 in the "Crosstown Commons" section bordering both cities. Currently, the I-35W and Highway 62 interchange serves a heavy demand but operates very poorly—resulting in significant user delay and safety concerns. The project area currently experiences severe congestion and has crash rates up to five times the average for the metropolitan urban freeway system. In 2001, the Minnesota Legislature directed Mn/DOT to defer a project that would have added a high-occupancy vehicle (HOV) lane to I-35W and addressed some of the operational problems but required lengthy closures for Highway 62 during the four-year construction period. The current concept balances requirements identified by the Legislature by adding highway capacity and minimizing right-of-way takings. The project is scheduled to be constructed over 4 years and will reconstruct 6 mi (9.6 km) of I-35W, 2 mi (3.2 km) of Highway 62, and nine interchanges.
The ACTT Workshop was held on June 14 to 16 in Minneapolis, Minnesota, with approximately 100 attendees from across the United States. The purpose of the workshop was to draw on the participants' expertise to generate specific, practical recommendations for the ongoing development of the I-35W/TH-62 interchange project and to demonstrate how the ACTT process works in a real-life scenario so participants could apply ACTT in their own agencies. The key element of the workshop was the brainstorming session, which brought national and local experts together to search for methods and measures that would help Mn/DOT achieve key project objectives, including minimizing construction time and traffic delays.
The workshop opened on June 14th with welcoming remarks from Carol Molnau, Lieutenant Governor of Minnesota and Commissioner of Transportation, and Al Steger, FHWA Division Administrator for Minnesota. Following the opening remarks, Dave Huft, Research Program Manager for South Dakota DOT illustrated the significance of the workshop as he made the "Why ACTT? Why Now?" presentation. The opening day concluded with a project overview by the project management team and a bus tour of the project area with stops along I-35W at the 58th Street pedestrian overpass, and along Highway 62 at the Penn Avenue and Portland Avenue interchanges.
Over the course of the workshop, participants broke into skill set teams to examine how the ACTT concept could be implemented to accelerate various aspects of the project. The workshop skill sets selected by Mn/DOT were Right-of-Way and Utilities, Structures, Construction, Innovative Contracting, Geotechnical/Materials, Traffic/ITS/Safety/Public Relations, and Environment. Each team focused on applying the ACTT process to the specific concerns of their expertise while the teams collectively searched for methods and measures to help Mn/DOT achieve its goals of minimizing construction time, limiting closures of major traffic movements to 8 weeks during construction, increasing highway capacity, minimizing right-of-way acquisition, providing an advantage for bus transit, and reconstructing an aging facility.
Workshop participants remained focused throughout the workshop and made numerous recommendations, many of which were deemed viable and will be pursued, according to Mn/DOT. As the host agency, Mn/DOT will examine the recommendations and determine which will be implemented on its Crosstown Project.