Feedback Forum
Challenges and Opportunities Series: Public Private Partnerships in Transportation Delivery
« Previous | Table of Contents | Next »
1. Legal and Statutory Issues
KEY FINDINGS
A growing number of States have or are considering P3 enabling legislation, but enabling legislation differs significantly from State to State. It is up to each State to determine the appropriate approach to legislation, starting with an understanding of the goals they are trying to achieve.
Enabling legislation can determine which agencies have the authority to enter P3s, the types of P3 agreements those agencies can enter into, the procurement methods used to arrive at P3 agreements, and the types of funding and financing arrangements that can be applied to those agreements.
While some issues can only be addressed through statutes, it can be difficult to determine if some issues, such as how a P3 project is funded or procured, should be addressed through statute as opposed to through policy or contract provisions.
There are tradeoffs associated with some legal decisions, particularly where public and private concerns can conflict, such as the degree of transparency and competition to require in the procurement process and the level of public and legislative input to allow in the decisionmaking process.
Introduction
Before implementing a public-private partnership (P3), states need to create a legal framework. P3 enabling legislation varies widely among states, but the basic goal is the same: to allow public entities to take advantage of the benefits of P3 project delivery while protecting the public interest. Some states provide broad authority for public entities to enter into and manage P3 agreements, while others strictly limit P3s to specific projects or project types and define the type of provisions that must or must not be included.
It is up to each state to determine the appropriate approach to legislation, starting with an understanding of the goals they are trying to achieve. Enabling legislation varies from state to state because policymakers consider the needs and goals of their constituencies and the unique political and institutional environment of their State. Policymakers often include language in legislation that reassures specific constituencies - such as tax payers, road users, or road builders - that their interests are protected. There is a fine line, however, between prescribing processes or provisions intended to protect the public interest, and those that create inefficiencies or deter private sector interest. Each State's goals can guide the decisions on legal issues.
The FHWA Office of Innovative Program Delivery's website provides examples of the 23 U.S. States and one U.S. territory that have enacted statues that enable the use of various P3 approaches (see Figure 1-1).
Figure 1-1: States That Currently Have P3 Enabling Legislation (as of April 2012)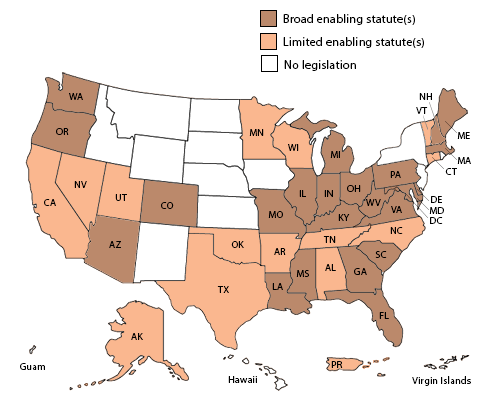 From www.fhwa.dot.gov/ipd/p3/state_legislation/
This chapter discusses how legal issues may be addressed through enabling legislation, or other statutes. State P3 legislation provides a legal framework that identifies permissible parties, agreements, and procurement processes. Once a statutory framework is established, other issues may be determined by policies set by the public sector agency that is given power under the enabling legislation. Those that are not addressed with legislation or programmatic policy are handled in the specific project contracts, either as determined in the procurement process or via negotiation.
There is no one correct way to address legal issues. The legislature can decide whether to treat an issue as statutory or leave it to the discretion of the authorized project sponsor to address through programmatic policy or through project-specific agreements. The legislature may decide, for example, to set a maximum limit on concession term lengths, allowing the public agency to establish its own policies for determining term length, or leaving specific concession terms to contract negotiations for each project. Table 1-1 summarizes the kinds of legal issues encountered in P3s and the way these issues are often handled - through statute, policy, or agreement.
This chapter describes the factors state policy makers consider in creating a legal framework for P3s that may be used to authorize or restrict who may enter into P3 agreements, how partners and proposals may be selected, and what types of agreements may be entered into.
Table 1-1: Legal Issues Commonly Addressed Through Statute, Policy or Contract
Description
Primarily Statutory Issues
These issues are typically addressed through state legislation.

Types of P3 agreements allowed
Authority to enter P3 agreements
Authority to approve or review P3 agreements
Types of facilities allowed.

Issues typically addressed through Policy and/or Statute
These issues may be addressed in legislation, to authorize or clarify specific capabilities, as necessary, but the details are frequently addressed through program policy.

Types of financing/subsidies allowed
Public uses of proceeds
Ability to hire external advisors
Types of procurement allowed
Whether unsolicited proposals are allowed
Whether stipends are allowed
Whether administrative fees are allowed
Whether to require performance security
Criteria used to evaluate potential P3 projects
Criteria used to select bidder

Issues typically addressed through Contract and/or Statute
These issues are typically addressed in contracts although the general parameters may be set by Statute or Policy.

Length of contract term
Toll rates and toll rate setting mechanisms
Allocation of risks
Revenue sharing
Dispute resolution
Buy back provisions
Refinancing provisions
Ongoing performance audits or reports
Program Provisions
State legislation typically addresses several key issues that affect the power and scope of an agency's P3 program. These issues are summarized in Table 1-2.
Table 1-2: Potential Statutory Provisions Impacting P3 Program Development

| Provision Type | Description |
| --- | --- |
| Authority to Enter into P3s | Defines which agencies have the authority to enter into P3s |
| Types of P3 Projects Allowed | Restricts the types of projects allowed to specified modes, geographic areas, projects, etc. |
| Types of Revenue and Finance Agreements Allowed | Defines the type of revenues and finance instruments that can be applied to projects and the ways project revenues can be generated and used. |
| Use of Advisors | Provides authority to use private advisors. |
| Other Legal Restrictions | Overrides certain existing legal restrictions, such as those governing procurement. |
Authority to Enter P3 Agreements
In the United States, state law establishes the primary legal framework for P3s. In general, state law determines what kinds of P3s may be enabled, which levels of government will be authorized to do them, and how the process will be implemented. Federal laws and regulations may affect the implementation of P3s for projects constructed with Federal-aid funds (e.g., the process for environmental analysis, permits that are required, available tolling authority, etc.) but they do not provide authority for a state to enter into a P3, nor determine whether or how P3s will be implemented. Local laws may determine how a P3 will be implemented on the local level, but generally a state will have to specifically provide authority to a local government to engage in most P3s.
P3 enabling legislation generally defines which entities have the authority to enter into P3 agreements. Authority may be given broadly to a range of state, regional and local public agencies or limited to a specific agency or department. Sometimes, P3 authority is given to a special public body or commission formed by the legislation, with provisions for instances where jurisdictions overlap, if applicable. For example:
Florida allows any expressway authority, transportation authority, bridge authority, or toll authority to enter into a P3 agreement for facilities that increase transportation capacity within their jurisdiction.
California law authorizes the state DOT and regional transportation agencies to enter into an unlimited number and various forms of P3 agreements for "transportation projects," which is defined in the P3 statute.
Puerto Rico has designated a new public entity, the Public-Private Partnerships Authority, with broad authority to identify, evaluate and implement P3 projects.
Allowable P3 Projects
Enabling legislation typically defines the term "public-private partnership" and that definition may limit the types of P3s that are allowed. P3 legislation may allow for many types of projects, or be more limited in scope. Depending on policy and program objectives, states may choose to restrict the allowable project types in a variety of ways, such as:
Type of facility (e.g.,, highway infrastructure only)
Geographic area (e.g., within a specified county)
Projects that increase highway capacity (as opposed to leasing of existing facilities)
Projects specified in legislation
Projects that impose new tolls on existing facilities.
Several states have strictly limited P3s to specific, named projects. This project- by-project approach may help to assure the public (and interest groups) that the state will take an incremental approach to P3s; however, the lack of broader authority may raise government costs. Limited allowable P3 projects may also reduce interest of concessionaires by signaling a lack of long-term political and institutional commitment to seeing P3 procurements through to agreement.
Allowable Revenue Sources and Financial Instruments
Enabling legislation may define the allowable and prohibited revenue sources, financial instruments, and payment structures for P3s. Some P3 statutes, for example, include broad language authorizing the DOT or other sponsoring agency to exercise "any powers it possesses" under other applicable law in order to facilitate the delivery of P3 projects. Without express treatment in statute, such language may be construed to permit agencies responsible for the expenditure of transportation revenues to devote such revenues to the delivery of P3 projects.
Revenue Sources. Revenue sources may include taxes, tolls, or fees, as well as tax increments, special assessments, and impact fees. Legislation may prohibit the use of tolls on a facility once its debt has been repaid or it may limit the way revenues generated by the project may be applied. For example, states have used differing approaches to ensure that P3 legislation does not create ambiguities or conflict with other state laws governing the permissible uses of funds. Some state enabling legislation specifically requires that revenues generated from P3 agreements be reinvested in the state's transportation system or in the project facility or corridor. Other states allow public revenues from P3 agreements to be directed to the general fund or to pay off state bonds.
Enabling legislation commonly includes provisions to require sharing of excess revenues. Revenue sharing provisions require the private sector to split revenues above a certain rate of return with the public sector. Revenue sharing agreements guard against the private sector reaping "windfall" profits and allow the public to share the benefits from higher than expected gross revenues.
Revenue sources are discussed in more detail in the Revenue Chapter (Chapter X.)
Financial Instruments. Financial instruments used in P3s may include revenue bonds, TIFIA loans, and other forms of public financing. Enabling legislation may explicitly allow the use of any combination of federal, state, or local tools to finance projects. If such language is not included in enabling legislation, it may create uncertainty as to whether public sponsors can put together the kind of financing package typically required to fund a P3 project.
Issues related to financial instruments are discussed further in the Finance Chapter (Chapter Y)
Payment Structures. Authority to compensate a private partner with revenues other than tolls or user fees, such as availability payments or shadow tolls, may be expressed or implied. Enabling legislation may permit agreements that pay the private partner with availability payments funded by project revenues such as tolls or user fees - whether collected by the concessionaire or the government - or paid from other sources of public funds, such as gas or sales taxes.
Use of Technical, Legal and Financial Advisors
P3 programs often rely on external legal, financial, and technical advisors to assist in the assessment, selection, and negotiation of P3 agreements. Enabling legislation often specifically authorizes and provides funding for public sponsors to contract with external advisors.
The use of external advisors raises important legal concerns over conflicts of interest. Since the market for P3 advisors is highly specialized, the number of potential contracting parties is small, and the risk of conflicts of interest is higher than in traditional procurement models. However, existing state statutes prohibiting state workers from benefiting from conflict of interest and established public agency policies on hiring are usually adequate. P3 programs typically deal with this issue through defined policies and guidelines that are established before any specific procurement, rather than in legislation.
Other Applicable State Laws and Constitutional Provisions
P3 enabling legislation is rarely the sole body of law governing P3 agreements. State constitutional law, tax laws, procurement laws, labor laws, and other laws will apply. Generally, state legislatures do not overturn long-established principles of law by enacting P3 enabling legislation. To avoid conflicts, P3 statutes can be crafted in a way that achieves consistency with other bodies of law that may apply.
P3 enabling legislation may exempt P3s from certain state laws. For example, enabling legislation frequently exempts P3 transportation facilities from property or ad valorem taxes. If concessionaires have to pay property or sales taxes, it would raise their costs, leading to lower bids. Enabling legislation may also allow for different procurement processes than are traditionally allowed under state law, such as the selection of bids based on "best value."
Constitutional provisions are more difficult to amend than statutes and may limit the ability of states to develop certain projects or include certain terms in contracts. For example, constitutional rules may limit the ability of a public sponsor to make guarantees to private partners concerning future payments that are subject to the appropriations process. This may limit a state's ability to use an availability payments model.
Procurement Provisions
While conventional procurements often require uniform bid packages, preclude the consideration of nonmonetary values, or forbid negotiation of a final contract limit, P3 contracting opens the way for these and other features. Table 1-3 provides an overview of statutory provisions that may be included in enabling legislation which permit nonconventional procurement processes.
Table 1-3: Procurement and Statutory Provisions

| Provision Type | Description |
| --- | --- |
| Permissible types of procurement methods | May allow for the use of less conventional procurement processes or exempt P3s from existing procurement statutes. |
| Allowable types of payments and fees | May allow for the use of stipends or administrative fees to encourage competition or offset transaction costs. |
| Proposal evaluation criteria | May allow for selection of proposals based on "best value" and broadly define the criteria by which proposals may be judged. |
| Confidentiality and transparency | May set restrictions on how intellectual property disclosed in proposals is treated. |
Permissible Types of Procurement Methods
Since P3 agreements are generally larger, more complex, and for longer terms than traditional contracts, public agencies often use less conventional procurement processes. For example, because of the complexity of P3s and the need for the private partner to arrange financing, negotiations of final contract terms are often necessary. P3 enabling legislation can expressly permit specific procurement methods that may facilitated the selection of P3 proposals including:
Calls for projects,
Unsolicited proposals,
Competitive Request for Qualifications (RFQs) and Requests for Proposal (RFPs),
Negotiations with the winning bidder, and
Best and final offers.
Unsolicited Proposals. Some states allow unsolicited proposals for potential P3 projects. Unsolicited proposals allow private entities to propose solutions to transportation problems that the public sector might not have otherwise considered. However, unsolicited proposals can be perceived as competing with resources for projects that have gone through the usual project selection process in regional and state transportation plans. Furthermore, some observers have expressed concerns that the private sector may "cherry pick" those projects that generate the most financial return rather than address a state's more pressing mobility and connectivity needs.
In states that allow unsolicited proposals, enabling legislation typically prescribes that such proposals be subject to a competitive procurement process. For example, a state may require at least one competing proposal before an agreement can be awarded in response to an unsolicited proposal. To ensure states are reviewing only feasible proposals, states may require application fees or security deposits, or screen projects eligible for unsolicited proposals in advance.
Allowable Types of Payments and Fees
Some states require bidders to pay fees to offset the costs of proposal review or provide performance security, while other states provide stipends to bidders.
Application Fees. If unsolicited proposals are allowed, application fees can be a useful tool to help defray the costs incurred by public sponsors in reviewing the unsolicited proposals.
Performance Security. State law may require a contract performance security, which is a financial guarantee made by a contractor to a state that the contractor will faithfully perform the contract. Some observers believe that requiring a performance security for P3 agreements may present a prohibitive and unnecessary requirement because concessionaires typically put their own equity at risk, which should be enough of an incentive for them to perform. In addition, lenders will apply due diligence and impose their own insurance requirements on the contractor to limit their exposure to financial risk.
Stipends. Due to the complexity of most P3 projects - involving design, finance, construction, and long-term operation - it can cost bidders millions of dollars to develop a bid. As a result, some states allow stipends for qualified bidders to increase competition by encouraging more bidders. Stipends can also be used to compensate losing bidders for specific concepts proposed in their bid that may be incorporated into the final design of the project. However, some observers believe that the use of stipends may provide an unnecessary public subsidy to a private firm for providing little more than a proposal.
Proposal Evaluation Criteria
In some states, legislation may explicitly describe criteria by which proposals are evaluated. Generally, these criteria are further elaborated in P3 program policy and guidelines. Other states may direct public sponsors to develop evaluation criteria and that the criteria be provided in the RFP or RFQ. For example, Texas statute states, "the department shall evaluate each proposal based on the criteria described in the request." Prescribing detailed evaluation criteria in legislation may limit the ability of public sponsors to solicit and select innovative proposals. For example, a public agency may wish to adjust its criteria to ensure the best match for a particular project by acquiring a partner with specific expertise to overcome a difficult technical challenge.
P3 statutes may permit the selection of a proposal on the basis of best value rather than low bid. Value considerations may include: the experience and qualifications of the bidder and key staff; the quality of the proposed technical solutions; the quality of the operations and maintenance plan; and the overall lifecycle costs of the bid.
Confidentiality and Transparency
While public disclosure of proposal details can help improve the transparency and public legitimacy of the bidding process, full transparency may deter private sector bids. Legislation may establish a process whereby private bidders identify confidential and proprietary information that should be excluded from disclosure.
Agreement Provisions
State enabling legislation may define the permissible or mandatory provisions in a P3 agreement. Enabling legislation may also prescribe specific parameters for contract provisions such as the maximum length of contract terms, mechanisms for raising tolls, and the use of funds. A summary of the ways that enabling legislation may address the agreement provisions is provided in Table 1-4, with details provided below.
Table 1-4: Potential Statutory Restrictions on Agreement Provisions
Provision Type
Description
Risk Allocation

Require defined process for assessing and allocating risk.

Payment/Revenue

Limit toll rate increases.
Designate a public agency to determine/approve rate increases.
Require revenue sharing provisions.

Term length

Limit contract term length to specified number of years.

Non-compete clauses

Forbid broad non-compete clauses.

Review of final agreement

Require legislative review/approval of final P3 agreements.
Designate committee or commission responsible for final approval.
Risk Allocation
The primary value proposition of P3 agreements is that they allow for the transfer of risks to the party that is most capable of handling those risks. Enabling legislation may define a process for assessing and allocating risks. Public sponsors may be prohibited from transferring specific risks, such as archaeological or environmental risks, to the private sector.
Payment/Revenue Provisions
The ability of the concessionaire to charge tolls or fees may be defined in the state enabling legislation. More restrictive legislation may stipulate where tolls may be applied, how tolls are set, and how toll revenues may be used. Broader legislation allows the public sponsor to negotiate tolling provisions with the private sponsor. Enabling legislation may designate a public agency to set toll rates or include restrictions on private sector profit by capping the rate return or requiring revenue sharing above a specified rate or return.
P3 agreements that authorize the private partner to impose tolls and set toll rates will typically detail when and by how much tolls can be modified. The authority to impose tolls or user fees may be subject to certain statutory or contractual conditions, including approval by state, local, and federal agencies. State legislation may require, for example, that toll or user fee revenue be applied to the payment of construction and financing costs, including a reasonable return on investment.
Enabling legislation may specifically need to permit the use of availability payments where the public sponsor provides regular payments to the private partner on the condition that the facility meets defined performance specifications.
Length of Contract Terms
State legislation may stipulate the maximum length of P3 agreements. Some state legislators have raised concerns about ceding public control over an asset to the private sector for decades and have sought to address these concerns through legislation. Private partners may seek longer contract terms in order to gain long-term tax advantages, which may translate into benefits for the public sector in terms of stronger bids. For example, the Chicago Skyway concession is for a 99-year term. Longer-term agreements, however, may be more difficult to accurately value, and, due to discount rates, the benefits in the more distant years may have marginal value. In Florida, for example, statute limits P3s to terms of up to 50 years. Beyond 50 years requires written justification and explicit approval of the secretary of the department; beyond 75 years requires legislative approval.
Non-Compete Clauses
A non-compete clause in a contract limits the ability of the public sponsor to construct or enhance competing facilities that would compete for travel demand with a P3 that has tolls. Non-compete clauses can take a variety of forms. In California, the 91 Express Lanes agreement contained a non-compete clause that precluded the state from building unplanned facilities along thirty miles of the Riverside Freeway. When Caltrans, the California DOT, sought to expand a facility due to congestion, the concessionaire filed a lawsuit to stop the expansion. Before the case was resolved, the Orange County Transportation Authority bought the toll road so that the desired improvements could go ahead.
Several states have prohibited non-compete clauses in P3 agreements. For example, Texas statute states that an agreement "may not contain a provision that limits or prohibits the construction, reconstruction, expansion, rehabilitation, operation or maintenance of a highway or other transportation project."
In other cases, non-compete provisions may take the form of compensation clauses, which require the public partner to compensate the private partner for revenue lost due to the development of unplanned competing facilities. Compensation clauses can be made to cut both ways, by counting induced as well as lost traffic on a concessionaire operated facility. For example, in the SH-121 comprehensive development agreement there is an unplanned revenue clause that requires the developer to prove that the construction of competing facilities has had a cumulative negative effect on project revenues in order to receive compensation. This clause allows TxDOT to offset any claims of lost revenues by demonstrating how other TxDOT actions have served to increase revenue on the SH-121.
Authority to Review and/or Approve Final P3 Agreements
Legislation may designate entities - other than the public sponsor - with the power to review, approve, or veto P3 agreements. Such entities may include the Governor, the legislative body, a state agency, or a special commission. Delaware, for example, requires that the relevant Metropolitan Planning Organization approve the project.
These provisions are intended to protect the public interest; however, if approval occurs late in the project development process, they can result in significantly increased costs for both public and private partners due to the uncertainty generated by the provision. This can make it less likely that private entities are willing to incur proposal development costs.
Some states address issues of legislative review or local approval by requiring approval prior to the issuance of a RFP. Florida's enabling legislation, for example, requires "legislative approval as evidenced by approval of the project in the department's work program." In California, to ensure that such arrangements are in the public interest, a proposed agreement must be reviewed by the state legislature and the Public Infrastructure Advisory Commission at least 60 days before Caltrans or the relevant regional transportation agency signs the agreement. Neither entity has to approve the project, however, for it to move forward.
Legislative bodies may play an oversight role other than simple approval or disapproval. In Georgia, for example, legislation requires that the Georgia DOT provide quarterly updates on the progress of P3 projects and project proposals to legislative transportation committees. Alternatively, enabling legislation can prescribe a role for the legislature in appointing committees or boards responsible for approving agreements, such as in Alaska and Puerto Rico. In Washington, the Washington State Transportation Commission is statutorily responsible for reviewing and approving public-private partnership agreements developed under the Transportation Innovative Partnership Program.
Other state agencies may control or regulate other aspects of the P3 project development or procurement process. The Attorney General may play a large role in interpreting what is permissible under statute. The Treasurer may control bond issuance or other aspects of project financing. The state procurement agencies may control the processes by which advisors and partners are selected. Other potential controlling agencies include existing tolling authorities, legislative committees, and state transportation oversight commissions. These agencies may be consulted when developing enabling legislation.
Dispute Resolution, Renegotiation, Hand back and Other Changes
P3 agreements often last for decades, so there is a need for provisions that manage change in the public-private relationship over time. Enabling legislation may explicitly allow for alternative dispute resolution mechanisms, renegotiation, refinance or facility buy back. Legislation may also include language explicitly forbidding private ownership arrangements and requiring agreement provisions that deal with handback of the facility to the public sponsor at the end of the agreement's terms.
Summary
State legislation enabling the use of public private partnerships can take a variety of forms, but it generally addresses a core set of issues. It is up to each state to determine the appropriate approach to legislation, starting with an understanding of the goals they are trying to achieve. A clear sense of purpose will help to guide the decisions states make on specific issues.
Furthermore, as states gain experience in public private partnerships, there is a growing body of literature, cases, and models that can serve as a reference in developing appropriate legislation. Drawing from these resources, the Federal Highway Administration and the law firm Nossaman LLP have both created model legislation to serve as guide. 1 In addition, the National Conference of State Legislatures has developed a "Public-Private Partnerships Toolkit" that lays out a set of recommended principles for legislators to follow in making policy decisions. 2
Research Needs
Since relatively few P3s have been implemented in the U.S., more research is needed to determine how well enabling legislation has provided a framework for protecting the public interest while allowing States to benefit from P3 arrangements. Possible research questions include:
What lessons have been learned from legislative provisions for program development, such as allowable projects, revenue sources, and financial interests?
What lessons have been learned from legislative provisions for procurement?
How have legislative provisions helped or hindered development of P3 project agreements that protect the public interest? For example, have restrictions on contract length diminished private interest, or bolstered public support, or both?
How have legislative provisions affected States' ability to attract private investment?
What provisions have helped to protect industry interest in States, and what provisions have reduced industry interest?
What legislative provisions have successfully protected the public interest, avoiding financial loss and ensuring that the public sector shares in financial returns?
« Previous | Table of Contents | Next »
1. Federal Highway Administration. www.fhwa.dot.gov/ipd/pdfs/legis_model_0610.pdf
2. National Conference of State Legislators. Public-Private Partnerships for Transportation: A Toolkit for Legislators. http://www.ncsl.org/research/transportation/public-private-partnerships-for-transportation.aspx