Presentation 1
Value Capture: Special Assessments
Value Capture Techniques Summary
Developer Contributions - One-time charges collected by local governments from developers to offset the cost of infrastructure and services necessitated by new development.
Special Assessments - An additional fee or tax assessed on businesses or residents in specified geographic areas benefiting proximity to a highway or other transportation facility or corridor.
Fees - Similar to a utility fee, transportation fees are assessed based on how individual businesses and households use transportation facilities.
Incremental Growth - A mechanism allocating back to infrastructure from some specified portion of increased property tax revenues fostered by new infrastructure - often for a specified period of time.
Joint Development - Sale or lease of land or air rights on or adjacent to transportation facilities. This can include donations of land or other in-kind resources from the private sector in ongoing commercial operations.
Concessions - Sale or lease of government owned assets - such as toll roads or bridges - to private-sector investors/operators.
Advertising and Naming Rights - Sale of advertising space or naming rights on a transportation facility. Note: Commercial uses within Interstate Highway System right of way, including rest areas, is prohibited by law; however, they may be allowed on toll facilities and in transit stations.
Outline of Presentation
Key Distinctions
Special Assessments Overview
Why is Special Assessment Needed?
Transportation Improvement District
Community Development District
Federal Roles
Case Studies
Q&A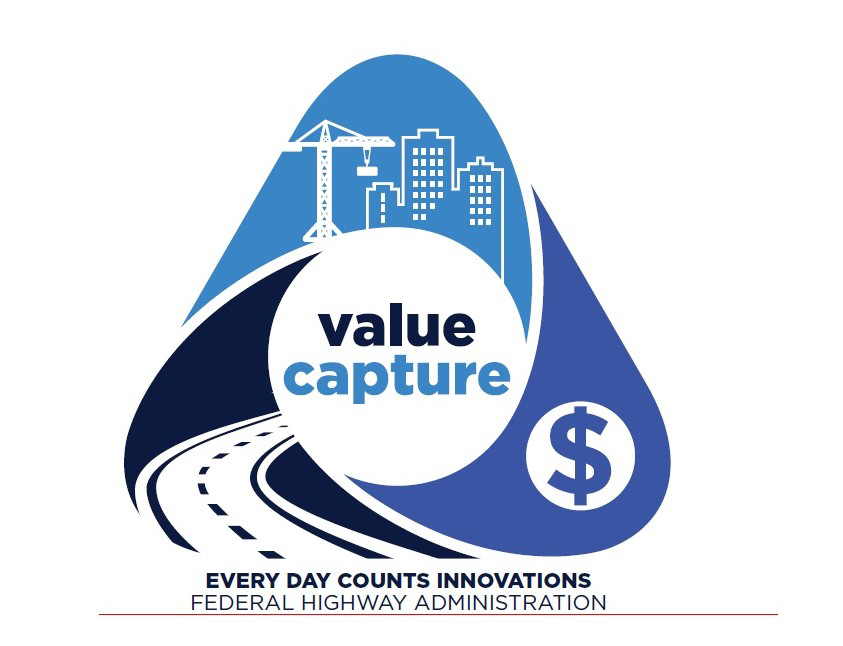 Key Distinctions: Funding vs. Financing
Revenue/Funding: Where does the funding come from?

Traditional: Federal-aid (HTF) & State grants
Innovative: Other than traditional i.e. Value Capture

Financing: Pay-As-You-Go versus Borrowing

Pay-as-you-go
Public borrowing (Innovative Finance)
Private equity

Project Delivery: Shifting responsibility & risk

Traditional (design-bid-build)
Construction Manager/General Contractor (CM/GC)
Design-Build (DB)
Public-private partnerships (P3s)
Key Distinctions: Taxes vs. Assessments
Is an assessment a tax? No.
Differences
| Taxes | Assessments |
| --- | --- |
| Primary purpose is to raise revenue | Primary purpose is to recover costs |
| Need not benefit property owners | Must specifically benefit property owners |
| Authorization by general law | Authorization by home rule powers |
| Legislature must prescribe a tax base | Local Governments may develop the rate of assessment and method of apportioning costs |
| Proportionality not required | "Reasonableness" required |
Why is Special Assessment Needed?
Capacity & Conditions Funding Challenges
Two out of every five miles of America's urban interstates are congested

Cost the country $160 billion in wasted time and fuel

One out of every five miles of highway pavement is in poor condition

$836 billion backlog of highway and bridge capital needs

35,092 people killed in motor vehicle crashes
Pedestrian deaths on US roads increased 11% since 2015; (5,977 in 2017)
Condition and Aging of the Bridges
(FHWA, 12/31/2018)

| Year Built | Age in years | Total bridges | Poor quality |
| --- | --- | --- | --- |
| No Value | No Value | 25 | 0 |
| 1899 and earlier | 119 or more | 1,731 | 514 |
| 1940-1949 | 109-118 | 5,876 | 1,840 |
| 1910-1919 | 99-108 | 5,692 | 2,055 |
| 1920-1929 | 89-98 | 17,923 | 3,895 |
| 1930-1939 | 79-88 | 41,275 | 7,057 |
| 1940-1949 | 69-78 | 25,487 | 4,034 |
| 1950-1959 | 59-68 | 63,159 | 7,664 |
| 1960-1969 | 49-58 | 99,041 | 8,996 |
| 1899-1969 | 119-49 | 260,209 | 36,055 |
| 1970-1979 | 39-48 | 81,671 | 5,390 |
| 1980-1989 | 29-38 | 78,112 | 3,043 |
| 1990-1999 | 19-28 | 81,393 | 1,486 |
| 2000-2009 | 9-18 | 71,666 | 449 |
| 2010-present | 0-8 | 43,445 | 91 |
| Total | | 616,496 | 46,914 |
Condition of Roads (D+)
45 % of America's major roads are in poor or mediocre condition.
15% of U.S. rural roads are rated in poor condition, while 21% are in mediocre condition
| Ownership | Federal-Aid Highways | Non-Federal-Aid Highways | Total |
| --- | --- | --- | --- |
| Rural | 668,082 | 2,280,612 | 2,948,696 |
| Small Urban Area | 71,792 | 151,935 | 223,7327 |
| Urbanized | 287,974 | 723,310 | 1,011,285 |
| Urban | 359,767 | 875,245 | 1,235,012 |
| Total | 1,027,848 | 3,155,858 | 4,183,707 |
Highway Trust Fund is Unsustainable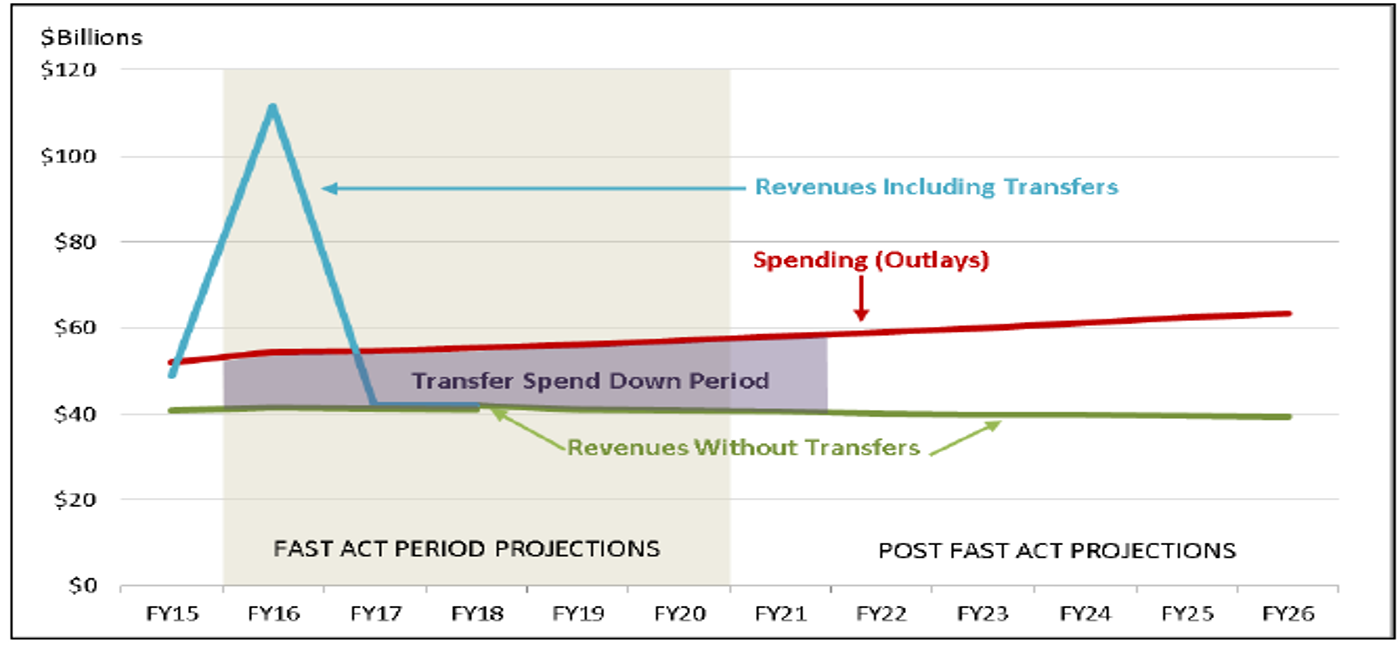 Special Assessment Districts
Special Assessment Districts Overview
A fee imposed on property owners to help pay for public infrastructure improvement
Authorized in 50 States and accessed by Local Governments
A defined geographic areas determined to benefit from special services or improvements
Assessment must in proportion to the special benefits received from the improvements
Must have majority support of those properties being accessed to be effective
Operated by a separate political subdivision with a board of directors
Benefits: Special Assessment Districts
Promotes economic development, job creation, and an increased tax base for local governments
Alleviate burden of increase in property taxes to the entire community
Preserves debt capacity of jurisdictions
New source of capital funding
Provide a reliable source of funding for local governments
Competitive advantage among public agencies

Access to Federal Innovative Finance Program
Source of matching state & Federal grants
Structures/Models: Two Types
Government Districts (Transportation Improvement District/Transportation Development District)

Initiated by the local government (sometime self assessed)
Establish specific assessment duration

Community Improvement District (Business Improvement Districts/Neighborhood Districts)

Voluntarily imposed assessment/fee by the property owners
Establish specific assessment duration
Transportation Improvement Districts
Government Special Assessment Districts By Any Other Name...
Special Assessment District (SAD)
Community Facilities District (CFD)
Community Development District (CDD)
Special Service District (SSD)
Transportation Improvement District (TID)
Transportation Development District (TDD)
Others
Overview
Formed as a separate political subdivision with a board of directors
Can levy special assessments and/or collect sales taxes on retail sales within the district
Focus on transportation infrastructure improvements & services within the district
Fixed amount of time
Notice and public hearing is required if sales tax levy is involved, but not if only special assessment
Must be uniformly applied to the same class of property
Subject to voter referendum
Transportation Improvement District & Innovative Finance
Matching Share for Federal & State grant
Federal Credit Assistance Program

TIFIA/RRIF
TIFIA/State Infrastructure Bank
Section 129 Loans
State Infrastructure Banks

Capital Market

Revenue Bonds
General Obligation Bonds

Private Equity
Project Delivery: DBB, DB, CMGC, P3s
Steps in Establish Special Assessment District
Determine Boundary & Improvement (Review State, Local, and MPO Plans and Policies)
Stakeholder/ Community Outreach
Feasibility Study Engineer's Report (cost & budget)
Funding Plan (Duration & Max Assessment)
Survey Community (Public Hearings)
Determination to Proceed Based on Survey
Public Hearings and Balloting Process
Implementation Initial Project Funding Procurement
Example: Street Light Assessment, Dayton Ohio
A six-year property assessment to all property owners benefits of street light system improvements
Applied to all property owners, residential, commercial, and industrial properties
Project scope: Provide a standardized public street lighting system citywide that will promote safety and security in our neighborhoods, business districts, and across the city's 1,800 lane-miles of roadways.
Project Cost $18 million for six-years
No assessment to neighborhoods without street lighting and neighborhood-supported street lighting
U.S. Highway 36 - Interstate 72 Corridor Transportation Development District
Value Capture: Sales & Use Tax Districts/Transportation Development District

Voters approved a half-cent sales tax on all taxable transactions in April 2005 to construct Route 36/I-72
Within the boundaries of the district.
Length 15 years
The four-lane was finished in 2010
Repealed in August 2017 after paid off debt obligation

Scope: 52 - mile expansion project of U.S. Highway 36 from two to four lanes
Project Cost: $75.5 million

$34.3 million borrowed from Missouri Transportation Finance Corporation (MTFC) in 2008
Community Improvement Districts
Community Improvement Districts By Any Other Name...
Local Improvement District
Public Improvement District
Special Service Area (SSA)
Community Improvement District (CID)
Neighborhood Business District (NBT)
Special Improvement District (SID)
Business Improvement District (BID)
Business Improvement Area (BIA)
Business Revitalization Zone (BRZ)
Tourism Public Improvement District
Community Improvement Districts
A development tool that allocates costs according to the benefits received
Formed by local business and property owners
Self-imposed and self-governed assessment to fund infrastructure improvements and services
Not a political subdivision of the state, county or municipality- No separate taxing authority
Only property in the district impacted; No other property effected
Requires majority support from property owners (>50%)
Benefits: Community Improvement Districts
Can finance a wide variety of services including transportation improvements
Provide economic development services by working to attract, retain and expand businesses
Leveraging resources
Can provide cap on assessments and periodic review to ensure that CID services are effective
Creating a unified voice to increase a business district's influence
Creating and maintaining a cleaner, safer and more attractive business district
Creation of Community Improvement District (Local Level)
CID Enabling Legislation
Buy-In

Obtain Signatures from >50% of Property Owners

Certification

Submit Consent Forms & Map to Tax Commissioner(s) for Certification

Petition

Submit Tax Commissioner Certification(s) Consent Forms, and Map to Jurisdiction(s)

Resolution

Each Jurisdiction Approving the CID Adopts a Resolution Approving Creation of that CID

Cooperation Agreement

CID Elects a Board and Develops a Cooperation Agreement with Each Jurisdiction
Governance & Administration
The CID is governed by a Board of Directors (5 - 30)

Elected by registered voters living within the CID's boundaries, but if there are no registered voters, then the property owners within the district (who have one vote per acre of real estate owned)
Has to be either an owner of real estate within the district or of a business operating within the district or be the authorized representative of same, or be a registered voter residing within the district

Administration: Most have a management company or staff
What Powers Does the CID Have?
To acquire real estate within its boundaries
To sell real or personal property
To borrow and loan money
To receive grant from State, Federal and Private Sector
To construct, install, maintain, and equip any of the public improvements and services
Ongoing CID Responsibilities
Sunshine Law compliance
Annual budget submittal
Annual meeting
Report to municipal clerk and Dept. of Economic Development
Report to State Auditor's office
Board member elections/appointments
Cooperative Agreement compliance
Accountable to those who pay consisting of property and business owners within the district
Federal Roles
Federal's Role in Value Capture Strategies
Value Capture Implementation Team
Co-Leads

Thay Bishop, FHWA Office of Innovative Program Delivery
Stefan Natzke, FHWA Office of Planning, Environment, and Realty

Members

Jennifer Ahlin, Virginia Department of Transportation
Janine Ashe, FHWA District of Columbia Division
David Cohen, FHWA Office of Project Development & Env. Review
John Duel, FHWA Office of Planning, Environment, and Realty
Kathleen Hulbert, FHWA Infrastructure Office
Chip Millard, FHWA Freight Management & Operation
Diane Mobley, FHWA Chief Counsel Office
Kevin Moody, FHWA Resource Center
Ben Orsbon, South Dakota Department of Transportation
Jill Stark, FHWA Office of Planning, Environment, and Realty
Lindsey Svendsen, FHWA Office of Planning, Environment, and Realty
Jim Thorne, FHWA Office of Planning, Environment, and Realty
Bingxin Yu, FHWA Transportation Policy Studies
VCIT Focus Areas
Communication - Developing the tools to help FHWA staff and others promote Value Capture to local public agencies (Value Capture Implementation Manual)
Technical assistance - Providing technical assistance to local public agencies interested in pursuing Value Capture (Peer Program)
Clearing House (website) - Identification of best practices and lessons learned and promoting further discussion on innovative funding options for local public agencies, lessons learned from past and current efforts, etc.
Clearinghouse for best practices/lessons learned
EDC-5 Funding Opportunities
State Transportation Innovation Council (STIC) Incentive
Accelerated Innovation Deployment (AID) Demonstration