From balanced mix design and nondestructive field technologies to pavement density, safety, and sustainability, the MATC brings a rigorous focus on technology and innovation to its work, delivering results with care.
Some of the FHWA Initiatives that the MATC Supports:
Balanced Mix Design
Balanced mix design is an approach gaining acceptance in the asphalt community that incorporates two or more performance tests to assess how well an asphalt mixture is predisposed to resist common forms of distress in the field, typically rutting and cracking. This approach creates opportunities to make incremental improvements in asphalt mixture outcomes through the use of performance testing.
The MATC demonstrates many of the tests used in BMD and provides valuable technical assistance in their use and implementation.
Pavement Density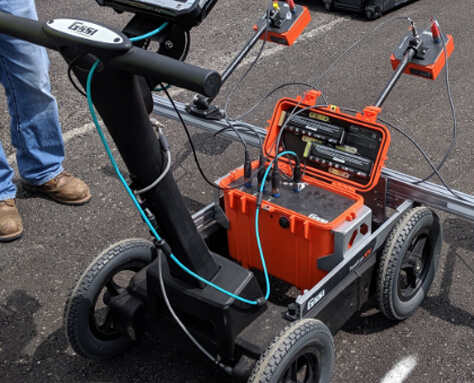 Although several factors can influence the performance of an asphalt pavement, one of the most important is in-place density. A small increase in density can lead to a significant increase in service life of asphalt pavements.
The MATC performs specification reviews, demonstrates the use of innovative non-destructive testing technologies and loans these devices out to agency and industry stakeholders, in an effort to help support achieving better asphalt mat uniformity and density.
Pavement Safety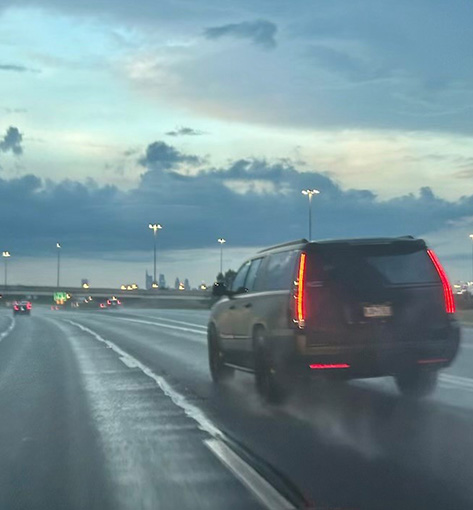 Providing the safe movement of people and goods on our nation's roadways, as well as protecting members of the construction work force active in the work zone, is central to the mission of the pavement community. Designing and placing asphalt mixtures that provide adequate surface friction are part of providing safe highways and pavements.
Technologies being deployed by the MATC and loaned to agency and industry stakeholders quickly measure the mean profile depth which can be used for assessing the macrotexture of asphalt pavement surfaces. These technologies help engineers to improve the safety of roadways, by providing opportunities to quantify pavement macrotexture both in the laboratory and in the field.
Nondestructive Field Technologies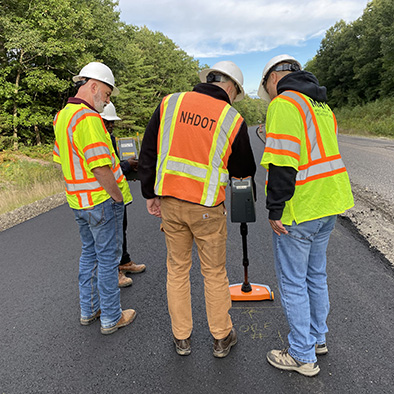 Nondestructive evaluation (NDE) of highway infrastructure assets has gained popularity in recent years, including those that apply to asphalt pavements. Recent innovations including paver-mounted thermal infrared scanner and dielectric profiling systems allow the analysis and evaluation of pavement quality quickly and continuously. Pulse Induction Technology also provides a measure of the in-place asphalt layer thickness without having to disturb the newly-paved mat by cutting cores.
The MATC is actively deploying NDE technology for field applications in asphalt paving, including demonstration projects, training, data analysis, and as part of its equipment loan program.
Pavement Sustainability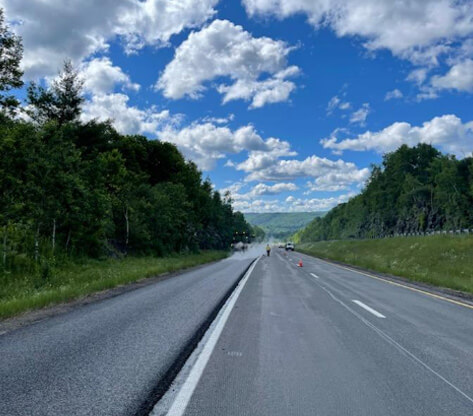 Pavements are an integral part of the roadway network. Given their key role and widespread impact on the movement of people and goods, there is a unique opportunity to improve the sustainability of pavement structures with the potential to deliver tremendous environmental, social, and economic benefits.
The MATC team supports agency and industry stakeholders in their endeavors for making pavements more sustainable, including the responsible use of recycled materials, reduced production temperatures with warm-mix asphalt, and in exploration of other tools such as the life cycle assessment (LCA) calculator.
Download Our Brochure:
General information about the Mobile Asphalt Technology Center is available in our brochure.
Reach out to the MATC today at FHWA-MATC@dot.gov to learn more.