Staff Directory
Federal Highway Administration
Office of Highway Policy Information
1200 New Jersey Ave, SE, E81-123
Washington, DC 20590
Phone: 202-366-0175
Fax: 202-366-7742
HPInfoMail@dot.gov
Motor Fuel and Highway Finance Division
| | | |
| --- | --- | --- |
| Ronald Vaughn | Chief | (202) 366-9248 |
| Michael Dougherty | Program Manager – Fuel Tax Evasion / Heavy Vehicle Use Tax (HVUT) | (667) 668-1781 |
| Clarissa Smith | Program Manager – State and Local Highway Finance | (202) 366-5045 |
| Deborah Phillips | Program Manager – Motor Fuel | (302) 592-7220 |
| Allison Weber | Program Manager – Vehicle Registration & Driver Licensing | (518) 431-8886 |
| Kasandre Reeves | Program Compliance Coordinator – 500-Series Programs | (564) 544-0350 |
| Dawn Edwards | Statistical Assistant – Driver Licensing | (202) 366-4048 |
Travel Monitoring and Surveys Division
| | | |
| --- | --- | --- |
| Tianjia Tang | Chief | (202) 366-2236 |
| Steven Jessberger | Traffic Monitoring Program Manager – Field Operations, Guidance and System Development | (202) 366-5052 |
| Vacant | NHTS Program Manager – Survey Method and NHTS | |
| Daniel Jenkins | FHWA Travel Behavior Data Program Manager | (202) 366-1067 |
| Patrick Zhang | Data Analyst and Research Manager – Data and Policy | (202) 366-1941 |
| Clayton Clark | Traffic Monitoring and Data Processing Specialist | (202) 366-5053 |
| Rafael Nieto | Travel Monitoring Guidance and Data Management Specialist | (202) 366-9213 |
| Shuqing Wang | National Traffic Data and Advanced Analytics Program Manager | (202)-366 -5047 |
Highway System Performance Division
| | | |
| --- | --- | --- |
| Chris Allen | Chief | (202) 366-4104 |
| Justin Clarke | HPMS Software Manager / Training Coordinator/ Data Visualization | (202) 366-9245 |
| Robert Rozycki | Highway Statistics Coordinator / Data Requests / HPMS Sampling & Pavement | (202) 366-5059 |
| Tom Roff | HPMS Software & GIS Applications Manager / Certified Public Miles & Highway Inventory | (202) 366-5035 |
| Terrence Beltz | Data Assessment Team Manager / Communications & Marketing / Factoids | (651) 291-6116 |
| Matt Spiel | ITIP System Manager / Data Analysis | ((608) 829-7518 |
| Paul Foundoukis | HPMS Field Manual / Division Field Review Process | (785) 273-2655 |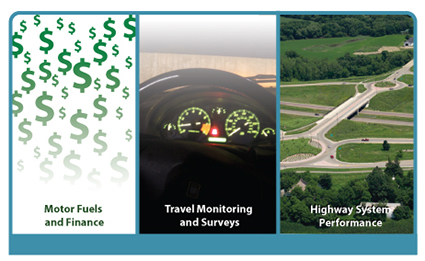 Division Activities
The Motor Fuel and Finance Division administers the collection, analysis, and dissemination of data relating motor fuels tax, driver licensing, vehicle registration, and highway finance programs. The division also administers the motor fuels tax evasion and heavy vehicle use tax programs. Motor fuels, driver licensing, vehicle registration and finance data are provided by our State partners on either a monthly, annual or biennial basis. Once compiled and analyzed, the data are used to 1) provide information and analysis in support of the Federal Highway Program's reauthorization; 2) develop proposed legislation and reports to Congress; and 3) analyze existing and proposed Federal-aid funding methods and levels.
The Travel Monitoring and Surveys Division administers the national traffic monitoring program, the national truck weight monitoring program, the national travel behavior program, long distance travel origin destination data, and national model program. The division also takes on the responsibility of conducting research on strategic challenging issues including, but not limited to: future travel demand, vehicle miles traveled, long distance passenger travel, energy consumption, greenhouse gas emissions, congestion, and revenue.
The division administers the Highway Performance Monitoring System (HPMS) data system, and coordinates with the States on the reporting of mileage and performance data of the nation's highway system to FHWA. The data is used in the attribution of funds from the Highway Trust Fund on an annual basis. The data is the underlying data for the Conditions & Performance Report to Congress.