Development of Human Factors Guidelines for Advanced Traveler Information Systems and Commercial Vehicle Operations: Comparable Systems Analysis
CHAPTER 4. UNIVERSITY OF MICHIGAN TRANSPORTATION RESEARCH INSTITUTE (UMTRI)
GENERAL SYSTEM DESCRIPTION AND OBJECTIVES
In accordance with the Task D SOW for the current contract, UMTRI was designated as one of the comparable systems to be analyzed. Information about the UMTRI research program was obtained primarily in a meeting with Dr. Paul Green at the UMTRI Human Factors Division and in subsequent telephone interviews.
A variety of techniques have been used in the UMTRI research program, including literature review, focus groups, identification of functions and features of driver information systems, analysis of methods for assessing safety and usability, laboratory development of prototype in–vehicle displays, and on–the–road testing in an instrumented vehicle. After the literature review, focus groups with drivers, and human factors evaluations in the laboratory, UMTRI identified five categories of information for further study:
Navigation/Route Guidance.
Traffic Information.
Vehicle Monitoring.
Cellular Phones.
In–Vehicle Safety and Warnings Systems (IVSAWS).
Various information display methods and formats were developed and evaluated using rapid prototyping techniques. Analyses using the Goals, Operator, Method, and Selection (GOMS) model addressed the effectiveness of the various displays (Card, Moran, and Newell, 1983). Usability studies were conducted on various types of interface designs and the best features were incorporated into a field study investigating the navigation and route guidance aspects of ATIS systems.
The culmination of the UMTRI effort was the on–the–road test of this IRANS system. (See table 3 for the ATIS functional characteristics that apply to the on–the–road system.) That system will be emphasized in the present report, since the authors were able to gain direct experience with the system while acting as pseudo–subjects in the test procedure. Three members of the Battelle team drove the test vehicle with the simulated route guidance system.
Table 3. Comparison of UMTRI functions with those from ATIS/CVO systems.
| Subsystem | Function | UMTRI |
| --- | --- | --- |
| | Trip Planning | |
| | Multi-Mode Travel Coordination | |
| | Pre-Drive Route and Destination Selection | * |
| | Dynamic Route Selection | |
| IRANS | Route Navigation | * |
| | Route Guidance | * |
| | Automated Toll Collection | |
| | Route Scheduling (CVO-Specific) | |
| | Computer-Aided Dispatch (CVO-Specific) | |
| | Broadcast Services/Attractions | |
| IMSIS | Services/Attractions Directory | |
| | Destination Coordination | |
| | Message Transfer | |
| | Roadway SignðCGuidance | |
| ISIS | Roadway SignðCNotification | |
| | Roadway SignðCRegulatory | |
| | Immediate Hazard Warning | * |
| | Roadway Condition Information | * |
| IVSAWS | Automatic Aid | |
| | Manual Aid Request | |
| | Vehicle Condition Monitoring | |
| | Cargo and Vehicle Monitoring (CVO-Specific) | |
| | Fleet Resource Management | |
| CVO-Specific | Dispatch | |
| | Regulatory Administration | |
| | Regulatory Enforcement | |
The test vehicle is an instrumented Honda station wagon. It has a lane tracker built into the left side mirror and collects data from the steering wheel, brake, gas pedal, and turn signals. A microphone and two video cameras captured the driver's face and the front view from the car. In previous studies, UMTRI emulated a head–up display (HUD) by using a small mirror attached to the windshield that enabled the driver to view a reversed–video, 23–cm CRT mounted between the front seats. The HUD was not implemented for this study. The UMTRI Research Assistant sat in the back seat on the passenger's side. She had two keyboards available to control the pages displayed by the route guidance system. In effect, she was using the "Wizard of Oz" technique to replace global positioning systems (GPS) or other navigation data sources to control the display of route guidance information. The technique was very effective in achieving the look and feel of a dynamic in–vehicle display of route guidance, given the constraint that the route was predetermined. The Wizard of Oz technique was entirely successful in emulating a fully functional in–vehicle navigation system.
The test route was approximately a 25–minute drive and included a variety of driving conditions, with semi–rural, residential, multi–lane business, and interstate roadway segments.
USER INTERFACE
Visual Information Display
The in-vehicle display was a 13–cm LCD, located on top of and in the middle of the dashboard. A rudimentary road map was displayed, showing the route to be followed, with an arrow representing heading direction (figure 42).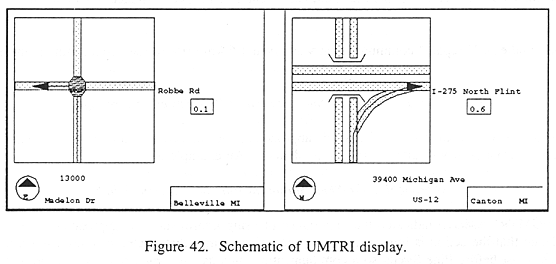 The display also indicated the name of the current street, name of the next turn street, and distance to the turn in tenths of a mile. The display was presented in a heading–up mode. The system did not incorporate voice output.
The display was helpful in route guidance and it was easy to interpret next–turn information. It seemed very similar to the Navmate (Chapter 5) route guidance display, without the auditory information.
Auditory Information Display
No auditory information was given in this on–road study. Prior laboratory work at UMTRI included the development of auditory display for route guidance. The system was developed after analysis of the TravTek auditory information.
A given maneuver, such as a turn, was communicated to the driver in three stages: Early, Prepare, and Final. In all the stages, a similar format or syntax was used:
Distance.
Landmark.
Location.
Action.
Early communication was given soon after completion of the prior maneuver. An example of an early communication is:
"In 2 miles at Pine Street, turn right."
The early communication omits the "landmark" feature and gives distance, location, and action.
The middle or "Prepare" communication was given 1.6 km prior to the action. An example is:
"Prepare in 1 mile, at the Shell Station at Pine Street, to turn right."
The final communication used the word "approaching" to indicate that the action is required soon. Normally, it was given 0.16 km in advance. An example is:
"Approaching the Shell Station at Pine Street, turn right."
The UMTRI research indicated the importance of using a term such as "approaching" to indicate that the action is imminent, but not necessarily immediate. One or more right turns might exist before Pine Street, so a communication such as "turn right now" would not necessarily be correct. The landmark gives the driver a visual cue to supplement street signs, which are sometimes difficult to locate or are poorly illuminated at night.
The UMTRI work on auditory displays was done first in the laboratory, then it was tested on the road. In the road test, the error rate (e.g., failure to make the correct turn) was less than 5 percent with the auditory route guidance. This is an excellent success rate for auditory guidance only, using no visual display.
User Input (Controls)
The UMTRI research did not include work on driver input or control actions related to an in–vehicle display system.
Communications Systems
The UMTRI research did not include work on driver communications with a Traffic Management Center or dispatcher.
Cognitive Demands
Eye–fixation data were obtained in the UMTRI instrumented vehicle during road tests. These data provide a foundation for the analysis of driver time–sharing behavior and they supplement more direct measures of driving performance such as lane tracking and speed variance. However, these data have not been analyzed to date.
At UMTRI, the prevailing design philosophy with respect to attention and workload seems to be that drivers may become overloaded if they attempt to interact with an in–vehicle system while driving. Therefore, the favored concept is to allow the driver to interact with the system only in the pre–drive phase, while the vehicle is in PARK.
System Temporal Requirements
The temporal requirements of the system were circumvented in this test by the Wizard of Oz technique. The human operator (research assistant) could account for computer lags or other temporal factors in presentation of the display pages.
DESIGN GUIDELINES USED
According to Dr. Green, no human factors or other guidelines were used as reference documents in the development of the ATIS displays at UMTRI. He suggested that traditional human factors guidelines usually are developed either for human-computer interaction (e.g., Smith and Mosier, 1988) or for military systems (e.g., MIL–STD 1472) and are not helpful for the design of in–vehicle displays for ATIS systems. He suggests that the preferred method is to develop in-vehicle displays using a pragmatic approach of iterative designing and testing. This technique was used, for example, to decide on the typeface and character size used in the UMTRI in–vehicle display.
LESSONS LEARNED
[UM 01] PRAGMATIC, ITERATIVE DESIGN METHODS ARE EFFECTIVE IN DEVELOPING CRITICAL DESIGN FEATURES
This is a methodological lesson learned that supplements typical approaches to interface design. UMTRI suggested that the best method for developing human factors interfaces for a particular ATIS application is neither to refer to guidelines nor to do empirical research. This method uses a "quick–and–dirty" iterative design in which rapid prototyping is used to represent design alternatives. With this approach, a very small sample of typical (i.e., non–human factors experts) drivers is used to judge the design alternatives. Their performance and subjective opinions are used to choose among alternatives and to identify critical design features. Several iterations of this process can be done in a laboratory–type setting with rapid prototypes. As the design progresses, it can be tested more formally in a real vehicle as a working prototype.

Repeated and frequent iterative usability testing and evaluations should be incorporated into the ATIS system development cycle.
[UM 02] INTERFACE CONSISTENCY IS ESSENTIAL
Software architecture consisting of several menus and screens containing various symbology located in different display layouts may lead to driver confusion and increased scan time.

Driver interfaces must be consistent. Information communicated to the driver in visual displays should be consistently located within the display. Vocabulary used in auditory speech displays should use consistent syntax and sequence of information.
[UM 03] DISPLAY CHARACTER SIZE SHOULD BE LEGIBLE FROM NORMAL DRIVING POSITION
The size of all display characters should be large enough to be legible from a normal driving position and for varying degrees of driver visual abilities (e.g., low visual acuity in the elderly).

Character size for in–vehicle displays should be not less than 64 mm. This recommendation stems from UMTRI research on the legibility of digital speedometers as well as prototype development for the ITS in–vehicle display. This character height can be expressed as a visual angle of approximately 0.45 degrees, assuming the distance from the driver's eye point to the display is approximately 80 cm.
[UM 04] DRIVER INPUT REQUIREMENTS MAY DISTRACT THE DRIVER FROM THE DRIVING TASK
Driver control inputs to an in–vehicle route guidance system should be minimal because interacting with the unit may distract the driver from the primary driving task. This lesson learned is based on anecdote rather than data, but nonetheless is of critical importance. UMTRI suggested that a well–designed system should anticipate the driver's needs as much as possible, reducing the need for manual input. This position is pertinent for route guidance, but not for route planning. The selection of destination and route planning can be done while the vehicle is stationary. This allows the driver to interact with the system without being distracted from driving.

The UMTRI research program on in–vehicle display systems circumvented this problem by not allowing the selection of destinations or routes. That option is not available for an operational system, which must allow users to select destinations and routes.
[UM 05] VERBAL INFORMATION ON VEHICLE STATUS IS BETTER THAN "MIMIC" OR ICON
A common technique for communicating information about system status, such as a door open or trunk lid open, is to display a small mimic or replica of the car with the corresponding door open in the color red.

The UMTRI program of research indicated that this type of information is communicated better by verbal cautions such as "Driver's door is open."
[UM 06] THE LOCATION OF HAZARDS SHOULD BE STATED VERBALLY FROM THE DRIVER'S PERSPECTIVE
Auditory messages conveying the location of hazards should be delivered using the method that is most intuitive for the driver.

After testing 10 designs for communicating the location of proximate hazards, such as an emergency vehicle, the UMTRI research program found that a simple verbal message giving the nature of the hazard, followed by its location, worked best. An example is "Ambulance to the left." This wording was more effective than options such as "Ambulance at 10 o'clock." (Hoekstra, Williams, and Green, 1993)
[UM 07] DRIVER INFORMATION REQUIREMENTS FOR ATIS SHOULD INCLUDE ROADWAY HAZARDS AND TRAFFIC CONGESTION INFORMATION
UMTRI studies of driver information needs found the two most highly rated features to be information about roadway hazards (crash site, construction, railroad crossing) and information about traffic congestion (Serafin, Williams, Paelke, and Green, 1991).
[UM 08] KNOWLEDGE OF HOW DRIVERS USE PAPER MAPS SHOULD BE USED AS BASELINE FOR ATIS DESIGN
An extensive survey of map use and automobile navigation (Cross and McGrath, 1977) is relevant to the design of electronic maps. The design of new technologies normally is based on new methods for meeting the needs of users. Extensive knowledge of how motorists currently perform navigation tasks is an important foundation for the design of electronic navigation aids. One item from the Cross and McGrath study that is directly relevant to ATIS systems was that at any given time, 6 percent of motorists are either lost or uncertain of where they are.

Green (1992) states that "For determining the information available and desired by drivers, Cross and McGrath (1977) is the most valuable source in the published literature and should be required reading for those defining system functionality. It contains a wealth of data indicating type of information desired and presentation problems with paper maps."
[UM 09] DRIVER INFORMATION NEEDS DEPEND UPON THE DRIVING TASK
In the guidance mode, several types of information can be provided to drivers, including simple information about what to do next, when turns are not required for a period of time (e.g., a continue instruction), and lane information. Each type of information is contingent on a particular driving task and should be displayed during that task.

To display the most useful information to the driver, it is necessary to identify the various types of tasks and intentions of drivers across phases of travel (e.g., trip planning, route guidance, or navigation).
[UM 10] TRAFFIC CONGESTION IS BETTER CODED WITH COLOR THAN WITH DIFFERENTIAL LINE WIDTH
[UM 11] USE A DIGITAL SPEED INDICATOR RATHER THAN MOVING GRAPHIC ELEMENTS (e.g., DASHED LINES) FOR DISPLAYING TRAFFIC SPEED INFORMATION
[UM 12] MAP ORIENTATION DEPENDS ON ATIS MODE
Adeyemi (1982) found that geographic orientation and map interpretation were considerably better when the map and the map user were oriented in the same direction. Furthermore, maps with eight compass points rather than one (North) led to better performance. These data argue for aligning maps with the direction a person is facing (heading up) and providing multiple direction markers, not just North.

For trip planning, electronic maps should be shown North up; for route guidance, they should be shown heading up. (See Green, 1992.)
[UM 13] ROUTE GUIDANCE DISPLAYS SHOULD AVOID DETAIL
[UM 14] LANDMARKS SHOULD BE SHOWN ON NAVIGATION DISPLAYS
Landmarks (underpasses, bridges, stoplights, stop signs, etc.) and buildings (gas stations, restaurants, etc.) are used by motorists as keys to location and driving actions (e.g., "Turn right just past the McDonalds").

Electronic maps should take advantage of a driver's propensity to use landmarks.
[UM 15] APPROPRIATE MEASURES OF DRIVER AND SYSTEM PERFORMANCE FOR EVALUATING IN–VEHICLE DISPLAYS MUST BE DEVELOPED AND USED
Research has been done under laboratory, simulator, and on–the–road conditions using a variety of measures, including eye movement, heart rate, response time, lane tracking, speed tracking, navigation error, trip time, average speed, and, of course, driver opinion. There is no simple set of "correct" measures.

Establishing valid measures of driver performance is not a trivial problem; it needs considerable deliberation and research.
[UM 16] SEVERAL ATIS-USER RESEARCH ISSUES NEED TO BE ADDRESSED
The use of electronic navigation systems has not been studied sufficiently for use by older drivers, novice drivers, and under difficult conditions (such as at night) and requires further study.
FHWA-RD-95-197