Development of Human Factors Guidelines for Advanced Traveler Information Systems and Commercial Vehicle Operations: Comparable Systems Analysis
CHAPTER 3. THE TravTek SYSTEM
The following section describes and evaluates the TravTek system with respect to its interface design process. The design of the TravTek user interface was the responsibility of General Motors Research Laboratories. Many of the views expressed in this chapter are derived from published works and recollections of the authors on the process of designing TravTek. In addition, some of the descriptive material on TravTek and ATIS functionality is summarized from Task C and Task F working papers.
GENERAL SYSTEM DESCRIPTION AND OBJECTIVES
The TravTek demonstration project is the most comprehensive ATIS system fielded to date. As of the writing of this non-technical report (September 1993), the TravTek deployment and data collection phases have been completed, and the data analysis and reporting phases are ongoing. Limited empirical results are available for the TravTek study and will be cited in this section. These results provide unique insight into the usability and safety of the TravTek interface and the overall system effectiveness.
The TravTek system was composed of three primary components: the TravTek Information Services Center (TISC), the Traffic Management Center (TMC), and the TravTek vehicles. The TISC was managed by the American Automobile Association (AAA) of Florida during the deployment phase and provided help-line functions by means of a cellular telephone link. Supplemental travel, accommodation information, and emergency road service were available to TravTek users via this communications channel as requested. In addition, the TISC supplied local business and services data, a special events database, and selected listings from the Central Florida telephone book yellow pages for in-vehicle use. The TMC collected and fused traffic information from several sources. These included historical travel times as a function of time of day; and dynamic times from roadway loop detectors, police reports, city reports of maintenance and road closures, and probes of travel times from TravTek vehicles. In the TravTek vehicle, there was a computer and a color CRT with an infrared touch screen. The CRT was positioned high on the instrument panel and to the driver's right. The navigation system used a combination of dead-reckoning, map-matching, and Global Positioning System information to track the vehicle's position.
The TravTek Driver Interface has been created and developed to provide navigation, yellow pages, and roadway incident and traffic information to the driver (Fleischman, Carpenter, Dingus, Szczublewski, Krage, and Means, 1991). The design of this navigation system interface has as its primary objectives: (1) more effective driver navigation to save time and money, (2) easy access to valuable and convenient location information to alleviate stress and increase driving enjoyment, (3) maintenance of safe driving performance during system use and safety improvement facilitated by information for avoiding hazards and for emergency response, and (4) improvement of roadway efficiency to alleviate congestion.
Drivers who used the TravTek-equipped vehicles in Orlando, Florida, had access to an information-rich environment in the vehicle. Functions available in the vehicle included navigation information, route guidance, real-time traffic information, and information on local services and attractions. As shown on the main menu screen (figure 1), drivers could choose to enter a destination, browse through information about local services and attractions, browse through maps of the local area, request emergency services, go through tutorial instructions, or correct the location of their vehicle on the map display.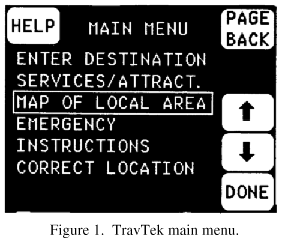 The features provided by the TravTek system spanned at least some aspects of all four of the subsystems planned or anticipated for ATIS. Table 2 illustrates the functionality of the TravTek system in comparison to the functions proposed for ATIS/CVO. Note that 18 functions are addressed (to at least some extent) by the TravTek system.
Table 2. Comparison of TravTek functions with those from ATIS/CVO systems.
| Subsystem | Function | TravTek |
| --- | --- | --- |
| | Trip Planning | * |
| | Multi-Mode Travel Coordination | * |
| | Pre-Drive Route and Destination Selection | * |
| | Dynamic Route Selection | * |
| IRANS | Route Navigation | * |
| | Route Guidance | * |
| | Automated Toll Collection | * |
| | Route Scheduling (CVO-Specific) | |
| | Computer-Aided Dispatch (CVO-Specific) | |
| | Broadcast Services/Attractions | * |
| IMSIS | Services/Attractions Directory | * |
| | Destination Coordination | * |
| | Message Transfer | * |
| | Roadway Sign CGuidance | * |
| ISIS | Roadway Sign Notification | * |
| | Roadway Sign Regulatory | * |
| | Immediate Hazard Warning | * |
| | Roadway Condition Information | * |
| IVSAWS | Automatic Aid | * |
| | Manual Aid Request | * |
| | Vehicle Condition Monitoring | |
| | Cargo and Vehicle Monitoring (CVO-Specific) | |
| | Fleet Resource Management | |
| CVO-Specific | Dispatch | |
| | Regulatory Administration | |
| | Regulatory Enforcement | |
The goals, as well as the anticipated users of ATIS, are well represented by the TravTek system. Business travelers, recreational travelers, and local inhabitants were recruited as part of the TravTek demonstration. Therefore, the "lessons learned" from this project may well provide the richest source of information on ATIS to date.
USER INTERFACE
It is important to note that the original TravTek interface had to be modified to match the constraints of the vehicle in which it was installed. The 1992 Oldsmobile Toronado was chosen since it already had an in-vehicle display and a cellular phone installed as options. Therefore, many of the physical aspects and specifications described below are indicative of the vehicle design and are not necessarily intended to be taken as part of the TravTek system.
THE TravTek HUMAN FACTORS DESIGN PROCESS
TravTek EVALUATION METHODOLOGY
Given that selected evaluation data are available from the TravTek demonstration project, the majority of the lessons learned have come from the wealth of available evaluation data. To fully understand the value of this data for establishing design guidelines, one must first understand the magnitude of the TravTek evaluation program.
As previously stated, the TravTek evaluation program currently is in the data analysis and reporting stages. The TravTek evaluation is an extensive program to test various aspects of the TravTek system, from performance of the technology to safety and human factors issues. As such, much of the data generated will be of great use to the development of ATIS guidelines. Some of the preliminary data are summarized in the following sections in a "lessons learned" format. However, much of the data presented are descriptive only and have not been subjected to inferential statistics. Therefore, the results should be interpreted with caution.
To provide a full understanding of the scope of the TravTek evaluation in the context of the data presented in the following section, a description of the evaluation studies of interest to the human factors community (from Fleischman, 1991) is presented below.
The TravTek evaluation was designed to address several levels of analysis. At the most macro level of analysis is the traffic network as conceived by many traffic managers and traffic researchers. The flow traffic within the network can be directed around stoppages or distributed over more of the network. However, in the case of an advanced driver information system such as TravTek, network efficiency is not improved by managing the flow of traffic in a direct way. Rather, the traffic is composed of drivers with different states of knowledge about possible routes, cyclical traffic patterns, and incidents. The hypothesis is that drivers who have the more precise, current information will use it to plan trips and to navigate more efficiently. If the system functions properly, the vehicle information system will calculate and inform drivers of routes that are more direct and/or that bypass traffic incidents. So, in a mature system with enough vehicles equipped with route and traffic information, the result should be a redistribution of traffic. The proposed benefits to the equipped drivers include improved trip times, avoidance of traffic congestion, and easier navigation to chosen destinations. The proposed benefit to non–equipped drivers is the increased flow through a traffic network relieved by the redistribution of equipped vehicles (Fleischman, 1991).
At a micro level of analysis, the driver is an information processor and decision maker in a control loop with the vehicle that is nested in the TravTek system. The success of the system at the macro level depends on many assumptions about the system at the micro level (e.g., the driver and vehicle level of analysis). The following assumptions have been called out as hypotheses to be tested as part of the TravTek research (Fleischman, 1991):
The driver will be able to extract navigation and traffic information from displays without a degradation in basic driving performance. There has been much speculation and some research on the potential for distraction and information overload (Fleischman, Carpenter, Dingus, Szczublewski, Krage, and Means, 1991): (a) Some suggest that the presentation of navigation information to the driver will reduce the need to scan the roadway for signs, which can itself detract from driving performance. Others, particularly those in the human factors community, contend that some visual information displays may impose an unacceptable attentional demand on the driver. (b) There is evidence that attentional demand may be a function of display type, that moving–map displays may require drivers to glance more than would simple graphic depictions of the next maneuver or auditory messages. (c) As drivers have more experience with the system, there may be a shift from novice behavior of glancing at displays inappropriately to more appropriate division of attentional resources.

The drivers will behave as system designers and traffic researchers predict. However, this may depend on the utility of the information to the drivers, the human factors of the driver interface, and the willingness of drivers to comply by driving routes selected by the system and accepting better routes while in transit.

If drivers use the system, they will navigate better. That is, drivers will spend less time and drive fewer miles because they will not get lost. They will drive to destinations more efficiently, and they will potentially perform fewer unsafe maneuvers to correct navigation errors.

There is a relationship between observed measures of time savings, congestion avoidance, and navigation improvement and the perception of these benefits by drivers. The salience of improvements as experienced by the drivers may affect the utility of the system.

Drivers will want to equip their cars and use the system regularly. A TravTek–type system will require a critical level of market penetration and system use to effect network efficiency.

There will be indirect safety benefits due to: (a) routing drivers around potentially dangerous traffic conditions and (b) reduction of navigational waste. Each of these aspects is being addressed in the TravTek evaluation program in one or more of the following studies (Fleischman, 1991):
Field Study With Rental Users
The participants in this study were recruited by the American Automobile Association from club members who traveled to the Greater Orlando area. They rented TravTek vehicles through special arrangements with Avis. Seventy–five vehicles were used in the field study throughout the year of data collection. Each traveler participated for their normal planned length of stay in Orlando. All drivers participated in a questionnaire study and some were interviewed.
Participants were divided into three groups: (1) Drivers in the "Navigator Plus" group had access to all of the navigation functions, real–time data communicated by the TMC, and service functions. Service functions are the maps and the services and attractions directory that are available only when the vehicles are in PARK and, also, the cellular telephone. (2) Drivers assigned to the "Navigator" group had access to all autonomous navigation and service functions, but no real–time data. (3) Drivers in the "Service" group had service functions only. This is the control group against which the others are compared. The control group vehicles were equipped with a TravTek in–vehicle navigation and data logging system, but it was to be transparent to the users. Data such as vehicle position, heading, speed, and stops were automatically time–stamped and logged.
This division allowed the manipulation of the level–of–information variable and, therefore, an evaluation of TravTek benefits and costs by comparing data produced by driving "high–tech" vehicles with and without navigation or traffic information. The Navigator Plus and Navigator groups are needed to evaluate the incremental benefits associated with providing real–time data.
Driver interaction with the TravTek system, such as key presses, were logged in the vehicle and are being sorted and analyzed to reveal which functions drivers used. The data can be sorted by subject and traffic factors by merging the vehicle log data with the TMC and User Profile log data. For example, how many drivers used route guidance? When they used route guidance, did they use the maneuver–by–maneuver screens, route maps, or voice? What did they use during peak versus off–peak traffic conditions? Did drivers of different ages make different choices?
Field Study With Local Users
The field study with local users shares many of the aims of the rental car study, but it sampled a population of people who are familiar with the geography of the Orlando area.
Two groups of drivers used Navigator Plus and Navigator vehicles for approximately 2 months. They were asked to assess the benefits of having the system functions compared with their usual means of negotiating the Orlando traffic network. This study was comparatively small, with 10 to 25 drivers at a time.
An analysis of system use compared with the rental car study should reveal a more complete picture of how trip planning, navigation, and traffic information systems might be used by people purchasing the system for their own use and how that use may change with experience. All local users completed questionnaires (Fleischman, 1991).
Yoked Driving Study
The Yoked Driving Study is a method of specifically testing the trip time savings and network efficiency objectives by studying the effects of TravTek on trip times and congestion avoidance.
Hired drivers were assigned to Control, Navigator, and Navigator Plus groups. They were instructed to drive a series of origin–destination pairs. To control for weather and traffic conditions, a member from each group drove simultaneously from origin to destination.
To facilitate the mapping of this study onto the Field Studies, origin–destination pairs were chosen to correspond to routes most likely to be traveled in the Field Studies. Additional pairs were also chosen to accommodate traffic/environmental variables (Fleischman, 1991).
Orlando Test Network Study
The purpose of this experimental approach was twofold: (1) to learn if people do navigate more efficiently with the in–vehicle navigation information provided by TravTek, and (2) to test navigation performance and preferences as a function of navigation information display type.
The Test Network was a network of possible routes between origin–destination (O/D) pairs. These routes encompassed a variety of highway types and conditions. They passed through system sensors and overlapped, to the greatest extent possible, with O/D pairs defined in the Field Studies and Yoked Driving Study. Navigation display types that were tested include:
(1) hard–copy map, (2) maneuver–by–maneuver route guidance map, (3) moving map with route overlay, (4) moving information map, and (5) voice guidance. In addition, interactions with driver age, sex, and light conditions were studied (Fleischman, 1991).
Camera Car Study
A Camera Car Study provided detailed evaluations of: (1) how using the in–vehicle navigation displays affect driving performance (safety and navigation behavior) and (2) how easy the system is to use and to learn (human factors).
A TravTek vehicle was equipped with video cameras focused on the driver, the driving scene, the display and controls, and the outside lane line. This instrumentation, along with the vehicle data log, experimenter observations, and driver debriefing, provided a rich array of driver attention, vehicle control, and usability and learning measures.
Hired participants varied with respect to age, sex, and education level attained. The participants performed a series of tasks using the pre–drive functions available only in PARK, such as entering a destination; using the functions available while driving; and using the navigation functions. The drive tasks were performed while navigating the Orlando Test Network. Each driver used: (1) a hard–copy map, (2) a paper directions list, (3) a moving map with route guidance overlay, (4) a maneuver–by–maneuver guidance map, (5) voice guidance in combination with (3) above, and (6) voice guidance in combination with (4) above. The results of this study will help establish the relationship between eye glance measures and driving performance measures such as speed variance and lane excursions (Fleischman et al., 1991).
Questionnaire Study
Subjective and attitudinal data were gathered by means of a single questionnaire distributed to all participants in the Field Studies with Rental and Local Users. Questions addressed most TravTek objectives and research questions. People rated attributes of the TravTek system such as system reliability, display readability and color quality, accuracy and usefulness of traffic information, overall user friendliness, usefulness for navigation, perceived safety benefits or costs, perceived time savings, and congestion avoidance. In addition, they answered market research questions about their willingness to buy a system with TravTek functions such as navigation, traffic reports, and services/attractions directory; under what circumstances, and for what price.
Debriefing and Interviews
Detailed driver preference, perception, and marketing data were collected through person–to–person interviews. A subset of participants in the Field Studies with Rental and Local Users were interviewed, and hired participants in the Yoked, Orlando Network, Camera Car, and TMC/Traffic Probe Studies were debriefed after their experimental drives.
Modeling and Analyses
Data collected during the year of operation of TravTek are being analyzed to project the resulting effects to a mature system. Traffic simulation modeling that builds on the work of Van Aerde (Van Aerde and Krage, 1991) and market penetration modeling are being used to predict the consequences of a TravTek–like system for traffic network performance at several levels of market penetration. Potential environmental, economic, and community impact are being derived from the collected data. Analyses are being performed to investigate the implications of a TravTek–type system on safety (Burgett, 1991).
Global Evaluation
The Global Evaluation integrates the results of all individual TravTek Studies to provide evidence that TravTek met or did not meet its objectives. This is a macro evaluation that interprets the research results in the context of TravTek's stated claims and constraints. The global evaluation relates the results to those of similar ITS projects, such as Pathfinder (Farradyne Systems and Associates, 1989). The other purpose of the global evaluation is to assess TravTek as a cooperative project with public and private sector partners.
DATA FROM THE TravTek EVALUATION
A questionnaire item included in the TravTek post-experiment questionnaire was an overall rating from poor to excellent. Poor was designated as a "1" on the questionnaire and excellent was rated as a "6". Poor and Excellent were the only two anchor points provided. The mean response to this item was 5.2, indicating that overall, subjects found TravTek to be a very positive experience.
LESSONS LEARNED
[TT 01] USER ACCEPTANCE OF TravTek SYSTEM WAS POSITIVE
Overall, subjects found the TravTek interface and system to be a very positive experience.

Given the amount of data collected, the comprehensiveness of the TravTek system analysis, and the positive outcome of the study, ATIS system designers should consider TravTek a model prototype design.
[TT 02] PAPER MAPS REQUIRED MORE TIME COMPARED TO THE TravTek SYSTEM
Trip planning time and travel times were higher for the paper map condition compared to the TravTek conditions.

ATIS systems seem to be more effective than relying on paper maps.
[TT 03] ROUTE MAP WITHOUT VOICE LED TO GREATER TURNING ERRORS
More turning errors occurred for the route map condition without voice as compared to any other condition. In contrast, the route map with voice had the lowest turn–error rate. This is not a surprising result considering that the visual information load increases as drivers near turning maneuvers. Voice feedback provides continuous information while the driver's eyes are fixed on the roadway.

ATIS systems should provide voice messages to supplement route map display information, especially during turning maneuvers.
[TT 04] TravTek USE DID NOT LEAD TO INCREASED ACCIDENT RATES
Accident statistics associated with the TravTek evaluation program were quite positive. Even using the most conservative comparison groups (i.e., non–visitors, non–rental car users, national averages), a statistical difference in accident rates did not exist between the TravTek users and any comparison group (Perez and Van Aerde, personal communication, 1993).

Even though the TravTek users drove more than 1.6 million km, accident rates require extremely large exposure to be reliable. Still, these results are encouraging with respect to the safety of ATIS systems.
[TT 05] TravTek USE DID NOT LEAD TO AN INCREASE IN "NEAR MISSES"
Near misses were analyzed in the Camera Car Study and a surprising lack of near–miss data was found. No more near misses were found (in general) under the TravTek conditions than under the control conditions (paper map and paper directions list).

These data support the safety of ATIS systems relative to the existing behavior of using paper maps and written directions while driving.
[TT 06] TravTek USE DID NOT LOWER DRIVERS' PERCEPTIONS OF SAFETY
The questionnaire also asked a general safety question about the TravTek systemðCDo you think that TravTek helped you drive more safely in Orlando? The response to this question was a slightly positive 4.4 on a 1 = "Didnð=t help me drive safely" to 6 ="Helped me drive safely" scale.

These data support the perceived safety of ATIS systems by drivers compared to their previous driving experiences.
[TT 07] DISPLAY MODE DID NOT AFFECT NAVIGATION PERFORMANCE
[TT 08] BOTH ROUTE MAP AND GUIDANCE SCREEN WERE VALUED
Both types of maps were highly rated by the participants. In addition, objective data indicated that visiting drivers (i.e., rentals) chose to use the guidance screen more than 85 percent of the time that TravTek was activated. Local drivers chose to use the guidance screen more than 70 percent of the time. The majority of drivers preferred the turn–by–turn guidance screen over the full–route moving map. However, it is also clear that some drivers in some circumstances found the route map more useful. There are a number of cases, including when the driver is off–route for either a planned or unplanned reason, in which a moving map may be the only way to effectively display required information.

The TravTek strategy of allowing the driver to access both types of maps appears to have been the most effective choice.
[TT 09] VOICE GUIDANCE IS PERCEIVED AS VALUABLE
Voice guidance information was quite successful in the TravTek system. Voice generally provided improved navigation performance when compared to visual display only. Rental drivers chose to have the voice guidance mode activated more than 90 percent of the time. Local users activated the voice guidance mode more than 65 percent of the time.

Voice guidance is perceived as being valuable, particularly by drivers who are unfamiliar with an area. Apparently, voice also is considered to have value to local users who are both familiar with the area and familiar with the vehicle and the system.
[TT 10] SYNTHESIZED SPEECH IS SOMETIMES MISUNDERSTOOD
Drivers' ratings of voice clarity, message understandability, and function were positive, but not as high as other ratings.

The state–of–the–art in low–cost synthesized speech still leaves something to be desired. The digitized versus synthesized trade–off (intelligibility vs. storage requirements) is still in question.
[TT 11] VOICE AND DISPLAY FEEDBACK PREFERRED
Voice was preferred in conjunction with either the route guidance or the map display. This is in contrast to the rating of voice alone, which was still positively rated, but not as highly.

Voice is perceived as a valuable complementary feature to visual displays in ATIS systems.
[TT 12] DRIVERS ARE WILLING TO USE ALTERNATIVE ROUTES
Questionnaire results indicate that many drivers are willing to change routes to save time while en route. This is valuable data to support alternative route functions.

ATIS systems should provide drivers with alternative routes.
[TT 13] MAP DISPLAYS ARE USEFUL EVEN WITHOUT DESTINATION–SPECIFIC ROUTING INFORMATION
The TravTek system allowed access to a moving map even when a destination was not entered. This "information map" allowed the driver to get proximal orientation and navigation information, as well as traffic congestion and incident information.

Destination selection should not be mandatory in the use of ATIS system map displays.
[TT 14] MOTORIST SERVICES INFORMATION WAS HIGHLY RATED
The features provided by the services directory were rated positively by the TravTek users.

ATIS systems should contain motorist services features (i.e., yellow pages) to assist in destination selection.
[TT 15] HAZARD AND CONGESTION WARNINGS GET TEPID RESPONSE
Warnings of congestion or an incident ahead received essentially neutral ratingsðCsome of the lowest ratings received by the system. A number of subjects apparently questioned the reliability and timeliness of the traffic information provided by the TMC.

Hazard and incident information must be timely and accurate to receive driver acceptance.
[TT 16] ESCHEW TWO–PRESS TOUCHSCREENS
Pre–drive information was entered via the touchscreen menu system. The keypad had multiple letters per soft key, and required two button presses for each letter. Ease of use was rated somewhat lower (although still positively) in comparison to many of the TravTek functions and features.

A single–letter–per–key input device is recommended over a two–letter–per–key input device.
[TT 17] STEERING WHEEL BUTTONS WERE HIGHLY RATED
While in transit, only the steering wheel buttons were accessible to the driver. The steering wheel buttons were rated higher than most other functions and features, and quite highly overall. Previous research has shown the value of steering wheel buttons for ease of use and relatively low attention demand. It is apparent that these results generalize to ATIS applications.

ATIS system primary controls should be placed on the steering wheel.
[TT 18] HELP DESK WAS HIGHLY RATED
Drivers highly rated the capability to communicate with the TravTek help desk via the cellular phone if they had any problems or questions about the system.

A variety of help features is recommended in ATIS system design and rapid communication with a help desk is a particularly valuable feature.
[TT 19] HUMAN FACTORS AND SYSTEMS ENGINEERING TEAMS PLAYED A CRUCIAL ROLE IN TravTek's DESIGN
The use of a team of human factors and systems engineering experts was advocated throughout the design process. The TravTek interface was quite complex, and often required designs constrained by driver, vehicle, and cost factors. As such, there were many design changes and iterations that required close scrutiny. Each member of the team (three human factors experts on a part–time ongoing basis, a linguistics expert, and two systems engineers) made significant contributions throughout this process.

Incorporating human factors early in the design of ATIS systems can enhance system performance, promote user acceptance, and reduce the need for later design changes.
[TT 20] HUMAN FACTORS DESIGN TECHNIQUES WERE USEFUL
The use of "standard" human factors design techniques was essential. These included task analysis, function allocation, and somewhat informal trade–study analyses.
[TT 21] RAPID PROTOTYPING AND USABILITY TESTING WERE MOST USEFUL IN THE DESIGN PROCESS
Laboratory usability testing early in the system design process using rapid prototyping and testing in a dual–task environment was invaluable. Design decisions generated or supported by this process included conservative use of "moving maps" (i.e., only when necessary, as an alternative to turn–by–turn guidance screens, and in conjunction with voice guidance).

Laboratory usability testing should be introduced early in the system design process and implemented iteratively throughout system development.
[TT 22] TESTING THE SEMANTICS OF LABELS WAS VALUABLE
Testing of labeling and nomenclature used in the system proved to be very valuable. TravTek was essentially a computer interface for the computer illiterate. Effective nomenclature proved to be critical for navigation within the menu system and understanding of functions. It is very difficult for even an experienced human factors designer to anticipate or analyze the optimum use of labeling and nomenclature.

Laboratory usability testing should be performed on all labels and nomenclature used in the ATIS interface.
[TT 23] RESEARCH IS NEEDED ON DRIVER ATTENTION AND PERFOR– MANCE
Despite the minimal incidence of accidents or close calls, there is insufficient driving research available to accurately predict and model driving performance utilizing an ATIS system. Thus, conservative cognitive loading of the driver is still warranted.

Conservative features should be considered for ATIS system design, such as no access to touchscreen functions while the vehicle is in motion; the use of a guidance screen instead of a moving map as the primary guidance display; and the supplementary use of voice in conjunction with the visual display.
[TT 24] USER TRAINING WAS NEEDED TO SUPPLEMENT SYSTEM DESIGN
TravTek users participated In a video and demonstration of approximately 30 minutes in duration.

Even with the most carefully designed interface, some opportunity for orientation and training is necessary and needs to be provided.
[TT 25] DESIGN GUIDELINES WERE UTILIZED IN THE DESIGN PROCESS
ATIS–specific guidelines were used in the development of the TravTek system, although not from guideline documents per se. Specifically, interface ideas and specifications were gleaned from a variety of articles describing driving research and other ATIS systems. In addition, basic human factors guidelines proved useful, particularly MIL–STD 1472D for legibility considerations, and human–computer interaction (HCI) standards for the design of the pre–drive functions.

ATIS system designers need to be aware that some human factors guidelines exist and can be integrated easily into the design process.
[TT 26] CHARACTER SIZE GUIDELINES WERE USED
FHWA-RD-95-197