February 2001
In May 2000, the Federal Highway Administration (FHWA) presented its Annual Report Connecting America: 1999 Report to the Nation. It showed the changing emphasis in the United States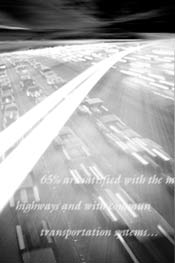 from the construction of new highways to the preservation and operation of existing ones. The FHWA's mission is to continuously improve the quality of our nation's highway system and its intermodal connections. The Annual Report also highlighted the many improvements in the nation's highways, which have resulted from the coordinated efforts of the FHWA; state, local, and tribal governments; other Federal agencies; the transportation industry; and academia. Many of the improvements could not have been made without the support of the American public.
Recognizing the importance of public support, the FHWA has now embarked on an equally important endeavor: to measure public satisfaction with the nation's highways and with community transportation systems. These public opinion surveys provide greater insight into the issues and concerns of the traveling public and help the FHWA understand opportunities for improvement.
The survey results are encouraging: 65 percent of those surveyed are satisfied with the major highways they travel most often, up 15 percentage points since 1995. There has also been a smaller increase of 6 percentage points in dissatisfaction since 1995. Heavier traffic flows and delays while driving through work zones appear to contribute to this increase in dissatisfaction.
The findings in this report - Moving Ahead: The American Public Speaks on Roadways and Transportation in Communities - reaffirm the importance of managing work zones, using advanced technologies to improve operations, and enhancing community-oriented transportation projects. These complex challenges, coupled with building and repairing roads, present a new perspective on the public's satisfaction with the nation's highways and offer opportunities for transportation providers to create and maintain the best transportation system in the world.


Anthony R. Kane
Executive Director
Federal Highway Administration
---