Most travelers are satisfied with the major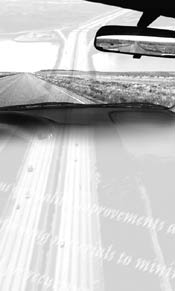 highways and other roadways they travel on most often. Satisfaction with major highways, which was measured in both 1995 and 2000, has increased substantially. The greatest strengths appear to be in facility design and maintenance, including safety, bridge conditions, travel amenities, and visual appeal.
A small but growing segment of the traveling public is dissatisfied with major
highways. Both travel delays, which are due to traffic congestion and roadwork, and pavement conditions may contribute to this growing dissatisfaction.
The following chart was created from the overall satisfaction levels and importance ranking responses of those surveyed. It offers guidance for programmatic improvements based on the public's relative level of satisfaction and importance. The elements are:
Focus Improvements (Higher Importance and Lower Satisfaction)
Improvements in traffic flow, pavement conditions, and work zones may result in the greatest rise in traveler satisfaction. Work zones are especially critical as travelers view road repairs as a major reason for traffic delays. A stronger community focus on the placement, design, and operation of transportation projects can enhance community quality of life and satisfaction.
Communicate Strengths (Higher Importance and Higher Satisfaction)

The public rated the safety attributes of major highways highly. Information on this strength will reinforce this positive perception and help to increase overall satisfaction.

Monitor (Lower Importance and Lower Satisfaction)

Maintenance response time, a state and local responsibility, is a potential issue that should be monitored closely.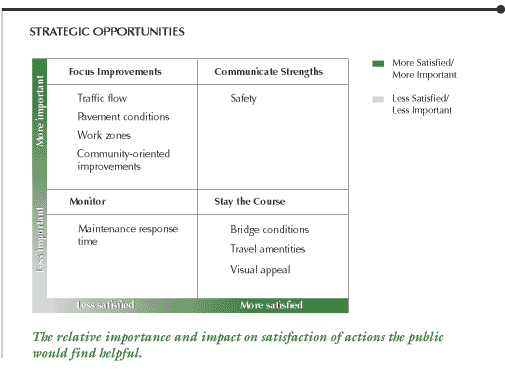 Not only does congestion contribute to dissatisfaction with roadways, but it also affects decisions about where to live and work that, in turn, affect patterns of community growth and development. The placement, design, and operation of highways can affect how people perceive the quality of life in their communities.
The study results suggest that the public would find the following helpful:
Improve traffic flow by expanding existing highways and public transit and by providing better information to travelers about traffic congestion so they can avoid it. This could involve using intelligent transportation systems and other innovations. Building more highways is a lower priority.
Encourage smarter road management and operation. For example, adopt a strategy of "get in, get out, stay out" for both roadwork and for clearing accidents. Plan and execute effectively so the work is done correctly and expeditiously the first time, resulting in less traffic disruption. Also focus on quality improvements and high performing materials to minimize the need for recurring roadwork.
Encourage greater understanding and awareness of how the placement and design of highway projects can affect the quality of life in the nation's communities. Expand community-focused alternatives such as pedestrian walkways, bikeways, and transit.
Focus on road safety in National Parks and Forests.
---