Trip Purpose and Trip-Chaining
About half of survey respondents who travel on the nation's roads named "commutes to work or school" as their most common trip, and another 27 percent named trips for shopping or errands. However, "trip-chaining" makes it difficult to separate commutes from trips for shopping, errands, or other purposes. For example, about 25 percent of commuters report making at least one stop on the way to work; 33 percent report stopping on the way home, and they often make multiple stops on the homeward commute.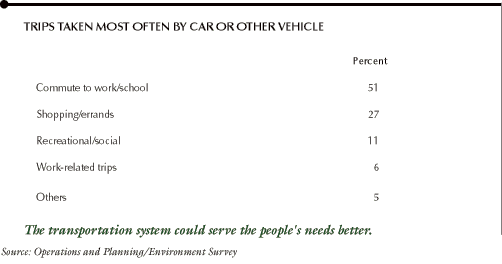 Overview: Satisfaction with Roadways and Transportation in Communities
Highway travelers were asked to rate their satisfaction with both "the major highways you use most often" and "the transportation system and the transportation options in your community." They were told that transportation options included "more public transportation choices, or more bicycle and pedestrian paths."
Most highway travelers are satisfied with both the major highways they use and the existing transportation system and options their communities offer. Almost two-thirds (65%) said they were satisfied or very satisfied with major highways, and almost as many (58%) indicated they were satisfied or very satisfied with their community's transportation options. However, the level of satisfaction is not very intense. Only about 10 percent indicated they were "very satisfied" with either the major highways used most often or the transportation options in their community.
There is relatively little dissatisfaction. Only about 20 percent said they were dissatisfied or very dissatisfied with both major highways and their community transportation options.
When respondents were asked about the "roads they use most often," which included city streets, country roads and minor highways, as well as major highways, urban residents were 60 percent satisfied. Residents of non-urban areas were 72 percent satisfied.
Respondents seem to be equally satisfied with the quality of major highways in both urban and non-urban areas. Residents of urban areas are just about as likely to report being satisfied with major highways (69%) as are residents of non-urban areas (64%). The term "satisfied" includes "satisfied" and "very satisfied" responses.
---