Factors Contributing to Greater Dissatisfaction
Travelers who reported trip delays were asked to name the main reason for them.
Heavy traffic is perceived to be by far the most important reason for travel delays (53%). This is twice the number for roadwork and five times the number for either accidents or traffic signals.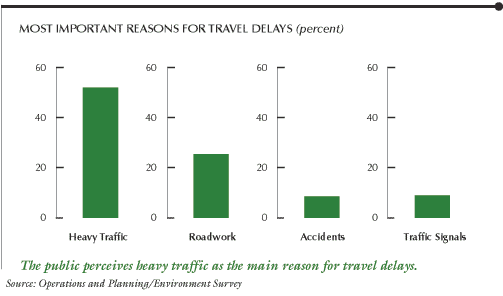 This finding is not surprising. Over the last two decades, traffic congestion has been growing in both large metropolitan areas and in small urban areas (less than 500,000 population). In fact, smaller urban areas have seen peak period congestion grow more rapidly than large metropolitan areas. In 1982, only one-third of peak period travel was congested in smaller urban areas, while in 1997 two-thirds was congested. During the same years, the percentage of travel in the small urban areas increased from 14 percent to 36 percent during congested peak periods.
From the infrastructure perspective, the number of miles driven is increasing faster than road capacity. Nationally, there was a 10.8 percent increase in licensed drivers from 1990 to 1998 and a 22.4 percent increase in vehicle miles traveled (VMT). During the same period, there was a 1 percent increase in the number of lane miles on roadways.
Travelers were asked for the percentage of time their trip is delayed due to traffic congestion or other problems. Responses varied from little or no delay to more than an 80 percent delay in their usual travel time. Travelers who are delayed frequently are more likely to be dissatisfied with the roads they travel than are those who are seldom delayed..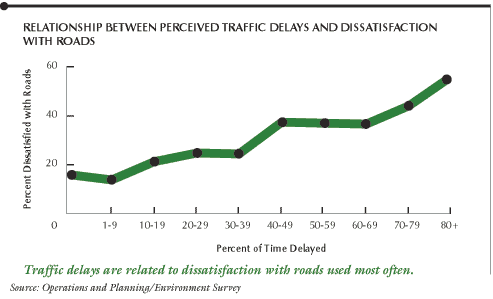 There has also been a large increase (20 percentage point average) in dissatisfaction with all elements of traffic flow on major highways during the past five years. In 2000, 43 percent of respondents expressed dissatisfaction with traffic flow, compared to 23 percent in 1995. This may explain some of the 6 percentage point increase in dissatisfaction with highways. Thirty-two percent of respondents expressed dissatisfaction with work zones, the second highest indicator of dissatisfaction among attributes of major highways.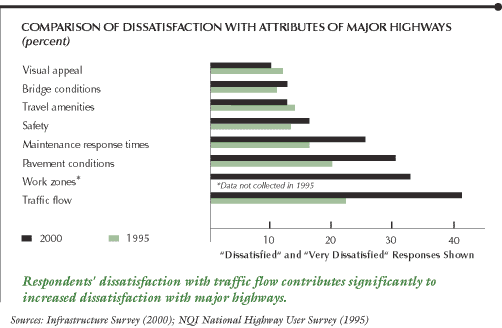 Additional analysis was conducted examining all of the factors measured in the survey that could have contributed to changes in satisfaction since 1995. This analysis suggested that concerns about pavement durability and smoothness also may have contributed to the 6 percentage point increase in dissatisfaction with major highways.
However, it is important to note that these factors explain only 20 percent of the reasons for dissatisfaction, indicating other unmeasured factors have greater impact than those measured in this survey.
Satisfaction with the Transportation System and Options in Communities
Respondents were asked a series of questions about their community's transportation system, which includes roads, public transportation, bikeways and pathways, and how well it supports desirable lifestyles.
Nearly three in four responded positively about how the transportation system supports important community characteristics. These include making the community a better place to live and contributing to both economic and environmental well-being.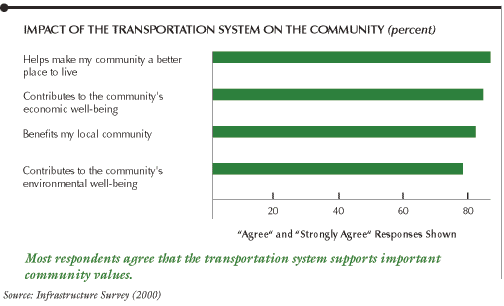 ---