Satisfaction with National Parks and Forests - Recreational Opportunities for the Nation
The Federal Lands Highway Survey of selected visitors to National Parks and Forests revealed a high level of satisfaction with a variety of roadway characteristics and features. The following chart illustrates on a 100-point scale the scores of overall satisfaction. On this scale, 0 means "very dissatisfied" and 100 means "very satisfied." Roadway safety received the lowest satisfaction score.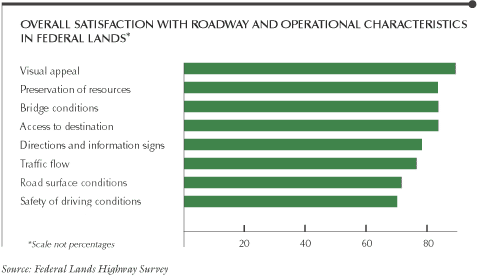 Visitors to National Parks and Forests were also asked about the relative importance of various roadway features. They indicated that they are most concerned about safe driving conditions, especially because they may be driving larger, unfamiliar vehicles on roads not built to interstate standards. They seemed particularly interested in how signs and markings can assist them in safely navigating their routes.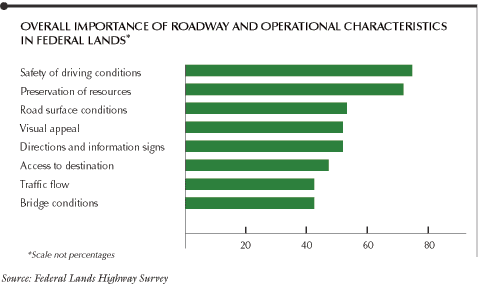 Federal land roadway safety received the lowest satisfaction score, yet it ranked as the highest in overall importance. These findings give clear direction for opportunities and priorities for improvement in National Parks and Forests.
Suggested Improvements: Actions the Public Would Find Helpful
Respondents were asked if their local communities would be better served if various transportation improvements were made. The survey question did not ask about cost considerations, if the improvements would help respondents personally, or if they would use them.
When the respondents considered transportation system improvements for their community, they valued offering or expanding public transit and building new bikeways and sidewalks.
According to the survey findings, the public is much more likely to want to expand existing highways and to have better quality traffic information than to build new highways.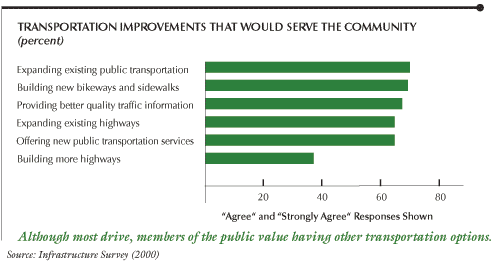 ---