During the past several years, there has been a growing commitment within the highway community to build a better understanding of transportation system
performance from the perspective of the user. The major findings of this survey include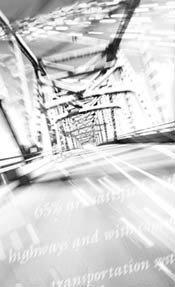 information on public opinion about characteristics of the transportation
system and measures of customer satisfaction. The FHWA conducted this study to:
Provide national measures of public satisfaction with the nation's highways, community transportation systems and options, and access to and travel on Federal lands.
Describe travel patterns.
Understand how community transportation systems affect where people live and work and, thus, indirectly affect community development.
Identify the public's priorities and preferred approaches to solving transportation problems.
The survey results presented in this report are based on three surveys that the FHWA conducted in 2000: Operations and Planning/Environment Survey, Infrastructure Survey, and Federal Lands Highway Survey.
Both the Operations and Planning/Environment Survey, which surveyed 2,057 people, and the Infrastructure Survey, which surveyed 2,030 people, are based on telephone interviews with large national probability samples of adults. The margin of sampling error associated with surveys of this size is about ±2 percentage points.
The Infrastructure Survey is a follow-up to the 1995 National Highway User Survey conducted by the National Quality Initiative (NQI), now the National Partnership for Highway Quality (NPHQ). Many questions appear in both the 1995 and 2000 surveys, allowing for comparisons between years. NPHQ's mission is to "address... customers' needs by advocating the use of practices which improve the quality of the nation's highways." NPHQ will use this report to study customer satisfaction trends and direct future activities based on the public's priorities or improving satisfaction.
The Federal Lands Highway Survey is based on 1,236 personal interviews with visitors to six National Parks and six National Forests. The margin of sampling error is about ±3 percentage points.
This report begins with a discussion of the study's major findings focusing on major highways, transportation systems and options in communities, Federal lands, and actions the public would find helpful. Study conclusions are then presented.
The report ends with a detailed description about this study design and administration and an appendix of public satisfaction with major highways.
---