ACTT Workshop: Washington
SR 520 Project | March 16-18, 2004, Seattle, Washington
Chapter 1: Introduction and Summary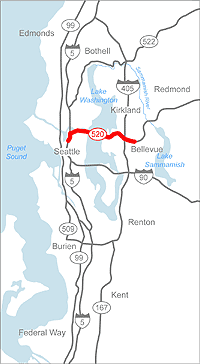 Accelerated Construction Technology Transfer (ACTT) is a strategic process that brings together experts from both the private and public sectors to identify innovative techniques, methods, approaches, and technologies to reduce construction time on major highway projects while enhancing safety and improving quality.
The Federal Highway Administration (FHWA) and the Washington State Department of Transportation (WSDOT) selected the SR 520 Bridge Replacement and HOV Project (SR 520 Project) for review within an ACTT workshop. The project was selected based on the urgent need to replace the bridge, its complexities, lengthy estimated construction duration, and overall regional magnitude. As shown in Figure 1, SR 520 is one of only two crossings of Lake Washington that link Seattle to east King County including the cities of Kirkland, Bellevue, and Redmond. The SR 520 Project includes the Evergreen Point Bridge and it is the replacement of the floating pontoon section, fixed approach structures, and adjacent highway sections that are the subjects of the ACTT workshop. Figure 2 illustrates the project limits and highlights key project elements within the corridor.
The SR 520 Project's ACTT Workshop was held March 16-18, 2004, in Seattle, Washington, and brought together nearly 100 experts from around the country.
Figure 2. Overview of Existing Project Elements

1.1 Project Scope
The scope of the SR 520 Project is to replace the Evergreen Point Bridge, including the fixed approach structures and floating pontoon sections, and to improve the highway sections and interchanges on SR 520 between Interstate 5 (I-5) and Bellevue Way NE.
This section of SR 520 currently has an Average Daily Traffic (ADT) of 114,000 vehicles and operates near capacity for over 13 hours during each weekday. SR 520 is a critical corridor for commuters traveling in both directions across the lake with both morning and evening peak period auto volumes split evenly between those traveling to Eastside cities and those coming to Seattle.
An average of one accident per day occurs on the Evergreen Point Bridge. Since the facility does not have shoulders, any incident poses high safety concerns and congestion costs. Additionally, the SR 520 floating and fixed structures are vulnerable to both wind and seismic events, respectively. Figure 3 depicts these vulnerabilities. It is the vulnerability of these critical structures, coupled with the functional obsolescence of the corridor's infrastructure that has made this project a high priority for WSDOT and subject of this ACTT Workshop.
1.2 ACTT Workshop Modification
The workshop began with comments from Rick Smith, WSDOT's Director of Innovative Project Delivery, who spoke of the differences between this and previous ACTT workshops. Previous workshop formats divided attendees into discipline-specific "skill sets" such as structures, soils and foundations, roadway, and traffic. These "skill set" groups typically met for two half-day working sessions to identify and evaluate opportunities to expedite design and construction, and accelerate project delivery. For the SR 520 Project's ACTT Workshop, skill set groups met only on the first day. On the second day, skill set groups were re-organized into geographical focus groups. This approach allowed multidisciplinary teams to tackle issues and make recommendations in each of three distinct geographic areas.
1.3 Workshop Priorities and Project Overview
Dan Mathis, FHWA Washington Division Administrator; John Conrad, TRB A5T60 Task Force Member and WSDOT Assistant Secretary of Engineering and Regional Operations; and Pete Rahn, TRB A5T60 Task Force Member and former Director of the New Mexico State Highway Department, also gave opening remarks. John Conrad identified the following priorities for the ACTT Workshop:
Maximize customer satisfaction.
Minimize environmental and socioeconomic impacts.
Minimize traffic congestion.
Enhance safety and mobility.
Reduce construction time.
Improve quality of product.
Maureen Sullivan, WSDOT SR 520 Project Director, discussed the project history and described the goals of the project. Julie Meredith, WSDOT SR 520 Engineering Manager, provided an overview of the components of the project alternatives and gave a current project development status report.
1.4 Skill Sets and Geographic Groups
Participants were taken on a tour of the project area to see first hand the current facility, environmental setting, today's congestion, and locations of possible opportunities or problems. Skill Set groups included: Innovative Contracting and Finance, Environmental and Right-of-Way, Construction, Geotechnical/Materials, Roadway/Geometric Design, Structures, and Traffic/ITS/high-occupancy vehicle (HOV)/Transit. At the end of the afternoon, each Skill Set group reported back with "First Thoughts" on findings. These "First Thoughts" provided direction to the Geographical Focus Group efforts the following day. The Geographical Focus Groups met for the entire second day. The Groups included: Westside, Floating Bridge and Approaches, and Eastside. At the beginning of the second day, participants were given an additional challenge to consider issues surrounding a possible first construction phase (or Phase 1) of the project to replace the most vulnerable bridge structures and provide an HOV facility at least across the lake if not the full length of the corridor. At the close of the morning session, each Group reported back with their "Preliminary Findings" to help direct the afternoon sessions' efforts toward developing "Final Recommendations." The "recommendations" were presented on the third and last day of the workshop.
1.5 Recommendations
Maureen Sullivan, WSDOT SR 520 Project Director, closed the workshop proceedings on the third day recognizing and commending the participants for their enthusiastic engagement and comprehensive contributions to the process. She commented on the creativity and usefulness of the ideas and stated that a number of them will help the project team's thinking in design and construction. She summarized the major findings of the workshop in the areas of construction, the scope of major project elements, traffic control, contracting methods, and overall project funding strategies that WSDOT will take under consideration.
Project Elements:
The current planned alignment of the east touchdown of the lake crossing should be retained and right-of-way north of the east touchdown should be purchased.
Use Portland Cement Concrete Pavement (PCCP) rather than Asphalt Concrete Pavement (ACP).
Consolidate flyer stops on the Eastside.
Accommodate bicycle facilities on the lids.
Examine phasing opportunities and/or facility consolidation for the Montlake Flyer Stop and Portage Bay HOV lanes that may be presented by final decisions on Sound Transit's North Link alignment and possible LRT station near Husky Stadium.
Contracting Issues:
Design/Bid/Build as the preferred contracting method for floating bridge.
Establish early in the process a project delivery, procurement, and contracting committee.
Divide construction of the floating bridge into two or more contracts.
Identify opportunities for Design/Build contracts for the east and west approach sections.
Conduct pre-design workshops with contractors.
Incorporate constructability reviews as part of the annual Cost Estimation Validation Process (CEVP) update.
Establish a risk management team to review, manage, and re-assess identified and new risks and opportunities for each project element and phase.
Evaluate additional techniques to provide contractors greater flexibility.
Evaluate a range of accelerated construction opportunities.
Expedite the geotechnical investigations.
Maintenance of Traffic and Construction Traffic Control Issues:
Review the benefits, impacts, and mitigation requirements of different closure options, including lane reductions, weekend and night closures, and longer periods of total bridge closure.
Review the opportunities, impacts, and mitigation requirements of a temporary roadway between Montlake and the floating bridge.
Review the effects of the temporary closure of Lake Washington Boulevard off- and on-ramps through the Arboretum.
Funding Strategies:
Expand and perhaps redefine the tolling subcommittee as a "funding strategy group."
Develop minimal goals and long-term plans for funding.
Connect cash flow needs to funding mechanisms and sources.
Implement an accelerated "Phase 1" project. Cost savings and accelerated toll collection resulting from the accelerated implementation of a "Phase 1 Project" focused upon replacement of the Evergreen Point Bridge could potentially save 1-2 years in construction time.
Incorporate a testing of cost reductions and new cash flow in the CEVP process.
Explore the array of existing and new funding sources suggested by participants.
Finally, it was noted that projections made by workshop participants indicated an opportunity to save 1-2 years in construction time.
Figure 3. Floating Bridge/Pontoons and Approach Span