ACTT Interim Report
Accelerated Bridge Construction Through the Use of Prefabricated Bridge Elements and Systems
As bridge owners strive to meet the challenges of reconstructing the Nation's aging highway structures while accommodating traffic, AASHTO and FHWA have teamed together to implement prefabrication nationwide. Bridge construction or rehabilitation can be a significant source of congestion because of its sequential nature: foundations for piers and abutments must be built first, then pier columns and caps must be built before beams and decks are placed. Offsite prefabrication technologies and processes help solve this problem.
AASHTO, through its Technology Implementation Group (TIG) panel, has been working to implement prefabrication since 2001. The panel's mission is to extend the use of prefabricated elements and systems in bridge design and construction by increasing awareness of and confidence in innovative prefabrication, and by further development and refinement of this technology.
FHWA has been an active partner with AASHTO in the prefabricated bridge initiative from its beginning. FHWA has sponsored workshops and presented many project case studies on the use of prefabricated bridge systems. Together with industry partners, FHWA has developed a new paradigm for accelerated construction of substructures, superstructures, and totally prefabricated bridge systems.
Substructures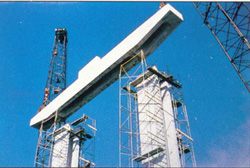 A total substructure system consists of individual pier (s) or prefabricated bent cap supported by precast column(s).
Bent and Pier Caps
Cast-in-place bent and pier caps require extensive formwork and curing times, but if they are fabricated offsite, curing times are not a factor. As a result, bridge owners and contractors increasingly are turning to precast caps.
Columns
Bridge construction times can be reduced significantly by using precast columns. Columns can be segmented, post-tensioned, reinforced, hollow, or solid concrete.
Superstructures
Increasingly, innovative bridge designers and builders are finding ways to prefabricate entire segments of the superstructure. This may involve prefabricated truss spans and preconstructed composite units that are fabricated or assembled at or away from the project site and then lifted into place in one operation.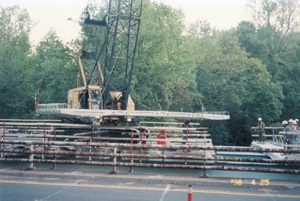 Decks
Prefabrication offers exceptional advantages for deck construction, particularly for removing deck construction from the critical path of bridge construction schedules. Partial-depth prefabricated deck panels act as stay-in-place forms that help accelerate and control construction for decks that are more durable than fully cast-in-place decks. Full depth prefabricated bridge decks also facilitate construction; bridge designers are finding innovative ways to connect full-depth panels.
Total Prefabricated Bridge Systems
Total prefabricated bridge systems offer maximum advantages for rapid construction and depend on a range of prefabricated bridge elements that are transported to the work site and assembled in a rapid-construction process.
By using prefabricated bridge elements and systems to quickly erect structures, work can be completed in a much shorter time frame. FHWA is compiling case studies on the use of different elements and systems, and is sharing the lessons with the community through workshops and presentations. The second national Prefabricated Bridge Workshop is scheduled for September 8-10, 2004, in New Brunswick, New Jersey. Information may be found at: https://www.fhwa.dot.gov/bridge/prefab/
For More Information:
Jim Sorenson
Construction & System Preservation Team Leader
office number: (202) 366-333
e-mail address: james.sorenson@fhwa.dot.gov
Jerry Blanding
Innovative Contracting Engineer
office number: (410) 962-2253
e-mail address: jerry.blanding@fhwa.dot.gov
Tucker Ferguson
Chief, Contract Management Division, PENNDOT
office number: (717)787-7894
e-mail address: hferguson@state.pa.us
Rick Smith
Director, Innovative Project Delivery, WSDOT
office number: (360)705-7150
e-mail address: smithrick@wsdot.wa.gov
Accelerated Construction Technology Transfer Web site: https://www.fhwa.dot.gov/construction/accelerated/
Accelerated Bridge Construction Web site: https://www.fhwa.dot.gov/bridge/accelerated/