ACTT Workshop: Montana
January 26-28, 2004, Missoula, Montana
Chapter 1: ACTT Background & Purpose
Highway construction continues to produce significant disruptions in communities across the nation as Departments of Transportation work to update an aging infrastructure system. While highway construction is unavoidable, excessive construction time is and should be avoided because it is costly and often exposes workers and the traveling public to substandard conditions longer than necessary. The ACTT initiative aims to minimize travel delays and community disruptions by reducing construction time and improving safety and quality.
1.1 Background
ACTT is a "process" that encourages the use of innovative technologies and methods to accelerate the construction of major highway projects with extended service lives for the purpose of reducing user delay and community disruption. A complete accelerated construction approach means evaluating the planning, design, and construction activities within a highway corridor using multiple strategies and technologies. Successful ACTT deployment requires thorough examination of all facets of highway corridors with the objective of improving safety and optimizing cost effectiveness while minimizing adverse impacts for the benefit of the traveling public.
Recommendations by Transportation Research Board (TRB) Special Report 249 called for the creation of a strategic forum to promote accelerated construction in the highway infrastructure. TRB Task Force A5T60 was formed with the objective to:
Facilitate removal of barriers to innovation.
Advocate continuous quality improvement and positive change.
Enhance safety and mobility.
Encourage the development of strategies that generate beneficial change.
Create a framework for informed consideration of innovation.
Fully supporting the task force's mission and objectives, the Federal Highway Administration (FHWA) and the Technology Implementation Group (TIG) of the American Association of State Transportation Officials (AASHTO) joined the task force in an outreach effort, resulting in the formation of a national resource pool known as the "National Skill Sets Council" and completion of two ACTT pilot workshops (one in Indiana and one in Pennsylvania). Following the completion of these two pilot workshops, TRB Task Force A5T60 passed the concept off to FHWA and TIG to continue the effort by conducting future workshops.
With the successful completion of ACTT workshops in Texas and California, the Montana Department of Transportation (MDT) decided to hold an additional ACTT Workshop in Missoula, Montana, in early 2004 focusing on the central section of the US 93 Highway Corridor. This particular section of US-93 traverses the Flathead Reservation of the CSKT between its north and south boundaries for a distance of approximately 128 km (80 mi). MDT has proposed a reconstruction project for a 90-km (56 mi) segment extending from Evaro, Montana (southern boundary of the Reservation) to Polson, Montana. This particular project was considered a prime candidate for ACTT for several reasons:
The segment slated for reconstruction traverses the jurisdictions of three separate governmental entities (CSKT, MDT, and FHWA) that historically have experienced great difficulty in reaching agreement on issues necessary to move the project forward.
An MOA between the three governments was signed in December 2000 and MDT has since scheduled the segment for major reconstruction and rehabilitation.
There is a need to accelerate construction to minimize impact on local communities during peak (tourist/building) season as well as lessen any environmental impacts to sensitive terrain.
MDT indicated it was open to innovation and willing to consider and apply new concepts.
1.2 Purpose of the Workshop
Figure 1. Workshop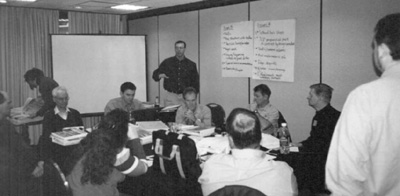 The purpose of this ACTT Workshop was to explore innovative ways that corridor construction could be brought to full service quicker, with less adverse impact on the traveling public and/or environment. The workshop brought together a national team of recognized experts in skill areas to meet with their local counterparts. Over the course of two days, national transportation experts teamed up with local FHWA, CSKT, and MDT representatives to explore innovative ways to accelerate construction throughout the corridor. The workshop included plenary sessions, breakout sessions, skill set interaction, recommendations, and closing remarks.
1.3 ACTT Goals
Eight skill sets were identified for this ACTT Workshop: Construction; Traffic/Work Zone Safety; Right-of-Way/Utilities/Railroad; Public Relations/ITS; Geotechnical and Materials; Innovative Contracting; Environmental; and Structures. Participants in each skill set had an established set of goals that was unique to their subject area:
Construction
Minimize environmental impacts.
Minimize impacts to traffic.
Minimize cost.
Ensure short duration.
Complete segments during construction season.
Traffic/Work Zone Safety
Keep accidents to a minimum.
No worker injuries.
Reduce or eliminate work zone congestion.
Right-of-Way/Utilities/Railroad
Minimize number of utility relocations.
Speed up utility relocations to meet project schedule.
Complete right-of-way acquisition to meet project schedule.
Public Relations/ITS
Keep public informed of progress.
Utilize ITS and notification processes to reduce traffic.
Utilize ITS to reduce congestion.
Ensure coordination throughout the corridor.
Geotechnical and Materials
Utilize new methods and materials that will allow for faster construction.
Employ new materials testing methods that will speed up time involved or reduce personnel requirements.
Innovative Contracting
Employ new contracting methods to encourage the contractor to speed up construction.
Refine A+B specification.
Identify contract administration methods that will allow for better utilization of state personnel.
Environmental
Minimize impact to the environment including:

Cultural sites
Wetlands
Wildlife
Trees and plants
Other natural resources
Structures
Reduce structures construction time.
Reduce cost of structures.
Employ SEIS.
A limited number of constraints were placed on each skill set:
Must follow the intent of the project MOA.
Lane configuration is set.
Need to maintain two-way traffic.
Stay within FEIS, Record of Decision (ROD), and re-evaluation agreements.
Information regarding MOA, FEIS, ROD and other project details are included in the following sections.