ACTT Workshop: Montana
January 26-28, 2004, Missoula, Montana
[Archived] Chapter 2: Project Details
2.1 Corridor Description
Located in western Montana, the US Highway 93 Corridor is 453 km (283 mi) long and stretches from Idaho to the Canadian border. The highway serves several of the fastest growing counties in Montana and acts as a major tourist corridor during peak season as well as a vital economic link to local communities.
Figure 2. US Highway 93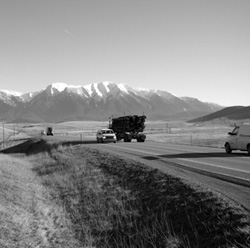 The central section of US-93 traverses the Flathead Reservation of CSKT for a distance of approximately 128 km (80 mi). A 90-km (56 mi) segment extending from Evaro, Montana, to Polson, Montana, is slated for reconstruction and is the subject of this ACTT Workshop.
Over the total project corridor, the highway travels directly through seven rural communities - in most cases bisecting them. Its configuration is mostly two lane with an occasional third passing lane. Vehicle volumes in the year 2000 were 7,975 vehicles per day and are currently increasing more rapidly than forecasts just three years ago indicated. 2-9 percent of the total vehicles are trucks, while RVs make up 2-5 percent of the total number of vehicles. The corridor also crosses several animal migratory routes and waterways as well as the Ninepipe National Wildlife Refuge.
2.2 Project Goals and Objectives
The initial goals for this project included:
Developing an understanding of the land and relationship of the Confederated Salish and Kootenai Tribe (CSKT) to the land.
Developing concepts that respect the integrity and character of the place, people, and wildlife.
Creating a better visitor understanding of the CSKT homeland.
Respecting and restoring the way of life in small communities along the road.
Designing a safe and efficient road that is sensitive to the context of the area.
The guiding philosophy for modification of the roadway throughout this corridor is to protect the cultural, aesthetic, recreational, and natural resources located along the corridor. CSKT also desired a way to communicate the respect and value that is commonly held for these resources by the tribes. As such, the following objectives were emphasized during the recently completed design phase:
Safely accommodate the present and future transportation needs of the citizens of Montana.
Limit highway-related growth and development outside of established communities.
Avoid construction in areas of traditional cultural and spiritual significance.
Minimize intrusion and damage to natural resources located adjacent to the roadway.
Enhance and restore natural resources that may have been injured and/or disconnected by the existence of US Highway 93.
Provide safe and functional visitor use facilities at several locations along the highway.
Develop guidelines for integrated roadside detailing, maintenance, signs and interpretive concepts.
2.3 Project Background
The Flathead Indian Reservation was established by the terms of the Hellgate Treaty entered into by the United States and CSKT on July 16, 1855. Today, US Highway 93 traverses the Reservation between its north and south boundaries for a distance of approximately 128 km (80 mi).
A 90-km (56 mi) section, beginning at the Reservation's southern boundary (Evaro) and continuing to Polson, was proposed for reconstruction by the Montana Department of Transportation in the early 1980s. At that time, it was divided into four projects with individual environmental assessments (EAs) completed for each section. Those EAs were subsequently challenged as being "not appropriate," resulting in MDT pursing an EIS in 1991. At that time, CSKT and MDT could not reach an agreement regarding lane configuration, with each recommending a different preferred alternative.
Following this impasse, FHWA issued the following ROD:
"This decision does not provide for the physical construction of highway projects with Federal-aid funds until CSKT [the Confederated Salish and Kootenai Tribes], MDT and FHWA [the Federal Highway Administration] agree on the appropriate design and a project level environmental document is completed that addresses social, economic and environmental impacts. While this Decision does not directly provide for the construction of transportation projects, it leaves the path open to begin activities that lead to transportation projects when agreement on the type of improvement is reached."
From 1996 to 2000 sporadic discussions were held. CSKT concerns were government-to-government relations, tribal sovereignty, cultural issues, population growth, induced land development, and impacts to the landscape and natural resources. While both MDT and CSKT agreed that safety issues needed to be addressed and the roadway alignment examined, lane configuration and the associated impacts continued to be sticking points.
In 1998 the ROD was amended to support an access management plan. Spurred by political and judicial pressures, there was a renewed interest among the parties to work together, and in 2000 talks for an Evaro to Polson agreement began in earnest. During this round of talks, MDT and CSKT worked to reach a shared vision and trust. The resulting project was one that fit the landscape, addressed safety, operational, and capacity issues while minimizing impacts to cultural and natural resources. Details of these discussions were included in an MOA signed by CSKT, MDT and FHWA on December 20, 2000.
In 2001, the Evaro-Polson project corridor was divided into nine segments or project areas. This segmentation approach was utilized for project development and construction purposes. Specifically it sought to:
Provide a reasonable project length so that a consulting firm could complete the design in a compressed time frame.
Have a contract wherein a regional contractor could complete a substantial portion of the project during a Montana construction season (April - October).
Recognize that each project area had unique landscape and cultural issues that needed to be addressed.
Eight of these areas were moved to the final design stage while one area, the Ninepipe to Ronan segment, was placed into a supplement EIS process. A description of these project segments, as well as their status, can be found in the following sections.
2.3.1 Project Challenges
One of the most significant challenges faced by this project is safety. This corridor has received the distinction of being one of the most dangerous in Montana to drive. Injuries occur in 44.2 percent of accidents (compared with 37.1 percent statewide) and 4.8 percent of accidents are fatal (versus only 1.7 percent statewide). Reasons for such statistics vary by road section and can be attributed to everything from poor road alignment and increased animal-vehicle conflict to drunk driving. Fortunately, prior to 2000, improving safety was one of the few issues that CSKT and MDT agreed upon. It was, however, much harder to find consensus on how to improve safety. To understand how this stalemate was overcome, one must first understand the history of the roadway.
The era in which construction of the original project roadway took place is vastly different than today. At that time, environmental and aesthetic concerns were minimal. Primary objectives for road building were economic in nature and often followed the "shortest distance between two points" frame of mind.
When reconstruction talks initially began in the 1980s, the focus was on roadway capacity and safety while environmental, cultural, and aesthetic concerns were once again minimized. The result was a proposed four-lane roadway that was vehemently objected to by the Salish and Kootenai people.
The resulting impasse highlighted the lack of trust between the two governments (CSKT and MDT). Before an agreement could be reached, a shared vision would have to be developed. Entrenched positions that limited creative approaches would have to be thrown away and a sense of urgency would need to be cultivated that would keep all parties "at the table."
This was accomplished in March 2000, when FHWA, MDT and CSKT met and established a tri-governmental team to reach agreement in accordance with the ROD. What came out of this process was identification of the need for a "Spirit of Place" approach. Before any design concepts for the roadway could be conceived, it was essential to get a better understanding of the land, and how the Salish and Kootenai people relate to that land. The design of the roadway would need to be premised on the idea that the road is a visitor and it should respond to and be respectful of the land and the Spirit of Place. This Spirit of Place includes more than just the road and adjacent areas. It consists of the surrounding mountains, plains, hills, forests, valleys, and sky and includes the paths of waters, glaciers, winds, plants, animals, and native peoples - i.e., it is the whole continuum of what is seen, touched, felt and traveled through.
The resulting design addressed the Spirit of Place. Recognized were factors that had heretofore been overlooked. Plans were put in place to address animal migration routes, which historically had crossed the areas now bisected by the roadway. Areas needing water channel restoration, and in places, reconstruction, were identified. Signing was planned that recognized the unique and diverse nature of the surrounding communities and included place names in English and Salish. These and other design details resulted in a project that, after 20 years, will be constructed.
2.3.2 Agency Involvement/Coordination
One of the most significant features of the MOA was the creation of a Technical Design Committee (TDC) and a Project Oversight Group (POG). The TDC is composed of staff members from all three governments. Additional agencies' representatives are added as needed. They have been tasked with overseeing and solving issues (by consensus) during the design process. All design plans for the eight proposed construction projects have been reviewed by the TDC.
The POG is composed of the MOA negotiation group and decision makers for CSKT, FHWA and MDT. Their role has been to provide policy guidance and, if needed, dispute resolution for the TDC.
To date, limited information has been disseminated to the public regarding expected delays, areas of construction, etc.
2.3.3 Design Development
As stated previously, the project corridor has been divided into nine segments:
Evaro to McClure Road.
McClure Road to North End of Arlee.
North End of Arlee to White Coyote Road.
White Coyote Road to South Ravalli.
South Ravalli to Old US-93.
Old US-93 to Red Horn Road.
SEIS Area (Red Horn Road to Spring Creek/Baptiste Road).
Spring Creek/Baptiste Road to Minesinger Trail/North Reservoir Road.
Minesinger Trail to MT-35.
In 2001, following signing of the MOA by CSKT, MDT and FHWA, design of these segments began in earnest. The process included requiring design teams to start with an understanding of the landscape or "Spirit of Place." Cultural and historical resources were explored and research on wildlife crossings (migration patterns) and habitat was conducted. Lastly, design and alignment concepts as well as operational, safety and level of service criteria were developed.
Agreed upon design concepts included:
Mostly two-lane with passing lanes.
Four lane divided roadway between the two largest cities (Ronan and Polson).
The 18 km (11.2 mi) within the Ninepipe National Wildlife Refuge will identify an alternative through a Supplemental Environmental Impact Statement.
LOS: all sections will operate at "C" or better through 2024. (The design criteria specified at least an LOS C through the entire 20-year design period for summer weekend traffic and an LOS B through the first half and LOS C through the second half of the 20-year design period for normal weekday traffic.)
Safety: estimated reduction of 1,235 accidents in 20 years (fatal, injury, personal property).
Eight of the nine design segments have been, or are undergoing, final design. Within these segments the following design elements have been implemented:
Aesthetic treatments on bridges, wildlife crossings, wetlands and other structures.
Wildlife Crossings

One over crossing
Eight lengthened Structures
34 under crossings of various sizes (4'x 6', 10'x 22', 12'x 22', and 14'x 40')

Channel reconstruction.
Wildlife Fencing: nearly 80 km (50 mi) of wildlife fence.
Numerous jumpouts and wildlife guards provided.
Project Signing

Portal signing at Reservation boundaries
Community signing
Place name signing
Conventional highway signing
2.3.4 Proposed Enhancements
Many of the proposed improvements throughout the corridor are aesthetic, cultural, or environmentally sensitive. The following highlights some of these elements:
Establish and consistently use a hierarchy of sign types (portal/boundary signs, community entry signs, official highway signs, place name signs, tourist oriented signs, and interpretive signs).
Fit the roadway to the landscape, where possible.
Use native plans in divided four-lane sections, and protect older trees and other existing vegetation.
Include wildlife crossings/fencing and, where possible, enhance habitat.
Use stone veneer on structures.
Restore abandoned roadway sections.
2.3.5 Cost Containments
Cost Containments were examined in the context of Value Engineering. Value Engineering is a program to improve project quality, reduce project costs, foster innovation, eliminate unnecessary and costly design elements, and ensure efficient investments. Prior to conducting Value Engineering analysis, the total project cost was over $100 million. Value Engineering sessions cut approximately $8.3 million.
Identified cost containments include:
Value Engineering sessions - $8.3 million.
Eliminate three wildlife crossings.
Change four bridges (for wildlife movement) agreed to in MOA to pipes.
Reduce the size of nine wildlife crossings (from what was agreed to in MOA).
Increase the size of three wildlife crossings.
Eliminate 10,296 sq. meters of retaining wall.
There are still opportunities through plan-in-hands and constructability reviews to further reduce the cost of this project. A prime example of this is traffic control, which is currently estimated at $10.7 million.
Estimated construction costs for the corridor are now $97.5 million. Enhancement costs are currently estimated at $8.1 million for wildlife crossings, $1 million for community landscaping, $310,000 for aesthetic facings and $2.5 million for bridge improvements. Native vegetation costs are still being negotiated.
2.3.6 Environmental Documentation
Final Environmental Impact Statements (FEISs) for eight of the nine project segments have been approved. The 18-km (11.2 mi) segment from Red Horn Road to Spring Creek that transverses the Ninepipe National Wildlife Refuge is currently undergoing a Supplemental EIS. A preliminary alternative was identified in November 2003 and a final decision/approval is expected in 2004.
2.4 Project Status
As stated previously, eight of the nine design segments have progressed to final design and are expected to be let to construction in the next four years. It is anticipated that they will be let in the following order:
Evaro to McClure Road; North End of Arlee to White Coyote Road; Old US-93 to Red Horn Road; Spring Creek/Baptiste Road to Minesinger Trail/North Reservoir Road; and Minesinger Trail to MT-35.
McClure Road to North End of Arlee and White Coyote Road to South Ravalli.
South Ravalli to Old US-93.
Red Horn Road to Spring Creek/Baptiste Road.
Construction issues now being faced are:
Use of contour grading.
Clearing and grubbing limits.
"Do Not Disturb" areas.
Salvage areas.
Limited impact to outside clearing limits.
Worker video completion.