ACTT Workshop: Montana
January 26-28, 2004, Missoula, Montana
Chapter 3: Workshop Meeting Details
MDT, CSKT and FHWA came together to host the ACTT Workshop on January 26-28, 2004, at the Doubletree Hotel Edgewater in Missoula, Montana. Approximately 100 individuals representing a variety of interests were in attendance. A full list of attendees can be found in Appendix A.
In discussions held prior to the workshop, the following eight skill sets were selected as applicable to this project:
Construction
Traffic/Work Zone Safety
Right-of-Way/Utilities/Railroad
Public Relations/Intelligent Transportation Systems (ITS)
Geotechnical and Materials
Innovative Contracting
Environmental
Structures
A description of each of the skill sets is included in Appendix B.
Upon arrival at the workshop site, attendees were provided with workshop/project notebooks, reminded of their assigned skill set, and were told where to find their seat within the main meeting room. It should be noted that seating had been arranged by skill sets, with each table accommodating a specific group or skill set. This allowed attendees to easily identify other members of their working group and provided them an opportunity to converse with one another prior to breakout sessions.
3.1 Opening Session
The workshop began with opening remarks from representatives of the three governments (MDT, FHWA & CSKT), including:
Dave Galt, Director, Montana Department of Transportation
Loran Frazier, District Administrator, Montana Department of Transportation
Janice Brown, Division Administrator, FHWA - Montana Division
Lloyd Irvine, Confederated Salish and Kootenai Tribes
Joel Clairmont, Confederated Salish and Kootenai Tribes
Their remarks were followed by the presentation "Why ACTT?" by Rick Smith, Director of Innovative Project Delivery at the Washington State Department of Transportation and a member of the national ACTT Management Team. Following the presentation, all participants were asked to introduce themselves. This was followed by an overview of the project by Loran Frazier, District Administrator, MDT, and Craig Genzlinger, Operations Engineer and Statewide American Indian Coordinator, FHWA - Montana Division.
Mike Duman, FHWA, and Joel Marshik, MDT, served as workshop moderators. The Opening Session was followed by a working dinner and comments by Tony Incashola, Director of the Salish Culture Committee, CSKT.
3.2 Workshop Process and Recommendations
The second day began with a tour of the project. Buses took attendees along the 56-mile route, stopping at pre-selected points along the way. Following lunch, attendees participated in a general working session highlighting the need for innovation. For the remainder of the day and over the following day, the skill sets met together and separately to discuss various aspects of the project - in particular, methods to accelerate project construction.
Each group completed reporting forms, which are included in Appendix C. Each skill set was also asked to prioritize their top five to seven ideas and make a presentation to the whole group. Summaries of the group discussions, as well as the top recommendations from each skill set, are included below.
3.2.1 Construction
The Construction skill set focused much of its discussion around three ideas: constructability, sequence of lettings, and combining projects. It was felt that changing the sequence of project construction would allow for a more efficient use of resources. Two ideas for decreasing construction time included (1) involving the contracting community in project reviews and (2) grouping projects together.
Project Groupings
Tie the three structures (Jocko Bridge, Evaro wildlife crossing, Burlington Northern overpass) into one contract. This contract should be let in 2004. The group also noted that any bridge construction must take into account environmental restrictions (i.e., high water, bull trout sensitivity, etc.).
Place the other projects in three separate contracts with the following letting dates: (1) let Polson East, Minesinger Trail-MT 35 and Spring Creek-Minesinger Trail in 2005; (2) let Evaro-McClure Road, McClure Road-North Arlee, and North Arlee-White Coyote in 2006; and (3) let White Coyote-South Ravalli, South Ravalli-Medicine Tree, and Medicine Tree-Red Horn in 2007.
Reduce Travel Disruptions
Allow one-way traffic at night with closure windows as needed. Apply incentives/disincentives for openings.
Allow flexibility in Sequence of Operation. Specifically, allow contractors to bid with option for traffic control/sequence of operation. Also discussed were using fall project lettings to advance off roadway work, allow waste/borrow techniques, and implement incentives/disincentives for roadway disturbance time.
Construction Methods
Utilize contractor staking and predetermined pay quantities. In doing this, accommodate and encourage GPS grade control.
If mandatory pits are going to be required, upgrade any designated haul roads to all weather surfaces with increased load capacity before full construction start. Any upgrades should be coordinated with the appropriate roadway owner (city, county, etc.) and should be included in the contract.
Identify staging areas: old pits; tribal lands, remnant parcels, total takes, etc. Any reclamation/restoration of these areas should be combined with existing pits where possible.
Project Management
Assign a project management team with a project coordinator as the leader. This team will enhance project communications and allow for/establish a fast track issue resolution process. The group also recommended using a present claim flowchart as a baseline.
3.2.2 Traffic/Work Zone Safety
Prior to initiating their brainstorming, the Traffic/Work Zone Safety skill set outlined four primary goals to guide their discussion: (1) no construction-related traffic accidents; (2) zero disabling worker injuries; (3) reduce or eliminate work zone congestion; and (4) minimize cost growth.
Initial discussions covered a broad range of safety, operational, and scheduling/traffic disruption issues. Pedestrian safety, aggressive and elderly drivers, DUIs, school bus stops/routes, etc. are just a modicum of the safety issues put down by the group. Operational discussions highlighted the need to consolidate projects into short durations versus having multiple projects over multiple years.
The area that may allow the most innovation is scheduling/traffic disruption. It was suggested that traffic control plans could be submitted by the contractor as part of the bidding process. Contractor innovations should not be restricted and ways should be found to encourage and share the benefits of reducing congestion and traffic disruptions. Pre-bid meetings and real-time coordination among staff and/or contractors was said to be of utmost importance.
After hearing the preliminary recommendations by the other skill set groups, Traffic/Work Zone Safety examined areas of overlap (i.e., recommendations or comments by other groups that overlapped into traffic and work zone safety) before recording their final recommendations. Some suggestions were: find a way to measure and monitor traffic congestion; review barrier use with resource managers to ensure sensitivity to species that may come in contact with them; include law enforcement in traffic control; utilize ITS in coordination with Public Relations; develop plans to deal with the unexpected (i.e., crashes) or special events; etc.
Final recommendations by this skill set can be divided into four major areas: (1) Resource Assessment; (2) Detailed Traffic Management Plan; (3) Detailed Sequence of Operations; and (4) Special Provisions.
Resource Assessment
This skill set believed that an assessment of resources is important to successfully implementing construction projects along the corridor. The following factors could be addressed in such an assessment:
Mega vs. Multiple Projects - Determine whether individual projects should be combined to minimize the duration of construction. Several project examples have demonstrated that 1, 2, or 3 years of intensive construction may be preferred by the public as compared to 5-7 years of less intensive, staged construction.
Personnel Resource Assessment (skills, duties, partnering, etc.) - The intensity of the work and the contracting practices (incentives/disincentives) may strain the capabilities of MDT. Cultural, historic, and environmental considerations also present unusual needs and demands.
Contracting Practice - Project management is already considering A+B bidding methods for projects along the corridor. Another tool to deliver a project or set of projects to expedite construction may be design-build.
Training/Certification (Traffic Control Methods, Worker Safety) - Certified work zone traffic control supervision, provided by the contractor, and dedicated to the project may increase the quality of work zone traffic control.
Detailed Traffic Management Plan
It was agreed that detailed traffic management planning would help move travelers through the corridor, minimize adverse impacts to businesses, and improve safety performance. Following are elements of a comprehensive traffic management plan:
Figure 3. Project Location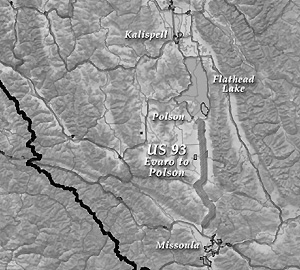 Traffic Control Plan (project specific considerations)

Pedestrian traffic control - Pertinent when the work effects pedestrian facilities or is within towns and cities.
Elderly Drivers - The corridor currently recognizes the higher than average proportion of elderly drivers moving through the corridor. Enhanced Roadway markings have already been placed on portions of US 93.
Property access - Maintaining business, agricultural, residential, utility and municipal access while reconstructing the roadway will necessitate proper planning and coordination. Some up-front consideration will avert unplanned disruptions in access.
Wildlife concerns - Identify any areas that may require special features such as temporary fencing or provisions for minimizing wildlife mortality.
Regular coordination meetings - coordination between projects and among resource agencies and the governmental sponsors will be necessary.

Enforcement (i.e., speed and impaired drivers) - It is recommended that a multi-year enforcement MOA with enforcement agencies be considered. Other considerations include working with local tavern owners, deploying responsible-server training, offering "free rides" home, and integrating 402 projects with the construction projects.

Pullouts - Where reconstruction eliminates shoulders or pullout opportunities for significant distances, include provisions for temporary enforcement pullouts. These pullouts could also be used for temporary storage of disabled vehicles.

Alternate Route Plan - Have an alternate route plan for oversized, overweight vehicles. This plan may also review planned or programmed improvements on alternate routes, judging whether improvements are projected during the US-93 reconstruction. If so, the improvements could be deferred or moved up. This consideration includes maintenance division activities.
Transportation Demand Management (TDM) - Local commuters to Missoula and Polson are part of the traffic stream. There is a potential to reduce the number of vehicles on the roadway through TDM techniques. Whether this is reasonable and cost effective needs to be determined.

Carpool, Public Transportation - Contract provisions could require offering a service to match riders with carpool drivers. Public transportation may also be as little as service from a remote parking site for contractor's employees to the work site.

Coordinating Construction Practice - Construction sequencing while the facility is under traffic presents challenges. The following are solutions/recommendations:

Time of day/night - It may be reasonable to permit alternate flows of one-way traffic at night while during the day two lanes (one in each direction) are required.
Pilot cars - Continuous use of pilot cars can help control speeds and assist unfamiliar drivers.
Incident Management Plan - On scene command structure, communications and response need to be coordinated with contracts.

EMS, Hazmat
Service Patrols
Regular Coordination Meetings.

Motorist Information - Two levels were envisioned by this skill set, (1) corridor wide and beyond, and (2) project.

Standard or typical message sets - Develop typical message sets for variable message signs.
ITS (511, signs, HAR, DMS, cameras) - Deploy notices in advance of, and through, the corridor about the availability of traveler information through 511. Within the corridor, deploy HAR. Cameras at fixed sites along the corridor can provide real-time information for trip planning purposes.
Networking (car rental agencies, National Park Service (NPS), Motor Carrier Services (MCS), AAA, etc.) - This skill set envisioned an extensive list of organizations and services that the corridor public awareness firm would work with.
Special Events - Identify special event times and modify contract provisions accordingly.
Detailed Sequence of Operations
Attacking PTW ("How it will be built") - The skill set group expressed the general feeling that more detail than is typically incorporated in MDT construction plans should be given in the project plans and contract provisions.

Length of operations - Implement corridor wide limitations on the extent of driving on an unpaved surface, both in distance and time.
Contractor input - Before bidding the contract, consider a means to obtain contractor feedback on the proposed sequence of operation.
Surfacing requirements - This also relates to length of operations.
Special Provisions
The Traffic/Work Zone Safety skill set felt that three types of special provisions are important to consider before the first contract is let:
Incentive clauses (worker, crashes, etc.) - Apply a monetary incentive for achieving zero disabling crashes and zero disabling worker injuries within the construction project limits (as an example). Keep any contract targets simple and measurable. The intent is to let the contract provision speak to the importance of safety, and this may drive innovation by the contractor.
Dust Management (water quality control) - Consider paving all haul roads. Control source water quality so as not to transplant invasive species in uncontaminated streams and water bodies.
Alternate measurement/Payment (lump sum, cost savings, daily maintenance rates) - Current MDT policy generally prescribes lump sum traffic control for projects with well-defined extent and duration of work. In other contracts, unit prices are used (inspectors become "counters" in unit price contracts). Consider a blend of traffic control payment methods, combining lump sum for certain elements, unit price for others and a daily maintenance item.
3.2.3 Right-of-Way (ROW)/Utilities/Railroad
Before construction can begin on a project, ROW must be identified and/or acquired, utilities should be moved and work having an impact on railroad lines must be identified. Delays in any of these areas can have a serious impact on the accelerated construction and operation of a project.
The ROW/Utilities/Railroad skill set identified several potential obstacles and subsequent solutions to an accelerated construction schedule. Not all of the items discussed were included in the group's final recommendations (found at the end of this section). The following paragraphs highlight a few of their interim suggestions.
Like other skill sets, ROW/Utilities/Railroad recognized prioritizing project segments as one of the first steps in this accelerated process. North End of Arlee to White Coyote Road (Jocko River Bridge) was listed as first priority and Minesinger Trail-MT 35 (Polson-East) was listed second. Next comes the need to complete the necessary ROW acquisition paperwork. It was suggested that MDT staff could be brought on board to assist with the Polson-East project segment, allowing a potential second consultant to focus on some of the secondary segments.
Acquisition/appraisal of right-of-way is rarely smooth or easy. Complicating the process on this project is the additional oversight by CSKT. It was unknown what length of time CSKT would need for review of appraisals and/or any special processes that the Bureau of Indian Affairs (BIA) might require. It was, however, suggested that hiring a mutually acceptable fee reviewer and/or offering to pay more up front to attract a fee appraiser and/or adjust the pay schedules could speed up the appraisal/acquisition process.
Relocations should be addressed as much in advance as possible. Making relocation a priority both in the private sector and with CSKT could help avoid delays in acquiring CSKT, Trust, or private properties. It was suggested that the entire project be examined to determine the number and difficulty of the various relocations. While the preference is handling all relocations in house, other alternatives may have to be considered to ensure that deadlines are met.
Environmental/landscape needs can cause significant project delays if care is not taken to schedule tasks appropriately. Removal of plants (harvesting and seed collection) and other environmental concerns can quickly become major issues when they begin to delay utility work. The window of opportunity for many of these tasks is this year!
The ROW/Utilities/Railroad skill set identified five final recommendations crucial to accelerated construction:
Project Management
Create a multi-discipline Corridor Management Team or overall Project Manager (possibly with a designated team to work with). This team or individual would establish time lines and accountability for the entire corridor. They would also ensure that coordination between the appropriate agencies/utilities takes place in a timely manner.
A project manager for ROW and utilities work within the corridor should be established. This individual would have decision authority and could coordinate with a corridor-wide utility agent, tribal representative (with environmental/cultural experience), and ROW agent. He/she would be responsible for creating a ROW and utilities sequencing schedule as well as holding monthly meetings to coordinate all utility and ROW functions.
A database accessible by all entities should be established to track ROW/Utilities progress. Automated acquisition forms should also be made available.
Utility Deliverable Issues
Incentives for early utility relocation should be created. Examples include 100 percent reimbursement of costs.
Utility parcels should be identified first allowing ROW to focus on acquisition of those parcels. Subsequent plans should be developed to identify acquired ROW parcels to allow early entry by utility companies.
Utilities should be allowed and/or encouraged to contract necessary tasks.
An Environmental Salvage time line should be finalized up front.
Physical (onsite) identification of sensitive areas needs to take place prior to utility relocation.
Mapping, Staking, etc.
Create a master utility agreement that is independent of segmentation.
There must be close coordination with environmental personnel regarding installation, location, and method of utility relocation. Providing incentives to "get in and get out" of sensitive areas, burying smaller power lines in such areas, running lines along guardrail, curb and gutter sections or utilizing overhead lines are all options in "sensitive" or "do not disturb" areas.
Additional time would be saved by completing utility permits upon project conclusion (currently done up front).
Where possible, consider use of right-of-entry and/or Grant of Possession to avoid property condemnation holding up construction.
Right-of-Way Staffing
Allocating an appropriate level of manpower is crucial. Specifically:
MDT: Shift or add ROW staff.
CSKT: Add staff and share clerical duties with consultant or MDT.
Consultant: Determine if staff is adequate. Ability to deliver will be evaluated.
Process Issues
Currently, there is a multi-agency appraisal review process that can be very lengthy. To lessen this, clerical tasks should be consolidated to eliminate redundancy and every attempt should be made to allow agencies to review appraisals concurrently.
It is recommended that a pilot project be initiated to access the feasibility of right-of-entry or Grant of Possession.
Consider using incentive payments to landowners for early acquisition.
3.2.4 Public Relations/ITS
Public Relations (PR) is often tasked with being everything to everyone. As the most "public" face of a project, it provides a vital link in the communication process by 1) helping customers identify with the project even before construction begins, and 2) disseminating information regarding day-to-day happenings once construction commences.
They must communicate the reasons/need for the project and the long-term benefits that will result from the short-term "discomfort" of construction. In addition, they must help the consumer understand the relationship between factors such as unexpected events (crashes), mobility, commercial and recreational vehicle volumes, the need for lane closures during construction, and so forth. Their goal is to help individuals be informed and feel in control of their driving destiny.
The Public Relations/ITS skill set identified seven major "themes" surrounding this project:
cultural preservation (i.e., protecting landmarks);
maintaining or facilitating a "Spirit of Place";
improving safety;
improving efficiency;
protecting the environment (i.e., wildlife, wetlands, native plants, etc.);
improving all transportation modes (bike, pedestrian, etc.); and
being aware and sensitive to the National Parks systems' mission.
With those guidelines in mind, they sat down to determine the project stakeholders. Who had a keen interest in ensuring that project information was provided in a timely manner? Over two dozen different groups were identified, ranging from governments, local residents, and tourist services to educational facilities, the general media, and emergency medical services. These stakeholders can assist in identifying the target audience for any PR plan.
One key point made by the Public Relations/ITS skill set was that the PR plan shouldn't commence on the day that construction starts, nor should it end on the day the last road stripe is painted. Rather, the public should be invited to "get involved" with the project before, during, and even after roadway construction.
Before Construction
Prepare pre-construction video.
Utilize focus groups to review the ad agency's PR plan (see final recommendations).
Plan phasing of messages.
Identify committee responsible for hiring ad agency/PR company.
During Construction
Provide real-time information.
Conduct milestone celebrations.
After Construction
Ensure a national conference presence. Encourage paper/abstract submittals and project presentations at a national level.
Prepare a documentary of project from beginning to completion (PBS/History Channel).
The most crucial ingredient in the information dissemination process may be the budget. It costs money to have a positive image. This skill set recommended presenting a proposed budget to a small group of decision makers, putting it in terms of a percent of the construction cost. While there are alternative marketing methods that encourage community involvement (school contests for logo creation, utilizing the University of Montana or Montana State University's Journalism department, etc.), care should be taken to ensure that ownership, quality control, etc. is maintained. Don't try to cut the budget on the important things!
In identifying ways to partner with local/regional organizations and effectively inform the affected communities and the traveling public about construction delays, the Public Relations/ITS skill set identified six final recommendations to minimize adverse socio-economic impacts.
Brand Project/Develop Logo
Branding the project will provide local groups with increased ownership and will provide a way of positively identifying the project. This should be done as soon as possible to lessen the use of negative slang/nicknames (i.e., "pray for me I drive on Highway 93" bumper stickers).
Initially, the Public Relations/ITS group suggested a brand/logo of "Seven Generations." After receiving feedback from members of the other skill sets, including several CSKT staff, the Seven Generations logo was deemed to be too stereotypical. It also may have trademark/registration issues as it is currently used by other organizations/tribes.
Instead, "Spirit of Place Project/Highway" was suggested. Naming the highway will require congressional approval and additional signing on the roadway. If "project" is used instead of "highway" you do not need to go through this process. Tribal elders will need to approve the project name/logo prior to finalization.
The tribe started a logo with the reservation outline, mountains, teepee, and a white bison that could potentially be used for this project.
Coordination
Information, staff and overall corridor coordination are crucial. Construction schedules should be updated weekly (sooner if unexpected changes occur), and MDT should identify milestones and decide what is a priority to be completed (not the contractor). With the need to update traveler information (HAR, VMS, etc.) hourly comes the necessity to collect, analyze and disseminate a vast array of information. Staff/agency relationships in these regards can best be shown via a communications flowchart.
Public Relations Committee
This group or committee will oversee all public relations activities and will select the Ad Agency. Their job is to get PR out on budget and on schedule.
Project Public Information Officer (PIO). This individual will act as the single point of contact with the public and will oversee the Ad Agency, Documentary Company and Traveler Information Coordinator. He/she will also work alongside the Tribal Liaison and Ombudsman. It should be noted that historically this person has been employed by the Ad Agency. This project will necessitate a change to a MDT employee. It was felt that an outside entity should not be speaking to the press on MDT's behalf.
Tribal Liaison. This individual will have the tribes interests at heart and will work alongside the PIO.
Ombudsman. This individual should be a third party engineer that can answer technical questions and serve as an outside expert that can talk to and/or meet with everyone. He/she will provide a "human face" to the project and will be available to mediate public concerns. He/she can also serve as a community/business contact and can bring ideas back to MDT. While this position will be external to all three governments (CSKT, MDT and FHWA) it would be paid for by all three.
Traveler Information Coordinator. There is an existing 511 information coordinator in the MDT Maintenance Division. They field positive/negative comments on 511 and answer publics' calls to MDT. For this project, they will need construction information on a weekly basis for update in the 511 system. They could also produce a project-specific report for publication on the project website. This individual works very closely with project PIO.
Ad Agency
The Ad Agency will be accountable for preparing the PR plan. They will report to the PIO and they will be instructed to not converse about the project to the public. They will be in charge of identifying stakeholders and/or target audience. They will run focus groups and ensure that tribal entities (i.e., Flathead Resource Organization, Salish, Pend d'Oreilles, and Kootenai Tribal Elders, Tribal Council, etc.) are involved in the decision making process. They will also create logos, brands, brochures and trinkets.
Documentary Company
This will be an outside company that reports directly to the PIO. They will be tasked with documenting the project from the 1980s to the present. They will assist as needed in preparing video(s) to show at conferences and on PBS/History channels. They can also assist with trade article preparation, conference papers and conference/professional organization award submissions.
Prepare Implementation Plan
Start with a pre-construction video showing history of project, reason for project, etc.
Identify educational efforts (handouts, trinkets, etc.).
Develop a website plan.
Ensure the use of HAR, DMS and CCTV. All equipment will have to be purchased through Traffic Control, not PR. For HAR and DMS, the MDT Maintenance Division, specifically the Traveler Information Coordinator, will provide text/document on what should and should not be put into systems. The Contractor will, however, be in charge of physically recording messages. CCTV cameras will be used for traffic control. Portable units may be useable for this project. When possible, cameras should be tied into project and MDT Traveler Information website (the current CCTV web page is one of the most frequently used MDT sites).
Identify milestone celebrations.
Include coordination plan for documentary video, trade article submission, project displays, conference presentations and/or award submissions.