January 28, 2021
Innovation of the Month:
Crowdsourcing for Advancing Operations
Over the last few weeks, we've introduced you to crowdsourcing for advancing operations, shown you the results transportation agencies are seeing, and shared a case study for Frisco, TX, where public safety dispatchers used crowdsourcing to faster, more accurate information to first responders. This week, we'll show you how the District of Columbia Department of Transportation (DDOT) used archived crowdsourced data managed using the Regional Integrated Transportation Information System (RITIS) platform to improve signal operations.
The crowdsourced data helped DDOT optimize the timing of 600 signals along 49 routes with more than 40 bus routes and 1,500 signalized crosswalks using vehicle probe data archives for speed and travel times. This same information would normally require floating car studies to obtain. The new signalization strategies help make DDOT traffic signals safer and friendlier for pedestrians and bicyclists, improved transit running time, and reduced traffic congestion as well as vehicular emissions. The agency can also leverage crowdsourced data to conduct quick and timely analyses when citizens comment on congested roads or poorly timed signals.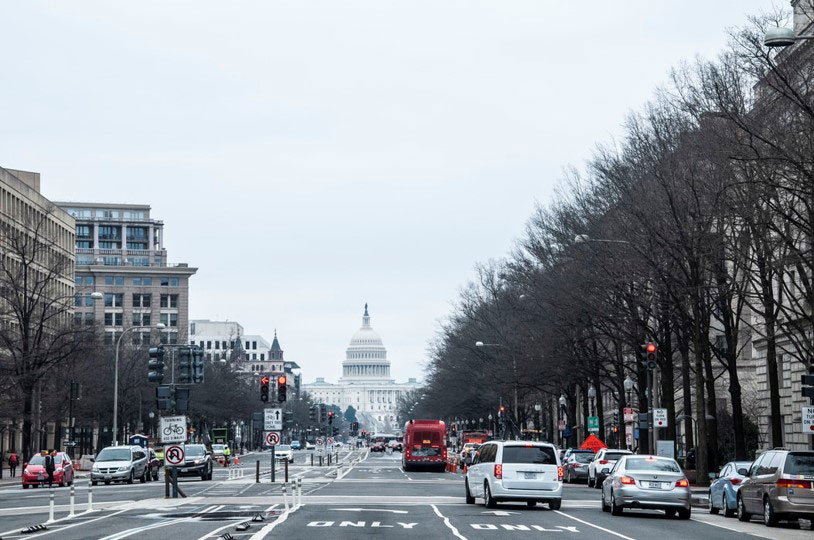 To learn more about how crowdsourcing for advancing operations can help your agency, contact James Colyar, Greg Jones, or Ralph Volpe, EDC-6 team co-leads or visit the team's EDC website.
Value Capture: Benefiting Public and Private Development through Negotiated Exaction
Many States and municipalities require negotiated exactions as part of the approval process for planned developments. These may include land transfers, cash payments, construction activities, or public services provided by private developers. The local jurisdiction and the developers negotiate the contribution on an ad hoc basis for individual projects rather than using a predetermined formula.
The Pennsylvania Department of Transportation (PennDOT) and the developer of the 628-acre Chrin Commerce Centre near Easton negotiated an agreement under which PennDOT provided $27.4 million in public improvements, including constructing a new interchange on Route 33 to facilitate access to the development. The developer provided 22 acres of land for the interchange and $13.6 million in infrastructure improvements.
By using innovative value capture methods to finance both the private development and the public improvements, PennDOT and the county significantly reduced the amount of funding required from limited State and local sources.
To learn how value capture methods can help your agency get the most out of every dollar, contact Stefan Natzke, FHWA Office of Planning, Environment, and Realty, or Thay Bishop, FHWA Center for Innovative Finance Support.
Did You Catch the Last Innovator?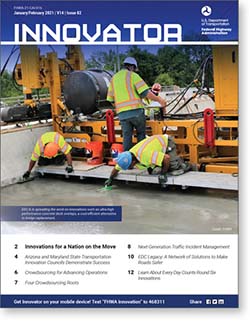 The January/February issue of Innovator is now available, accessible from your computer, tablet, or mobile phone to optimize your reading experience!
In this issue:
Comments? Questions? We'd love your feedback! Drop us a line and let us know what you think.
Read past issues and sign up to receive Innovator by email here, or text "FHWA Innovation" to 468311 to get Innovator on your smartphone.
Join the Arizona STIC for a Virtual Innovation Exchange Series
The Arizona Council on Transportation Innovation (ACTI) invites other transportation practitioners to join them for their Virtual Innovation Exchange Series. Beginning next week, February 2nd, ACTI will host a series of webinars covering a variety of innovation topics, including Virtual Public Involvement, Value Capture, Automated Traffic Signal Performance Measures, Diverging Diamond Interchanges, Unmanned Aerial Systems, and more.
Discover more information and register here.
About EDC
Every Day Counts, a State-based program of the Federal Highway Administration's Center for Accelerating Innovation, works with State, local, and private sector partners to encourage the adoption of proven technologies and innovations to shorten and enhance project delivery.