Patrick DeCorla-Souza, Tolling and Pricing Program Manager, FHWA
Lee Munnich, Humphrey Institute, University of Minnesota
Kenneth Buckeye, Minnesota Department of Transportation
John Doan, SRF Consulting
Center for Innovative Finance Support
Federal Highway Administration
Eleventh Part of a Webinar Series on Overcoming the Challenges of Congestion Pricing.
Session 11: Best Practices in Parking Pricing - Webinar
Audio:
Via Computer - No action needed
Via Telephone - Mute computer speakers, call 1-866-863-9293 passcode 47214728
Presentations by:
Audience Q&A: addressed after each presentation, please type your questions into the chat area on the right side of the screen
Closed captioning was available at: http://www.fedrcc.us//Enter.aspx?EventID=1905783&CustomerID=321
Upcoming Webinars:
Visit https://ops.fhwa.dot.gov/congestionpricing/webinars/index.htm
Recordings and Materials from Previous Webinars: https://www.fhwa.dot.gov/ipd/tolling_and_pricing/resources/webinars/congestion_pricing_2011.aspx
Part 1: Best Practices in Parking Pricing
Allen Greenberg
FHWA Office of Operations
February 23, 2012
Overview
Many dimensions of underpriced parking and its consequences
Broad range of parking pricing strategies available
Value Pricing Pilot Program support of different parking pricing strategies
Focus on "performance pricing" for on-street parking in this Webinar
Problem
Parking costs are typically hidden from drivers, who therefore see few if any opportunities to save on such costs.
Subsidized and hidden parking costs lead to increased driving, more vehicle ownership, and substantially higher housing costs.
Problem Manifestation
Minimum parking requirements for housing substantially increase costs and reduce supply
Minimum use-based commercial and office parking requirements hinder redevelopment and raise costs
Over 90% of private employers subsidize employee parking, while only 6% subsidize transit
Solution (1)
Eliminate parking requirements, enabled by pricing on-street parking (differently for visitors and residents) to ensure appropriate availability, thereby eradicating the "parking spillover" rationale for such requirements.
Solution (2)
Enact state laws or local ordinances to require employers who choose to subsidize employee car parking to offer a similar "cash out" subsidy to employees using alternative transportation.
SAFETEA-LU Pricing
The Value Pricing Pilot (VPP) Program sets aside $3 million of the $12 million annual program budget "only for congestion pricing pilot projects that do not involve highway tolls," including parking pricing among other strategies.
VPP Program Support:
Parking cash-out and "right sizing parking" in King County
On-street parking pricing in New York City
"Flexible" monthly parking in Minneapolis
University parking pricing at Stanford and Cal Berkeley
Combining "unbundling of parking" with carsharing in residential buildings in San Francisco
SF park "performance parking" pilot
VPP Program Newly Funded:
Delivery vehicle real-time parking availability information and reservations and occupancy-based pricing in Seattle
Evaluation of comprehensive, area- wide parking pricing strategies as a form of "cordon pricing" in San Francisco
VPP Program Parking Future:
Considering nine parking applications out of a total of 23 applications for FY 2012 funding
Current applications cover a broad range of parking strategies, including employer commute benefits, multimodal on-street parking management, priced park-and-ride parking, and parking pricing modeling and evaluation using new tools
Program funding announcement is expected in June 2012
Part 2: The High Cost of Free Parking
Donald Shoup
Cruising for Cheap Curb Parking
Off-street: $20/hour
Curb: $1/hour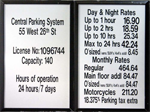 Cruising for cheap curb parking
Suppose you want to park for 1 hour

Curb parking costs $1.
Off-street parking costs $20.
How long would you be willing to cruise for curb parking rather than pay the higher price for off-street parking?
Table 11-5 Cruising for Parking

| Year | City | Share of traffic cruising (percent) | Average search time (minutes |
| --- | --- | --- | --- |
| 1927 | Detroit | 19% | |
| 1927 | Detroit | 34% | |
| 1934 | Washington | | 8.0 |
| 1962 | New Haven | 17% | |
| 1965 | London | | 6.1 |
| 1966 | London | | 3.5 |
| 1966 | London | | 3.6 |
| 1977 | Freiburg | 74% | 6.0 |
| 1984 | Jerusalem | | 9.0 |
| 1985 | Cambridge | 30% | 11.5 |
| 1993 | Cape Town | | 12.2 |
| 1993 | New York | 8% | 7.9 |
| 1993 | New York | | 10.2 |
| 1993 | New York | | 13.9 |
| 1997 | San Francisco | | 6.5 |
| 2001 | Sydney | | 6.5 |
| 2005 | Los Angeles | 68% | 3.3 |
| 2007 | New York | 28% | |
| 2007 | New York | 45% | |
| 2008 | New York | | 3.8 |
| 2011 | Barcelona | 18% | |
| Average | | 34 | 7.5 |
Cruising in New York
Researchers interviewed drivers who were stopped at traffic lights.
Are you searching for curb parking?

28 percent of drivers on a street in Manhattan said they were searching for curb parking.
45 percent of drivers on a street in Brooklyn said they were searching for curb parking.
What is the right price for parking on the street?
The price is too high if many curb spaces are vacant because businesses will lose potential customers.
The price is too low if no spaces are vacant because drivers will congest traffic and pollute the air as they circle the block searching for an open space.
The price is just right if one or two curb spaces are usually open on every block because drivers can always find convenient parking at their destinations.
The Goldilocks principle of curb parking prices.
Performance Parking Prices
The right price for curb parking is the lowest price that will leave one or two vacant spaces on each block - performance pricing
Performance prices adjust over time to maintain a few vacant spaces.
The goal is to keep about 85 percent of the parking spaces occupied all the time.
About one curb space is vacant on each side of each block so that everyone can see that convenient parking is available everywhere.
Curb parking prices and cruising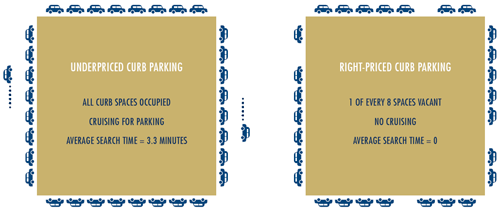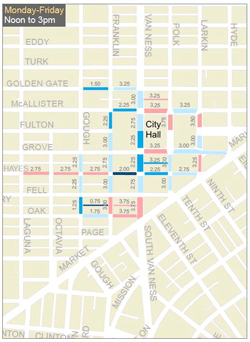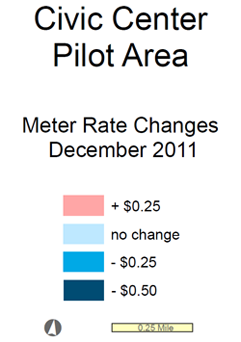 Higher prices for special events
Some areas host large, well-publicized events that greatly increase the demand for parking.
Concerts, conventions, parades, street festivals, sports events.
Curb parking prices for special events can range up to $18/hour.
Curb parking prices will be based on surveys of the prices at private off-street parking for the events.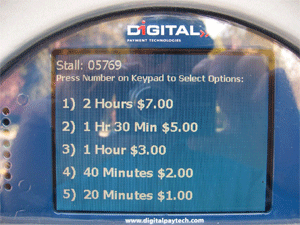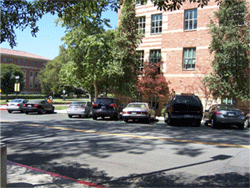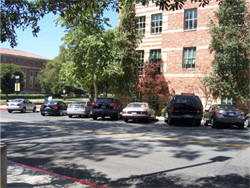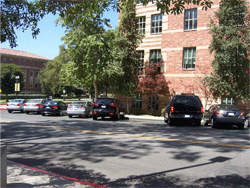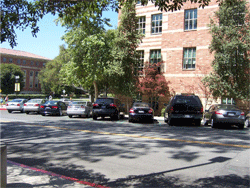 Parking is well used but readily available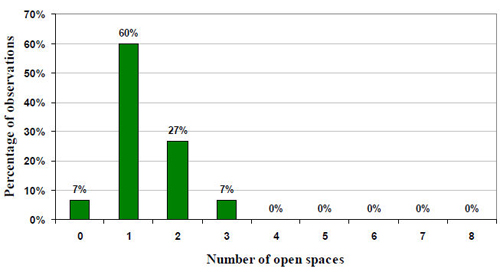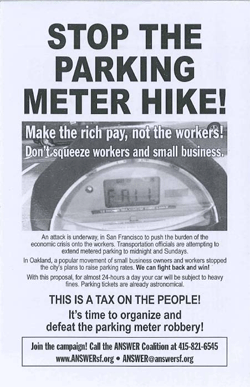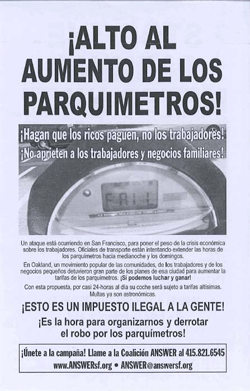 2. Revenue Return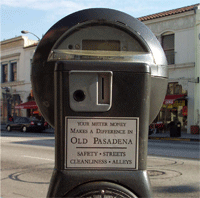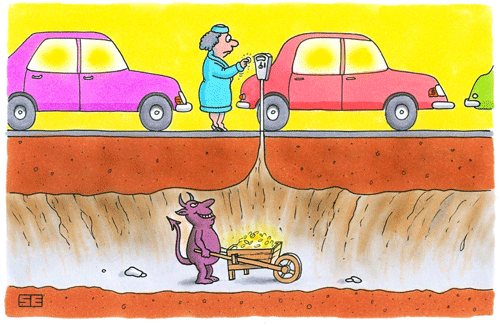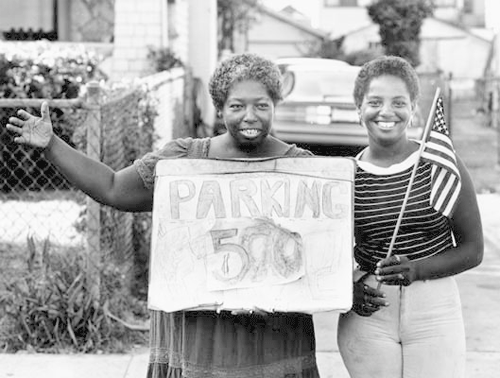 Ventura parking ordinance
A program of managing on-street and off-street parking to achieve a 15% vacancy rate.
Using metered parking to achieve a vacancy rate of 15% eliminates the need for time restrictions on those metered parking spaces.
All moneys collected from parking meters in this city shall be placed in a special fund, which fund shall be devoted exclusively to purposes within the geographic boundaries of the parking district from which the revenue is collected.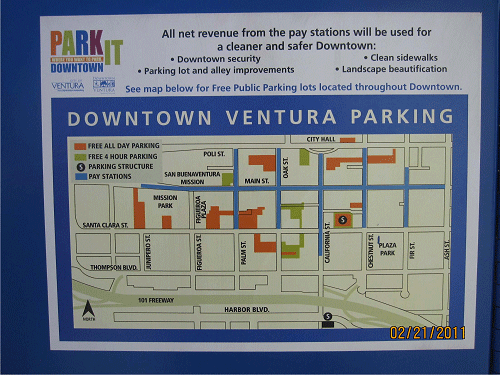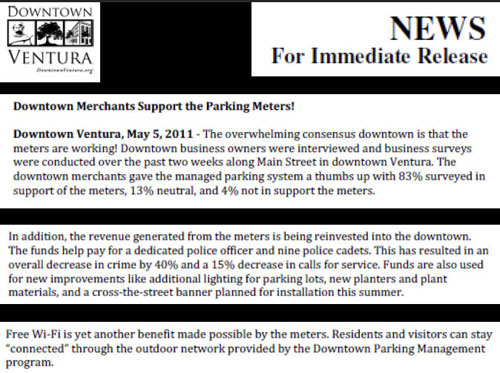 "As our case is new, so must we think anew, and act anew. "
- Abraham Lincoln -
Part 3: SF Park
Jay Primus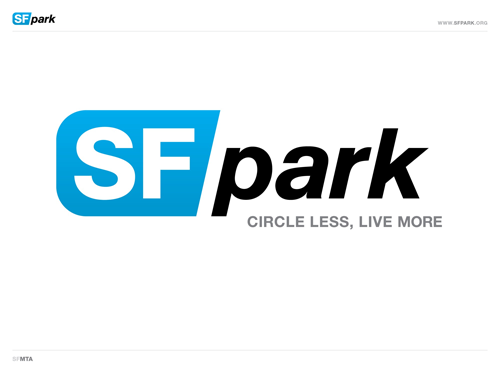 The SFMTA

What is parking like in San Francisco?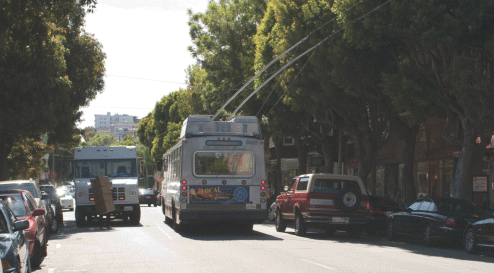 How did we get here?
What is the SFMTA doing about it?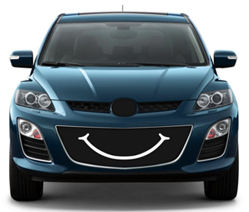 Demonstrating a new approach to parking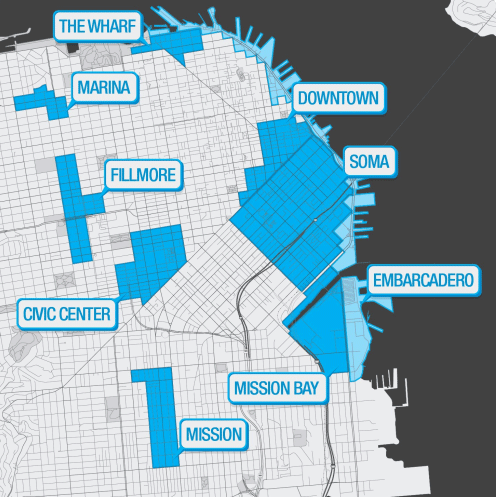 Parking census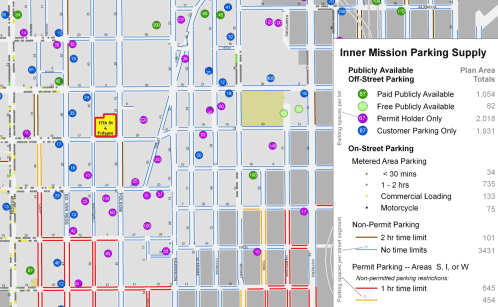 Managing employee parking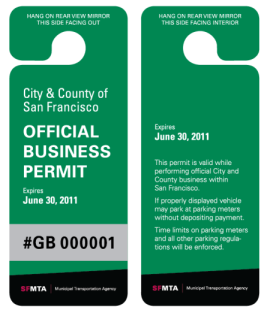 Coin and card meters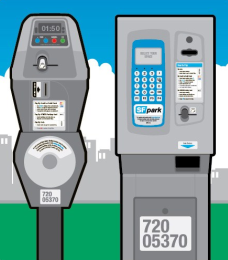 Parking sensors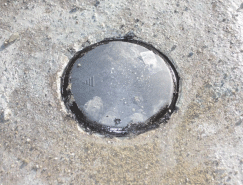 Real-time information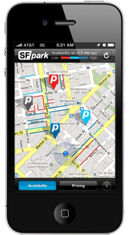 Pricing at parking meters and lots
Demand responsive to find lowest possible prices
Gradual and periodic changes: $0.25 up or down every 4-6 weeks
Time of day pricing (vary by block + weekday/end)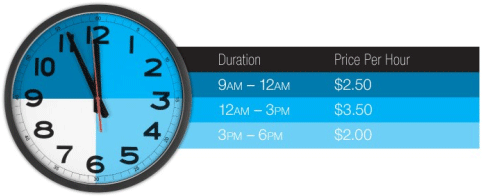 Demand responsive rate adjustments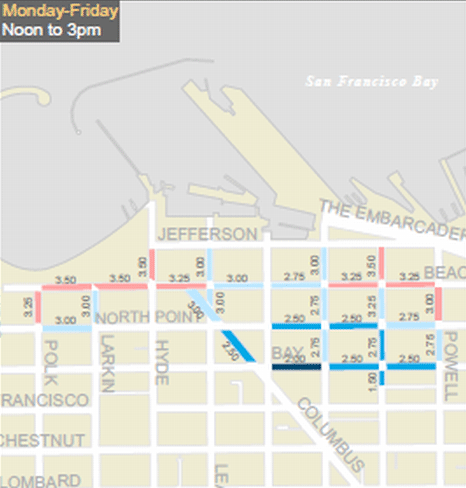 Rate changes by metered hours

| | | | | |
| --- | --- | --- | --- | --- |
| | 1st rate change | 2nd rate change | 3rd rate change | 4th rate change |
| Up $0.25/hr | 26% | 25% | 27% | 26% |
| No change | 42% | 37% | 38% | 39% |
| Down $0.25/hr | 28% | 30% | 29% | 30% |
| Down $0.50/hr | 4% | 7% | 6% | 5% |
Pricing at SFpark parking garages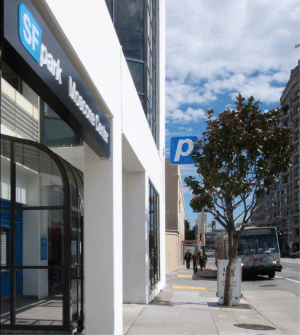 Low-tech demand-responsive pricing
Occupancy data can come from

Parking sensors
Parking meters
Manual surveys
Enforcement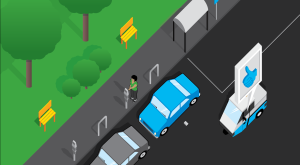 Initial revenue evaluation (new meters/time limits)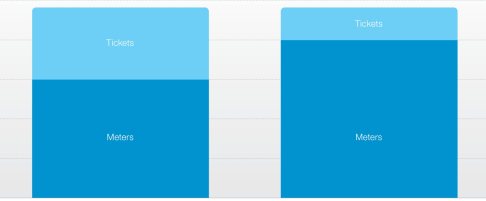 Garage wayfinding + advertising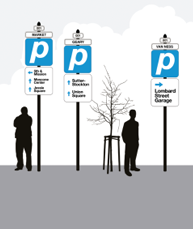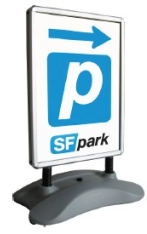 Automatic data collection
Supply data (census, asset management, street closures)
Parking data (from sensors, meters, and citations)
Garage data (usage by hour)
Travel demand data (roadway sensors, highways PEMS, BART, Muni)
Muni data (travel time data from APCs)
Parking tax
Sales tax
Safety (SWITIRS collision data)
Exogenous (fuel price, CPI, unemployment, precipitation)
Manual data collection
Parking search time
Double parking
Disabled placard
Occupancy in residential areas
Motorcycle occupancy
Vehicle occupancy
Intercept surveys (professional survey firm)
Data management and analytics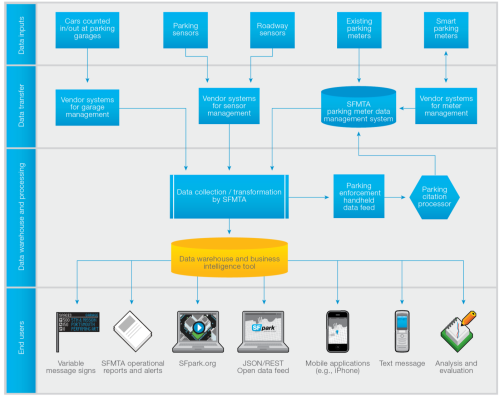 What's next
Through Spring 2012
Roll out pay by phone (citywide)
Continue to develop business intelligence tool
Continue to improve and document business processes
Spring through late 2012
Initiate variable message signs
Accelerate sharing and dissemination of lessons learned
Develop proposal for expanding SFpark citywide
Release RFPs
Evaluate pilot projects
High level lessons learned
Focus on availability (not turnover)
Shifting how people think about parking takes time

Extensive outreach
Branding is useful

Having a transparent, rules-based, and data-driven approach helps
SFpark is essentially a complex IT undertaking
Parking equipment is not plug and play
Sharing our resources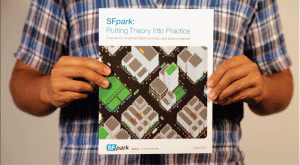 Thank you
Jay Primus
jay.primus@sfmta.com
SFMTA
Part 4: DDOT Value Pricing Initiatives
by
Damon Harvey, Actg. Citywide Program Manager
Soumya Dey, P.E., Deputy Associate Director
Webinar on Best Practices in Parking Pricing
February 23, 2012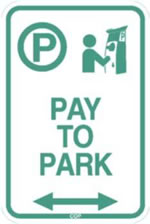 What is Performance Based Parking?
Performance parking is a curbside management strategy DDOT began in March 2008 in the Ballpark District of Ward 6.
Performance parking works by adjusting the rates and/or the time restrictions on metered blocks while protecting the parking supply on surrounding residential and mixed used corridors through increased residential parking enforcement.
Data Collection Process and Outcomes
In 2011, DDOT and COG enhanced the data collection methodology and approach by generating per block occupancy and turnover rates based on actual manual counts instead of mathematical formulas measuring curbside footage. The purpose of this data collection effort was to determine the impact of performance parking in the vicinity of the Washington Nationals Ballpark in southeast and Near Southeast DC.
TABLE 1: BALLPARK DISTRICT TOTAL CURBSIDE OCCUPANCY BY STATE WITH TURNOVER RATES ON ALL BLOCKS (with duplicate registration numbers not removed)
DISTRICT OF COLUMBIA
MARYLAND
VIRGINIA
OTHER STATES

TOTAL CURBSIDE OCCUPANCY BY ZONE

TURNOVER RATE BY STATE PER ZONE

TOTAL CURBSIDE OCCUPANCY BY ZONE

TURNOVER RATE BY STATE PER ZONE

TOTAL CURBSIDE OCCUPANCY BY ZONE

TURNOVER RATE BY STATE PER ZONE

TOTAL CURBSIDE OCCUPANCY BY ZONE

TURNOVER RATE BY STATE PER ZONE
AWAY GAMES
ZONE A
1,553
31%
590
12%
387
8%
2,482
50%
ZONE B
811
32%
316
13%
309
12%
1,066
43%
ZONE C
2,321
45%
412
8%
559
11%
1,897
37%
TOTAL
4,685
37%
1,318
10%
1,255
10%
5,445
43%
HOME GAMES
ZONE A
1,917
34%
714
12%
479
8%
2,610
46%
ZONE B
1,078
24%
778
17%
796
17%
1,931
42%
ZONE C
3,135
44%
568
8%
657
9%
2,728
38%
TOTAL OR AVG.
6,130
35%
2,060
12%
1,932
11%
7,269
42%
Block by Block Data Collection
EXECUTIVE SUMMARY: 2010 TOP TEN HIGHEST CURBSIDE OCCUPANCY RATES BY HUNDRED BLOCK ON NATIONALS GAME DAYS
ZONE
HUNDRED BLOCK
STREET NAME
PARKING SPACES PER BLOCK SEGMENT
AVERAGE OCCUPANCY
MAXIMUM OCCUPANCY
TURNOVER RATE

NUMBER OF VEHICLES

OCCUPANCY PERCENTAGE

NUMBER OF VEHICLES

OCCUPANCY PERCENTAGE
A
900
3
10
333%
16
533%
1:27
A
100
M Street, SW
3
6
200%
12
400%
1:20
A
1600
6
16
267%
19
317%
1:58
A
1100
8
11
138%
21
263%
2:12
B
900
Half Street, SE
5
7
140%
11
220%
0:46
B
1000
24
14
58%
67
279%
1:56
B
1000
3
4
133%
6
200%
2:01
B
1200
22
19
86%
46
209%
2:13
A
UNIT
8
8
100%
13
163%
1:25
A
1500
Half Street, SW
22
22
100%
34
155%
0:08
Data collectors used two or three private vehicles outfitted with LPR systems traveling the same routes continuously for eight hour intervals for three consecutive days, including a Saturday or Sunday This consists of a digital camera, a laptop computer, a video conversion unit (to convert images from the camera into a format acceptable for computer processing and a global positioning system (GPS) unit.
Columbia Heights Pilot Zone Data Collected
2011 Curbside Occupancy Rate
There are 44 blocks within the Columbia Heights pilot zone
32 or 73% of the blocks have an occupancy rate below 85%
12 or 27% of the blocks have an occupancy rate at or above 85%
6 blocks have multi space meters (MSMs) with variable hours of operation
3 MSM blocks or 50% have an occupancy rate at or above 85%
There are 44 blocks within the Columbia Heights pilot zone
The average turnover in the Columbia Heights pilot zone is 2:47
1:58 is the average turnover on multi space meter (MSM) blocks
2:52 is the average turnover on non metered streets in pilot zone
Data Collection Process and Outcomes
Table 2: State's of registration (with duplicate registration numbers removed)
D.C.
Maryland
Virginia
Other or unknown
2005
42%
785
16%
406
8%
1635
34%
These MSM blocks above 85% are:
3000 block of 14th Street: 89%
3100 block of 14th Street: 130%
3300 block of 14th Street: 100%
The remaining nine blocks with occupancy rates at or above 85% are:
3000 block of 13th Street: 113%
3300 block of 13th Street: 85%
1200 block of Columbia Road: 86%
1500 block of Columbia Road: 140%
1200 block of Irving Street: 113%
1300 block of Irving Street: 110%
1200 block of Monroe Street: 86%
1300 block of Monroe Street: 86%
1200 block of Park Road: 92%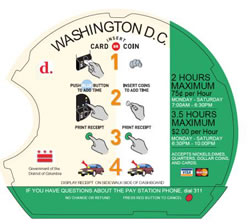 H Street NE Pilot
Beginning in March 2012 DDOT will begin performance based parking on all meters along the H Street, NE corridor from 3rd Street, NE to 15th Street, NE/Benning Road, NE. Performance based parking is a curbside management strategy DDOT has used since March 2008 with the introduction of the first pilot zone in the Ballpark District of Ward 6.
Implementation Timeline
DDOT is working with Council member Tommy Wells' office to have a public kick off meeting during the first two weeks of February. At this event the department will provide an overview of performance based parking and modifications coming to the corridor.
After the kick off meeting DDOT will provide community stakeholders with approximately 30 days to review and comment on the plan before implementation.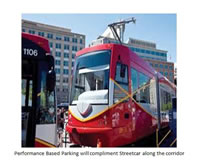 DDOT will begin variable rate meter operations along the H Street, NE corridor on all 36 multi space meters (MSMs) as well as Resident Only RPP on blocks within the RPP database as follows:
North: I Street, NE
East: 15th Street, NE/Benning Road, NE
South: G Street, NE
West: 3rd Street, NE
H Street NE Baseline Meter Rates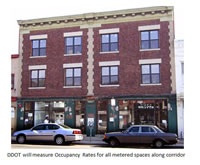 DDOT's networked MSM's along H Street, NE have the capacity for time of day or hourly variable rate meter operations. The idea of time of day meter operations is not new to the District performance parking zones.
In March 2009, when the department began performance parking operations in Columbia Heights, DDOT implemented a similar strategy. The original meter programming in Columbia Heights provided for two hour time limits in the mornings and three hour time limits in the afternoons and evenings at the same rate.
In July of this year DDOT shifted from time of day meter operations to hourly variable rates on all performance parking meters in Columbia Heights and extended the meter hours of operations until 10pm. DDOT will use the same phased implementation approach along the H Street, NE corridor at the following rates: 7am to 6:30pm: $.75 per hour with a four hour limit 6:30pm to 10pm: $2.00 per hour with no time limit
Methodology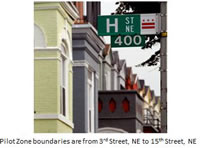 The occupancy rate target for metered curbside parking along the H Street, NE corridor will be between 80% and 90%; just as in the Ward 6 Ballpark District pilot. An occupancy rate set between these percentages will mean that approximately one or two spaces will be available out of every ten MSM spaces.
An occupancy rate target of 80% to 90% is standard in other jurisdictions implementing congestion pricing programs but it is by no means perfect. For example, the city of Seattle has a target occupancy rate of 60% in its zones and they have a very successful program. Seattle's target may be too low for the District, however after a year of analysis with regular updates using meter revenues the department will have a clear idea whether the target needs to be adjusted.
Enforcement
The H Street, NE performance based parking enabling law limits the Resident Only RPP and visitor passes to one block on each side of the corridor as follows: North: I Street, NE East: 15th Street, NE/Benning Road, NE South: G Street, NE West: 3rd Street, NE.
At the outset of pilot zone operations DDOT will provide each household on existing RPP blocks within one block of H Street, with Resident Only RPP enforcement as well as one visitor pass per household.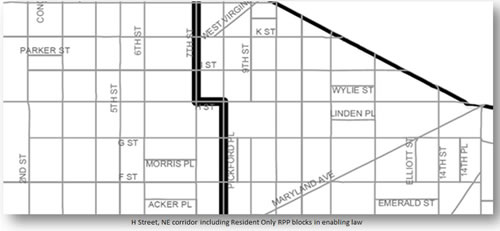 Presentation Outline
How "dynamic" do we need to be with our pricing strategies?
How accurate do we need to be with real-time sensor information?
Asset Lite Solutions

Do we need meters for all spaces?
Minimize sensor usage
How "Dynamic"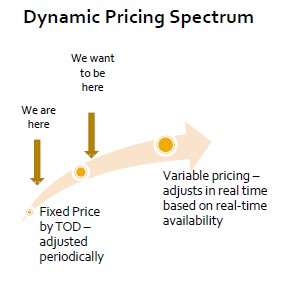 Dynamic Pricing Spectrum
We are here | Fixed Price by TOD - adjusted periodically
We want to be here | Variable Pricing - adjusts in real time based on real-time availability
Pros and cons on Real-Time Price Adjustments
Pricing Strategy
Advantages
Disadvantages
Fixed Price by TOD

Pricing structure easy to understand for consumers

Easy to communicate

"Average" availability will be 1 space per block face

Pricing strategy based on historical data

Purely "dynamic"
Price based on real-time availability - better impact on congestion?

Difficult to communicate for "open system" in an urban environment

Sophisticated data collection, analysis and algorithm
Similarities between fixed time vs. adaptive controllers
Is the additional expense and effort justified by the ability of real-time pricing to affect congestion?
How accurate does occupancy information need to be?
One sensor per space; sometimes more
Capital + Operating Cost
Driven by accuracy and latency needs
Different accuracy requirements for dynamic pricing and traveler information?
Can we derive occupancy from a sampling of real-time sensors, data-mining and real-time system information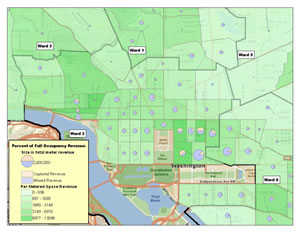 Capture Rate Analysis
Capture rate = Max. Revenue/Actual Revenue
Capture rate can be available in real-time with networked assets
Capture rate = f (demand, meter uptime, percentage paid legal)
Getting to Occupancy
Capture Rate = f (system uptime, paid legal, occupancy)
System Uptime
Occupancy
Paid Legal
Available for networked assets

Use capture rate as surrogate

Sampled detector data

Calibrate using historical data
Analogy - Speed, travel time, congestion on roadways based on sample probe data
How accurate do we need to be?
Real Time Traveler Information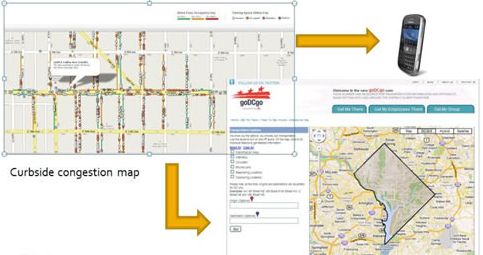 Accuracy requirement higher for real-time traveler information than dynamic pricing algorithm? Branding & Credibility
Asset Lite Solutions - DC Pay by Cell Program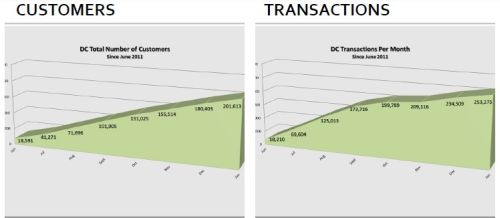 Customers
201,000 customers as of end of January 2012
Most successful pay by cell launch globally
Vehicles registered in all states have used the system
More than half the customers have used the system multiple times
Transactions
1,300,000 transaction since launch
Highest week 70,000; highest day 12,000
67% of transactions initiated through smart phone application
Revenue/transactions higher than coin transaction
30% of revenues through PBC program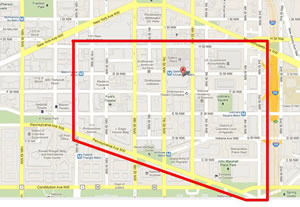 Multimodal Dynamic Pricing Pilot
Pilot area exemplifies Multimodal curbside demand and competition.
Pilot will provide real time rates from through street sensors and real time traveler information
Pilot has: 160 block faces 1,600 metered spaces 30 Loading zones 10 Commuter Bus Drop Off and Pick Up Locations
Asset Lite Solutions in DC in Dynamic Pricing Environment
For passenger cars

Dynamic pricing - move-up the dynamic spectrum
As pay by cell penetration rates increase to above 50%, remove meters from one side of the street

For tour buses

Pay by cell only solution
Rate structure based on length of stay
Spaces designated by pay by cell zone numbers

For freight/trucks

Pay by cell only
Cost adjusted based on pre-AM rush, AM/PM rush, mid-day, post PM rush
Relieve congestion by trying to divert loading/unloading to off-peak
Real-time availability information adds value to freight industry by helping plan deliveries better
Part 5: Seattle's Performance-Based Parking Program
SDOT - Seattle Department of Transportation
03/08/2012
This presentation will cover:
Seattle's on-street parking system
Performance-based Parking Program & Policy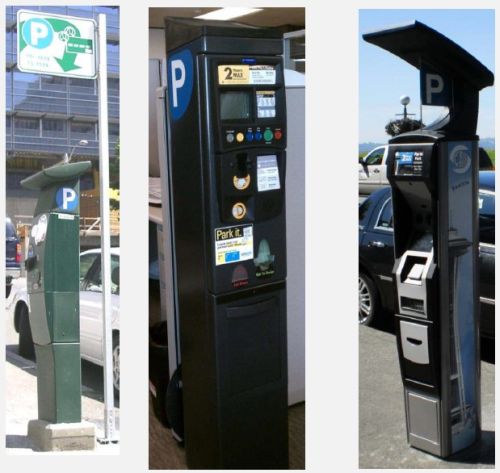 Seattle's Parking System
| | |
| --- | --- |
| Est. on-street spaces citywide | 500,000 |
| Paid spaces | 13,250 |
| RPZ spaces | 18,000 |
| Time-limit spaces | 11,500 |
| Meters (single space) | 100 |
| Restricted Parking Zones | 31 zones |
| Annual RPZ permits | 21,500 |
| Annual parking citations | 500,000 |
| Police - Parking Enforcement Officers | 109 (FTE) |
Seattle Performance-Based Parking Program
Citywide covering 13,250 spaces
Low-tech data collection
Annual management changes
Branding development
Paid Parking Rate Policy
Establish rates based on measured occupancy so that approximately 1 or 2 open spaces are available on each blockface on average throughout the day
Meet target occupancy - "Sweet Spot"
Set rates between $1 and $4 / hour
Paid Parking Goals
Support neighborhood business districts by making on-street parking available
Maintain adequate turnover
Encourage parking availability for a variety of parking users
Reduce congestion in travel lanes caused by drivers seeking on-street parking
Data Collection
Occupancy in all paid parking areas

November 2010
April 2011
June 2011
September 2011
June and October 2012

Typically spend between $125K - $250K on citywide manual parking studies
How We Implement the Policy
Set rates, maximum time limits and hours of operation based on data
Target Occupancy "Sweet Spot"
Area specific and tied to the average number of spaces on each blockface in that area


Example: 8 spaces on blockface
Need to meet target occupancy:
75% (6 spaces out of 8)
- 88% (7 spaces out of 8)
Area Peak Occupancy
Use highest three hours of daytime occupancy from parking study
Does not include evening conditions - when occupancy is well over 100% in some areas
Example Area
8 AM - 9 AM
35%
9 AM - 10 PM
45%
10 AM - 11 AM
58%
11 AM - 12 PM
63%
12 PM - 1 PM
72%
1 PM - 2 PM
78%
2 PM - 3 PM
67%
3 PM - 4 PM
73%
4 PM - 5 PM
73%
5 PM - 6 PM
90%
6 PM - 7 PM
106%
7 PM - 8 PM
120%
Making Parking Changes
| | | |
| --- | --- | --- |
| If Area Peak Occupancy is below Target Occupancy: | If Area Peak Occupancy is within Target Occupancy (65% - 90%): | If Area Peak Occupancy is above Target Occupancy: |
| Look at rate decreases or parking max time changes | Keep rate and operating system as is | Look at rate increases or parking max time changes |
2011 and 2012
2011 Rate Changes

4 area rate increases
11 area rate decreases
7 areas kept at same rate

2012 Changes (implementation underway)

5 areas rate increase (core area)
3 areas rate decrease (edge area)
10 areas with maximum time limit extensions
Example - North Downtown 2012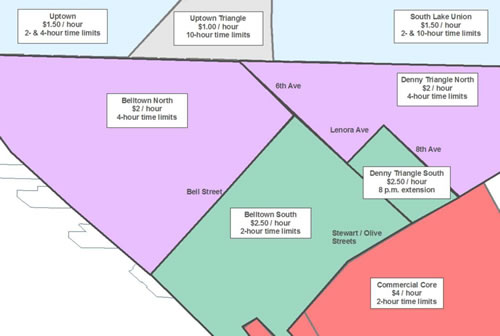 Effects of 2011 Rate Changes
| | |
| --- | --- |
| Rate Increase (4 areas) | More availability at peak times |
| Rate Stayed Same (7 areas) | Results mixed, with minor fluctuations |
| Rate Decrease (11 areas) | Most areas saw no dramatic increase in occupancy |
Before and After Occupancy Comparison
| Area | Spaces | 2010 Peak Occupancy | 2011 Rate Change | 2011 Rate | 2011 Peak Occupancy | Occupancy Changes |
| --- | --- | --- | --- | --- | --- | --- |
| Ballard | 320 | 68% | $0.50 Decrease | $1.50 | 49% | Decrease |
| Commercial Core | 1,650 | 97% | $1.50 Increase | $4.00 | 79% | Decrease |
| Pike-Pine | 700 | 85% | Same | $2.00 | 74% | Decrease |
| SLU - 10 hr | 1,100 | 73% | Same | $1.25 | 84% | Increase |
| University District | 700 | 64% | $0.50 Decrease | $1.50 | 63% | Same |
| Fremont | 90 | 80% | Same | $1.50 | 77% | Slight decrease |
Summary of 2012 Activities
Rate and time-limit Implementation
Pay by Phone project

Citywide installation with RFP to be issued in next month

e-Park expansion from 6 to 10-15 facilities
Contact us!