Patrick DeCorla-Souza, Tolling and Pricing Program Manager, FHWA
Lee Munnich, Humphrey Institute, University of Minnesota
Kenneth Buckeye, Minnesota Department of Transportation
John Doan, SRF Consulting
Center for Innovative Finance Support
Federal Highway Administration
Eighth Part of a Webinar Series on Overcoming the Challenges of Congestion Pricing.
Session 8: Economics of Congestion Pricing and Impacts on Business - Presentations
Audio:
Via Computer - No action needed
Via Telephone - Mute computer speakers, call 1-866-863-9293 passcode 57922142

Presentations by:
Audience Q&A: addressed after each presentation, please type your questions into the chat area on the right side of the screen
Closed captioning was available at: http://www.fedrcc.us//Enter.aspx?EventID=1811816&CustomerID=321
Upcoming Webinars:
Visit https://ops.fhwa.dot.gov/congestionpricing/webinars/index.htm
Recordings and Materials from Previous Webinars: https://www.fhwa.dot.gov/ipd/tolling_and_pricing/resources/webinars/congestion_pricing_2011.aspx
Upcoming Webinars:
October 27, 2011 - Integrating Transit with Congestion Pricing and Increasing Congestion Pricing Acceptance
November 17, 2011 - Best Practices in Parking Pricing
December 15, 2011 - Results of the Urban Partnership and Congestion Reduction Demonstration Programs
Part 1: Mobility, Access & Pricing Study
Evaluating Congestion Pricing as a Demand Management Strategy for improving San Francisco mobility

presented by Zabe Bent
Principal Transportation Planner
San Francisco County Transportation Authority
Federal Highway Administration Congestion Pricing Webinars | September 2011 www.sfmobility.org | twitter.com/SanFranciscoTA | www.facebook.com/sfmobility
Why study congestion pricing?
Bay Area among top 5 most congested regions in the US (Texas Transportation Institute)
Average regional peak period trip to Downtown SF is twice as long as off-peak trip
Focus on congestion impacts not just for motorists, but also transit performance, etc
San Francisco sacrificed over $2 billion to congestion in 2005 (over $3B/yr by 2030)
Transportation responsible for about half of greenhouse gas emissions in SF
2004 SF Countywide Transportation Plan
2004 SF Climate Action Plan
2011 SF Climate Action Strategy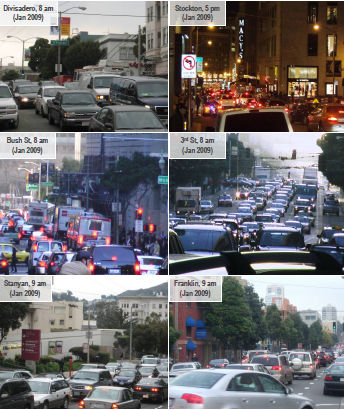 Key characteristics in scenario analysis
Fee Analyzed
Weekdays
Weekends
6am - 9am
$3
NO FEE
9am - 3pm
NO FEE
NO FEE
3pm - 7pm
$3
NO FEE
evenings
NO FEE
NO FEE
Discounts Analyzed:
Disabled Drivers
Zone Residents
Low-income Drivers
(50%)
$6 daily cap
$1 rebate on bridge tolls
Fleet program for businesses
Potential Scenarios for SF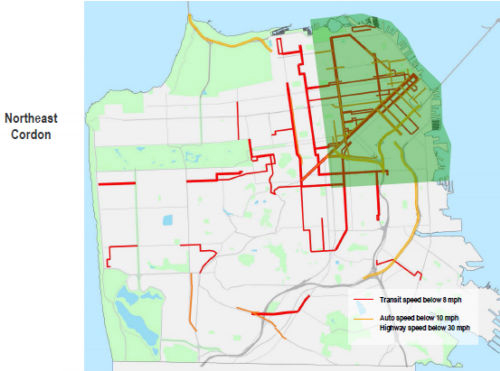 Reinvestment of funds - program could generate $60-80M/yr
Up-front/Day One:
San Francisco
BRT in key corridors (Van Ness, Geary)
Signal priority and peak bus-only lanes on Fulton, Mission, California
Bike lanes citywide
Real-time signage and wayfinding
Regional improvements
BART station wayfinding, capacity, access improvements
101 corridor management / HOV lane
Caltrain access improvements
Ongoing/Annual:
San Francisco
More frequent rapid/express service
Street paving/pothole repair
Traffic calming
Streetscape improvements
Parking management & enforcement
Regional/programmatic improvements
More frequent regional/express service
School, worksite TDM programs
Power-washing sidewalks
Scenario Comparison - by the numbers
NE Cordon (AM/PM)
NE Cordon (PM, outbound)
Southern Gateway (AM/PM)
Fee analyzed
$3 am/pm both directions
$6 pm outbound only
$3 am/pm both directions
Net Operating Revenue*
$60 - 80M
Peak Auto Trips to/from NE Cordon (avg)
-12%
-10%
-5%
Peak Auto Trips to/from S. Corridor (avg)
-4%
-4%
-20%
Improvement in Transit Speeds
up to 20%
up to 20%
up to 15%
Daily Person Trips (NE Cordon)
negligible (less than 0.5% change)
Daily Vehicle Hours of Delay (NE Cordon)
-21%
-10%
-4%
Daily Vehicle Miles Traveled (San Francisco)
-5%
-3%
-4%
Change in PM2.5 Emissions (NE Cordon)
-17%
-11%
-8%
Change in Collisions (NE Cordon)
-12%
-5%
-3%
*Values in 2009$ for single representative year
How might trip patterns change?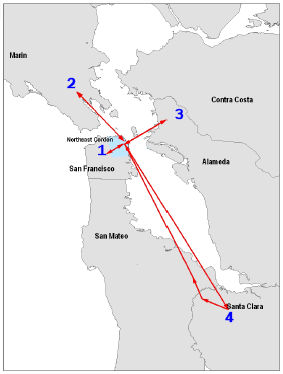 Origin
Mode
Round trip Travel Time
Cost
Peak vs. Off-Peak
1. Haight/Ashbury, SF
Drive Alone
54 mins
$2
AM/PM peak
Switches from drive alone to transit and saves 15 mins/day
2. Mill Valley, Marin
Drive Alone
91 mins
$9
Mid-day/PM peak
Switches time of day and saves 13 mins/day
3. Rockridge, Alameda
Transit
147 mins
$7
AM/PM peak
Keeps taking transit and saves 20 mins/day
4. San Jose, Santa Clara
Carpool
206 mins
$62
AM/PM peak
Keeps carpooling and saves 53 mins/day
Estimated Economic/Social Benefits
User Benefits/Costs
Congestion Charges Paid
-$145 M
Travel Time Savings
+$370 M
Vehicle Operating Cost Savings
+$30 M
Social Benefits/Costs
Safety, Health, & Environmental Benefits
+$30 M
Congestion Charges Received
+$145 M
Program Costs
-$65 M
Total Benefits/Costs
Annual Costs
-$260 M
Annual Benefits
+$620 M
Overall Annual Social benefit
+$360 M
SF CHAMP 3.1.9, p2007
Values in 2008$ for single representative year
Estimated Travel Time Benefits
Travel Time Benefits
Drivers
+$300 M
Transit Riders
+$70 M
Travel Time Benefits
San Francisco Travelers
+$115 M
Other Regional Travelers
+$255 M
SF CHAMP 3.1.9, p2007
Values in 2008$ for single representative year
Economic/business impacts broadly neutral
Neutral to positive retail impacts expected considering multiple factors:
retail survey shows comparable to greater spending by transit/ped than drivers
60,000 more transit and walk/bike trips per day in the cordon area (conservative estimate)
fleet program to reduce administrative costs to businesses
Average Spending & Frequency by Mode

| Mode | Drive | Transit | Walk |
| --- | --- | --- | --- |
| Average Spend per Visit | $56 | $39 | $42 |
| Average # Trips per Month | 4 | 7 | 7 |
| Average Spend per Month | $224 | $273 | $294 |
Survey of 1390 travelers in San Francisco's downtown retail areas, December 2007 and April 2008
Distribution of AM Peak Period Travelers by Income & Mode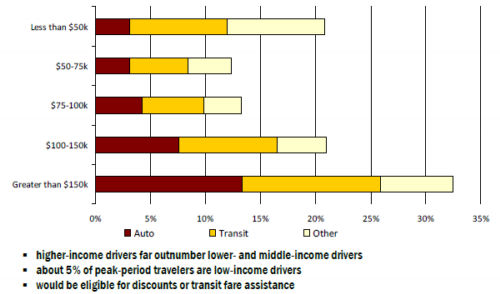 higher-income drivers far outnumber lower- and middle-income drivers
about 5% of peak-period travelers are low-income drivers
would be eligible for discounts or transit fare assistance
Base Year (2005)
Source: SFCTA, SF-CHAMP 3.1.9, p2007
Distribution of Daily Travelers by Trip Purpose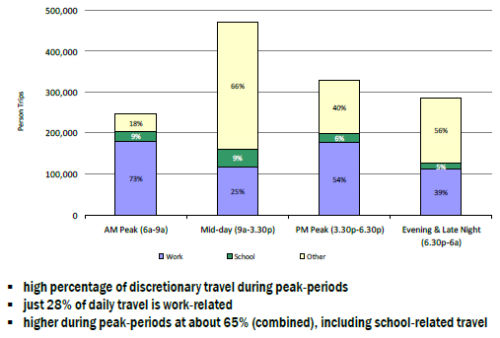 high percentage of discretionary travel during peak-periods
just 28% of daily travel is work-related
higher during peak-periods at about 65% (combined), including school-related travel
Base Year (2005)
Source: SFCTA, SF-CHAMP 3.1.9, p2007
Distribution of trips, motorists in downtown areas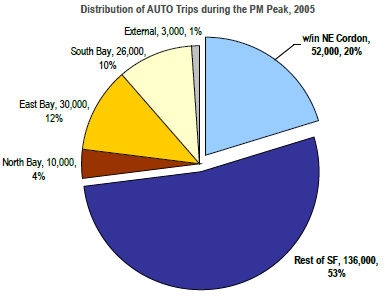 2.3M person-trips in the Northeast Cordon daily

nearly half are auto trips
over 40% of trips are made during peak periods (17% AM; 25% PM)

More than half of the 260,000 auto person-trips during the PM peak in the Northeast Cordon are made by San Francisco residents
Source: SFCTA, SF-CHAMP 3.1.9, p2007
WHAT WE'VE LEARNED FROM TRAVELERS
60% of travelers visit downtown SF in off-peak hours
Vast majority (about 80%) of travelers have transit options
Top benefits expected: improved environment and traffic reduction
Top concerns: business impacts, affordability, and skepticism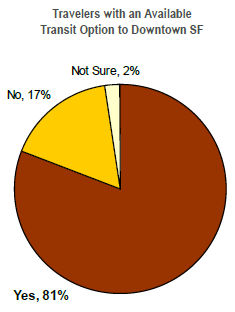 Source: SFCTA Poll of Bay Area Travelers, August 2007
n=~600
Opinions on a potential congestion pricing project for San Francisco (in the next 3-5 years)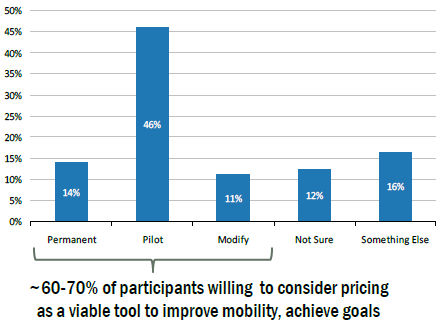 ~60-70% of participants willing to consider pricing as a viable tool to improve mobility, achieve goals
Source: SFCTA, summary of local and regional workshops, Fall 2010
n=~400
Status & Next Steps
Board action December 2010

congestion pricing is technically feasible
an appropriately designed program could contribute to goals for mobility improvement, sustainable growth and reduced impacts on climate change
identified key areas for consideration moving forward

Staff pursuing funds for environmental analysis focused on:

more detailed economic evaluation
expenditure plan for investments
implementation plan for improvements
modeling tools for parking alternatives (& strong coordination w/SFpark)
QUESTIONS/FEEDBACK:
https://www.sfcta.org/delivering-transportation-improvements/projects-and-studies/congestion-management/mobility-access-and-pricing-study-home
twitter/SanFranciscoTA
415.522.4800
A measured approach - candidate pilot scenarios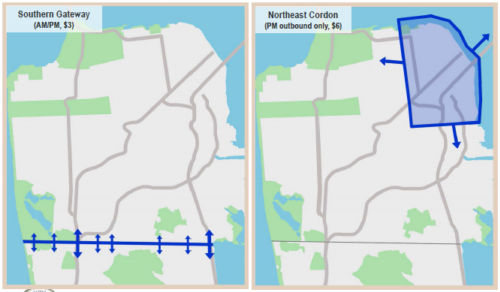 Overall study outreach
Major public events
4 series of workshops
2 series of webinars
1 series of regional e-townhalls
Meetings w/community group & merchant groups
over 60, 1 - 3 times each
Focus groups
7: drivers, non-drivers, business interests
Ongoing Advisory Committee meetings
4: business, stakeholders/advocates, partner agencies (exec & staff)
Number of individuals through direct outreach
1,000+
Project mailing list
500+
YouTube video (www.youtube.com/sfcta)
870+ hits
Social Media (Facebook, Twitter, etc.)
~350 total friends/followers
Press hits
more than 300
Potential Timeline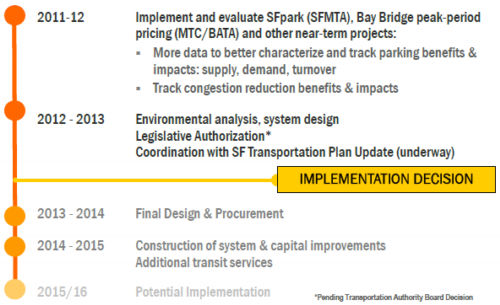 2011-12
Implement and evaluate SFpark (SFMTA), Bay Bridge peak-period pricing (MTC/BATA) and other near-term projects:

More data to better characterize and track parking benefits & impacts: supply, demand, turnover
Track congestion reduction benefits & impacts
2012 - 2013
Environmental analysis, system design
Legislative Authorization*
Coordination with SF Transportation Plan Update (underway)
IMPLEMENTATION DECISION
2013 - 2014
Final Design & Procurement
2014 - 2015
Construction of system & capital improvements
Additional transit services
2015/16
*Pending Transportation Authority Board Decision
Institutional considerations & milestones
Obtain Legislative Authority to toll

Local ordinance (BoS)
State authority (legislature, governor)
Environmental analysis (local/federal approval)

Designate/create toll authority/agency, functions to include:

Set toll and discount policy
Bonding to deliver improvements up front
Concession with a program operator
Directly produce or contract for services/capital improvements
Monitor performance, change fee level/investment program as appropriate

Governance

MOAs with MTC/BATA, transit operators
Joint Powers Authority, e.g. ACCMA/VTA Express lanes
Downtown Growth Planned
+ 24,000 hsg units
+ 107,000 jobs
+184,000 auto trips
+88,000 transit trips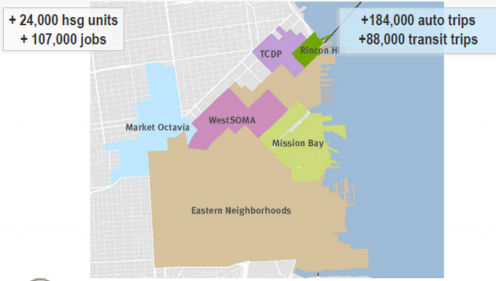 AM/PM Northeast Cordon performs best
$3 fee on crossings in AM & PM peak
12% fewer peak period auto trips
21% reduction in vehicle hours of delay
16% reduction in Northeast Cordon GHGs (5% citywide GHG reduction)
$60-80M annual net revenue
20-25% transit speed improvement
12% reduction in pedestrian incidents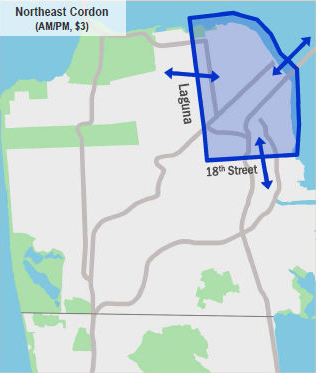 Opinions on next steps broadly consistent among participants throughout region...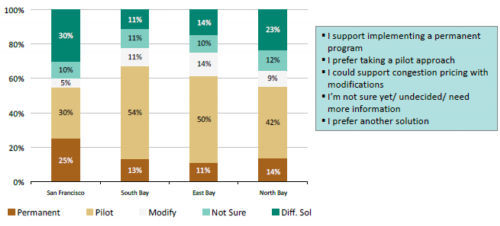 Source: SFCTA, Summary of Feedback, Fall 2010
Opinions change with information...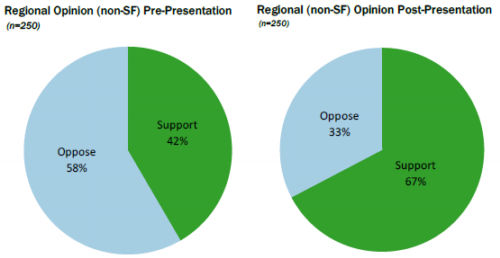 Source: SFCTA, Summary of Feedback, Fall 2010
How congestion pricing would work
Technology would leverage existing systems, e.g. FasTrak accounts
Design considerations support camera-based equipment
Multiple payment methods possible

Phone, web, text, retail, etc.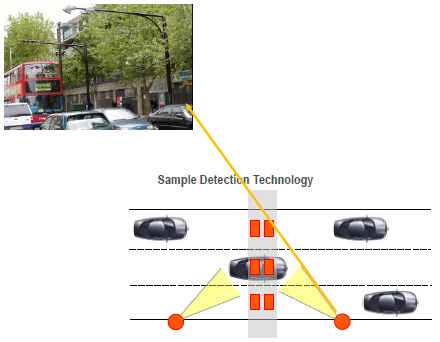 Support for Studying Congestion Pricing by Income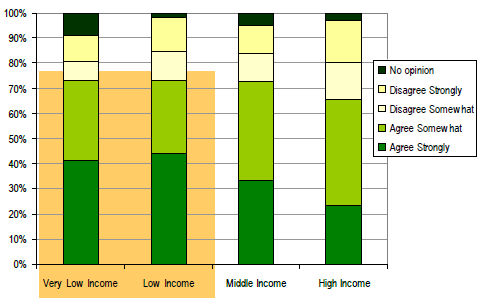 SFCTA, Poll of Bay Area Travelers, August 2007
n=~600
GEOGRAPHY of EXISTING SCHEMES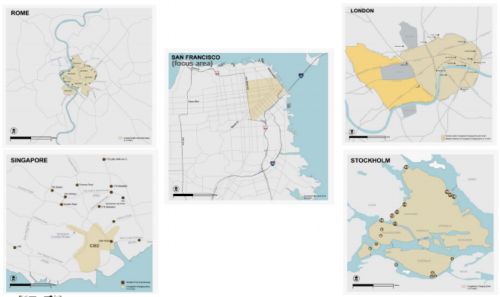 Part 2: Measuring Economic Costs of Congestion in the New York City Region
Overview of Approach
Ewa Tomaszewska, HDR Corporation
September 22, 2011
HDR - ONE COMPANY | Many Solutions ™
Outline
Study Background and Purpose
General Approach
Implementation
Sample Study Results
Study Background and Purpose
In 2006, New York City was assessing hypothetical scenarios of congestion charges for CBD and their effects on traffic patterns, average speed, and congestion across the NYC Region
Certain business groups were expressing concerns over above plans and their costs to individual businesses that would result under congestion pricing
To provide a broader perspective on congestion, HDR was retained by Partnership for New York City to assess the economic costs and impacts of congestion in the Region
General Approach
Study focused on the effects of excess congestion above the economically efficient level

Maintaining free-flow at all times would under-utilize/waste road capacity
For given road capacity, there is an economically efficient level of traffic congestion
Some level of congestion is beneficial
Traffic above this level is excess; reduced speeds increase travel time and create various costs across the economy

The efficient level of congestion is the traffic volume that would result if people would altruistically take into account in their travel decisions the externalities that they create, or delays they cause to all other travelers on the road
The actual level of congestion is above this level because people do not behave in this way
The difference between the actual traffic and the efficient traffic is the excess congestion

Technically, the efficient level of congestion is determined by the point where the travel demand curve intersects the social marginal costs of driving curve (rather than the average private costs of driving curve)

Actual versus efficient traffic - typical graphical illustration

Excess travel and reduced average travel speeds due to excess congestion generate various costs throughout the economy
Study assessed the following manifestations of congestion costs

Time lost to travel (for commuting and other general purposes)

Excess travel time for commuting and other personal travel (compared to actual travel time) can be converted into monetary values using value of time assumptions; represents loss to travelers, less time for leisure and personal pursuits
Lower average speeds increase vehicle operating costs (reduced fuel economy)

Time lost in work travel

Excess travel time for work purposes can be converted into monetary values using value of time assumptions; represents loss to employer, loss in productive work time, or lost productivity

Other economic costs

Labor demand impacts: high congestion leads to an increase in labor costs and reduction in demand for labor
Employers compensate partially employees for higher commuting costs/longer commutes in an effort to continue to attract suitable employees but this reduces overall demand for labour
Industry-level effects on revenues, operating costs, and employment: lower average speeds increase total private cost of travel and affect people's decisions for travel such as trips for shopping or entertainment, make travel longer, more unreliable, including commercial deliveries of merchandise/supplies and business service trips
Higher cost of travel reduces the number of some trips and thus business revenues of businesses that rely on these trips
Long and unreliable commercial delivery times inhibit cost-saving strategies in inventory and logistics management and increase operating cost
Long travel times reduce productivity of business services
Industries particularly sensitive to above issues include retail trade, restaurants, arts and entertainment, construction, manufacturing, taxi cabs, services and repair
Implementation
Logic models were built from "bottom-up" that track the underlying cause-and-effect relationships
Spreadsheet-based economic model was developed and coded and populated with data/assumptions for theoretical variables:

Value of time ($/hour)
Costs of travel ($/mile)
Average vehicle speeds (miles/h) in NYC Region
Elasticity of demand for travel
Speed-traffic volume relationship
Current volume of traffic, trips in NYC Region
Current industry sales and employment in NYC Region
Elasticity of logistics costs wrt travel times; share of logistics in total costs and sales

Major sources of data :

Previous study by other consultants on traffic in NYC Region and potential impact of congestion charges
US population and economic Census
New York Metropolitan Transportation Council publications
Freight-Benefit Cost Study (2002 study for FHWA by HLB and other consultants) on the benefits of freight transportation improvements
Related economics literature on congestion issues and impacts
Related trade/association publications

All costs and impact estimated by NYC sub-area/county and summed across

Due to data limitations some impacts (industry impacts) estimated for one or two areas and extended/prorated to entire NYC Region
Sample Study Results
Summary of impacts, by type of effects

| Type of Effect | Estimated Impact ($ Millions) |
| --- | --- |
| Travel costs | |
| Travel costs, total | $4,972 |
| Car-commuting costs | $2,170 |
| Car travel for business | $615 |
| Total, car travel for work and business | $2,785 |
| Industry logistic costs | $1,911 |
| Vehicle operating costs | $200-$2,000 |
| Economic Activity Indicator | |
| Gross Regional Product | -$4,022 |
| Employment (number of jobs) | -51,515 |
Impacts of excess congestion on industry revenue, operating costs, and employment, total and selected industries

| Category of Impact | Total | Retail | Restaurants | Construction | Manufacturing | Wholesale |
| --- | --- | --- | --- | --- | --- | --- |
| Reduction in Revenue, $Millions/Year | $4,578 | $260 | $214 | $156 | $247 | $1,279 |
| Increase in Operating Costs, $Millions/Year | $1,911 | $221 | $9 | $1,282 | $2,035 | NA |
| Reduction in Employment, FTE/Year | $22,285 | $1,079 | $2,043 | $5,218 | $8,674 | NA |
Impacts of excess congestion relative to industry size

| Industry | Revenue Impacts in Region in % of Total Revenue | Operating Cost Impact in Region in % of Total Revenue |
| --- | --- | --- |
| Construction | 1.33% | 0.16% |
| Manufacturing | 1.28% | 0.16% |
| Wholesale | | 0.23% |
| Retail | 0.11% | 0.09% |
| Health Care & Social Services | 0.33% | |
| Arts & Entertainment | 0.76% | |
| Restaurants | 0.81% | 0.03% |
| Business Repair & Maintenance | 3.60% | |
Geographic distribution of impact (employment)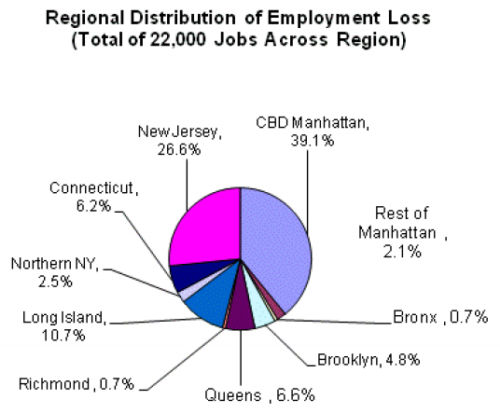 Regional Distribution of Employment Loss (Total of 22,000 Jobs Across Region)
New Jersey, 26.6%
Connecticut, 6.2%
Norther NY, 2.5%
Long Island, 10.7%
Richmond, 0.7%
Queens, 6.6%
Brooklyn, 4.8%
Bronx, 0.7%
CBD Manhattan, 39.1%
Rest of Manhattan, 2.1%
Part 3: The Impacts of Freight Road Pricing on Businesses: Empirical Evidence
José Holguín-Veras,
William H. Hart Professor,
Director of the Center for Infrastructure, Transportation, and the Environment
Rensselaer Polytechnic Institute
jhv@rpi.edu

Empirical evidence of impacts of freight pricing
Extremely limited
The experience of toll roads, not always analyzed
Implementations that have been studied:

Intercity:

Ohio Turnpike (ex-post analysis)

Urban:

New York City (2001)
London (2003) (though not discussed here, results are similar to the ones for NYC)
Part I: Empirical Evidence
- The Intercity Case -
Swan, P. and M. Belzer (2010). "Empirical Evidence of Toll Road Traffic Diversion and Implications for Highway Infrastructure Privatization." Public Works Management Policy 14(4): 351-373. 10.1177/1087724X09360806
Case study: The Ohio Turnpike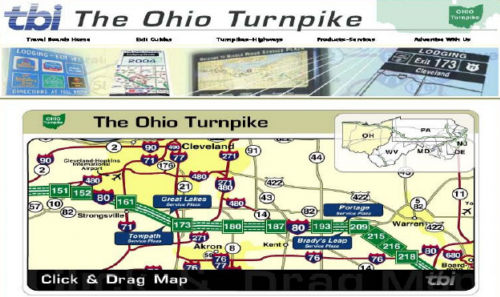 The case analyzed

Truck tolls increased in the 1990s to finance construction
Trucks shifted routes and began using local routes
Communities complained about surge in truck traffic
Truck tolls were lowered to attract truck traffic

Tolls

Before 1983: $21.50
1983 - 1994: $23.25
1995 - 2005: Gradually increased to $42.45
After 2005: $31.00 (due a subsidy from the state)
Approach
Swan and Belzer:

Estimated the Truck VMT for the Ohio Turnpike
Estimated regression models linking truck VMT (at the turnpike) to independent variables:

US Truck VMT
Tolls at the Ohio Turnpike (nominal and real)
Speeds
Table 3: OLS Results

| Independent Variables | Model 1 Coefficients | Model 2 Coefficients |
| --- | --- | --- |
| U.S. Truck (billions) | 5.1328*** | 5.2659*** |
| Nominal_Rate x US Truck | -0.029099*** | |
| Real_Rate x US Truck | | -0.04642*** |
| Speed x US Truck | 0.038145* | 0.02946 |
| Constant | | |
| F | 4,215*** | 3,817*** |
| N | 16 | 16 |
| Adjusted R-squared | 0.9987 | 0.9986 |
Key findings
Some intercity trucks could shift routes

Implication:
They could not pass toll costs, and tried to avoid the toll

Nothing is known about the carriers that remained:

How many passed the toll costs?
How many had to absorb the tolls?
How many reacted in other ways in response to the toll?
Part II: Empirical Evidence
- Urban Deliveries -
Port Authority of New York and New Jersey's Time of Day Pricing Initiative
Holguín-Veras, J., Q. Wang, N. Xu, K. Ozbay, M. Cetin and J. Polimeni (2006). "The Impacts of Time of Day Pricing on the Behavior of Freight Carriers in a Congested Urban Area: Implications to Road Pricing." Transportation Research Part A: Policy and Practice 40 (9): 744-766.
This presentation is based on:
A significant amount of outreach/data collection:

Revealed Preference data post pricing implementation
Dozens of in depth interviews with industry
Four focus groups with industry representatives

The first project that collected behavioral data
The PANYNJ 2001 time of day pricing initiative
Implemented a time of day pricing policy
Provided an opportunity to assess behavioral impacts
Rensselaer conducted the evaluation for FHWA, and collected behavioral data before/post pricing
Table 3: OLS Results
Type of vehicle
Passenger cars
Trucks
Before
After
Before
After
Cash peak
$4.00 / car
$6.00 / car
$4.00 / axle
$6.00 / axle
Cash off-peak
$4.00 / car
$6.00 / car
$4.00 / axle
$6.00 / axle
E-ZPass peak
$3.60 / car
$5.00 / car
$3.60 / axle
$6.00 / axle
E-ZPass off-peak
$3.60 / car
$4.00 / car
$3.60 / axle
$5.00 / axle
E-ZPass overnight
$3.60 / axle
$3.50 / axle
Note: (1) Tolls are collected in the Eastbound (New York bound) direction only; (2) the peak hours are 6-9 AM and 4-7 PM on weekdays and 12 noon-8 PM on weekends; (3) the overnight period (trucks) is from midnight to 6 AM on weekdays; (4) the remaining hours are classified as off-peak hours (PANYNJ, 2005e).
The PANYNJ Facilities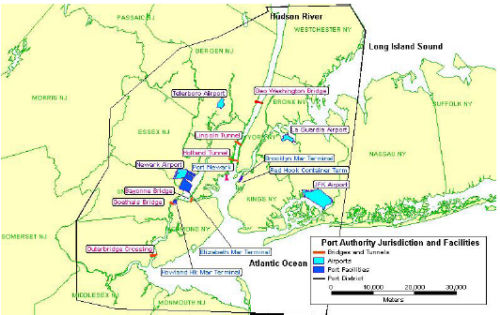 Operational Patterns
Many delivery stops = many customers to coordinate with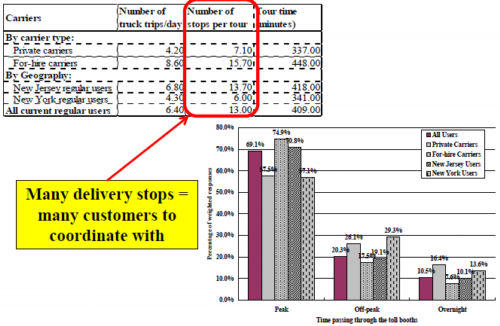 Reasons for travel at stated times
External constraints mandate time of travel in 65%-73% of cases
Tolls are not the primary factor
Customers impose tight constraints (particularly on for-hire carriers)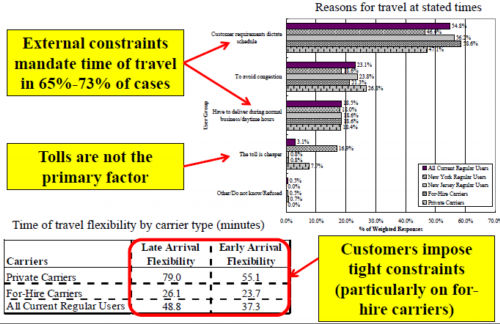 The PANYNJ 2001 time of day pricing initiative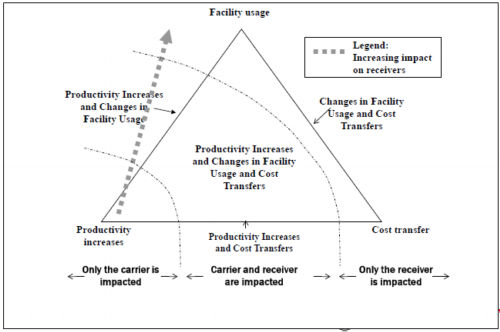 Behavioral Changes Reported by Carriers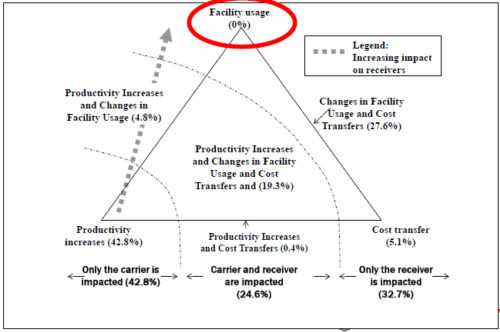 Empirical evidence: Summary
20.2% of the sample changed behavior (implementing productivity increases, changes in facility use, and cost transfers)
69.8% of the carriers that did not change behavior indicated it was due to "customer requirements"
Only 9.0% of the sample increased rates

cost transfers were relatively small, about 15%
Reasons for not changing behavior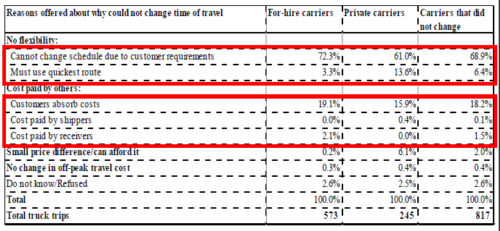 Breakdown of carriers that passed toll costs
Only industry segments with some degree of market power passed toll costs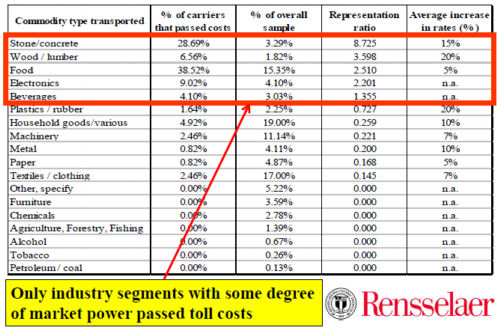 What is the difference between intercity and urban?
Intercity case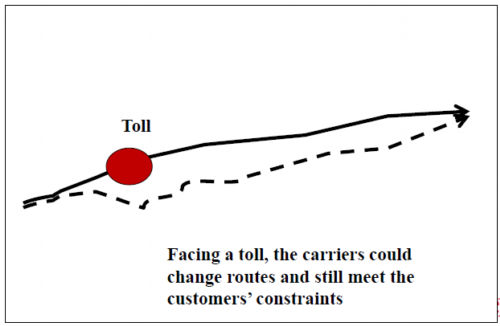 Facing a toll, the carriers could change routes and still meet the customers' constraints
Urban deliveries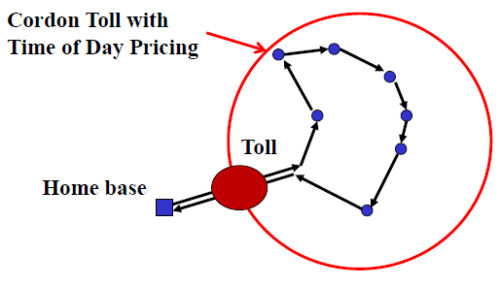 The only way to avoid a toll is to change time of travel

Will impact delivery times
Will not be accepted by the receivers
Impacts on businesses
Impacts are mixed...
Two sets of agents are involved:
Carriers are the weakest element of the supply chain

After years of deregulation, there is over supply
This limits their market power

In essence, which agent is impacted depends on:

Who has more clout (market power)
Availability of alternatives to the carriers
Key cases
There are alternatives to the carriers (e.g. intercity):

If tolls are "small" carriers would use tolled alternative
If tolls are "large" carriers would use alternative routes

Leading to increase traffic in alternative routes

Those with market power will pass toll costs to others
Those without market power will swallow the tolls

There are no alternatives (e.g., urban):

Those with market power will pass toll costs to others (11% in NYC)
Those without market power will swallow the tolls (89% in NYC)
In summary
The very limited empirical evidence available indicates that:

The bulk of the impacts of tolls fall on the carriers
Other agents (e.g., shippers, receivers) impacted much less

This implies that:

No major impacts reach end consumers

Carriers' profitability suffer
The constraints imposed by receivers limit the effectiveness of freight pricing for demand management purposes
Careful consideration of these factors is needed to ensure that the impacts of pricing are equitable shared among all participants in the supply chains
Thanks!
London's Congestion Charge
Leape, J. (2006). "The London Congestion Charge." Journal of Economic Perspectives 20(4): 157-176.
Transport for London (2010) "Travel in London Report 2" http://www.tfl.gov.uk/assets/downloads/corporate/Travel_in_London_Report_2.pdf
Background
Introduced in Central London on February 2003
Extended into parts of West London on February '07
West London extension reduced in May 2010
Toll

Originally GB5, then GB8, and now GB10
London's Congestion Charge Zone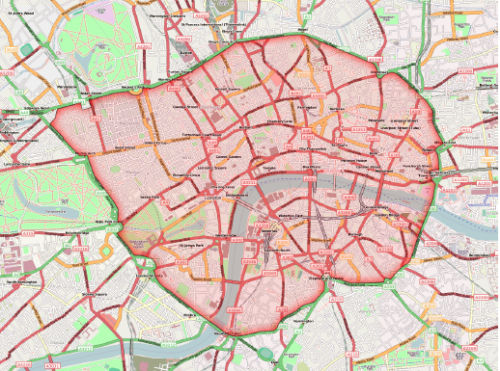 http://upload.wikimedia.org/wikipedia/commons/1/15/London_congestion_charge_zone.png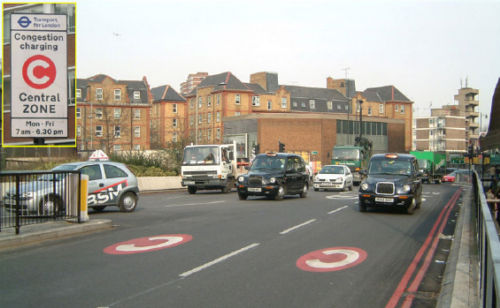 http://en.wikipedia.org/wiki/File:London_Congestion_Charge,_Old_Street,_England.jpg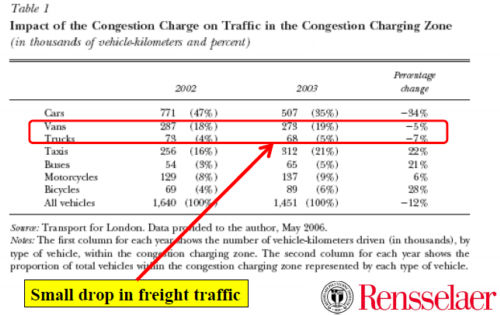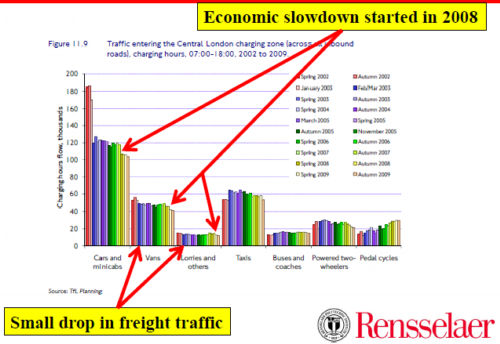 Key finding
Congestion pricing did produce a small impact on freight traffic
Not sure what was the actual behavioral response, it cannot be elicited from traffic data