Patrick DeCorla-Souza, Tolling and Pricing Program Manager, FHWA
Lee Munnich, Humphrey Institute, University of Minnesota
Kenneth Buckeye, Minnesota Department of Transportation
John Doan, SRF Consulting
Center for Innovative Finance Support
Federal Highway Administration
Ninth Part of a Webinar Series on Overcoming the Challenges of Congestion Pricing.
Session 9: Integrating Transit with Congestion Pricing and Increasing Congestion Pricing Acceptance - Presentations
Audio:
Via Computer - No action needed
Via Telephone - Mute computer speakers, call 1-866-863-9293 passcode 57922142

Presentations by:
Brian Pessaro, Senior Research Associate, University of South Florida Center for Urban Transportation, pessaro@cutr.usf.edu
Adam Harrington, Assistant Director of Route and System Planning, Metro Transit (Minneapolis, MN), adam.harrington@metc.state.mn.us
Chris Burke, I-15 Program Manager, San Diego Association of Governments, cbur@sandag.org
Audience Q&A: addressed after each presentation, please type your questions into the chat area on the right side of the screen
Closed captioning was available at: http://www.fedrcc.us//Enter.aspx?EventID=1811816&CustomerID=321
Upcoming Webinars:
Visit https://ops.fhwa.dot.gov/congestionpricing/webinars/index.htm
Recordings and Materials from Previous Webinars: https://www.fhwa.dot.gov/ipd/tolling_and_pricing/resources/webinars/congestion_pricing_2011.aspx
Upcoming Webinars:
November 17, 2011 - Best Practices in Parking Pricing
December 15, 2011 - Results of the Urban Partnership and Congestion Reduction Demonstration Programs
Part 1: Integrating Transit with Congestion Pricing: A Review of the Miami and Minneapolis UPAs: A Review of the Miami and Minneapolis UPAs
FHWA Webinar Series
October 27, 2011
URBAN PARTNERSHIP AGREEMENT PROGRAM
$1 Billion congestion relief program
Additional $300 Million for the Congestion Reduction Demonstration Program
USDOT sought applications that used the 4T's:

Tolling
Transit
Telecommuting
Technology

Awards made to...

Seattle (UPA)
San Francisco (UPA)
Los Angeles (CRD)
Minneapolis (UPA)
Atlanta (CRD)
Miami (UPA)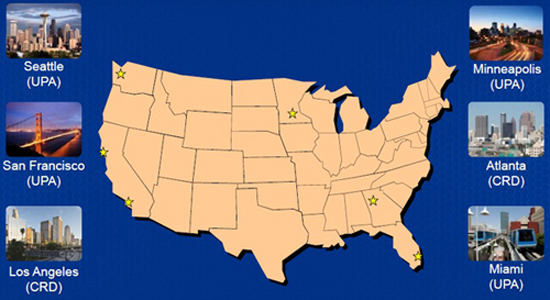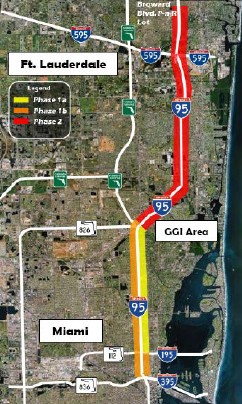 Miami UPA (I-95)
HOV to HOT conversion
3 Phases

Phase 1A - Dec. 2008
Phase 1B - Jan. 2010
Phase 2 - mid 2014

2 HOT lanes per direction
Separated by plastic poles
Dynamic pricing
Registered 3+ carpools free
Phase 1 Transit Improvements
2 new routes

Pines Blvd. Express
Dade-Broward Express Golden Glades P&R

500 new spaces Transit Signal Priority

Pines Blvd.
Broward Blvd.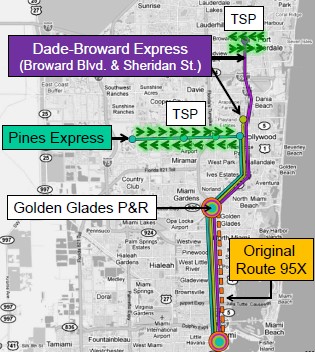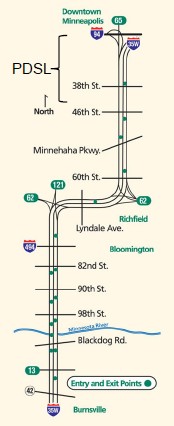 Minnesota UPA (I-35W)
HOV to HOT + new HOT lanes
Fully opened Nov. 2010
1 HOT lane per direction (except PDSL segment)
Stripe separation
Dynamic pricing
Multiple entry/exit points
2+ carpools free
Open to all traffic in off-peak (except PDSL segment)
Minnesota UPA (I-35W) Transit Improvements
Added bus service
6 new or expanded park-n-rides
1 transit bypass lane
Contra-flow bus only lanes
ITS technology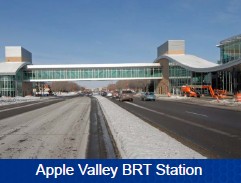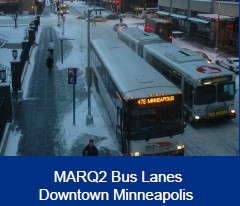 Transit Hypotheses & Question
The UPA project will enhance transit performance on the UPA corridors
The UPA project will increase ridership and facilitate a mode shift to transit
Transit mode shift/increased ridership will contribute to congestion mitigation
What was the contribution of each UPA project element to increased ridership and/or mode shift to transit?
Miami UPA Transit Results (2008 - 2010 Data)
Proven

Average travel times in Express Lanes improved from 25 to 8 minutes.
Average travel speeds went from 18 to 57 mph.
Scheduled travel times reduced by 10 minutes (northbound) and 7 minutes (southbound).
On-time performance improved from 76% to 81%.
A.M. bus travel times on Pines Blvd. reduced by 12% because of TSP.
Average weekday ridership increased 57%.

Not Proven

Boardings per revenue mile dropped 14%.
Average vehicle occupancy

dropped from 2.20 to 1.36 (a.m.)
dropped from 1.95 to 1.46. (p.m.)

Transit mode share

dropped from 19% to 16% (a.m.)
dropped from 15% to 14% (p.m.)
Unemployment Rate in Miami-Dade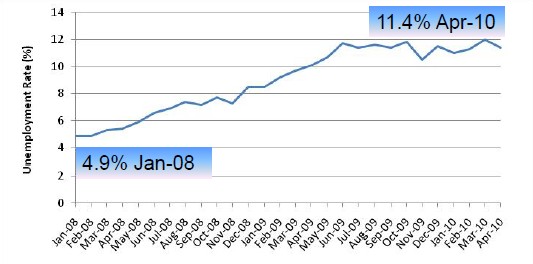 Unemployment Rate in Miami-Dade County
Source: U.S. Department of Labor
Unemployment v. MDT Ridership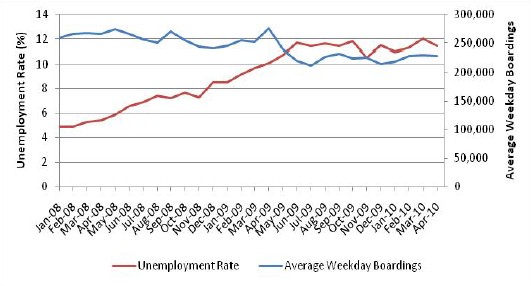 Ridership is for all MDT MetroBus
Unemployment v. 95 Express Bus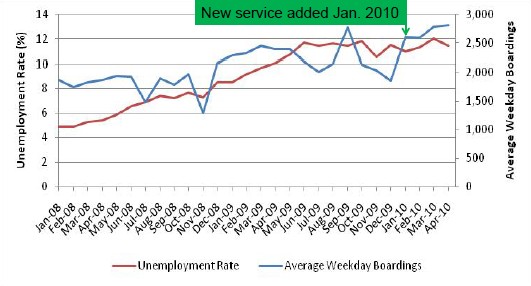 Ridership for all 95 Express Bus routes
Ridership Continues Upward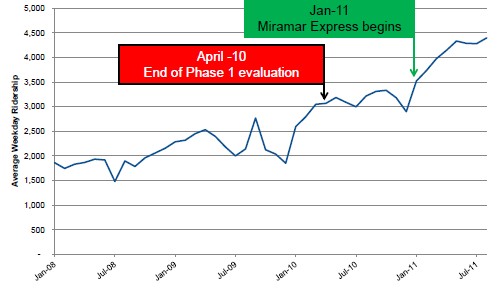 Miami UPA Hypothesis 3 Results
Proven

Total person throughput for the Express Lanes increased 42%.
Person throughput from transit increased while person throughput from HOVs decreased.
Miami UPA Hypothesis 4 Results
Proven

53% of new 95 Express Bus riders said the Express Lanes influenced their decision to use transit.
38% of new 95 Express Bus riders used to drive alone.
34% switched from Tri-Rail and/or MetroRail.
86% have access to vehicle always or most of the time.
Minnesota UPA Transit Results (2009 - 2011 Data)
Minnesota UPA Hypothesis 1 Results
Average Speeds (mph)
2008
2011
Percent Change 08-11
Marquette Ave. AM
5.1
6.7
31%
Marquette Ave. PM
3.9
5.7
48%
2nd Ave. AM
4.3
7.4
74%
2nd Ave. PM
4.0
6.4
57%
Priced Dynamic Shoulder Lanes opened in Sept. 2009

Note: PDSL is northbound only
Travel Speeds (mph)
Apr. 2009
Apr. 2011
41 mph
35 mph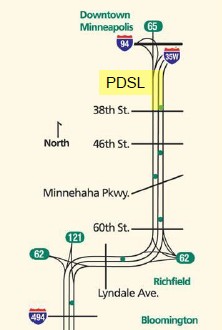 HOT Lanes Southern Segment opened in Sept. 2009
Travel Speeds (mph)
Apr. 2009
Apr. 2011
Northbound
61 mph
52 mph
Southbound
52 mph
52 mph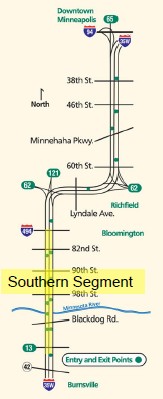 HOT Lanes Middle Segment opened in Nov. 2010
Travel Speeds (mph)
Apr. 2009
Apr. 2011
Northbound
28 mph
57 mph
Southbound
47 mph
57 mph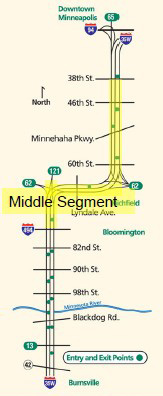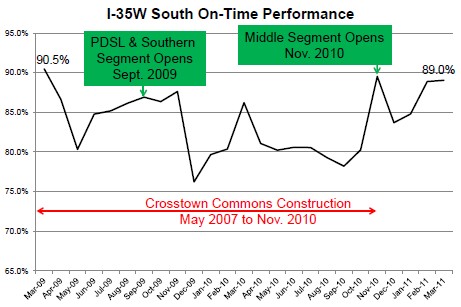 Minnesota UPA Hypothesis 2 Results
Average Weekday Ridership by Corridor
I-35W North
7.0%
I-35W South
9.0%
I-394
2.4%
I-94N
4.5%
Percentages are between March 2009 and March 2011
I-35W South Ridership vs. Unemployment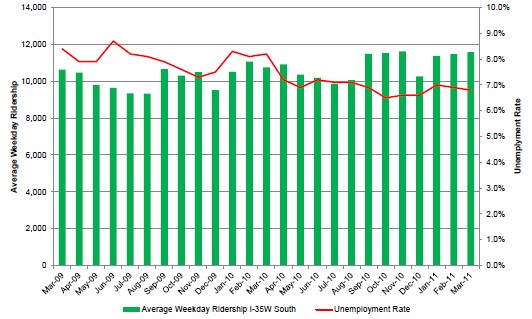 I-35W South Ridership vs. Cost per Gallon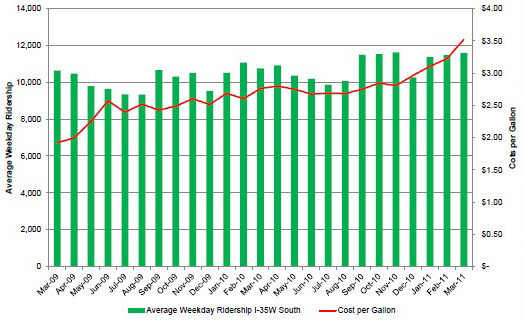 Minnesota UPA Transit Rider Survey
June 2010 survey of all I-35W routes.

Post deployment for PDSL, Southern Segment, and MARQ2 lanes.

Transit has attracted new choice commuters.

95% of all riders were riding to work
32% are new riders (1 year or less)
26% of new riders used to drive alone

Riders happy with bus reliability and travel times.

91% rated bus reliability very good or good
85% rated bus travel time very good or good

Overall HOT lanes haven't changed these perceptions.

57% rated reliability the same; 22% said it was now better
48% rated travel times the same; 26% said they were now better

Bus Arrival Time Signs

86% have seen them
8% were influenced by them

Impact of MARQ2 lanes

55% said service speed better
46% said service reliability better
I-35W Express Bus Rider Demographics
Category
I-35W Riders
All Metro Riders
Aged 35 to 64
66%
48%
Caucasian
86%
2.4%
African-American
4%
4.5%
Gender
Male
Female
Male
Female
38%
62%
59%
41%
Household income > $60K
69%
27%
Household income < $20K
3%
32%
Access to at least 1 car
94%
56%
Comments / Questions?
Contact: Brian Pessaro, AICP
Senior Research Associate
Center for Urban Transportation Research
University of South Florida
(813) 974-5113
pessaro@cutr.usf.edu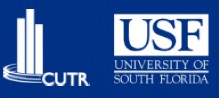 Part 2: Twin Cities Managed Lanes and the Transit Advantage
Metro Transit: a Service of the Metropolitan Council

Urban Local

70 routes
5,500 weekday bus trips
185,151 average daily rides

Hiawatha Line Light Rail

245 weekday train trips
31,000 average daily rides

Northstar Commuter Rail

12 weekday train trips
2,200 average daily rides

Suburban Local

48 routes
1,350 weekday bus trips
13,600 average daily rides

Express Service & Park & Rides

100 routes
2,200 weekday bus trips
45,500 average daily rides
111 park & rides
28,860 park & ride spaces
Park & Ride User Distribution
74% in Transit Capital Levy Communities
85% in 7-County Metro Area
Greater Minnesota Population centers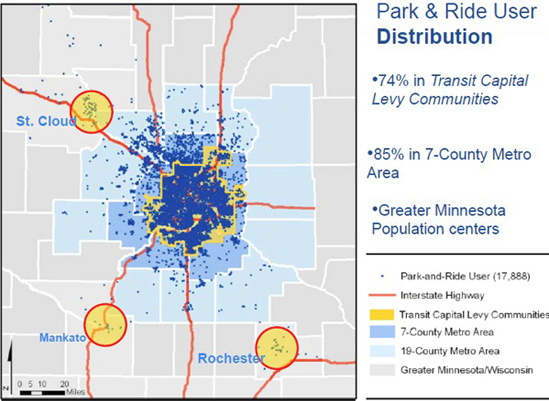 Trip Purpose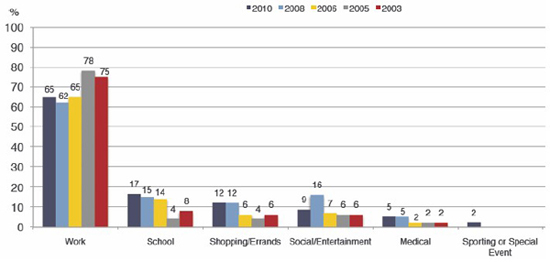 Transit Market Factors
Auto ownership
Employment Density
Fuel cost
Parking availability and cost
Compete with auto travel time and reliability

Congestion on streets and highways
Transit advantages
Employment Density
Map Zone 1 (right side)

140,000 Jobs
Limited parking available
$8/day average parking

Map Zone 2 (left side)

45,000 Jobs
Parking available
$3/day average parking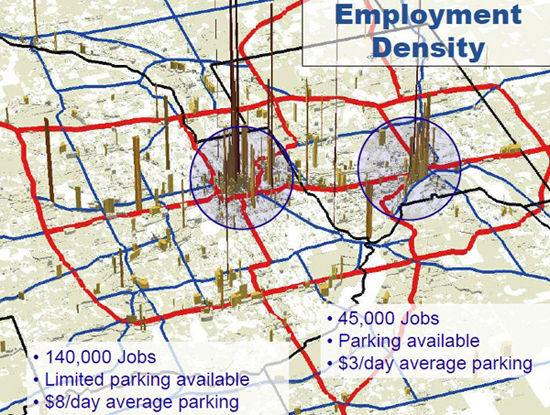 Express Service to Downtown Minneapolis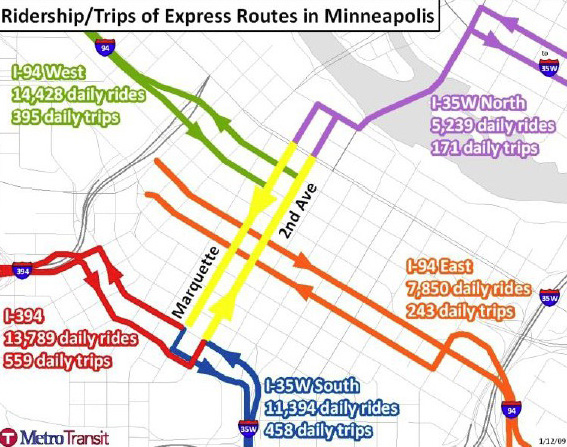 Downtown Minneapolis Transit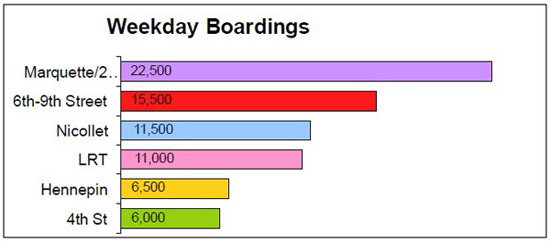 Transit vs. SOV
Time and Speed
Reliability
Convenience
More than 2,200 daily bus trips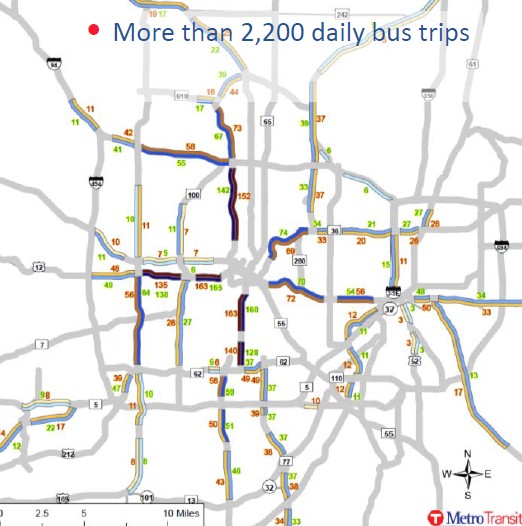 Managed Lanes: The Next Generation - Can We Improve Performance
Urban Partnership Agreement
Tolling, Transit, Telecommuting & Technology
Transit Benefits of Managed Lanes
Speed
Reliability
Revenue sharing
I-35W BRT Overview
Express service

Fast, direct to downtown
Park & ride facilities

MnPass Express Lanes
High quality stations
"Station-to-Station" service

Fast, frequent, all stops, both directions, all day
Unique vehicles

Integrated Network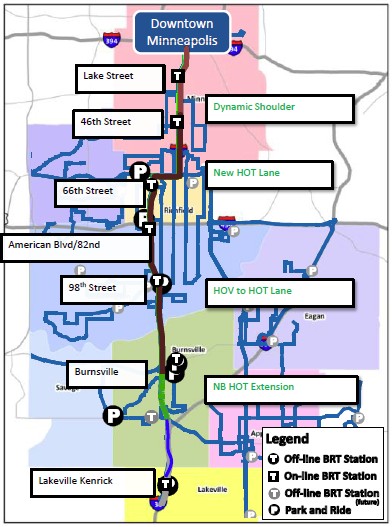 Downtown Minneapolis MARQ2 Bus operations
Standard Operating Procedure
2 Stop Groups per Block
180 buses/hour (3x a single lane)
I-35W and 46th Street Online Station
Opened December 6, 2010
New service plan offers increased frequency to additional destinations; early ridership growth observed
UPA investment for Cedar Avenue BRT 2012
Minneapolis MARQ2
Transit bypass lane Hwy 62
Apple Valley Transit Station
Cedar Grove Park & Ride
Lakeville Cedar Park & Ride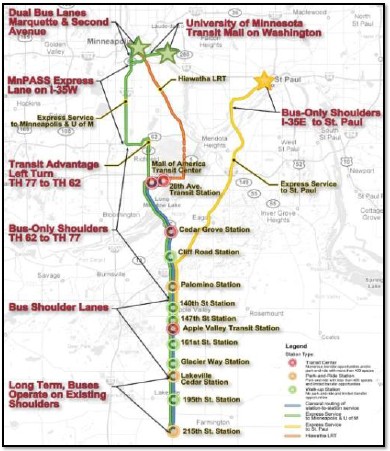 Two MnPASS Corridors The Same and Very Different
I-394 & 35W MnPASS Corridors
Similarities
Brand
Pricing Algorithms
Toll Infrastructure
Hours of Tolling
Carpools and Buses Free
Customer Geography
Customer Utilization
Performance
Differences
Road Design
Access Design

I-394: 75% Closed Access
I-35W: 75% Open Access

Active Traffic Management
Signing
Start-up Staging
Performance
Changes in Violation Rates Before and After MnPASS Implementation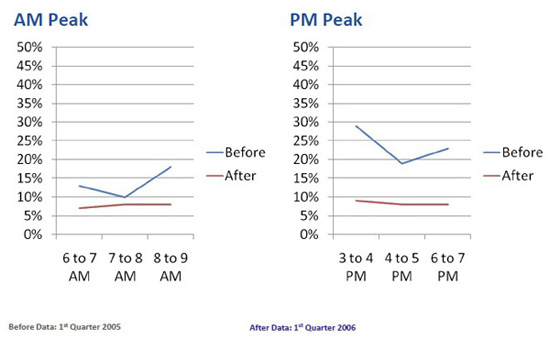 Changes in Violation Rates: Before and After MnPASS Implementation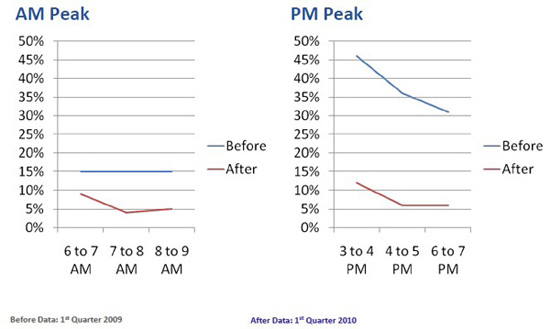 MnPASS Users Satisfied with Congestion Pricing
91% overall satisfaction
95% satisfaction with all electronic tolling
85% satisfaction with traffic speed in lane
76% satisfaction with dynamic pricing
66% satisfaction with safety of merging
Data from Survey of 500 MnPASS account holders in 2009
MnPASS Customers Distribution Trips per Account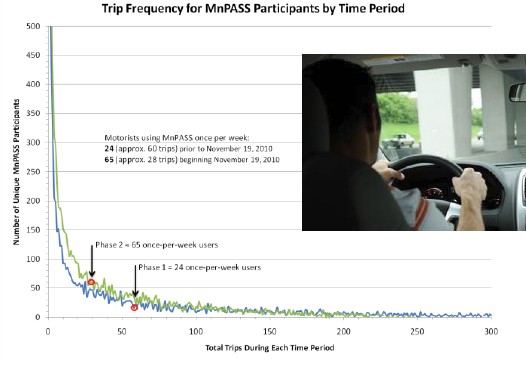 MNPASS Revenue from I-35W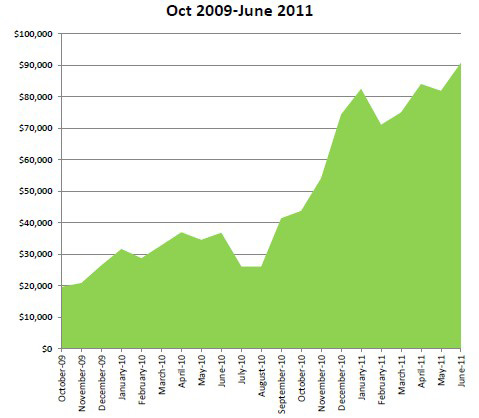 Comparison of Two Managed Facilities
35W
4,800 Active Transponders
190,000 Trips
$161,000 in Gross Toll Revenue
Average of 40 Trips per Transponder
Average Toll of $0.85
394
9,000 Active Transponders
400,000 Trips
$291,000 in Gross Revenue
Average of 44 Trips per Transponder
Average Toll of $0.73
Bottom line: similar patterns for users on frequency of use, revenue per user, trip lengths, and market areas in the two start-up periods ...but slower growth in customer base/revenue on 35W due to phased implementation
First Six Full Months for each MnPASS Facility
MNPASS Customer Origins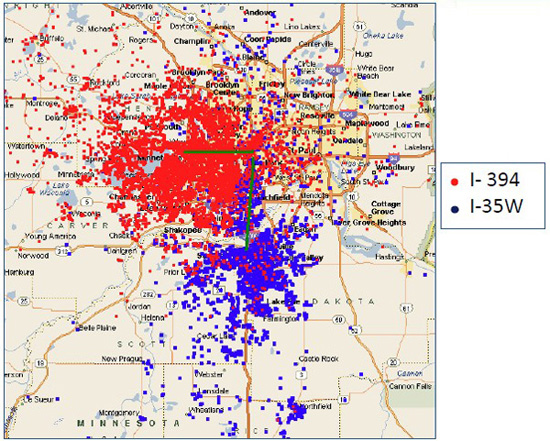 35W South Transit Results
750 new parking spaces
Operating speeds improved

I-35W at posted speeds in congested conditions
Downtown Minneapolis from 4 mph to 6mph

On-time performance improved

Lake Street Impact: operational change Sept 2011

I-35W South bus ridership up 15% over past year
Transit Customer Origins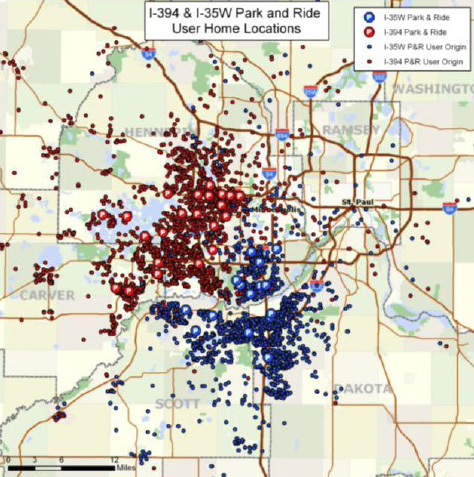 5 Years of MnPASS
Congestion Pricing Works...in providing congestion free choices to users
Customers like MnPASS
MnPASS enables transit service improvements, transit ridership increases
Technology can be used to substantially reduce roadway capital costs
Revenue (in the Minnesota design):

Policies on who pays and who is free (carpools free?)
Pricing objective: congestion vs. revenue (different revenue outcomes for each)
Congestion levels - the more congestion a user can avoid the more they will pay to avoid it
Minimum prices - pricing for congestion may result in the price being set below what users are willing to pay
Marketing /Customers Service levels - the system must be treated like a product. On-going investment in customer service and marketing are required to recruit /retain customers and grow revenue
Network effects: revenue increases faster than operating costs as the system expands
NEXT!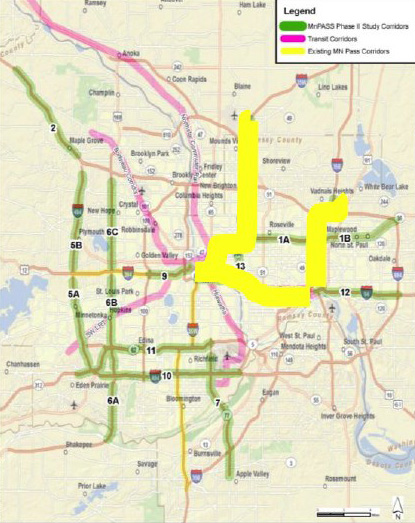 TH 36: I-35W to I-694
I-94: TH 101 to I-494
I-35E: I-94 to CR E (highlighted yellow)
I-35W: Minneapolis to Blaine (highlighted yellow)
I-494: TH 212 to I-94
TH 169: TH 101 to I-94
TH 77: 141st Street to TH 62
I-94: Downtown Minneapolis to Downtown Saint Paul (highlighted yellow)
I-394: TH 100 to I-94
I-494: TH 212 to MSP Airport
TH 212/TH 62: TH 5 to TH 77
I-94: Downtown Saint Paul to I-694
TH 280: I-94 to I-35W
More Information:
Visit
http://www.dot.state.mn.us/mnpass/
www.metrotransit.org
Part 3: San Diego's Managed Lanes and Bus Rapid Transit Integrating Transit with Congestion Pricing and Increasing Congestion Pricing Acceptance

Overview I-15 Express Lanes Project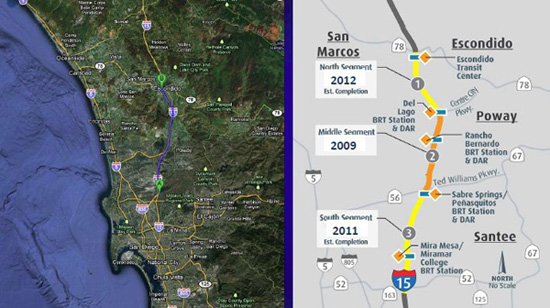 In the Beginning - I-15 Express Lanes
Enabling Legislation states:
"... remaining revenue shall be used in the I-15 corridor exclusively for (A) the improvement of transit service, including, but not limited to, support for transit operations ... "
I-15 Express Lanes Successes
Increased use of HOV Lanes

Up to 20,000 Avg. Daily Vehicles (~75% HOV, 25% FasTrak users)

Provides travel choices

Transit, carpooling, FasTrak

FasTrak revenue used to fund I-15 transit service

Generated over $7 million for transit in first decade
Managed Lanes: A Regional Framework Goals:
Increase operating efficiency of freeway system versus new freeways
Increase travel choices - ridesharing, transit, value pricing
Provide time competitive travel times for car/vanpools and transit
Extend FasTrak, including funding for BRT services
I-15 Express Lanes Design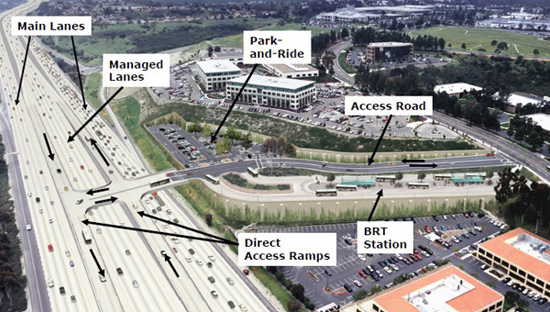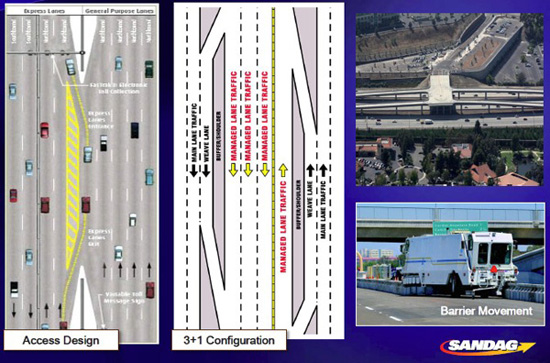 I-15 Express Bus Ridership (Peak Period)
| Route # | FY11 | FY10 | FY09 | All Metro Riders |
| --- | --- | --- | --- | --- |
| Route 810 | 146,763 | 128,714 | 114,387 | 97,869 |
| Route 820 | 46,892 | 50,864 | 51,200 | 45,274 |
| Route 850 | 46,224 | 47,025 | 62,866 | 65,362 |
| Route 860 | 38,699 | 43,164 | 61,844 | 59,643 |
| Route 880 (March-June, FY09) | 17,504 | 29,936 | 2,209 | N/A |
| PREMIUM EXPRESS TOTAL | 296,082 | 299,703 | 292,506 | 268,148 |
| Route 210 | 74,866 | 85,834 | 88,121 | 75,947 |
| CORRIDOR TOTAL | 370,948 | 385,537 | 380,627 | 344,095 |
What is BRT?
Premium service
Trolley/Coaster like experience
Serves:

Commuters
Visitors/Tourists
Residents
Shoppers

High frequency
All day service
Premium Fares

BRT Route and Station Plan
Expected to start 2013
35 mile long corridor
5 freeway BRT stations with DARs
Service includes:
All-stop, all day trunk
Peak period limited stop commuter expresses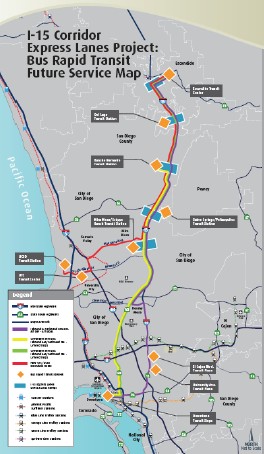 Link to I-15 Corridor Express Lanes Project: Bus Rapid Transit Future Service Map: http://www.keepsandiegomoving.com/Libraries/I15-Corridor-doc/I-15_BRT.sflb.ashx
Region's Future
Expanding the Express Lanes concept:
Improve mobility, move more people
Relieve congestion
Enhance transit service
Annual Funding for Transit
Current = $2 million
2020 = $80 million
2050 = $530 million
(Year of Expenditure $$)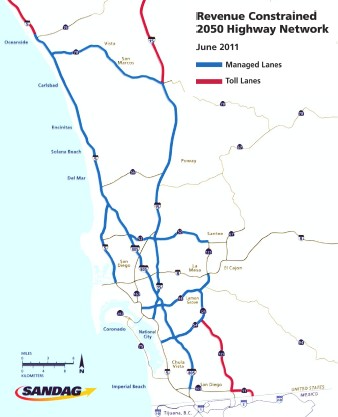 Questions
I-15 Value Pricing Program:
Chris Burke - Program Manager
(619) 699-1934
cbur@sandag.org
I-15 Bus Rapid Transit:
Barrow Emerson - Senior Regional Planner
(619) 699-1961
bem@sandag.org