State of The Practice for Shoulder and Center Line Rumble Strip Implementation on Non-Freeway Facilities
CHAPTER 1. INTRODUCTION
BACKGROUND
Rumble strips are a proven safety countermeasure intended to alert drivers when they leave the roadway across the edge line or center line through the generation of noise and vibration. Center line rumble strips (CLRSs) are used on undivided highways to reduce head-on, opposite-direction sideswipe crashes and roadway departure crashes to the left, while shoulder rumble strips (SRSs) and edge line rumble strips or stripes (ELRSs) are used to reduce roadway departure crashes to the right. Rumble strip benefits have been consistently quantified; there are more than 500 crash modification factors (CMFs) in the Crash Modification Factors Clearinghouse.(2) While many of the CMFs have been focused on freeway applications, this large number of CMFs indicates that there is no one design application appropriate for all circumstances. Additionally, there are many varieties and patterns of rumble strips that vary in applicability due to weather constraints, geometric constraints of the cross section, and consideration of trade-offs for other roadway users and non-users (e.g., nearby residences).
Rumble strips provide additional benefits for motorists beyond alerting roadway departure through noise and vibration, including the potential to increase nighttime visibility through combined application of rumble strips and pavement markings (e.g., rumble stripes).(3–5) However, researchers have identified trade-offs for rumble strip applications with proven crash reduction potential, including inconvenience for bicyclists and motorcyclists, excess noise for nearby residents, and potential for pavement life and pavement marking degradation.(1) Additionally, there are concerns for the operational impact to vehicle placement within the travel lane for the installation of CLRSs or SRSs. For example, CLRSs implemented on a narrow travel way may result in drivers shifting their vehicles closer to the outside edge of the roadway, which may lead to increased roadway departures to the right. These trade-offs have made it difficult for some departments to identify appropriate situations for implementing rumble strips on rural two-lane highways and difficult to identify an appropriate rumble strip design given a set of constraints.
PROJECT OBJECTIVE
The objectives of this project were twofold. The first objective was to identify the state of knowledge and practice among the States for the use and design of CLRS and SRS, identify any information gaps, and develop a research plan to address those gaps. This report fulfills this objective.
The second objective was to develop a decision support guide to inform agencies on CLRS and SRS installation. This objective was fulfilled with the preparation of Decision Support Guide for the Installation of Shoulder and Center Line Rumble Strips on Non-Freeways, which can be found on the Federal Highway Administration (FHWA) Rumble Strips Web site.(1) The guide describes methods for identifying appropriate locations for installation, assessing the potential crash reductions and benefit/cost (B/C) ratio, and developing performance metrics for safety. Additionally, the guide discusses special considerations for rumble strip installations, identifies variability in current practices, and provides a decisionmaking framework for installing rumble strips.
DESCRIPTION OF RUMBLE STRIPS
Rumble Strip Definitions
This section introduces important concepts and characteristics of rumble strips. Rumble strips are characterized by their placement, type, and dimensions. Each of these characteristics are described in greater detail in the following subsections.
Placement of Rumble Strips
Rumble strip placements include center line (i.e., CLRS), shoulder (i.e., SRS), or combined (CLRS + SRS).(1) SRSs can be further recognized by their offset from the edge line pavement marking. If an SRS is applied in conjunction with the pavement marking, then it is characterized as an ELRS. ELRSs are sometimes referred to as "rumble stripes." If an SRS is located outside the pavement marking, then it is simply referred to as an "SRS." Throughout this report, SRSs and ELRSs are collectively referred to as "SRSs" unless specifically talking about ELRSs. Figure 1 shows an installation of a combined CLRSs and SRSs.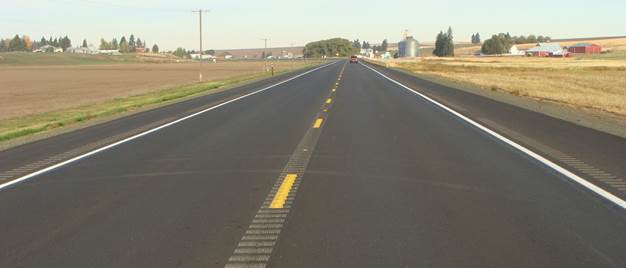 Figure 1. Photo. Combination of milled CLRSs and SRSs.
Transverse rumble strips are placed within a lane to warn drivers of upcoming unexpected changes, such as traffic signals, changes in alignment, or the need to change lanes. This report does not focus on the application of transverse rumble strips and will not discuss the topic further.
Types of Rumble Strips
Currently, there are two main types of rumble strips used on rural, non-freeway facilities: milled and raised. Milled rumble strips, which are most prevalent, are milled into the roadway surface using a rotary milling machine. They function by allowing the tires to drop into the groove, which creates both sound and vibration. The sound level is a function of the dimensions of the milled rumble strip, which are explained in the next section. Figure 1 provides an example of milled rumble strips.
Recently, some departments have also began studying and specifying dimensions for milled sinusoidal rumble strips, which are intended to reduce the external noise produced while providing sufficient noise and vibration to alert the driver of roadway departure.(6) This type of rumble strip is milled into the pavement surface using a sinusoidal pattern rather than individual grooves. Figure 2 shows a profile comparison of sinusoidal rumble strips (labeled as "California" and "Pennsylvania") in comparison to a typical milled installation (labeled as "Minnesota").(6) The depth is similar between the strips and the spacing (distance from center of peak to center of peak) is the same for the California and Minnesota designs.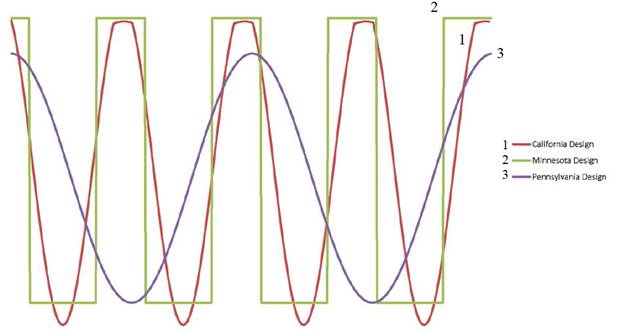 ©Minnesota Department of Transportation.
Figure 2. Illustration. Profile view of milled rumble strips.(6)
Although research suggests that milled rumble strips are the most effective application type, raised rumble strips (or rumble stripes) have been applied in States with warmer climates or where milled rumble strips cannot be installed. Raised rumble strips include side-by-side raised pavement markers, rumble bars, or plastic inserts within thermoplastic pavement markings. Profiled thermoplastic pavement markings have been developed to help with nighttime wet pavement visibility and may have some very limited rumble characteristics. Figure 3 provides an example of profiled thermoplastic pavement markings in Washington. Locations without snowplowing activities may use profiled thermoplastic pavement markings or other raised rumble strips; however, milled rumble strips are preferred. Raised rumble strips may be considered in areas where milled rumble strips are not practical, such as bridge decks or on thin surface courses (e.g., chip seals).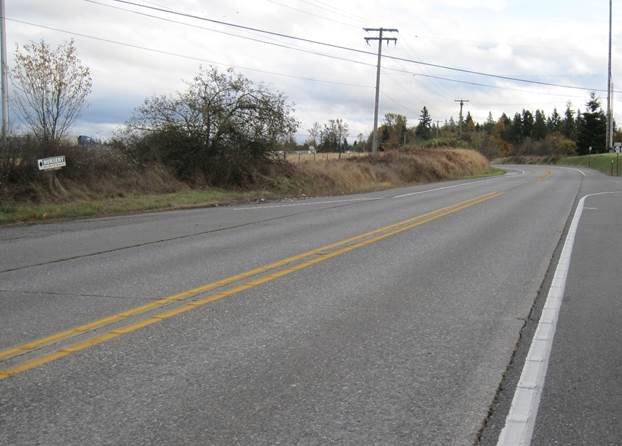 Figure 3. Photo. Example of profiled thermoplastic pavement marking.
Rumble Strip Dimensions
Figure 4 provides a graphical representation of rumble strip dimensions, which are explained as follows:(7)
Offset (A): Distance from the pavement marking (delineating the edge of the traveled way) to the inside edge of the rumble strip.


Length (B): Dimension of the strip that is perpendicular to the travel directions of the roadway. This is often referred to as the "transverse width" of the rumble strip.


Width (C): Dimension of the strip that is parallel to the travel direction of the roadway.


Depth (D): The maximum distance from the surface of the roadway to the bottom of the rumble strip.


Spacing (E): The distance between adjacent rumble strips. It is most often measured from the center of the strip to the center of the adjacent strip.


Gap (F): The distance from the edge of the rumble strip to the edge of the rumble strip when there is a break in the pattern. Gaps are commonly used to allow bicycles to cross the rumble strip pattern, to allow passing vehicles to cross CLRSs, and to allow turning movements at intersections and driveways.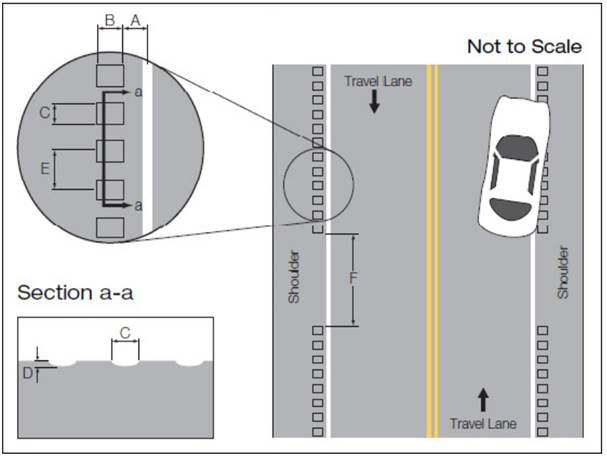 Figure 4. Illustration. Overview of rumble strip dimensions.(7)
REPORT ORGANIZATION
Beyond this introduction, this report is organized as follows:
Chapter 2. Literature Review: This chapter provides a review of rumble strip research focused on rural two-lane highways and includes research from other facility types that can be applied to two-lane highways. The literature review informed the development of the guide and informed the gap analysis and action plan development.


Chapter 3. Current Practices Review: This chapter synthesizes rumble strip design and implementation criteria for all State departments (and FHWA's Eastern Federal Lands (EFL)) with published policies and/or standard drawings and summarizes the results of department follow-up interviews. The review focuses on department policies related to rural two-lane highways but also includes policies from other facility types that are applied to two-lane highways or used when a specific policy for rural two-lane highways could not be found. The current practices review informed the development of the guide and informed the gap analysis and action plan development.


Chapter 4. Guide Development: This chapter provides an overview of the decision support guide development. The model decisionmaking framework, webinar review comments, and overview of the final rumble strip decision guide are provided.


Chapter 5. Gap Analysis and Action Plan: This chapter provides a list of gaps identified in this research and includes gaps from National Cooperative Highway Research Program (NCHRP) Report 641, Guidance for the Design and Application of Shoulder and Centerline Rumble Strips, and NCHRP Synthesis 490, Practice of Rumble Strips and Rumble Stripes, that are still applicable.(8, 9) This chapter also provides a set of goals and objectives to fill those gaps through future research.


Appendix A. Interview Questions: This appendix includes the verbatim list of questions provided to the five State transportation departments and FHWA's EFL in advance of follow-up interviews.


Appendix B. Follow-Up Phone Interviews: This appendix includes notes taken from follow-up interviews with departments and FHWA's EFL. Additionally, this appendix includes verbatim department responses to the questionnaire provided in appendix A.