State of The Practice for Shoulder and Center Line Rumble Strip Implementation on Non-Freeway Facilities
CHAPTER 4. RUMBLE STRIP DECISION SUPPORT GUIDE DEVELOPMENT
INTRODUCTION
The purpose of the rumble strip decision support guide is to inform departments on CLRS and SRS installation. The guide describes methods for identifying appropriate locations for installation, assessing the potential crash reductions and B/C ratio, and developing performance metrics for safety. Additionally, this guide discusses special considerations for rumble strip installations, identifies variability in current designs and implementation criteria, and provides a decisionmaking framework for installing rumble strips.
The guide draws from the literature review and current practices review, and the decisionmaking framework is based on the best practices of departments that have been successful with installing CLRSs and SRSs. The next two sections describe the components of the guide that the project team incorporated from materials in addition to information found in the literature review and current practices review. These include discussion of rumble strips and safety-based implementation and the development of a model decisionmaking framework. Following these sections, the final section discusses the webinar review of the draft guide and concludes with a brief overview of the final guide.
EMPHASIS ON RUMBLE STRIPS AND SAFETY-BASED IMPLEMENTATION
Since rumble strips are implemented to improve safety, the emphasis of the guide is to provide a methodology for departments to assess the safety impacts, understand the potential benefits of rumble strip implementation, and develop implementation criteria that maximize safety benefits while minimizing impacts to non-motorists. The guide describes three implementation strategies: systemic, high-crash corridor, and systematic. The guide also provides information on the breadth of criteria used by State transportation departments for systematic installation and on performance measures that can be used for systemic and high-crash corridor installation. Further, the guide covers the determination of the following performance measures:
Estimates of expected safety performance (e.g., expected crash frequency).
Estimates of benefits through crash reduction by crash type.
Estimates of benefits through crash costs reduced.
B/C ratios for proposed installations.
Performance measures are used to identify potential sites that may benefit from installation, estimation of countermeasure effectiveness, and conducting of economic analyses. These measures bring a voice to the table for safety when considering benefits and trade-offs of installation.
The remainder of the guide focuses on a model decisionmaking framework based on best practices of departments successful with installing rumble strips on non-freeway highways. The next section discusses the development of a model decisionmaking framework for the guide.
DEVELOPMENT OF A MODEL DECISIONMAKING FRAMEWORK
Departments that have successfully installed CLRSs and SRSs on their rural two-lane and multilane systems generally have formalized processes for systematic installation and for decisionmaking on corridors that do not meet systematic criteria. It is important to identify corridors that can actually benefit from the treatment and to apply the most effective treatment possible while considering other roadway users and contexts. The guide provides a general model guidance for steps that may be included in a decisionmaking process, factors to consider, and who may be involved in such a process that can be used by departments struggling with implementation. Figure 10 provides an overview of the model decisionmaking framework. The framework is not intended to be directly applicable to every department because regulations, policies, practices, and organizational structure can vary across States. The framework offers a structured approach for increasing consistency and the chance of success in installing rumble strips to achieve safety benefits while providing a context-sensitive approach to reduce the impacts on non-motorists.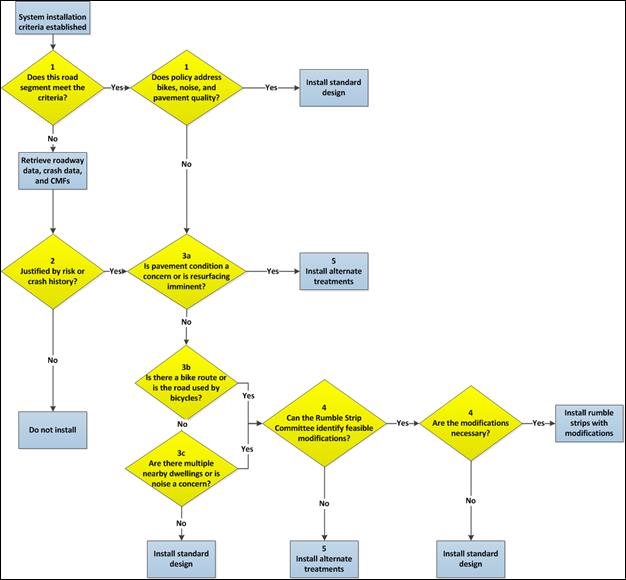 Source: VHB.
Figure 10. Flowchart. Model decisionmaking framework for rumble strip installation.
This model framework is based on an analysis of systematic installation (e.g., a roadway is being repaved and did not previously have rumble strips). Corridors may also be identified based on crash data analysis, and rumble strips may be selected as a candidate treatment. In this case, the installation has already been justified based on crash data, and the analyst would begin at step 3a of the decisionmaking process presented in figure 10. There are additional methods for project identification, and it is up to the analyst to determine which step to begin with in the process.
EXPLANATION OF MODEL DECISIONMAKING PROCESS
The guide contains a detailed description of the decisionmaking process shown in figure 10. Each decision point is "yes" or "no" after careful consideration by the appropriate parties. Each step includes an overview of the questions or trade-offs that may be considered, the parties involved, and what information is necessary for decisionmaking. The following steps are discussed in further detail:
1. Systematic installation.
2. Systemic and high-crash corridor installation.
3. Special considerations. These considerations include the following:
Step 3a: Pavement condition.


Step 3b: Bicyclist accommodation.


Step 3c: Noise accommodation.
4. Alternative rumble strip designs for accommodating bicyclists and/or noise.
5. Alternative treatments.
Each step is linked to a specific box in the model framework to show the flow and identify general relationships. The final decisions include installation of standard rumble strips, installation of modified rumble strips, installation of alternate treatments, or no installation.
WEBINAR REVIEW
The draft guide was reviewed by the project panel and then vetted by experts in the field. In order to accomplish the vetting process, 18 participants with experience with rumble strip implementation or oversight participated in a webinar review. The participants included representatives from State transportation departments and FHWA division offices. The vetting webinar participants provided extensive feedback on the guide both during the webinar and via electronic correspondence after the webinar.
Table 9 presents the State transportation departments and positions of participants in the guide review. Additionally, the contract manager, Dr. Abdul Zineddin, as well as Ms. Cathy Satterfield, Mr. Richard Albin, Mr. Andy Mergenmeier, and Ms. Aileen Varela from FHWA participated in the Web meeting.
Table 9. Webinar review participant affiliations and positions.
| Affiliation | Position |
| --- | --- |
| Connecticut division of FHWA | Safety engineer/area engineer |
| ConnDOT | State safety engineer |
| Louisiana division of FHWA | Safety programs coordinator |
| LaDOTD | Highway safety manager |
| LaDOTD | Highway safety engineer intern |
| LaDOTD | Road design engineer administrator |
| Michigan division of FHWA | Safety and traffic operations engineer |
| MDOT | Pavement markings traffic engineer |
| Missouri division of FHWA | Safety and mobility engineer |
| MDT | Safety management system section supervisor |
| MDT | Traffic and safety bureau chief |
| Pennsylvania division of FHWA | Safety engineer |
| PennDOT | Safety engineering and risk management |
| South Carolina division of FHWA | Safety and traffic operations engineer |
| SCDOT | Safety program engineer |
| TxDOT | Safety engineer |
| TxDOT | Engineering assistant |
| Washington division of FHWA | Division safety/design engineer |
| WsDOT | Design policy and strategic analysis estimating manager |
Members of the project team hosted the webinar. Webinar participants were given the draft guide prior to the meeting along with a request for written comments and a solicitation of case studies. The webinar was held on July 12, 2016, from 2–4 p.m. Participants were provided with a brief overview of the project history and background and a summary of each chapter in the guide. The project team then asked a series of targeted questions regarding the overall flow of the guide, specific information presented in each chapter, and other such questions. FHWA provided poll questions for several of the questions to direct the feedback received. Finally, the project team facilitated an open discussion that allowed for additional comments and feedback.
In addition to the webinar, the project team solicited written feedback on the guide and solicited potential case studies from participants. In total, six webinar participants (including the FHWA project team) provided written feedback on the guide. Overall, the feedback from participants was positive. They provided constructive and thoughtful comments that the project team considered afterward.
While many of the comments were minor, there were several suggested revisions that required further consideration. Those incorporated into the final guide included the following:
The Selecting Sites for Installation section was rewritten to enhance the discussion of systemic, high-crash corridor, and systematic approaches to safety. Reviewers noted that rumble strips more often fulfill a systemic need (i.e., high-severity, low-density crashes) and are not often used to fulfill a hot spot type of approach. Therefore, emphasis was placed on systemic installation, and the hot spot approach was characterized as a high-crash corridor approach, indicating that rumble strips are applied on corridors. The introductory discussion notes that the most effective programs use a combination of approaches. Additionally, the systematic approach was further clarified from the systemic approach in that sites are excluded based on the needs of others and are not directly related to crash history or crash risk.


The Identifying Rumble Strip Effectiveness section was shortened by removing example CMFs from the body of the guide and incorporating them in an appendix. The appendix can be used by readers to identify the highest-rated CMFs currently in the Crash Modification Factors Clearinghouse, but the body of the report focuses on using the clearinghouse itself. This emphasizes using the Crash Modification Factors Clearinghouse in the future to find high-quality CMFs that may not currently exist.


Adjustments were made to the example problem. The original example problem (now example 2) was shortened in the body of the text to provide an overview of the necessary inputs and resulting performance measures. As requested by reviewers, the project team expanded on the example problem in an appendix and provided details on calculations for each step of the analysis. Additionally, a second example problem (example 1) was added to provide an example economic analysis for systemic rumble strip application.
OVERVIEW OF FINAL GUIDE
The final guide was published separately from this report and is a result of several review stages, initiated with a draft outline submitted to FHWA for review with the submission of the current practices review.(66) The project team reviewed FHWA's feedback, and the outline was further developed into a draft guide. The draft guide was once again reviewed by FHWA as well as webinar review participants. The feedback received at this time was very helpful, and the suggestions were used to revise the draft guide. The result is an approximately 60-page decision support guide entitled Decision Support Guide for the Installation of Shoulder and Center Line Rumble Strips on Non-Freeways, which can be found the FHWA Rumble Strips Web site.(1)
The guide comprises the following seven chapters:
Introduction: This chapter provides background on the safety countermeasure, the purpose of the guide, and key definitions related to rumble strips.


Rumble Strips and Safety Management: This chapter discusses the methodologies for implementing rumble strips as a safety countermeasure and methodologies for estimating the safety effectiveness and economic impact. Two examples are provided: one for systemic analysis and one for high-crash corridor analysis.


Special Considerations: This chapter discusses key factors related to the impacts of rumble strips on bicyclists and motorcyclists, noise impacts on nearby residents, and perceived impacts to pavements.


Overview of Current and Successful Installation Practices: This chapter identifies current practices that departments use for installation of rumble strips and identifies successful practices and methods for installing rumble strips based on high-crash corridor analyses.


Model Decision Support Framework for Rumble Strip Installation: This chapter provides a framework for departments to follow based on current successful practices of departments with widespread rumble strip installation.


Case Studies: This chapter includes case study examples where departments weighed the decision to install CLRSs or SRSs when there was potential concern for roadway users other than vehicles, nearby residents, and pavement condition. Examples are provided from Michigan, Minnesota, and Texas.


Other Resources: This section provides links to related resources.