Improved Construction and System Preservation Technologies
new strategies to enhance the quality performance of highway systems
Accelerated Construction Technology Transfer (ACTT)
May 2004, Oklahoma City, Oklahoma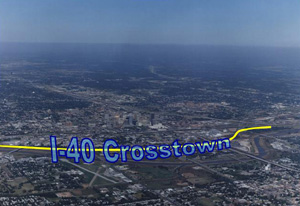 Accelerated Construction Technology Transfer (ACTT) is a strategic process that uses innovative techniques and technologies to reduce construction time on major highway projects while enhancing safety and improving quality. The process is implemented by conducting 2-day workshops for State Departments of Transportation (DOTs). The American Association of State Highway and Transportation Officials (AASHTO) and the Federal Highway Administration (FHWA) jointly fund ACTT workshops.
In May 2004, the Oklahoma Department of Transportation (ODOT) hosted a workshop that brought together 75 transportation experts from around the Nation.
The primary objective of the workshop was to draw on the expertise of participants to help ODOT achieve its goal of opening the mainline to traffic by September 2008 on its I-40 crosstown project located between interchanges with I-44 and I-35, at the southern edge of downtown Oklahoma City. The $400 million project is to replace this mostly elevated section of I-40 on offset alignment to the south. A large section of the new facility will be depressed. The existing facility was built in the 1960s, designed for ultimate traffic volume of 76,000 ADT. Today's ADT exceeds 110,000 over this section, passing over 250 fracture critical members of the longest twin bridge structures in the State. Additionally, 90 percent of this section of I-40 is rated as a critically high crash facility. The existing facility will be removed at the completion of the mainline construction and a 6-lane at-grade boulevard will be constructed on the existing alignment for local traffic. Key project challenges include:
Complete and open the mainline to traffic by September 2008.
The existing railroad corridor must be realigned five blocks south of its current location. Rail operations in the corridor must continue uninterrupted both during and after construction.
A six-lane boulevard must be constructed to replace the existing stretch of I-40.
The project calls for a 112 km/h (70 mi/h) design speed.
Direct connection must be established to Bricktown and downtown.
Methods must minimize disruption to downtown and Bricktown traffic during construction.
Gary Ridley, ODOT Director, expressed support for the workshop as he welcomed the participants. During the opening session Shirley Ybarra, TRB A5T60 task force member and former Virginia Department of Transportation (VDOT) Transportation Commissioner, gave the keynote address on "Why ACTT? Why Now?" which included an overview of several projects accelerated across the nation and their successes. Following the opening remarks and a project tour, the participants spent a day and a half brainstorming, looking for methods and measures that would help achieve project goals.
The Skill Sets selected by ODOT prior to the start of the workshop were: Railroad/Utilities; Structures/Geotechnical; Innovative Contracting/Financing; Long Life Pavement/Maintenance; Traffic/ITS/Safety; Public Relations; Environmental; Construction/Materials; and Roadway Design/Geometrics. Each Skill Set team focused on how the ACTT process applied to the specific concerns of their area of expertise while collectively, the teams searched for methods/measures to help ODOT achieve its goals of maintaining traffic with minimal disruption; accommodating local/regional/national/international events; providing access to emergency facilities; opening I-40 to traffic by September 15, 2008; constructing the facility within budget; and maintaining a safe work zone.
The teams offered numerous ideas and recommendations, many of which will be further evaluated for incorporation into the project. Among the ideas presented were the following:
Combine projects to reduce total number of contracts from 10-14 to 3-4.
On-site decision makers and authority to process larger change orders without the commission's approval.
Designate a utility coordinator and proceed with utility coordination and relocation at 30 percent design stage.
Conduct a 2-phase geotech investigation with phase one to resume now in order to determine if material from the depressed section is suitable for borrow.
Incorporate water and sewer utilities as a part of roadway contracts.
Eliminate shoe-fly for the BNSF RR bridge construction by constructing permanent bridge structure on site and then positioning it in place overnight.
Consider giving pre-qualified contractors advanced plans and shortening the bid time.
Standardize structures, use longer spans, and reduce skew angle.
Identify the limits of the old landfill in the areas of Byers, Canal, and the proposed I-40 corridor.
Conduct an immediate Comprehensive HazMat Subsurface Investigation.
Identify appropriate areas for contractor staging sites and obtain permits.
Construct noise walls and fencing early.
Maximize off-site prefabrication to minimize disruption of traffic flow.
Brand the project ASAP, determine/select dedicated PIO, develop a chart of communication flow, and designate an on-site PR office.
With the workshop now completed, it remains for ODOT to sift through the various workshop ideas/recommendations and decide which ideas should be implemented in future planning, design, and construction phases of the I-40 Crosstown Expressway Relocation.

To find out more about the project and the implementation of recommendations, contact:
Souzan Bahavar of FHWA's Oklahoma Division Office, (405) 605-6166, x327.
John Bowman of ODOT, (405) 522-6611, jbowman@fd9ns01.okladot.state.ok.us
To find out more about the project and the implementation of recommendations, contact:
Jim Sorenson at (202) 366-1333, james.sorenson@fhwa.dot.gov, or Jerry Blanding at (410) 962-2253, jerry.blanding@fhwa.dot.gov, or visit http://www.fhwa.dot.gov/construction/.