ACTT Workshop: Georgia
I-75 from SR 54 North to Aviation Boulevard - for HOV Lanes
Chapter 2: Project Details
2.1. Project Scope
GDOT has several reasons for making I-75 from SR-54 North to Aviation Boulevard - for HOV Lanes a priority project:
The segment is one of the major routes for daily commuters in the metropolitan area as well as for travelers driving through the State.
This 6.4-mile stretch has major traffic generators nearby, including the Hartsfield-Jackson International Airport and the State Farmers Market.
The plans call for reconstruction of five interchanges, including one system-to-system interchange (I-285/I-75).
The project will connect to existing HOV lanes at the north end, but it will require special coordination with the proposed international airport terminal.
The current daily traffic volume of almost 200,000 vehicles and the lack of realistic detour routes will create gridlock in the metropolitan area during construction.
Figure 1. I-75 HOV project map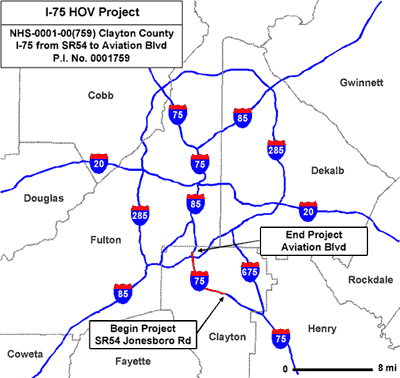 Prior to the ACTT workshop, GDOT's preferred typical section included one or two barrier-separated HOV lanes in each direction with at least one new interchange that would be exclusively HOV. At the time of the workshop, GDOT had not yet detailed the project concept. Therefore, the group was free to make recommendations regarding lane configurations, i.e., whether to place the HOV lanes all to one side (east, west or inside) or to split the southbound to one side and the northbound to the other.
Figure 2. Traffic flow map around the project area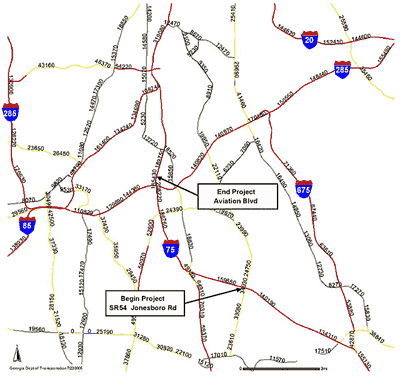 The project schedule is as follows: preliminary engineering, fiscal year 2005; right-of-way (ROW), fiscal year 2008; and construction, long range (six years). Bond funds are allocated for ROW.
Figures 1 and 2 show the general location and the Average Annual Daily Traffic (AADT) volumes for I-75 from SR-54 North to Aviation Boulevard - for HOV Lanes, respectively.
2.2. Workshop Priorities
As with all of the proposed HOV corridors in Georgia, I-75 from SR-54 North to Aviation Boulevard - for HOV Lanes is designed to address several established goals:
Reduce and manage traffic congestion.
Maximize the use of carpools, vanpools and transit.
Ensure integration with transit.
Provide connectivity to existing system and activity centers.
Provide reliable travel timesavings.
Increase person throughput.
Increase corridor safety and reliability.
2.3. Project Challenges
Key challenges include:
Managing construction under the demands of heavy daily traffic.
Reducing construction time by one-third.
Minimizing congestion.
Adhering to the programmed budget.