ACTT Workshop: Louisiana
December 15-17, 2003, West Monroe, Louisiana
Executive Summary
An aging infrastructure coupled with a tremendous increase in transportation demand has caused highway construction activities to intensify in recent years, adding to work zone congestion, which is one of travelers' chief complaints, according to the 1995 and 2000 national surveys. Initiated by the Transportation Research Board (TRB) and adopted by the Federal Highway Administration (FHWA) and the American Association of State Highway and Transportation Officials (AASHTO), Accelerated Construction Technology Transfer (ACTT) has emerged as a viable tool in addressing issues like excessive construction time and work zone congestion. ACTT is a strategic process that identifies innovative techniques and technologies to reduce construction time on major highway projects while enhancing safety and improving quality.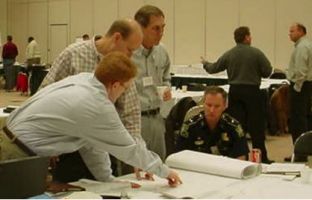 In December 2003, the Louisiana Department of Transportation and Development (LDOTD) hosted a 2-day workshop that brought together attendees from several States. For its workshop, LDOTD selected a bridge project located on I-20, just south of the original downtown area on a 2.9-km (1.8-mi) section of elevated highway, which includes the spans crossing the Ouachita River in Monroe, LA. The project is to rehabilitate the 40-year-old bridge to restore the superstructure and address structural deficiencies. The biggest challenge the project presents is traffic control during construction for 95,000 vehicles that travel this substandard section (two 3.6 m/12-ft lanes and 8.4/28 ft of clear driving surface in each direction) of I-20. Shifting through traffic onto other highway systems in the area would make for a detour length of 96 km (60 mi) or more.
Opening the workshop on December 15 were two officials representing LDOTD: the Secretary of Operations and the Monroe District Administrator. Following their remarks, Tucker Ferguson, Chief of Construction for the Pennsylvania Department of Transportation (PENNDOT), and Dan Sanayi, C & SP Engineer for FHWA, served as moderators and opened the afternoon session with an overview of the ACTT process. A bus tour of the project location and alternate river crossings and detour routes was taken to familiarize workshop attendees with the site and its restraints. Upon returning to the meeting center, an overview of the project's background, current status, and traffic considerations was presented by the District Construction and Traffic Engineers.
Over the course of the following day, participants broke into three "Skill Set" groups to examine how ACTT methods could be implemented to accelerate various aspects of the project. The Skill Set groups defined by LDOTD prior to the start of the workshop were: Structures/Materials, Traffic Engineering/Safety/ITS, and Construction.
Over the next day, national and local transportation professionals teamed up to look for methods and measures that would help LDOTD achieve its project goals. Following discussion and skill set intermingling, each group presented a set of final recommendations. As the host agency, LDOTD will examine the recommendations and determine which will be implemented.