ACTT Workshop: Louisiana
December 15-17, 2003, West Monroe, Louisiana
Chapter 3: Workshop Meeting Details
After the Monroe project was selected for an ACTT Workshop, FHWA officials and LDOTD personnel identified skill sets needed to address project needs. A list of 10 areas of expertise has been utilized by FHWA to evaluate previous major projects; however, due to the limited scope of the Monroe Bridge Rehabilitation, only three skill areas were created: traffic, materials, and construction. After selection of the skill sets, the FHWA workshop coordinators and District LDOTD Headquarters staff developed a participant list comprised of a cross section of LDOTD staff, FHWA personnel, and individuals from various public and private sectors with expertise in each skill set area (Appendix A).
3.1 OPENING SESSION
The Louisiana Workshop was held on December 15-16, 2003, at the West Monroe Convention Center in West Monroe. Participants convened for registration and the opening session on the afternoon of Monday, December 15, 2003. Tucker Ferguson, Chief of Construction for PENNDOT and Dan Sanayi, C & SP Engineer, FHWA, served as moderators and opened the afternoon session with an overview of the ACTT process. After welcoming remarks from Gordon Nelson, Secretary of Operations, LDOTD, and Don Tolar, Monroe District Administrator, LDOTD, participants introduced themselves with a brief technical background.
A bus tour of the project location and alternate river crossings and detour routes was taken to familiarize workshop attendees with the site and its restraints. Upon return to the meeting center, an overview of the project's background, current status, and traffic considerations was presented by the District Construction and Traffic Engineers. Participants were then exposed to a sampling of North Louisiana cuisine at an informal "ice-breaking" reception.
3.2 Workshop Process and Recommendations
On Tuesday, December 16, 2003, the "working" sessions began with a more in-depth presentation by the moderators on "Why ACTT? Why Now?" The mechanics of how the skill set brainstorming sessions would function were explained, and the participants broke into groups to begin work. Prior to the lunch break, the initial findings of each skill set were presented by the group leader to the entire assembly. For the afternoon session, initial skills set members were encouraged to intermingle with other groups to develop the final recommendations. The spokesman for each skill set presented a list of recommendations with any qualifying remarks. The District Administrator and District Construction Engineer then commented on individual recommendations and the collective process. The moderators presented brief closing remarks to end the workshop.
3.2.1 Traffic
The primary consideration for traffic was to maintain traffic flow for the mainline Interstate roadway. The Preliminary Ideas are possible alternatives that would accommodate the anticipated traffic volume and allow no more than 30 minutes of motorist delay.
3.2.1.1 Preliminary Recommendations
There were four Preliminary Ideas considered for accommodating the anticipated traffic volumes during the I-20 elevated section repairs while maintaining motorist delays at acceptable levels. The four Preliminary Ideas were as follows:
Keep one lane open on the Interstate at night and keep all existing lanes open during the day. Allow I-20 lane closures only from 7:00 p.m. to 6:00 a.m., 7 days/week.

Keep one lane open on the Interstate at all times and allow one or two lanes of traffic to detour from I-20 onto Layton Avenue and Calypso Street.


Eastbound
One lane on I-20 open at all times and provide for one lane continuous flow detour from I-20 onto Layton Avenue. Allow I-20 lane closures only from 7:00 p.m. to 6:00 a.m., 7 days/week.
Eastbound
One lane on I-20 open at all times and provide for two lanes continuous flow detour from I-20 onto Layton Avenue. Allow I-20 lane closures 24 hours/day, 7 days/week.
Westbound
One lane on I-20 open at all times and provide for one lane continuous flow detour from I-20 onto Calypso Street. Allow I-20 lane closures only on the weekend, from 8:00 p.m. Friday night to 6:00 a.m. Monday morning, or from 7:00 p.m. to 6:00 a.m., 7 days/week.


Completely close the Interstate at night and provide for one lane continuous flow detour from I-20 onto Layton Avenue eastbound and Calypso Street westbound. Allow I-20 lane closures only from 7:00 p.m. to 6:00 a.m., 7 days/week.

Completely close the Interstate on weekends and provide for two lanes continuous flow detour from I-20 onto Layton Avenue eastbound and Calypso Street westbound. Allow I-20 lane closures only on the weekend, from 8:00 p.m. Friday night to 6:00 a.m. Monday morning.
Once the Preliminary Ideas had been shared with the ACTT Workshop participants, the construction group indicated that the necessary repairs could be completed if the contractor had 12 continuous hours of work time per day, including the time required to set up and remove traffic control devices. With this information, the traffic group modified the Preliminary Ideas as necessary to meet the time requirements established by the construction team, while still maintaining motorist delays at 30 minutes or less. In addition, the consensus of the traffic group was that all Interstate traffic detours should be restricted to the roadway network adjacent to the Interstate, and Interstate traffic should not be detoured to other Ouachita River crossings.
Considering the information provided by the construction team and the traffic operation analysis, two acceptable final traffic control alternatives were formulated. These two Final Ideas are as follows:
Option 1
Completely close the Interstate to traffic at night, 6:30 p.m. to 6:30 a.m., and provide for two lanes of continuous flow traffic to detour from I-20 onto Layton Avenue eastbound and Calypso Street westbound. Allow I-20 lane closures only from 6:30 p.m. to 6:30 a.m., 7 days/week.

Option 2
Close one lane on the Interstate at night, 6:30 p.m. to 6:30 a.m., and maintain one lane of traffic on the Interstate. Allow I-20 lane closures only from 6:30 p.m. to 6:30 a.m., 7 days/week.
For both Final Idea options, it is recommended that construction on the Interstate take place in only one direction at a time. In both options, lane closures on the Interstate will only be permitted from 6:30 p.m. to 6:30 a.m., 7 days/week, including the time required to set up and remove traffic control devices from the Interstate. Since the construction team felt that productivity would significantly decline working 7 days/week, it is recommended that the contractor only be required to work 5 days/week. It is also recommended that the LA-34 eastbound on-ramp and the LA-594 westbound on-ramp be closed, and pedestrian access be limited or restricted directly below the work area during these hours. In addition, both options should utilize the following traffic control measures as necessary:
Employ advance signing and advance notification of the work zone (up to 100 or more miles away) to allow for alternate routes.
Notify trucking industry.
Modify traffic signals on other river crossings to allow for dynamic traffic flows.
Use aggressive incident management practices.
Employ smart work zones.
Establish motorist assistance patrols.
Advance public relations campaign.
3.2.1.2 Final Recommendation - Option 1
For Option 1, a local street closure plan will be required. In addition, on-ramps and off-ramps will have to be modified and striping modifications will be necessary to accommodate two lanes of detoured Interstate traffic on Layton Avenue and Calypso Street.
Westbound
Two lanes will exit the Interstate at the US-165 Business (Civic Center) Exit and travel along Calypso Street to the I-20 westbound on-ramp at Catalpa Street. All northbound and southbound traffic on US-165 Business, Hart Street, Hall Street, and Catalpa Street will be prohibited, and only westbound Interstate traffic will be allowed to use Calypso Street. Modifications to the raised concrete island and traffic signal at the intersection of US-165 Business and the I-20 westbound off-ramp will be required to provide for two lanes of detoured Interstate traffic on Calypso Street. This option will also require temporary geometric modifications of the I-20 westbound on-ramp at Catalpa Street to provide for two lanes of detoured traffic.

Eastbound
Two lanes will exit the Interstate at the Jackson Street Exit and travel along Layton Avenue. The inside lane will stay on the off-ramp to Catalpa/South 2nd Street and then travel along Layton Avenue and re-enter the Interstate at the Hall Street on-ramp. The outside lane will immediately exit onto Layton Avenue and travel along Layton Avenue to US-165 Business. Motorists will then turn south (right) onto US-165 Business and turn east (left) onto the I-20 eastbound on-ramp. Northbound and southbound traffic will be prohibited on Jackson Street, Catalpa/South 2nd Street, 4th Street, and Hart Street. Southbound traffic will be prohibited on US-165 Business. Northbound traffic on US-165 business may be detoured to Stone Avenue.
3.2.1.3 Final Recommendations - Option 2
Option 2 will only require the use of the Department's Standard Plans for a lane closure on the Interstate.
3.2.1.4 Traffic Conclusions
Of the two final options, the traffic group consensus was that Option 1 provided the best traffic flow and allowed the contractor to have the entire roadway to perform repairs. Therefore, Option 1 should provide for the fastest means of construction and offer the safest means of protecting the work area. Additionally, if maintaining two lanes of detoured Interstate traffic is unfeasible, the queue analyses showed that one lane of continuous flow detour from I-20 onto Layton Avenue or Calypso Street from 6:30 p.m. to 6:30 a.m., 7 days/week, would result in traffic delays of less than 30 minutes.
3.2.2 Structures/Materials
The structures/materials group was challenged to examine method and material options that would allow fast-tracking a bridge deck resurfacing operation without sacrificing quality or longevity of the final product.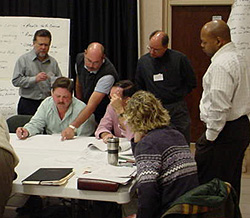 The participants of this group represented a composite of diverse skills with materials, research, construction, design, structures and specifications experience. The morning session was devoted to identifying types of overlay materials that could be used, the different methods of deck preparation, and means of providing corrosion protection. The levels of anticipated patching and alternate replacement types of barrier rail were also evaluated. The preliminary lists of all elements of construction were displayed as discussion then focused on the probable working times and traffic constraints. The group began to center on available techniques that would provide a durable deck surface within a minimum construction time.
After discussion with members of the Traffic and Construction skills sets, the combinations of surface preparation methods and material selection were further refined into viable options, with the advantages and disadvantages of each being presented. In conjunction with a similar recommendation from the construction group, the structures/materials skill set suggested the limits of the project be extended to include the entire 2.9-km (1.8-mi) structure to perform all needed rehabilitation at one time, thus avoiding multiple disruptions of traffic over several years and forestalling more serious measures being required to restore the deck surface.
The overlay material of choice for the laminated deck areas was Very Early Strength (Rapid Set) Latex Modified Concrete (LMC-VE). With no "permanent" detour route available for Interstate motorists, the existing deck would have to be reopened daily to through traffic. The use of structural fibers to improve the toughness of the overlay should also be considered. Placement of the overlay while the bridge was closed to traffic was recommended to avoid premature cracking of the mat or strength loss due to vibration.
The group prepared a matrix of surface preparation methods to be used in conjunction with the overlay to be weighed by the advantages or disadvantages of each.
Hydro-demolition to an 8-cm (3-in) depth presented the best method to ensure removal of poor existing concrete areas and best long-term corrosion protection (Longest life). However, this method requires more construction time, may result in more deck patching, and was deemed the most costly.

Hydro-demolition to an 3.8-cm (1.5-in) depth required no change in grade to the steel end dam structures as in Method 1, provided there was a good bonding surface, and was less time consuming and less expensive than deep removal. Disadvantages included a possible shorter life cycle due to the thinner overlay or failure to remove all existing laminated material, any hydro-demolition could result in isolated total deck section failures, and deep patch removal would require extensive labor (i.e., jack hammer).

Cold mill 1.27-2.54 cm (0.5-1 in) required the least surface preparation time and avoided potential deck collapse problems. This method was determined to present the overall shortest construction time and least cost. Negative features of this method were all the steel joints would require adjustment to accommodate the change in grade, the bonding characteristics of the milled surface were not as desirable as hydro-demolition, and the additional labor required for deeper patches.
The structures/materials skill set did not promote a defining option, but left the final selection to the judgment of the Department's Design Team.
Line items for the various patch types to be encountered were presented. The use of lightweight concrete barrier rail modification was preferred due to the aesthetics and reduced maintenance costs.
3.2.3 Construction
Members of the construction skill set developed concepts for deck rehabilitation processes, which would provide minimal impact to traffic flow and reduce overall construction time. The construction skill set group's brainstorming session produced a myriad of ideas to unite into the project. These ideas were generally divided into pre-construction activities and project management items to be incorporated into the plans and specifications. A key element of the pre-construction ideas was an aggressive public relations campaign to ensure the visibility of the project and its impact on the local area. Within the course of the project, methods to maintain traffic flow, despite disruptions such as accidents or stalled vehicles, were explored.
After incorporation of ideas from the material and traffic skill sets, the construction group formulated their preliminary ideas into the following project strategies.
3.2.3.1 Preconstruction
Extend the project limits — The group viewed the overall condition of the elevated section and determined that the best "get in-get out" concept would be to rehabilitate the entire deck structure at one time utilizing a variety of methods.

Public relations campaign — A broad scope of awareness was needed to prepare through traffic for the work zone. To reach Interstate travelers, posting information at the border Rest Areas and distributing it through the media was recommended. Real time display of the active work in progress on the Department's Internet site, through the Monroe trade area media, and via Dynamic Message Signs (DMS) preceding the work zone was deemed imperative. Pre-construction status presentations by the District would be continued to maintain an open relationship with community government and business leaders.

Innovative contract methods — To minimize construction time, the project should incorporate elements of incentive/disincentive and work plus time (A + B) bidding, and the contractor should be encouraged to present viable value engineering solutions to hasten the project.

Optimization of letting date — The group proposed that construction on other high impact traffic projects within the area be completed prior to beginning work on the Interstate. As the materials were very temperature sensitive, a letting date that would allow construction to occur during prime weather conditions was proposed.
3.2.3.2 Project Management
Utilize full bridge closure as much as possible. To meet anticipated placement rates for the overlay, the group proposed maximum use of night work, when the Interstate could be closed to traffic. By maximizing times proposed by the traffic group, the optimum production time would occur at night. This was especially the case for the westbound roadway, wherein the ground detour was only available on weekends.

Traffic control measures combined with the public awareness campaign. The immediate work zone warnings and elements were deemed critical to project success. An advanced system utilizing DMS linked to queue sensors was proposed to advance the warning of delays to approaching traffic. The use of law enforcement personnel for traffic control and a Motorist Assistance Program with the capability to immediately remove immobilized vehicles was suggested.

Complete all preparatory work, identify staging areas and access. Several ramps require rehabilitation prior to use for Interstate traffic. To maintain two lanes of traffic on the proposed ground routes, modifications to existing intersections, including possible temporary signalization, is required. The plans should also clearly identify where the contractor may store equipment and materials within the project site and how he may access the deck without conflict with traffic.

Provide for emergency surfacing. Due to the compressed work time available, any delays or unexpected events, such as rainfall or significant deck loss by hydro-demolition, the contractor must be prepared to restore traffic to the Interstate roadway at the time required. It was recommended the Department set the guidelines for the appropriate type of plate, grid, or other suitable temporary material that could be utilized in emergency situations for traffic.
The Construction group also suggested specifications for adequate lighting be developed for nighttime work. All groups agreed that due to the complexity of the traffic control, work should be sequenced to allow construction only in the eastbound or westbound direction until completion.