Partnering for Innovation
US 421/I-40 Business in Winston-Salem
3. Skill Set Recommendations
3.1. Utilities/Railroad/ROW/3rd Party Constraints
The utilities/railroad/ROW/3rd party constraints team offered the following recommendations:
Let multiple early contracts for bridge removal (i.e., for Green Street, Spruce Street and Church Street), utility relocation and pedestrian/bike bridge construction.
Coordinate between ROW acquisition and utility relocations.
Identify environmental permitting issues regarding utility relocations early in the process.
Address potential railroad permitting/agreement issues.
Determine existing ROW limits.
Define any limitations on additional ROW acquisition (i.e., historic properties or high-cost properties).
Explore public-private partnerships (PPP).
Eliminate the Green Street Bridge. This will provide a corridor for overhead utilities.
Build the pedestrian/bike bridge at the Broad Street Bridge prior to letting project U-2728B.
The team noted no major utility issues at Brookstown Avenue and High Street, Poplar Street, the Spruce Street Bridge, the Marshall Street Bridge or the Main Street Bridge.
3.2. Historic Properties/Human Environment/Public Involvement
The historic properties/human environment/public involvement skill set brainstormed the following ideas:
Re-examine design speed. Is a "business" designation needed?
Re-examine access points.
Investigate possible staging areas.
Research noise, visual and vibration impacts.
Closely examine the impact of possible detour routes and of collector-distributor (C-D)/frontage roads on historic properties.
Involve commuters from the outlying areas; they are just one of many key stakeholders.
Implement several methods to communicate construction activities.
Clearly communicate project schedules.
Reach out to low-literacy and Environmental Justice (EJ) populations.
Develop an aesthetics master plan (gateways, entrances or other identifiers of community) that considers the view for the traveler and area neighborhoods.
Look at how changes in horizontal and vertical alignments will affect adjacent communities.
Define connectivity in order to address issues such as location of sidewalks, bike lanes, tunnels, culverts, etc.
Develop a "business survival guide."
Provide a "route planner" on the web site to deal with detours.
Have businesses sponsor aesthetic details in the project to provide goodwill.
Provide multiple detour routes to disperse detoured traffic to desired community destinations.
Develop a vibration plan for historic properties.
Provide for temporary noise attenuation during construction.
Coordinate with other construction projects to minimize disruptions to the traveling public.
Work with hospitals, emergency service providers and other major civic institutions (i.e., the courthouse) to develop detours and maintain access.
Work with local colleges on special event issues.
Look at Park and Ride opportunities for special events, large employers, etc.
Conduct a detailed study of potential detour routes following origin/destination survey results.
Coordinate with the street car project.
Maintain consistency with City bike/pedestrian plans.
Preserve existing strollways.
3.3. Traffic Engineering/Safety/ITS
The traffic engineering/safety/ITS group suggested the following:
Do required network improvements prior to this project, i.e., interim improvements to US 52, construction of the Salem Creek Connector, extension of MLK Jr. Drive, upgrading of the signal system, modification of network signing, and construction of Silas Creek Parkway at Yorkshire Road (highly recommended).
Complete Peters Creek Parkway prior to beginning construction on I-40 Business.
Maintain eastbound access from Main Street to I-40 Business for the life of the project.
Complete the Main Street ramp to Cherry Street prior to beginning construction on I-40 Business.
Maintain ramp from Main Street to Cherry Street for the life of the project.
Provide contractor motivation; incentives and disincentives are essential to reducing the duration of the project.
Consider the reversible lane concept at Broad Street.
Develop a formal transportation management plan.
Enhance transit capabilities.
Utilize law enforcement as appropriate.
Provide a project web site and media connection to Traffic Management Center (TMC) cameras.
Provide regional and real-time coordination.
Utilize highway advisory radio (HAR) and a citizen band (CB) radio wizard.
Incorporate permanent ITS into the project.
Utilize/coordinate with 511.
Coordinate among neighboring states, divisions and locals, particularly in regard to construction and maintenance schedules (along I-77, I-40, US 52, etc.).
Establish a project office.
Make special events coordination a priority.
Consider eliminating bridges and/or ramps.
Minimize weaving.
Obtain full shoulders.
Make worker safety a priority.
Increase law enforcement patrol.
Plan for the possible closure of both I-40 and I-40 Business.
Require a towing contract.
Ensure mobility of responders.
Ensure public access to medical/emergency facilities.
Consider greenway connections for bike and pedestrian traffic, and coordinate with existing and developing plans.
Remove the I-40 Business designation, and use branding to reduce confusion.
3.4. Geometric/Hydraulic Design
The geometric/hydraulic design team offered the following recommendations:
Eliminate the access at Broad Street, and move it to the Peters Creek Parkway interchange. Extend the proposed construction limits of Peters Creek Parkway to First Street in conjunction with future urban redevelopment plans.
Manage access by developing the two proposed interchanges to replace the current four.
Lower the mainline profile to improve sight distance only in the vicinity of Marshall Street/Cherry Street.
Consider a split diamond interchange with one-way C-D roads.

Construct a C-D from Marshall Street to Main Street, with access provided to Marshall Street, Cherry Street, Liberty Street and Main Street.
Cantilever or box I-40 Business from Marshall Street to Cherry Street.
Replace the Liberty Street mainline viaduct with a walled section or split diamond to Marshall Street and Cherry Street. There's no need for a C-D road and/or access to Main Street.

Relocate the Liberty Street to Main Street alignment.
Prohibit vehicle access at Fourth Street, Green Street and Spruce Street.
Consider bike and pedestrian enhancements, i.e., wider bridges.
Add access lanes in each direction.
Utilize a 14- to 18-month total closure.
Figure 1: Geometric/Hydraulic Design Team Sketch
The geometric/hydraulic design team sketched their concept for the split diamond interchange with one-way C-D roads.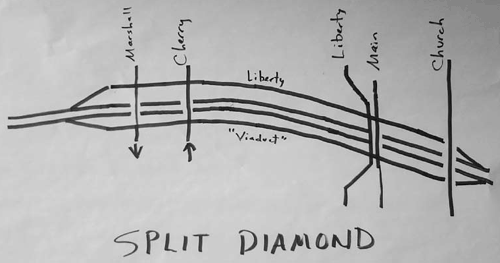 3.5. Structures
The structures crew offered numerous suggestions:
Consider Y-line closures where feasible, i.e., at Fourth Street, Green Street and Spruce Street.
Shorten the L-line bridges. Use parallel mechanically stabilized earth (MSE) walls with fill and precast, three-sided culvert or prefabricated arch-type structures when spanning Liberty Street, the Strolling Path and Brookstown Avenue.
Employ strategies to improve vertical clearance at the Y-line bridges. Use non-conventional bridge types with shallow superstructures, i.e., tied arch, C channel, etc. Eliminate the median pier, and use prefabrication and launching where appropriate.
Reconfigure the project end regions at Peters Creek Parkway and Main/Church Street. Let separate projects to complete the work up-front. Conventional interchange structures, staged as necessary, may be adequate.
Employ frontage roads in the central region where feasible, depending on ROW and roadway design issues. Construct the frontage roads prior to commencing work on I-40 Business; this will minimize the effect on local and through traffic.
Incorporate one or more distinct Y-line structures in the central region that differ from those outside the central region, which would all be similar in type.
Minimize noise and vibrations by limiting pile driving. Consider alternative foundation types, such as drilled shafts, slurry walls and micropiles.
Figure 2: Structures Group Sketch
The structures group sketched a possible concept for a distinct structure in the central region.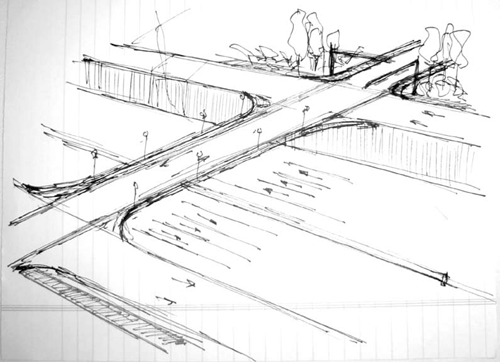 3.6. Long Life Pavements/Maintenance
The long life pavements/maintenance skill set discussed a series of innovative ideas:
Consider continuously reinforced concrete pavement (CRCP), traditional jointed concrete and/or composite pavement.
Remember that a small increase in thickness yields a large increase in service life.
Obtain realistic traffic estimates.
Construct a regular lane with a tied, full-depth concrete shoulder.
Consider widened lanes with asphalt shoulders.
Provide for cement stabilization.
Select appropriate materials.
Address unique surface characteristics.
Shut down the road so paving can be done in a continuous operation.
Shut down one direction at a time.
Build under traffic.
Consider concrete ramps.
Connect the under drain/shoulder drain to drainage structures.
Replace all storm drainage; consider legal and illegal encroachments; and use storm drainage best management practices (BMPs).
Encase utilities in a precast vault (under or outside the shoulder) to avoid future damage to the pavement. Share the cost with fiber companies.
Consider various uses for old roadway and bridge concrete. They include subgrade stabilization, fill, aggregate base (if needed), crush-in-place, use for maintenance operations (for driveways, shoulder stabilization, etc.), staging material at urban redevelopment sites, etc.
Incorporate beautification elements such as concrete imprints and colorings; retaining wall/noise wall décor; white cement median barriers; and low-maintenance landscaping.
Utilize ITS technologies, including cameras and message boards.
Address issues such as barrier rail and glare screens, lighting, and pavement markers and markings.
Eliminate guardrail as much as possible, and consider using epoxy steel in the pavement.
Obtain public buy-in to the project by creating a comprehensive communications plan.
3.7. Construction
The construction team offered the following recommendations:
Phase the project to facilitate construction for the interior portions of the corridor.

Perform improvements to the Main Street exit and Peters Creek Parkway interchange first, and include US 52 ramp improvements to better accommodate traffic.
Consider three-phase construction:

Peters Creek Parkway.
All remaining structures.
The mainline and connectors/ramps.

Utilize phased bridge construction at the Peters Creek Parkway interchange. Construct in two phases, and maintain traffic on the existing bridge during the first phase.
Add capacity for the eastbound loop to Peters Creek Parkway.
Limit the duration of the mainline closure through the use of incentives, land rentals, critical path methods (CPM), etc. NCDOT should generate CPM prior to issuing the request for proposal (RFP).
Maintain one north-south route with access to I-40 Business at all times, and clearly define these parameters in the RFP.

Promote traffic mobility.

Replace the Broad Street structure and improve pedestrian capacity in lieu of eliminating the Green Street, Fourth Street and Spruce Street bridges.

Minimize rock excavation.

Evaluate profiles throughout the corridor to see if and where rock excavation is needed.
Require qualification criteria for the contractor for any blasting or other forms of rock excavation.
Address potential noise and damage issues related to blasting.
Raise the grade on Y-lines to avoid excavation on the mainline.
Evaluate using existing retaining walls; minimize symmetrical widening (ROW takes).

Select appropriate pavements.

Utilize concrete for long-term maintenance. Minimize fast-track paving; there are durability concerns.
Avoid multiple mobilizations of concrete paving equipment (Peters Creek Parkway, Phase I construction, etc.).
Utilize a single saw-cut on concrete pavement with no seal.
Consider a composite pavement design; this will reduce noise and maintenance concerns.
Survey existing soil conditions to determine the best subgrade construction.
Recycle existing concrete pavement.

Accommodate pedestrian traffic.

Provide viable alternatives where existing structures will be eliminated.
Account for and enhance the strollway between Second Street and Liberty Street.

Utilize accelerated construction methods.

Use fill sections or retaining walls to reduce the length of the mainline bridge over Liberty Street. Confirm parking arrangement and details beneath the existing bridge prior to construction.
Incorporate standardized precast structure components, where feasible, to expedite Y-line construction. Confirm storage and casting areas for the precast units.
Verify utility relocation requirements, and prioritize the order to coincide with construction phasing.
Utilize 3-D design (maybe even 4-D), with transferable data files for construction.

Plan for access and staging areas.

Coordinate with the City to find potential sites to store materials and equipment, i.e., the quadrants at Peters Creek Parkway and east of Church Street.

Promote effective contract administration.

Obtain a commitment from all levels to ensure quick decision-making, submittal turnaround and up-to-date information on construction activities. Key partners include NCDOT, the City of Winston-Salem, the contractor(s) and resource agencies.
Encourage design-build (D-B) or an arrangement for continued design services during construction.
Establish an on-site office for project personnel.

Address disposal of existing materials.

Address red lead, asbestos, concrete pavement and bridge demolition.
Identify potential on-site waste areas.
3.8. Geotechnical/Materials/Accelerated Testing
The geotechnical/materials/accelerated testing group offered recommendations in the areas of structures, roadway, geotechnical and pavement:
Structures
Use clear-span structures.
Phase construction of all foundations and walls.
Eliminate the structures at Fourth Street, Green Street and Spruce Street.
Utilize tangent, drilled-shaft retaining walls, texture and color to complement the existing architecture.
Consider precast units for both the substructure and the superstructure.
Widen structures to create pedestrian-friendly areas and improve aesthetics, i.e., pedestrian bridges.
Roadway
Utilize geofoam blocks to accelerate embankment construction. They cost more, require steeper side slopes and involve potential settlement issues, but their use will reduce ROW needs.
Geotechnical
Acquire geotechnical information early; accurate data is critical.

Define conditions at the walls, foundations and roadway.
Identify blasting requirements.
Estimate subgrade stabilization needs.

Incorporate vibration monitoring, utilizing preconstruction surveys and public education. This will aid in the protection of historic structures.
Utilize intelligent compaction techniques. Include continuous monitoring of embankments and comprehensive stiffness information. The benefits include quicker compaction and a reduction in compaction testing.
Pavement
Utilize an unbonded overlay where possible. Reduce the stabilization/undercut.
Consider precast panels for the pavement.
Use maturity meters to:

Estimate in-place strengths.
Provide for early traffic entry.
Reduce the need for testing.

Utilize recycled materials such as rubblized asphalt (provides a stable platform for flexible pavement) and concrete.

Reduces waste.
Provides an onsite backfill material.
Provides a base course alternative.
Can grade for specific uses.
3.9. Public Information
The public information skill set discussed everything from a project brand to a comprehensive community relations plan. Their recommendations are as follows:
Identify current facility deficiencies and corrective measures.
Brand the project, beginning with US 52 improvements. "Branding" includes developing a logo and slogan and naming the corridor with citizen participation, i.e., "Getting There Together."
Form a community relations committee.
Develop a community relations plan.
Provide seamless communication, remembering that individual groups may need to step outside of their normal roles.
Identify and involve all stakeholders and partners. They include the City of Winston-Salem, various metropolitan planning organizations (MPOs), residents, downtown business partners, the medical community and so forth.
Identify traditional and nontraditional communication tools, including:

Project web site.
511.
News releases/advisories.
Strong media relations.
Project tabloid.
The "face" of the project.
Project hotline.

Include public information in the construction matrix for milestones.
Utilize the latest technologies.
Develop both a media kit and a business tool kit, the latter focusing on "How to Survive."
Provide and continue media training for project personnel throughout the life of the project.

Require customer service training for all project staff.
Incorporate cultural outreach (multi-generational involvement in art projects for things such as logo design, a calendar and so forth). Involve the NC School of the Arts, universities, seniors and neighborhoods.
Sponsor a contest to name "the signature corridor."
Consider the aesthetics of all design elements.
Consider charrettes (meetings to solve a problem or issue) for bridges within the project area.
Hold community meetings.

Maintain credibility.

Be truthful about the impacts to commuters, residents and businesses.
Honor schedule commitments and deadlines.
Tout innovative techniques that offer time or monetary savings or show tax money being spent wisely.