ACTT Workshop: New Hampshire
Bridging Multiple Communities
Chapter 2: Project Details
2.1. Corridor Description
I-93 constitutes a major link in the Northeast's Interstate system, extending from Boston, Massachusetts, to St. Johnsbury, Vermont, just west of the Vermont/New Hampshire border. This link is vital not only to commuters, but also to State commerce and tourism. Therefore, it is an integral component of the State's economy.
The I-93 Improvements corridor begins at the New Hampshire/Massachusetts State line in the town of Salem and continues north 19.8 miles to the I-93/I-293 interchange. The project passes through five communities - Salem, Windham, Derry, Londonderry and Manchester - which are accessed via exits one through five, respectively. The project corridor also includes sections of NH Route 97 (Pelham Road), NH Route 111, NH Route 111A, NH Route 102 and NH Route 28, as well as several other municipally-owned and maintained roadways. These roads provide crucial east-west access to dozens of secondary communities throughout southern New Hampshire. Forty-three bridges will be replaced, rehabilitated or widened as part of the I-93 Improvements project.
Figure 1: Project Location Map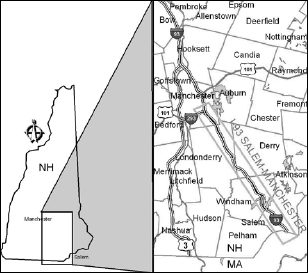 I-93 was constructed in the early 1960s and provides two lanes each in the northbound and southbound barrels. Recent traffic volumes throughout the corridor have exceeded 100,000 vehicles per day (VPD), which far surpasses the 60,000 to 70,000 VPD that the roadway was designed to accommodate. Because the existing two-lane facility lacks the capacity and width to accommodate this level of traffic, motorists encounter regular congestion and backups, and numerous accidents occur, many involving multiple vehicles. Current level of service (LOS) through the corridor ranges from a LOS E from the Massachusetts State line through Exit 3 to a LOS D from Exit 3 to Exit 5. Traffic volumes have been projected to increase to over 140,000 VPD by 2020, which will only further exacerbate the capacity and safety concerns throughout the corridor. Safety and congestion are further compromised by substandard ramp and highway geometry at most of the interchanges. This substandard geometry includes inadequate acceleration and deceleration lanes and lengths, as well as insufficient vehicle storage at the off-ramp locations. These lead to frequent backups at the interchange areas.
2.2. Project Overview
After evaluating various improvement strategies through the preliminary engineering and environmental impact statement (EIS) process, a selected alternative was chosen. Primary features of the selected alternative include widening the existing facility to include four lanes in each direction and improving the capacity and geometric deficiencies at the five project interchanges.
Figure 2: Four Lane Typical Section of Improvement

NHDOT has also incorporated project elements that will enhance alternate modes of transportation. These include the construction of Park and Ride facilities at exits two through five, with a new bus maintenance garage at the Exit 5 facility. In addition, the center median is being designed to accommodate a future light rail system. The project also includes numerous mitigation measures such as noise reduction (sound walls) as well as wetland and water quality initiatives. Specific design elements include the following:
At the Exit 1 interchange, the existing Cross Street Bridge will be replaced with a new structure located just to the north of its existing location. The existing interchange will be reconstructed to improve the substandard ramp geometry.
At Exit 2, the existing interchange will be upgraded to a diamond-type configuration, and Pelham Road will be widened from Policy Road to Stiles Road. Just north of Exit 2, the Brookdale Road Bridge will be replaced offline, utilizing the existing bridge for maintenance of traffic during construction.
At Exit 3, both the northbound and southbound barrels of I-93 will be relocated into the median area. The interchange ramps will be reconfigured with a diamond interchange design. NH 111 and NH 111A will be relocated, reconstructed and widened.
At Exit 4, I-93 will be widened to the east, retaining the existing layout for the southbound ramps. The northbound ramps will be reconstructed to provide longer access ramps. NH 102 will be reconstructed and widened from Londonderry Road to the southbound ramps. The NH 102 Bridge over I-93 will be replaced with a new structure built directly south of the existing bridge. The Ash Street/Pillsbury Road Bridge will be reconstructed online, utilizing a temporary overpass for maintenance of traffic during construction.
At Exit 5, NH 28 will be widened and reconstructed from Symmes Drive to Liberty Drive. This will include reconstruction of the Perkins Road, Vista Ridge and Symmes Drive approaches, as well as the rebuilding of a portion of both Liberty and Independence Drives. The existing diamond interchange will be reconstructed and modernized.
2.3. Project Challenges
As with any major transportation project, the I-93 Improvements project faces many challenges. While many of these issues have been identified and mitigated during the draft environmental impact statement (DEIS) and final environmental impact statement (FEIS) phases, several concerns still need to be addressed through the final design and construction phases. They can be broken into four major groups: financial, socio-economic, environmental and construction.
Financial Challenges.
The overall cost of the I-93 Improvements project is estimated at $480 million. Based on the State's traditional expenditures through their ten year plan (including Federal matching funds), construction of the project would need to be extended over 12 years. After much discussion, the State has proposed using Grant Anticipation Revenue Vehicle (GARVEE) Bonds to fund New Hampshire's share of the project. If GARVEE Bonds are used, the project would no longer be financially constrained, and NHDOT could pursue a much more aggressive six-year construction schedule.
Figure 3: Population Growth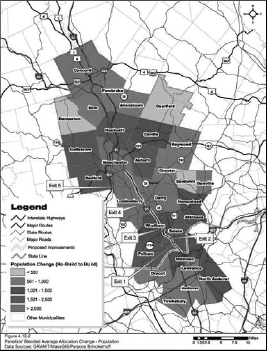 Socio-economic Challenges.
Throughout the EIS process, members of the public expressed concern over the impacts that the I-93 Improvements project would have on "secondary communities" - those towns that do not fall within the project corridor but that would be influenced by the additional highway capacity and resulting regional growth. These communities are typically small, rural towns that do not have the staff resources or funds to prepare for or address issues that are associated with this type of growth. In response to these concerns, NHDOT and the State Office of Energy and Planning have developed the I-93 Community Technical Assistance Program (CTAP) and allocated $3.5 million to assist these communities. Through CTAP, a steering committee has been charged with identifying issues, prioritizing community assistance projects and allocating funding to maximize the benefit of the $3.5 million CTAP allocation.
Figure 4: Population Growth in CTAP Communities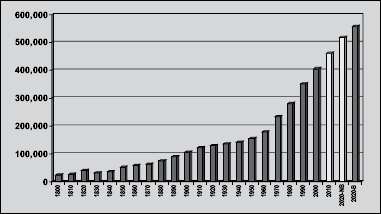 Environmental Challenges.
As with any major highway expansion, the I-93 Improvements project will result in several environmental impacts that could affect endangered species, sensitive habitats, wetlands, historically significant properties/structures, hazardous materials, and noise and water quality.
Through the refinement of the preliminary and final design, NHDOT has successfully addressed and mitigated many of these impacts. Mitigation measures include the addition of sound walls; the creation of wetland sites; the inclusion of special provisions in contract documents that identify and describe specific means and methods for handling hazardous materials, endangered species and sensitive habitats; the documentation, preservation and/or relocation of historically significant properties or structures; and the use of traditional and advanced best management practices to address water quality issues.
Of special concern within the corridor is the current chloride loading in the water courses and the use of salt for snow removal and deicing. While the existing chloride levels are not solely the result of the State's deicing operations (municipal winter maintenance procedures and facilities also play a factor), the addition - and subsequent deicing - of four lanes throughout the corridor could further increase these levels. Because of these potential impacts, the record of decision (ROD) issued by the FHWA only allows the addition of one lane in each direction unless NHDOT can develop specific and measurable means for not increasing existing chloride levels within the corridor. To date, NHDOT has investigated and proposed several means to accomplish this goal:
The quantity of salt used on the improved roadway will be consistent with the Section 401 Water Quality Certification through a number of new and more effective/efficient application methods, applied technology, improved equipment and training. These include the use of salt brine solution in lieu of solid rock salt, a practice already underway in the corridor and successfully used by some other States. In addition, NHDOT will be developing a salt management plan for the I-93 corridor to document reductions in salt usage and to establish an ongoing process for monitoring and documenting the effectiveness of these efforts.
NHDOT will also incorporate roadway weather information system (RWIS) technology to provide maintenance staff with real-time pavement temperature and moisture data. This will help maximize the efficiency of winter maintenance operations and reduce salt usage by providing for more effective timing of materials application. Upgraded equipment will also increase the efficiency of salt usage. Further, as the maintenance fleet is replaced and refurbished, NHDOT will incorporate improvements such as infrared sensors and underbody scraper plows into the new vehicles.
Maintenance personnel assigned to the I-93 corridor will receive frequent and systematic training by NHDOT on salt management reduction techniques and on the location of environmentally sensitive areas along I-93. The State will continue to explore the effectiveness and practicality of alternative deicers for use in environmentally sensitive areas through limited pilot studies and experiments throughout the State.
Finally, NHDOT has agreed to support the New Hampshire Department of Environmental Services in conducting a total maximum daily loading (TMDL) study for water bodies in the corridor designated as impaired for chloride by 1) providing information on NHDOT deicer usage and deicing practices; 2) applying NHDOT data loggers to further data collection and monitoring efforts; and 3) serving as a technical resource on best management practices for salt usage and application. The State has offered to cover part of the cost for a water-body-specific TMDL.
Construction Challenges.
The primary challenge of the I-93 Improvements project will be to develop and maintain effective traffic control plans and phasing throughout construction. As noted above, current daily traffic volumes are in excess of 100,000 VPD, and any lane reductions would have an immediate effect on the mobility of the traveling public. Because of this, NHDOT is committed to providing two lanes of traffic in each direction throughout construction.
A further challenge during construction will be the execution and administration of the 25 proposed construction contracts. State guidelines limit the maximum contract value of construction contracts to encourage moderately-sized local and regional construction companies to bid on projects. Under the current proposal, traffic control and coordination will be a significant challenge.