ACTT Workshop: New Jersey
November 16-18, 2004, Cherry Hill, New Jersey
Chapter 2: Project Overview
The purpose of this project is to improve safety and reduce traffic congestion at the intersection of I-295, I-76, and SR-42. The project will address quality-of-life issues as they relate to the motorist, residents, and the environment.
Presently the I-295, I-76, and SR-42 interchange does not provide a direct connection for I-295 through traffic. The existing interchange requires motorists to reduce speed in both directions of I-295 so that they can safely negotiate ramps with 35 mi/h (56 km/h) speed limits.
Exacerbating the problem is the fact that drivers traveling through the interchange on I-295 must also contend with vehicles entering from SR-42 and I-76, necessitating dangerous weaving movements. As a major carrier of Philadelphia commuter traffic via the Walt Whitman Bridge and a connection to the southern New Jersey shore via SR-42 and the Atlantic City Expressway, this interchange is the busiest in the region.
High volumes of traffic, low mainline design speed, the complex configuration of the interchange, and the weaving movements combine to cause a high incidence of motor vehicle accidents.
2.1 Schedule
The following is a preliminary schedule for the development of the required improvements.
Develop Alternatives 2001-2003
Technical Studies/Alternatives Analysis 2004
Draft Environmental Impact Statement 2005
Final Environmental Impact Statement 2006
Design 2007-2009
Construction 2009-2012
2.2 The Study Area
The I-295, I-76, and SR-42 interchange is located within areas of the Borough of Bellmawr, Borough of Mount Ephraim, and Gloucester City. While the proposed project is primarily focused upon the interchange of the three highways, the project study area encompasses a larger area than the interchange itself. This is necessary to ensure that all prudent and feasible alternatives and potential impacts are examined in the project vicinity. The study area includes I-295, beginning in the north at the Pennsylvania-Reading Railroad tracks (just south of Collett Street, James Avenue, and Route 168) to the south ending at Creek Road (County Route 753). On I-76, the western limit of the study area is the Market Street (County Route 634) bridge over I-76. On SR-42, the project's eastern limit is the extension of Heller Road and Leaf Street, east of Windsor Creek Road.
Figure 1. Map of project area.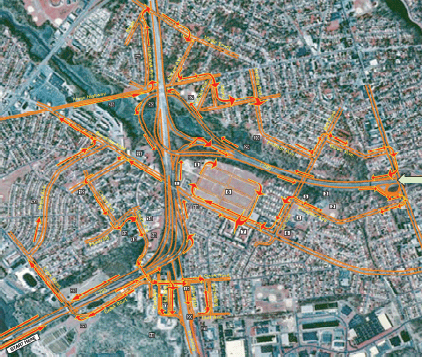 2.3 Background Studies
Between 1985 and 1987, an investigation into the possibility of creating a direct connection with a design speed of 70 mi/h (112 kn/h) was performed. Because it accommodates an optimal design speed, this straightened alignment is preferred from a traffic standpoint, but it would require the taking of a substantial amount of residential properties in the community of Bellmawr. Because of this, NJDOT decided to forego any further detailed data collection and/or analysis of this concept, which has come to be known as the "Unrestricted Alternative."
NJDOT's Bureau of Project Scope Development was then given the assignment to evaluate and develop new conceptual solutions for improving the interchange. Thus far, twelve individual concepts have emerged that seem to be workable from strictly a constructibility standpoint. These concepts depict how design speed, while not attaining the desired 70 mi/h (112 kn/h), can be increased up to 60 mi/h (96 mi/h). Even without the benefit of detailed environmental studies and public or outside agency input, it can be observed that each concept would have some impact to at least one known environmentally sensitive resource.
A key objective of the current phase of NJDOT's effort to improve the I-295/I-76/SR-42 interchange is to evaluate all of the potential impacts of these concepts. Coordination and open lines of communication with the surrounding communities and regulatory agencies will be paramount in the consensus building required to make the necessary decisions on this regionally significant project.
Subsequent to the development of the current alternative concepts for the I-295/I-76/SR-42 interchange, the SR-42 widening project provided an additional fourth lane of travel for vehicles on SR-42 into and out of the interchange to the south. The new lane also eliminates the southbound weaving between I-76 to I-295 and the I-295 to SR-42 movements.
To meet Federal transportation regulations, NJDOT, in conjunction with the Delaware Valley Regional Planning Commission (DVRPC), undertook a transportation investment study (TIS). This study is to provide decisionmakers with comprehensive multimodal alternatives to address identified transportation deficiencies within this area. Included in the TIS is a congestion management study (CMS) that identifies travel demand reduction strategies and operational improvements that complement a potential investment. The initial results of this study confirm a continued need for the direct connection of I-295 movements through the interchange.
Efforts associated with the development of an environmental impact statement (EIS) include:
Project partnering.
Screening.
Topographic survey.
Community involvement.
Traffic count program.
Development of alternatives.
Environmental baseline evaluations and analysis.
Technical environmental studies.
Preparation of an EIS and a selection of an initally preferred alternative.
Figure 2. Environmental constraints map.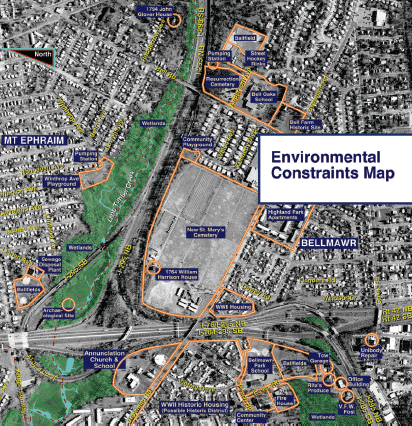 2.4 Public Participation
Public participation is an important component of all NJDOT projects. NJDOT has created a comprehensive public involvement action plan and an outreach program to include the public in the decisionmaking process and include their comments and concerns throughout the project. These include:
Web site.
Newsletter.
Newspaper announcements and mailings.
Audio simulations of before and after noise impacts.
Graphic lighting simulations for the alternatives.
Traffic simulation and animations.
Meetings with community advisory committees and local public officials.
Public outreach meetings.
2.5 Project Objectives
The project objectives are:
Provide direct connectivity for I-295.
Reduce crash rates (currently exceeding 4x the statewide average).
Reduce congestion (identified as one of the 10 most congested locations in New Jersey).
Improve traffic operations for:
The through-traffic on I-295, I-76, and SR-42.
The weaves on I-295 between SR-42 and SR-168.
The weaves on I-76 between Market Street and I-295.
The weaves on SR-42 between I-295 and Creek Road.
Reduce geometric deficiencies.
Improve emergency response operations.
Accommodate environmental concerns.
Improve quality of life.
The estimated cost ranges from greater than $150 million for the least costly alternative to more than $500 million for some of the more costly alternatives.
2.6 Skill Set Description and Goals
The following is a brief description of each skill set and its project-specific goals for the workshop.
2.6.1 Environmental Skill Set
Scope-of-work and construction activities need to reflect environmental concerns to ensure the most accommodating and cost effective product while minimizing natural and socioeconomic impacts.
Environmental Goals:
Minimize impacts to Little Timber Creek and associated wetlands.
Conform to New Jersey Department of Environmental Protection (NJDEP) stormwater regulations.
Mitigate noise and air issues associated with the "tunnel."
Minimize impacts to Section 4(f) properties.
Minimize impact to Bellmawr Park Mutual Housing.
2.6.2 Roadway/Geometric Design Skill Set
Highway geometrics can have a great impact on project funds and integrity. Although designers may have several options meeting design standard requirements, identifying the most accommodating product while minimizing impacts should be the objective.
Roadway/Geometric Design Goals:
Maintain 60 mph (97 kph) and 45 mph (72 kph) design speeds for mainline and ramps, respectively.
Provide a typical section that minimizes design exceptions (i.e., full shoulders).
Maximize weaving lengths with adjacent interchanges.
Provide two-lane ramps where volumes justify it.
2.6.3 Geotechnical Skill Set
Geotechnical subsurface conditions and issues should be explored to assess their impacts on the project. Based on the geography of the project, subsurface investigations may be complicated by traffic volume, wetlands, utilities, railroad property, and right-of-way (ROW). The use of innovative materials should be explored and encouraged on projects to maximize the creative characteristics of the designer and contractor. By identifying project performance goals and objectives, the designer and contractor have the maximum freedom to determine the appropriate methodology for constructing the project.
The length of the underpass in Alternative K is also of concern, due to motorist safety and hazardous cargo issues.
Geotechnical Goals:
Construction of underpass structures to minimize construction duration and impact to the traveling public.
Mainline underpass that is not classified as a "tunnel."
Retaining wall systems that satisfy roadway geometric, construction staging, and ROW constraints.
Means of addressing existing pile foundations at locations where geometrics require the construction of new substructure units.
2.6.4 Structures Skill Set
The existing I-76/SR-42 corridor through the Browning Road area is striped to provide minimal shoulders and has private property improvements immediately adjacent to the existing ROW. The proposed Direct Connection alignment will require the construction of new roadways (elevated and/or depressed) crossing the corridor at flat angles and retaining walls adjacent to the existing ROW. Several local roadways and a railway cross the I-76/SR-42 and I-295 corridors, which will require replacement to accommodate the improvements. The existing structures are generally supported on timber pile foundations. The corridors also have existing noise barriers that will need to be maintained and potentially supplemented.
It is desirable to provide low-maintenance, economical, and aesthetically pleasing structures that minimize adverse project impacts (ROW, maintenance and protection of traffic (MPT), construction duration, and environmental).
Structure Goals:
Low-maintenance, economical, and aesthetically pleasing bridge types that satisfy roadway geometric, construction staging, and MPT constraints.
Retaining wall systems that satisfy roadway geometric, construction staging, and ROW constraints.
Bridge types and means of construction to minimize construction and duration for replacement of existing bridges.
Means of addressing existing pile foundations at locations where geometrics require the construction of new substructure units.
Construction of underpass structures to minimize construction duration and impact to the traveling public.
Use of prefabricated components where practical.
Use of high-performance materials where practical.
2.6.5 Traffic/ITS/Safety Skill Set
Enhanced safety and improved traffic management by corridor contracting should be considered. Developing and evaluating contract models may illustrate the best use of incentives to enhance safety and improve traffic flow during and after construction. Evaluating both the construction and maintenance work may help assess traffic and safety issues more fully than the conventional project-by-project approach. Another goal is to provide better information to the traveling public and politicians on the relationships among crashes, delays, mobility, total traffic volume, truck traffic volumes, and the need for lane closures during construction. Implementing integrated ITS systems to communicate construction information to motorists via radio, Internet, and wireless alerts, along with incident management systems/services will be considered.
Traffic/ITS/Safety Goals:
Maintain existing number of lanes on I-295/I-76/SR-42 from 5 a.m. to 11 p.m.
Maintain one lane of travel in each direction and a sidewalk at each local road crossing.
Minimize impact to traffic.
Clear and well-signed traffic patterns.
Ensure contractor and motorist safety.
Incident management systems.
Media relations.
2.6.6 Construction (Techniques, Automation, and Constructability) Skill Set
Accelerated construction may increase the challenge for the contractor to deliver a quality product in confined time frames and areas, while maintaining traffic. Completion milestones and MPT are key elements visible to the traveling public. Allowing contractors to have input during the design process on design elements that would have an impact on time or quality during construction can improve the effectiveness and efficiency of the overall project completion. The use of the latest technology to enhance construction equipment performance, construction engineering and surveying, data collection and documentation, and contract administration should be explored and implemented.
Construction Goals:
Staging.
Contractor staging area.
Minimize impact to traffic.
Multiple contracts versus large contract.
Minimize cost and duration.
2.6.7 Innovative Contracting/Financing Skill Set
It is important to align the financing options with the goals of the project by matching anticipated cash flow with project management, while recognizing competing priorities for existing resources. Financing tools could include cost sharing strategies, tolling mechanisms, contractor financing, leveraging techniques, credit assistance, and cost management and containment concepts.
State of the art in contracting practices should be explored to obtain a better knowledge of how these techniques could be selected, organized, and assembled to match the specific situations needed on this project. Techniques to be considered include performance-related specifications, warranties, design/build, maintain, operate, cost + time, partnering escalation agreements, lane rental, incentive/disincentives, value engineering, and any other innovative contracting techniques that would apply to the project.
Innovative Contracting/Financing Goals:
A+B bidding.
New construction methods to encourage contractors to speed up construction.
Partnering to speed up the decisionmaking process.
Advanced construction contracts.
2.6.8 Public Relations Skill Set
Partnering with the local community, including elected officials, community groups, and emergency management personnel should be considered. Proactively engage the traffic reporting agencies and media to gain support for the project. Explore the development of a local/State team for emergency response and incident management. Identify and deploy best practices for information deployment to local business, organizations, and community members.
Public Relations Goals:
Gain acceptance of the community for accelerated construction.
Develop a plan for engagement of the community to communicate how acceleration would work and the benefits to the community.
Minimize community impacts.
Minimize use of secondary roads during construction.
Collaborate on emergency response and incident management with the community.
Publicize the project well in advance to allow the public to change/adapt to patterns.
Collaborate with the media on traffic mitigation.
Develop a strategic marketing plan to ease congestion during construction using traffic mitigation tools.