ACTT Workshop: Ohio
Enhancing Mobility: The I-70/I-71 South Innerbelt Corridor
Project Details
2. Project Details
2.1. Project Overview
The I-70/I-71 South Innerbelt Corridor in downtown Columbus, known locally as the "downtown split," is one of the busiest and most vital sections of highway in the region. Built in the 1960s, the highway lacks the capacity to serve the 150,000 vehicles and 17,000 trucks that traverse it daily. While the project corridor makes up only six percent of the freeway system, it is the site of 27 percent of all I-70/I-71 freeway accidents occurring in Franklin County.
The corridor is bounded on the north by I-71 and Fifth Avenue; on the south by I-71 and Greenlawn Avenue; on the west by I-70 and Mound Street; and on the east by I-70 and Eighteenth Street.
Figure 1: The Columbus Crossroads – I-70/I-71 South Innerbelt Corridor Study area.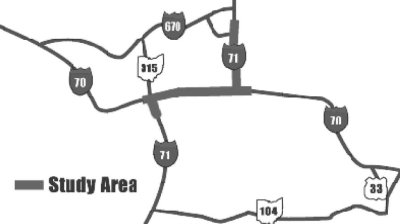 2.2. Project History and Development
The I-70/I-71 South Innerbelt design was considered a groundbreaking solution for traffic congestion in the 1960s: it addressed the need to reduce congestion in the downtown Columbus area while adding to the Interstate system and improving regional mobility.
Like many Interstate corridors, the I-70/I-71 South Innerbelt plays host to a mix of local and through travelers. An origin and destination study conducted by ODOT from 1995 to 1997 showed that between 25 to 30 percent of daily traffic was on long-distance trips, while between 70 to 75 percent was on local or commuter trips with origins or destinations within the Columbus area. The survey also determined that 60 to 70 percent of trucks utilizing the Columbus Crossroads were on long-distance rather than local trips.
Faced with increasing traffic counts, operational deficiencies and a population that is expected to grow 36 percent by 2030, ODOT conducted a Major Investment Study (MIS). After two years of public input, the department issued a Strategic Plan Summary in 2004 that identified three possible alternatives needing additional study: a one-way pair of collector-distributor (C-D) roads; a two-way C-D road using local streets; and an urbanized freeway.
2.3. Project Purpose
Public input was key in developing the goals and objectives for the Columbus Crossroads project:
Goal I: Operational Efficiency
Design facilities to meet or exceed design standards.
Reduce or eliminate weaving maneuvers.
Minimize impacts of freeway maintenance activities.
Integrate the freeway and the arterial street system for ease of use and compatibility with the community.
Consider cost effectiveness.
Coordinate with other transportation studies underway and with planned infrastructure improvements, i.e., the Spring Sandusky project.
Goal II: Mobility
Reduce congestion and improve the operation of the South Innerbelt.
Consider public transit opportunities and other methods of improving mobility, such as Transportation System Management (TSM) and Transportation Demand Management (TDM) opportunities.
Enhance freight/goods movement within and through the corridor.
Goal III: Accessibility
Improve access to downtown from the Innerbelt.
Improve the gateways to downtown.
Develop a ramp system that provides efficient traffic flow on the freeway while maintaining the integrity of local neighborhoods.
Provide easy access to area health facilities.
Goal IV: Safety
Reduce accident rates and accident severity.
Reduce truck/car conflicts.
Provide ITS signage as needed within/around the Innerbelt Corridor for directional guidance.
Provide for safety of police and emergency medical services vehicles.
Goal V: Environmental and Community Issues
Coordinate with community and economic development plans and projects.
Plan for aesthetics in the freeway design.
Be sensitive regarding impacts to residential or institutional structures.
Address air and noise impacts.
Protect and enhance the natural environment.
Adhere to Federal requirements in regards to environmental justice (EJ) in minority and low-income populations.
Protect historic resources.
Goal VI: Constructability
Minimize community and business disruption.
Assure cost effective implementation during construction sequencing.
Maintain access and current levels of service during construction.
Provide for safe and adequate alternate routes and modes of transportation.
Develop clear criteria for the selection of alternative routes.
Goal VII: Cost Effectiveness
Maximize returns/benefits for capital and operating costs.
Leverage Federal, State and local funds to meet capital needs.
Maximize opportunities for private investment.
Use life-cycle costing to fully account for long-term maintenance and future replacement costs.
2.4. Project Challenges
The overall operational performance of the corridor is poor due to delays, crashes and undesirable lane changing to continue on desired routes. According to 2002 traffic data, the Columbus Crossroads area carries 170,000 to 175,000 vehicles per day on a freeway system designed for 120,000 vehicles per day. The hourly traffic volume trends indicate that the number of vehicles on the freeway system peaks at around 7 a.m. and continues at near peak volume until 7 p.m.
The I-70/I-71 South Innerbelt is characterized by a number of geometric deficiencies when compared to current ODOT design standards, including 11 major curve deficiencies. These areas, along with substandard curves carrying mainline traffic, significantly slow traffic and cause major disruption of traffic flow.
All of the service interchange on-ramps have insufficient length for proper acceleration and merging into mainline traffic. This causes slower-moving vehicles to enter the mainline through lanes, which interferes with traffic flow. In addition, there are 15 locations where the ramp terminal spacing does not meet current AASHTO guidelines.
2.5. Project Status
Since June 2006, ODOT has been working with urban designers and community leaders to identify design enhancements for the I-70/I-71 South Innerbelt project. The department held a public meeting in December 2006 to share design ideas for cap and gateway treatments, and in February 2007 it hosted a public meeting to discuss alternatives for the south side. ODOT expects that the preferred alternative will be identified during the spring of 2007, with detailed design beginning in the fall.