ACTT Workshop: Washington
SR 520 Project | March 16-18, 2004, Seattle, Washington
Chapter 2: ACTT Background and Purpose
2.1 What is ACTT?
ACTT is a strategic process that brings together experts from both the private and public sectors to identify innovative techniques and technologies to reduce construction time on major highway projects while enhancing safety and improving quality. The ACTT concept was originated by a joint American Association of State Highway and Transportation Officials (AASHTO) and Transportation Research Board (TRB) task force known as A5T60 and is now an adopted and encouraged process sponsored by the FHWA and AASHTO's Technology Implementation Group (TIG).
TRB's A5T60 Task Force found that the combination of unprecedented increases in traffic volumes, decreased funding levels, heightened public concerns, and the significant problems of preserving and managing an aging infrastructure demands new tools for dealing with highway construction needs. Historically, highway construction has taken too long, further compounding traffic congestion.
The ACTT workshop initiative began in 2002 with two pilot workshops held in Indianapolis, Indiana, and Pittsburgh, Pennsylvania. The workshops brought together staff from the host department of transportation (DOT) and experts from other state DOTs, transportation agencies, private industry, academia, and the FHWA. In addition to design and construction, these experts' skill areas typically included innovative financing, right-of-way, utilities, innovative contracting, work zone traffic control, and worker safety reflecting the many disciplines required to accelerate construction of a highway project.
Following the successful completion of the Indiana and Pennsylvania ACTT pilot workshops, the following states have conducted workshops:
Texas, Project Pegasus ~ Reconstruction of IH-30 and IH-35 SE;
California, French Valley Parkway Interchange;
Louisiana, mini-workshop;
Montana, US-93 Eva to Polson; and
New Jersey, mini-workshop.
Additional 2004 workshops are scheduled in (also indicated in Figure 4):
Tennessee
Minnesota
Oklahoma
New Jersey
Due to ACTT workshop success, many states are interested in using this process, including (also indicated in Figure 4):
Utah
Georgia
Rhode Island
Hawaii
Massachusetts
Wisconsin
Nevada
Maryland
Idaho
Virginia
More information on the ACTT program is available at: http://www.fhwa.dot.gov/construction/accelerated/
Figure 4. Overview of Existing Project Elements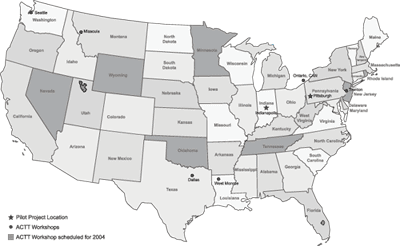 2.2 Why Was the SR 520 Project Chosen for an ACTT Workshop?
The SR 520 Project was chosen for an ACTT workshop because of its magnitude and complexities. SR 520 is one of only two major state highways that cross Lake Washington between Seattle and the suburban communities of Bellevue, Redmond, and Kirkland connecting the regions two north/south interstate freeway of I-5 and I-405. SR 520 ADT is 114,000 vehicles per day (2002) and 2030 traffic forecasts predict 128,000 vehicles per day. SR 520 includes the Evergreen Point Bridge and it is the replacement of the main floating portion, its fixed approach structures, and adjacent freeway sections that are the subject of the ACTT workshop. The Evergreen Point Bridge is a 4-lane facility (two general purpose lanes in each direction with no shoulders) that is already operating at or beyond capacity for significant periods each day. The bridge structures are vulnerable to both windstorms and seismic events. Adequate funding is not available in the State's preservation program to replace the bridge, requiring innovative solutions for bridge replacement. Additionally, the public is watching this project closely, especially those living on each side of the bridge and along the corridor.
2.2.1 Project Purpose
The purpose of the SR 520 Project is to replace the aging and functionally obsolete Evergreen Point Bridge with a modern transportation facility and undertake other corridor improvements. Depending on the alternative chosen for construction, the bridge and highway corridor improvements may include provisions for HOV traffic. The project is currently in the draft Environmental Impact Survey (EIS) stage and is expected to complete all environmental reviews leading to a Record of Decision (ROD) by the summer/fall of 2006.
2.2.2 Project History
The current project is a continuation of previous studies that examined mobility and environmental issues in the corridors crossing Lake Washington. WSDOT's Urban Planning Office (formerly the Office of Urban Mobility) conducted the Trans-Lake Washington Study in 1998 and 1999 and began the Trans-Lake Washington Project in 2000. In 2001, the project moved from planning to the SR 520 Project Office in the newly formed Urban Corridor's Office (Region 8).
The Trans-Lake Washington Study was focused on travel across and around Lake Washington in a study area bounded by the Snohomish-King County line on the north and the confluence of I-5 and I-405 to the south. A variety of options were developed and evaluated to determine their overall effectiveness in improving cross-lake mobility. The most attractive options were combined into "solution sets." The solution sets were not intended as optimal, but instead to be illustrative and educational, showing the effectiveness, impacts, and costs of different approaches to improving mobility, and illustrating how different transportation methods and modes interact with one another. Based on the evaluation of the solution sets those elements that seemed to work well and which found widespread support were identified. The Trans-Lake Washington Project carried the early studies forward and eventually led to the current SR 520 Project.
2.2.3 Project Alternatives
The alternatives under consideration in the Draft EIS include:
No Build Alternative - SR 520 would remain as it exists today.
4-Lane Alternative - replaces the Portage Bay Bridge and the Evergreen Point Bridge (including both the fixed approaches and floating pontoons), improves the existing 4-lane facility of SR 520 with lanes and shoulders redesigned to current WSDOT and FHWA design standards, and adds a bicycle and pedestrian pathway from Montlake Boulevard to Points Loop Drive. In addition, a westbound- to-southbound only connection from SR 520 to the I-5 Express Lanes would be provided to enhance vehicular movement for HOVs and bus transit during the morning peak period. This alternative would also include aggressive transportation demand management (TDM) strategies and noise mitigation. This alternative includes two options for the floating bridge—one with pontoons that would accommodate the future addition of High Capacity Transit (HCT), and one with pontoons that would not provide for future widening options.
6-Lane Alternative - includes facilities mentioned above and adds one HOV lane in each direction, making SR 520 a six-lane facility. Floating bridge pontoons would be designed to accommodate the future addition of HCT to the corridor. Because of the addition of HOV lanes to the corridor, a reversible HOV/transit connection from SR 520 to the I-5 Express Lanes is also included.
8-Lane Alternative - includes facilities described in six-lane alternative and adds one additional general purpose lane in each direction, making SR 520 an eight-lane facility. Floating bridge pontoons would also be designed to permit future widening for the potential addition of HCT to the corridor.
All build alternatives are assumed to be tolled, using electronic toll collection (ETC) only.
The anticipated construction time for the project alternatives ranges from 6 to 10 years dependent upon funding availability.
2.3 How Was the SR 520 Workshop Conducted?
WSDOT, in association with FHWA and AASHTO, hosted a two and a half day long ACTT Workshop for the SR 520 Bridge Replacement and HOV Project on March 16-18, 2004, in Seattle, Washington, at the Seattle Sheraton Hotel. Over 80 professionals from 14 states and the District of Columbia attended the workshop and actively contributed to the process. A list of workshop attendees is provided in Appendix A.
A pre-workshop planning and strategy session was conducted on February 11, 2004, at the Washington Division of the FHWA in Olympia, Washington. During that meeting with WSDOT Office of Innovative Project Delivery (IPD) and the FHWA ACTT Management Team, it was decided to modify the format of the workshop breakout sessions with the intent to capture both discipline-specific and project area issues. The workshop was extended from 2 days to 2-1/2 days to allocate a half-day to discipline-specific discussions and to allocate a full day to multi-disciplined groups focused upon the three major project areas. For the first half-day breakout session, members were grouped into "skill sets" to identify discipline-specific issues, concerns, and opportunities related to accelerating project delivery (including both project development and construction). WSDOT selected the following skill set areas most applicable to the project for the ACTT Workshop:
Innovative Contracting and Finance
Environmental and Right-of-Way
Construction
Geotechnical/Materials
Roadway/Geometric Design
Structures
Traffic/ITS/HOV/Transit
For the second full-day breakout session, participants were grouped into multi-disciplined teams focused upon one of three project areas. Areas selected by the SR 520 Project Team included:
Westside (generally from I-5 to the west bridge approach structure).
Floating Bridge and Approaches (generally west shore of the lake to the east shore including both the fixed approach and floating pontoon structures of the Evergreen Point Bridge).
Eastside (generally from the east bridge approach structure to just east of the Bellevue Way NE interchange).
2.4 What Were the Goals of the SR 520 Workshop?
The goals that ACTT workshop participants were asked to address were established by the SR 520 Project Team and the workshop sponsors prior to the beginning of the process and were provided to participants to guide their work. These goals included the following:
Identify strategies to shorten the design and construction duration of the overall project. Existing project elements (see Figure 2) were considered as the participants identified strategies to shorten the design and construction duration of the overall project.
Reduce construction time of Phase 1 (at a minimum, defined as the floating portion and fixed approach spans) and subsequent phases of the project. Phase 1 as defined for the ACTT Workshop is shown later in Figure 6.
Identify options for construction staging, sequencing, and phasing beyond Phase 1.
Minimize construction impacts to abutting neighborhoods and sensitive environmental resources.
Analyze and recognize constructability during the project development and design phases.
Obtain contractor innovation and involvement during the project development and design phases.
Maximize maintenance of traffic within the corridor during construction and minimize impacts to local traffic.
Identify construction elements resulting in near-term benefit to the users (e.g., HOV and Transit).
Establish and define environmental, community, and other public constraints early.
Identify and evaluate alternative project delivery methods including applicability, benefits, and disadvantages.
Identify creative financing strategies (including tolling) and assess annual cash flow needs.
Conduct risk assessment of potential project impediments and develop risk management strategies.
Suggest efficient organizational structures and required teams to ensure corridor-wide project delivery (e.g., program management, financing implementation, quality assurance).
2.5 What were the objectives of the SR 520 Workshop?
Based on the adopted workshop goals the following key objectives were established:
Shared Understanding - Ensure a common understanding of discipline-specific design challenges associated with project alternatives.
Collaboration - Provide an early venue for information exchange and innovation between owners, designers, contractors, and project partners.
Brainstorming - Promote free exchange of ideas, concepts, techniques, and methods applicable to specific skill sets, multidiscipline design approaches, and innovative construction techniques and methods.
Integration - Establish initial relationships and foster ongoing development of concepts, ideas, and strategies focused on accelerated project delivery via multidisciplined teams.
2.6 What Were the Baseline Assumptions for the SR 520 Workshop?
In addition to establishing the goals and objectives for the workshop, a set of baseline assumptions or "ground rules," designed to focus participant's efforts, were also established. These baseline assumptions included the following:
All project alternatives are currently being evaluated under the guidelines for the preparation of an EIS subject to the policies and procedures established under the National Environmental Policy Act (NEPA) and the State Environmental Policy Act (SEPA) for the State of Washington.
A "Preferred Alternative" for the project has not been recommended nor adopted. The 6-Lane Alternative has been identified for consideration solely for the purposes of the ACTT Workshop. The information and ideas generated will be used to benefit the 4- and 8-lane alternatives as well.
Significant changes to the definition of the alternatives will not be considered unless they reduce impacts, have distinctive cost advantages, or provide considerable quality enhancements. The "build" alternatives under consideration within the EIS are generally well defined and developed in collaboration with neighborhoods, jurisdictions, and regulatory agencies. These definitions recognize a number of environmental and neighborhood concerns and constraints and address various issues associated with the existing corridor.