ACTT Workshop: Washington
SR 520 Project | March 16-18, 2004, Seattle, Washington
Chapter 3: Skill Set First Thoughts
For the first half-day breakout session, members were grouped into skill sets to identify discipline-specific issues, concerns, and opportunities related to accelerating project delivery (including both project development and construction). WSDOT selected the following skill set areas most applicable to the project for the ACTT Workshop:
Innovative Contracting and Finance.
Environmental and Right-of-Way.
Construction.
Geotechnical/Materials.
Roadway/Geometric Design.
Structures.
Traffic/ITS/HOV/Transit.
Skill set "First Thoughts" were presented to all participants at the end of the first day. These "First Thoughts" provided an overview of the issues and direction to the Geographical Focus Groups meeting on the second day.
3.1 First Thoughts - Innovative Contracting and Finance
The group presented a summary of current financing requirements for the project. The group assumed the full 6-lane alternative would be selected for implementation, with a range in costs of $2.1 to 2.6 billion (based on 2003 CEVP cost opinions). Figure 5 illustrates the current funding gap assumed by the group, accounting for available funds under the current "Nickel Gas Tax Package," modest regional funding, and potential revenues generated from project tolling.
Figure 5. The Funding Gap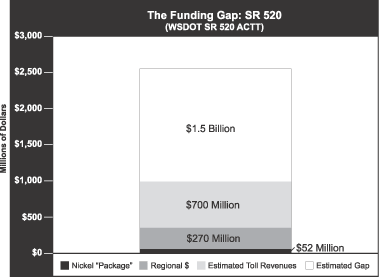 Next the group identified a number of general categories of potential funding sources that would be pursued during the balance of the workshop. These included the following:
Tolling Concepts.
Land Development Concepts.
Partnerships.
State Revenue Sources.
Federal Grant Funding Opportunities.
Project Concessions.
3.2 First Thoughts - Environmental and Right-of-Way
The Environmental and Right-of-Way skill set reviewed the project alternatives and discussed the specific issues associated with each. Key ideas and suggestions associated with specific project elements were presented, and include the following:
Lake Washington Blvd On- and Off-Ramps
Remove ramps from the Arboretum.

Provides environmental and park benefits.
Reduces traffic problems at these ramps.
Queen City Yacht Club Right-of-Way
Consider new docks under the highway.

Dredging may be needed.
Security concerns regarding boats docked under the bridge.
Demonstrate Project as an Environmental Benefit to Resource Agencies
Oregon has a very large bridge program that has successfully been characterized this way to the resource agencies - "green bridge program."
Compensate resource agency for staff time spent on the project.
Hold weekly meetings with resource agencies.
Focus on functions resource agencies want and develop environmental performance standards to avoid prescriptive terms and conditions.
Start at top of resource agencies and work down.
Avoid and minimize impacts early during the planning and design phases.
Help the permitting agencies see the advantages of accelerated construction. A faster schedule - reducing the construction period - in itself is a reduction in environmental impact.
4(f) Trade
Bike and pedestrian trails to trade (mitigate) for 4(f) park impacts.


Would need to be negotiated with local jurisdictions.
Seattle requires equal function for replacement parklands.
Reduce the Project Footprint at East Bridge Touchdown
Smaller footprint at eastern landfall.
Build half of bridge, move traffic, build remainder.
Build retaining walls to allow later lid construction.
Local jurisdictions could pursue transportation enhancement dollars in the future.
Right-of-Way
Start the right-of-way acquisition process early before EIS is complete.


Start negotiations over acquisitions early with cities and other major takings such as NOAA.
Try to buy Museum of History and Industry as soon as money is available.
Bike/Pedestrian Facilities on North Side through Medina
Keep facility on the north side.


Might shorten the overall length of the bridge.
3.3 First Thoughts - Construction
A group of experts focused upon construction techniques, methods, and approaches met for the initial breakout session. Key initial insights presented from the team included:
Issues Requiring Clarification
Ask the Environmental Group for clarification on the work windows for in-water construction and the related turbidity requirements.
Ask the Traffic Group for guidance on allowable work hours and whether night closures, weekend closures, or other long term closures are possible.
Ask the Innovative Contracting and Financing Group whether CM/GC is available to WSDOT as contracting method.
Possible Construction Staging Areas
Museum of History and Industry.
Get Right-of-Way Group to look at other adjacent open areas.
May be enough area from realignments.
Nearby water access is critical for contractor.
Ask the Environmental Group whether pontoons can be anchored temporarily near final alignment and worked on before moving them into place.
Use the new bridge for materials storage.
Leave it to the contractor to find staging areas.
Partial Funding Scenario—Construct Eastbound HOV Lane
Keep flyer stops in current location on the outside of the roadway.
The new eastbound (EB) HOV lane could be a converted shoulder or a lane designed to full standards (e.g., full shoulder).
Addition of EB HOV lane on new bridge would provide EB HOV from new bridge to Redmond.
I-5/SR 520 Reversible Ramp to Express Lanes
Project needs to get HOV lane benefit even with a partial completion, so consider six lanes to Montlake or reversible ramp into express lanes.
Need to determine what is the minimum to operate safely and efficiently.
Inquire of the Roadway and Traffic Group whether this configuration can work safely and efficiently given AM/PM peak traffic, design standards, etc.
Lease to Queen City Yacht Club for Moorage Under Portage Bay Bridge
Provide a lease to Queen Anne Yacht club with dock space under the new structure to offset the impact of taking a dock.
Inquire of the Structures Group as to whether boat moorage under the bridge presents a safety/security issue or Homeland Security issue.
Inquire of the Right-of-Way Focus Group whether an air rights lease is possible for this purpose.
3.4 First Thoughts - Geotechnical/Materials
Geotechnical engineers and contractors met to discuss project information needs and identify opportunities to accelerate overall project development and construction. Key issues and suggestions included:
Reuse of Excavation and Demolition Debris
Most excavated soils will be weather sensitive, but may be reusable with cement treatment (roto-till in place).
Recycling demolished Asphalt Concrete Pavement and Reinforced Concrete structures could result in substantial savings and reduce environmental affects.
Timing, environmental perception may limit cement treatment.
Potential environmental/regulatory hurdles and construction schedule/contracting issues could limit Asphalt Concrete Pavement and Reinforced Concrete recycling.
Stormwater Management
On the Eastside MSE walls may appear to be the most economical, but would not allow use of linear stormwater treatment facilities.
Stormwater must be integral to design at early stage.
Project needs up-front coordination between structure, geotechnical, drainage, and maintenance prior to establishing right-of-way requirements.
Get early regulatory agency coordination and document acceptance.
Short-Circuit Potential EIS-Challenge Delays
EIS needs to consider seiche (tide-like rises and drops in lake level caused by prolonged winds or seismic activity), sub-marine landslides, and lateral loads due to liquefaction.


Pursue some type of seiche assessment

Identify design seismic criteria early.


500-year vs. 2,500-year event critical because of impact of Seattle Fault.
Pursue site-specific probabilistic seismic hazard assessment.
Floating Bridge Anchors
Consider large capacity suction piles.
Westside sub-marine landslide could influence anchor location.
Check cost, restrictions on size of equipment and anchors passing through locks and elsewhere.
Foundations for Bridge Approaches, Portage Bay Bridge
Use permanent steel casing, large diameter drilled shafts.
Consider self-compacting concrete because of limited open space or increase diameter.
Will shallow draft at approaches allow access by large barges? Determine draft requirements, get early permits for dredging or work bridge.
Need work bridge on Foster Island - piles may be 100-feet long and could require permits.
Walls Near I-5 and to Support Lid at 10th Avenue East to Delmar Drive
Wall needed to retain landslide-prone soils.
Strength loss with deformation will require large tieback cylinder pile, tieback soldier pile walls, or tieback slurry wall.
Design for residual strength and limit movement.
Agency expertise in costing these walls is not great so this process is a good candidate for design/build.
Montlake Cut Tunnel Excavation (8-lane Alternative)
No soils information as far to the east as the proposed tunnel location - could be getting into the soft soils found at bridge approaches. Soft soils could preclude cofferdam and dry excavation.
Extremely difficult to build without dredging.
Need discussion with agencies to define limitations for excavation.
Need early exploration if it is to be considered.
Geotechnical Explorations
Difficult to make quick decisions about depth to good soil.
Many areas of unknown soil conditions, particularly east end of Montlake Cut where cut and cover tunnel would be located.
Funding - Need to get "good" boring data on GIS or other system.
Do geology borings soon.
Pavements
PCCP preferred over ACP for least impact to "users" over long design life.
If any asphalt rehabilitation required, strongly consider PCCP.
Eastside is currently ACP.
3.5 First Thoughts - Roadway/Geometric Design
Roadway designers and contractors met to discuss overall project elements and construction related issues. A review of all project features was considered first as a means to reduce construction duration. Various design modifications were reviewed. Opportunities to accelerate overall project delivery, either through design refinements or construction methods and approaches, were considered. Significant initial suggestions presented include:
Potential Design Refinements
Refine alignment to minimize piecemeal structures.
Portage Bay Bridge: consider using Mechanically Stabilized Earth (MSE) wall construction and moving the abutment to the east to simplify staging of structure touchdown.
Explore alternatives to Montlake direct HOV access.
Adjust alignment to avoid conflicts.
Look for independent project phases.


Can floating bridge be two separate structures?

Determine local traffic staging concepts.


Use Lids for local street traffic during overcrossing construction.
Find a detour to permit closing of Lake Washington Boulevard ramps.
Roadway Risks
Modify double HOV merge on Portage Bay.
Modify mainline vertical alignment near 92nd Avenue NE to improve traffic operations.
Accident location.
Interchange proximity.
Horizontal curve relationship.
3.6 First Thoughts - Structures
A breakout session focused on structures and related construction advantages and disadvantages. While the group spent some initial time discussing bridge types for the main span, they came to quickly understand the logic of a concrete pontoon structure for this crossing. The following outlines key issues and suggestions identified by the group:
Build Superstructure in Place
Build floating bridge superstructure in place instead of in the graving dock to increase pontoon production rate.
Double Shift
Double shift in the graving dock to increase pontoon production rate.
Double Deck the Roadway
Double deck the roadway on the floating bridge and transition at the fixed approaches.


Transition issues and maintenance access are concerns with this proposal.
Eliminate Horizontal Curves and Tapers on the Floating Bridge
Provides more standard sections (pre-cast and pre-fabricated elements).
Revisit transit flyer stop location at east roadway approach to bridge.
Use Precast Structures such as:
Precast haunched beams.
Precast beams, post-tensioned.
Precast segmental.
Precast balanced cantilever - matched cast.
Precast full depth composite slabs.
Precast full depth deck slabs made continuous with non-stressed prestressing.
Precast columns, crossbeam, and footings.
Use Steel Plate Girder
Evaluate considerations with painting over water.
Consider using prestressed girder.
Build lids first and use them for construction access and traffic staging.
3.7 First Thoughts - Transit/ITS/HOV/Transit
A group of transportation planners, traffic analysts, and transit service providers reviewed the project alternatives and potential for reduction in construction time. At the conclusion of the breakout session, the following findings were presented:
Overview of Findings
Assess advantages of providing a direct bus connection to the University of Washington and link to the proposed Husky Stadium LRT station that may be built as part of the Sound Transit North Link Project. This could eliminate the need for the Montlake flyer stop and in turn significantly reduce the scale and impacts of the Portage Bay structures.
Examine the potential to consolidate the two existing flyer stops on the Eastside (Evergreen Point and 92nd) and/or relocate them to Bellevue Way where they can intercept local buses.
Long-term closures (summer months preferred) would need to be coupled with enhanced transit service on alternate routes as well as park-and-ride capacity.
Implement enhanced ITS travel information during construction.
Time Saving - Corridor Closures - When and How Long
Summer traffic is lighter.
Weekend traffic is lighter.
Need public input on trade-offs between full closure and total construction time savings.
Consider long-term closures for construction time and cost savings.
If the bridge can be closed for 4-6 weeks - why not all summer?
Time Saving - Corridor Closures - Logistics
Increase transit service in the corridor and on parallel routes.
Focus on Interstate 90 (I-90) - make sure 2-way HOV/transit is in place on I-90 first.
Possible use of passenger ferries.
Extend I-5 reversible south and tie to I-90.
Build temporary bypass facilities at hook-ups to new bridge - consider transit only use of the corridor as part of some closure scenarios.
SR 522 may be a reasonable option for reverse commuters from North Seattle to Redmond.
I-405 improvements in place between SR 522 and SR 520, as well as between SR 520 and I-90.
Focus on transit on alternate facilities - add transit service.
Number of additional buses available during peak periods is very limited.
Plan ahead - maybe hang on to old buses to use during this period.
Need more transit and buses during construction - some of additional transit demand likely to remain after construction with improved transit facilities.
Need 2 years minimum lead time to purchase new buses.
TDM options - corridor has several major employers to work with and carries mainly local trips, unlike I-90. Market flextime, vanpools, telecommuting, and satellite offices to major employers as part of closure strategies.
Is partial closure to maintain transit on the corridor feasible? Do you lose any advantage? Could it be reversible?
How do you deal with emergency services with full closure? Need to bring in all affected parties to discuss as early as possible.
Transit
Seamless connection between SR 520 HOV lanes and possible UW Link LRT Station is highly desirable, if the later project goes forward.
If no LRT station near Montlake, buses would still need to service downtown directly.
If tie is made to LRT station near Montlake, buses do not need to go downtown.
HOV Y-connector inside to Montlake Ramps.
Transit lane to Montlake bridge.
2nd Bridge at Montlake may produce cost offset by savings in eliminating Montlake flyer stop and added Portage Bay structure.
92nd Avenue flyer stop at present time slows down buses looking for riders.
HOV Lanes
When can you move them to the inside? Distinguish between transit and other HOVs.
What's needed for transit to move to the inside lanes? Direct access on either end to/from express lanes, inside flyer stops.
92nd Avenue flyer stop has limited benefit. Could eliminate? Used by school routes.
ITS
Make use of existing I-5/I-90 VMS for construction purpose of SR 520.
Start tolling before construction for both traffic management and revenue. Could start project sooner if had an assured revenue stream.
Under full closure, can help redirect traffic.
Use mobile traveler information system.
Use variable speed limit; adjust to conditions during construction.
Implement dynamic lane merge - early/late merge.
Use intrusion devices for work zones for worker safety.
Use cone shooter (automatically dispenses and picks up cones - safer).
Automated work zone information system provides real time information to traveling public.
Smart park - information on park and ride capacity/availability.
Don't over do it! Make sure all solutions, when pieced together, are still applicable.