ACTT Workshop: Washington
SR 520 Project | March 16-18, 2004, Seattle, Washington
Chapter 4: Preliminary Recommendations
On the second day of the workshop, members of the various skill set groups were re-organized into project area focus groups. Each group was assigned a specific section of the project corridor. These project areas are shown in Figures 6 through 8 and are described as follows:
Westside: from I-5 to the Evergreen Point west approach structure.
Floating Bridge and Approaches: west approach structure to the east approach structure.
Eastside: from where the bridge would touch down on the Eastside to the vicinity of Bellevue Way.
Each group had a representative or two from each skill set. The Innovative Contracting and Finance Skill Set remained intact and continued their discussions throughout Day 2.
Prior to starting work on each segment, workshop participants were asked to also address a possible first phase scenario for the project in which the primary focus was replacement of the floating bridge and its immediate approaches while improving HOV operations in the corridor.
The first half of the morning was dedicated to brainstorming ideas and developing preliminary recommendations. These preliminary recommendations were presented to all participants at the close of the morning session. Preliminary recommendations were refined in the afternoon sessions into Final Recommendations. During the refinement process, cross-group discussions facilitated the development of recommendations that would work together across the corridor. Final recommendations were presented on Thursday morning.
4.1 Preliminary Recommendations - Westside
Build half of floating bridge in Phase 1.
Realign new approach structures so that existing bridges can be used for work bridges.
Leave columns under water for fish habitat.
Use lightweight structures.
Raise Portage Bay structure to construct full width over existing bridge.
Eliminate Lake Washington Blvd ramps.
Eliminate Montlake flyer stop.


Reduces width at Montlake, Portage Bay, and west approach.
Improve connections to north (second bascule bridge?).
Possible future stage of HOV connection to I-5.
Figure 6. Westside and Phase 1 Project Elements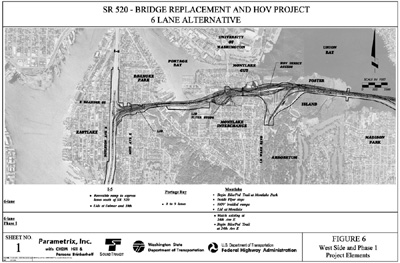 4.2 Preliminary Recommendations - Floating Bridge and Approaches
Accelerated Pontoon Construction
Determine the design and fabrication details early. Run double shifts at Port Angeles graving docks, have second graving dock through contract with Concrete Tech.
Discuss with contractors what is possible, based on their experience. Could have pontoon fabrication broken into type, specialty marine contractors capabilities, etc. Overlap design and construction of pontoons. Use as many "stock" pontoons as possible.
Modification of Existing Graving Dock
Cover the graving dock, allow for gantry crane, better lighting, concrete pumps on the crane system. Use of self-consolidating concrete may eliminate need to repair and repatch pontoons. Could also have rebar prefabricated, ready to drop in with gantry crane. Talk to Port of Port Angeles, about a covered graving dock.
Another alternative: May want to have a temporary/removable cover, rather than fixed. Make cover the contractor's responsibility. Give incentive to the contractor to get these done ASAP. Need to discuss these issues with contractor representatives.
Anchor System Fabrication
Utilize a separate contract for this portion. Look at alternate anchor types, suction piles, etc. Set at final position in Lake Washington before pontoons arrive. Need to have early geotechnical borings.
Column Fabrication on the Pontoons
Build the pontoons with the column rebar protruding from the deck or construct a "short" column. Should not hold up the time at the graving docks, and it will allow a square and plumb column to be built later in the field.
Alignment of the East End
Build the east end as now planned. Building the east touchdown as now conceived has many benefits. It is more cost effective to purchase the needed properties than to try and hold the alignment of the existing bridge touchdown. Acquiring the properties to the north and realigning the bridge will expedite the overall project schedule, save money, and be least disruptive to traffic when the final traffic switch over is made.
Figure 7. Floating Bridge, Approach Structures, and Phase 1 Project Elements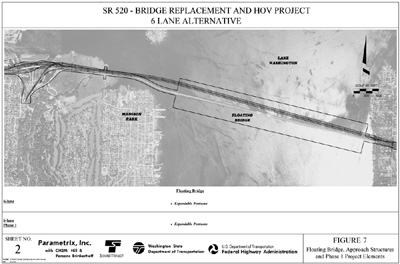 4.3 Preliminary Recommendations - Eastside
Defer Eastside to later phase, tie in floating bridge ASAP.
Reduce traffic on SR 520 to two lanes, consider possible couplet with I-90 reversible roadway.
Build noise walls early.
Consider nighttime and weekend closures.
Combine and/or eliminate some of the eastside flyer stops.
Keep bike path on north side, utilize lids for crossings.
Minimize cast-in-place concrete work on structures (deck, noise panels, retaining walls on lids).
Develop common precast elements that can be used on all lids.
Evaluate combining 108th Avenue and Bellevue Way interchange.
Look at modified design/bid/build for critical path items.
Consider tolling entire facility (e.g., tolling by segment instead of just the bridge crossing the lake).
Figure 8. Eastside and Phase 1 Project Elements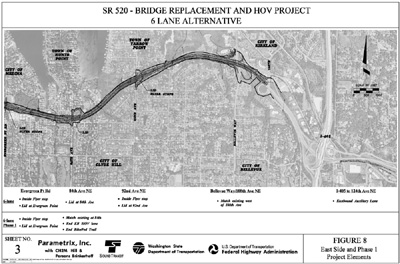 4.4 Preliminary Recommendations - Innovative Contracting and Finance
The group used the second day to focus on innovative contracting methods and identified the following areas for consideration:
Project Delivery Methods
Design-Bid-Build is baseline, but consider the following:


Design-Build.
General Contractor/Construction Manager.
Alliance Contracting.
Indefinite Delivery/Indefinite Quantity (IDIQ).
Procurement Methods
Low Bid is baseline, but consider the following:

A+B (Time plus cost).
A+B+Q (Time plus cost plus quality).
Best Value.
Qualification-Based Selection (QBS).
Additive Alternates.
Alternate Design Concepts.
Contracting Methods
Unit price is baseline, but consider the following:


Lump sum.
Incentive/disincentive.
Lane rental.
Active Management Payment Mechanism (AMPM).
Award fees.
Cost Reduction Incentive Proposals.
Flexible Start Dates/Milestone Dates.
Maximum payment curve.
Contractor Quality Control/Quality Assurance.
Warranty.
Performance-related specifications.