ACTT Workshop: Washington
SR 520 Project | March 16-18, 2004, Seattle, Washington
Chapter 5: Final Recommendations
On Thursday morning, each group presented their final recommendations to all workshop participants.
5.1 Final Recommendations - Westside
Recommended Phase 1
Build north half of Portage Bay section and operate as temporary five lanes (three westbound, and two eastbound).
Construct westbound (WB) to southbound (SB) HOV to I-5 Express Lane connection.
Match to existing Montlake Interchange and outside Flyer Stop.
Build a 4-lane section with flyer stops through Montlake.
Construct temporary WB off-ramp to Montlake Boulevard.
Change configuration from the floating bridge westward to:

6-lanes on new floating and approach structures.
4-lanes through Montlake Interchange, add and drop a lane in each direction.
Five lanes across Portage Bay on new structure, add lane westbound from Montlake Boulevard.
WB to SB HOV connection from SR 520 to I-5 Express Lanes.
Accelerated Construction is Possible with the Following Considerations
Pre-cast segmental (save 3/4 superstructure time).
Steel girders.
Pre-cast deck.
Consider short spans with pipe columns and pre-cast slab (environmental issues).
Build all foundations at once (offset outside existing structure).
Move alignments north to use existing structure for work bridge.
Roll touchdown spans into place.
5.2 Final Recommendations - Floating Bridge and Approaches
Recommended Phase 1
New Evergreen Point Bridge (floating pontoon section and the west and east fixed approach structures).
Full Eastside project construction from east shore of Lake Washington to the project easterly limits at Bellevue Way NE Interchange vicinity.
Construct temporary on/off-ramps from Montlake Boulevard east to the new west approach structure of the Evergreen Point Bridge.
Shorten Project Delivery Time
Overlap design and construction contracts.
Build Evergreen Point Bridge in four segments:

Montlake to Foster Island.
Foster Island to west transition span.
Floating bridge.
East approach.

Hold a workshop/charette with resource agencies, tribes, and partners.
Use an In-Water Curtain.

Eliminates juvenile salmon from work area.
Locate between Marsh Island and Foster Island.

Consider temporary roadway from Montlake to Floating Bridge transition span on the south side.

Cost would be $15-$30 million.
Maybe more costs for mitigation of this temporary structure.
Close the Lake Washington Boulevard ramps while the temporary roadway is in place.
Potential benefit of temporary roadway is construction time of 36-48 months versus 42-54 months.

Consider short spans and staging span-by-span up to 140-feet maximum length.

Use flexi-floats to advance pier construction.

Accelerate Pontoon Construction.

Consider double shifts, or additional facilities.
Pontoon fabrication broken into separate contracts depending on type.
Overlap design and construction of the various pontoons.
Use as many "stock" pontoons as possible.

Consider Graving Dock Alternatives.

Two alternatives:

Covered with crane, lighting, pumping ability.
Non-covered, more flexibility.

Allow contractor to decide this.
Consider self-consolidating concrete, less repair and patching.

Utilize separate contract for anchor system fabrication.

Look at other anchor types, suction piles, etc.
Consider installing in Lake Washington before pontoons arrive.

Build the pontoons with the column rebar sticking out or a "short" column, and fabricate the columns on the pontoons.

Provides for a more square and plumb column later.

Maintain east touchdown alignment as now conceived to provide best possible final alignment to save time/money/minimize traffic impacts:

Phased half bridge construction is very costly compared to the cost of the additional right-of-way.
Additional construction stages adds more construction time.
Requires fewer traffic switches, which improves public safety.
Opens new bridge sooner.
Provides more flexibility in the design of the east high-rise structure.
Finance Options
Consider early tolling during construction to manage traffic.
Form a focus team to resolve issues.
Are federal programs available?
Consider starting program now.
Conduct Early Pre-Design Workshops
Explore anchor types/options.
Consider expansion and other joint design.
Consider other structure details.
Expedite geotechnical investigations.
Use Prefabricated Elements and Systems
Maximize use of pre-cast and pre-stressed concrete elements.
Consider standardized elements in structures wherever possible.
5.3 Final Recommendations - Eastside
Recommended Phase 1
Construct the new Evergreen Point Bridge and begin tolling on opening day.
Hold other project elements until adequate funding is available.
Analyze Closure Options in Light of Their Impact on Construction Time
Current schedule, with four lanes open to traffic during construction = 4 years.
With weekend and night closures = 3 years.
Construction duration with total traffic closure as scoped = 1-1/2 years.
Total closure = 30 percent cost savings, and 50 percent time savings.
Spring start of contract.
The following recommendations could save an additional four months:

Use of pre-cast instead of cast in place.
Eliminate Eastside flyer stops.
Eliminate two bicycle bridges.
Eastside Flyer Stop Recommendations
Eliminate flyer stop at Evergreen Point Bridge.

Transition lanes would not be needed on bridge.

Approach and transition built at same time.
Eliminate flyer stop at Clyde Hill due to lack of use.
Have only one transit stop on Eastside: Bellevue Way or 84th Avenue NE.
No flyer stops under the lids (due to noise, security, constructability).
Bike Path Recommendations
Eliminate bicycle only crossovers.

Keep bike path on north side.
Two parallel paths on north side (bike path separated from local trail).
Potentially use lids for crossovers.
Lids & Structures Recommendations
Utilize design/build with performance specifications.
Consider fewer lids.
Allow maximum flexibility for pre-cast, common elements, or other innovative techniques.
Possible pre-cast lid elements: deck, noise wall panels, retaining walls.
5.4 Final Recommendations - Innovative Contracting
Utilize Design-Bid-Build for the floating bridges.
The traditional design-bid-build system is suggested for the floating bridges because the risk of failure is high, WSDOT has the design expertise, and the design should be able to be completed before the project needs to start.
However, the team is suggesting the use of innovative procurement methods and contracting methods in conjunction with design-bid-build such as A+B, two-step best-value, active management payment mechanism, and mandatory Cost Reduction Incentive Proposals (CRIP) workshop, as discussed below.
Utilize Design-Build for the bridge approaches.
This could save substantial time if the permitting, funding, and other risk issues will facilitate a cost effective delivery.
If the project is packaged as a "larger" or more "complex" project, design-build may have distinct advantages in construction management resources.
There is a risk of prescribing the construction methods. The team strongly suggests discouraging any suggestions of construction methods.
Considerations for Various Procurement Methods
Best-Value
"Best-value" is the procurement process where the contract is awarded considering price and other prescribed factors. Other factors can be time, qualifications, alternate technical designs, etc.
The team recommends that two-step best value be used in conjunction with the design-bid-build of the floating bridge.
They can then propose on the project with innovative ideas for compressing time, adding quality to material or design, and safer construction.
Unsuccessful proposers will be awarded a stipend for their time.
A+B Bidding (Time Plus Cost)
Procuring a project on the basis of cost plus time. Time is assigned a dollar value and subtracted from the bid cost for award purposes.
This is already in use at WSDOT and should be applied to this project when appropriate, where the design and quality control are tightly defined and straightforward.
It could potentially be used for the pontoon construction.
Additive Alternates
The owner includes most of the work in the base bid.
The owner specifies priority of alternates if base bids come in under budget.
This is already in use at WSDOT and should be applied to this project when appropriate, such as when cost estimates are in question.
Alternate Technical Concepts
Design-builders are allowed to submit alternate designs to save time or money that the Agency evaluates before accepting.
This will only be available for design-build contracts.
Qualifications Based Selection
Procuring a contract on only technical or performance items. Cost is not a factor.
Only use for GC/CM or Alliance.
New contract vehicles will need to be developed and new legislation may need to be put in place.
Lump Sum Bidding
This is already in use at WSDOT and should be applied to this project when definable payment milestones are available to reduce WSDOT administrative costs.
It is an incentive to the contractor to complete a section of work.
Contractor Quality Control/Quality Assurance
This is already in use at WSDOT and should be applied to this project when appropriate.
Incentive/Disincentive
Incentives or disincentives based on opening of new lanes, other open-to-traffic dates, and/or opening ramps. This is already in use at WSDOT and should be applied to this project when appropriate.
Mandatory CRIP/Scheduling Workshop Combined with Flexible Start Date.

Cost reduction incentive proposals are prepared by the Contractor and reflect an innovative approach to a specific construction activity typically offering a project cost reduction.
Mandatory workshops after award.
The contract start date would be flexible after the innovations are agreed upon.
CRIPs include a 50/50 percentage split.

Requires the development of new contract language.
Increases contractor risk because they are pursuing ideas without assurance of success.
AMPM.

An incentive based on lane availability or travel times. This includes the use of a performance based traffic control plan.
The team recommends AMPM for the project.
New contact language.
Management of traffic on adjacent roads.
Incident response.
WSDOT Maintenance.
Integrate requirements into NW Region traffic management plan.

Lane rental.

Charge contractor for each lane closure.
This is already in use at WSDOT and should be applied to this project when appropriate.

Award fees.

Pool of incentives for performance related issues.
This is already in use at WSDOT and should be applied to this project when appropriate.
The team recommends this for new items such as environmental stewardship and maintenance.
Max Payment Curve
Established cash flow for maximum contractor payment.
Performance-related Specifications
Quality assurance specifications that describe the desired levels of key materials and construction quality characteristics that have been found to correlate with fundamental engineering properties that predict performance.
Apply this in conjunction with AMPM and traffic operations.
Where possible, develop performance specifications in addition to existing manuals.
Constructability Reviews
Use of a third party for design review with a specific focus on the construction of the project.
The team strongly recommends this for all phases of the project.
Risk Management Committee
Assemble a team of experts to identify and manage critical risk issues such as schedules, potential claims, etc. The team strongly recommends this for all phases of the project. The risk management committee must have adequate decisionmaking authority.
5.5 Final Recommendations - Finance Options
The Contracting and Finance Skill Set Group identified a menu of possible sources of funds to finance the project including user fees, as well as local, State, and Federal sources. In addition, the group came up with a number of "out-of-the-box" ideas.
Tolls
Look at benefits of starting tolls early if project is accelerated.
Examine the use of a bridge district that would include both SR 520 and I-90.
Shared Funding
Transit agency - pay for incremental cost of strengthening bridge for future accommodation of HCT.
Transit agency participation in other elements such as flyer stops.
Charge life-cycle warranty cost back to maintenance.
Federal Funding
Flex local funds to transit.
Utilize transit funding.
Seek grant under the Transportation and Community and System Preservation (TCSP) Pilot Program.
Seek funding under innovative bridge and discretionary bridge funding programs.
Miscellaneous Out of the Box Ideas
Utilize naming rights of floating bridge.
Sell off the old bridge.
Financing Construction Scenarios
The Contracting and Finance Skill group also presented the following estimates for different construction scenarios.
The estimated total cost by alternative is presented in Figure 9. The Base Option is for the 6-Lane Alternative as identified at the time of the ACTT Workshop and without accelerated construction. The total cost of the Base Option is approximately $2.2 billion. If the project segment that is east of the lake is constructed at a later date and/or as a separate project, the initial project cost would be reduced by $500 million to approximately $1.7 billion. Finally, building the 6-Lane Alternative as identified for the ACTT Workshop with complete closure of the SR 520 bridge for 1 year would reduce the cost of the project by nearly $139 million to just over $2.0 billion. This estimate is exclusive of costs for any additional mitigation determined necessary to deal with traffic during the period of complete closure.
Figure 9. Total Cost of Options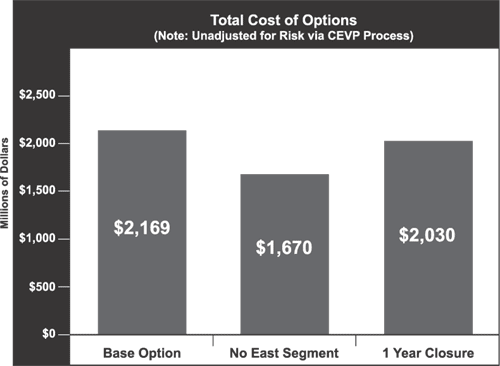 Assuming night and weekend closures on the Eastside project segment only will permit faster construction, the annual costs of construction are presented in Figure 10. Under this scenario, no work would be done on the east segment in 2008, but a total of $515 million would be spent between years 2009 and 2011.
Figure 10. Annual Costs for SR 520 Construction with Night and Weekend Closures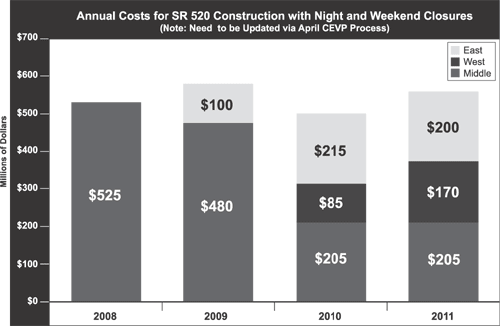 Without night and weekend closures on the Eastside segment, the annual costs of construction for SR 520 are presented in Figure 11. Under this scenario, construction on this segment would begin one year earlier (in 2008), conclude at the same time (2011), but cost exactly the same only with construction spread out over more years. While the overall cost appears the same, the annual cash flow under the night and weekend closure option is slightly more balanced.
Figure 11. Annual Costs for SR 520 Construction without Night and Weekend Closure for East Segment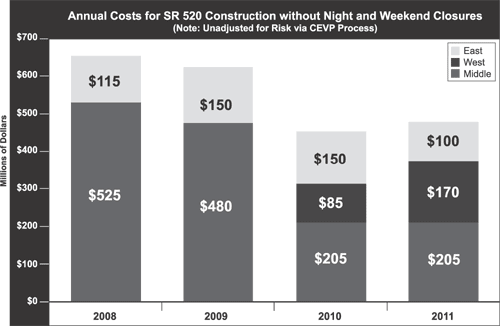 Figure 12 demonstrates an estimate of the potential financial savings available of nearly $100 million through project aceleration. The cost for any mitigation is not included in these figures.
Figure 12. Potential Savings and Additional Revenue from Project Acceleration