Detailed Monitoring Protocol
3.0 Study Location and Monitoring Site Selection
This Protocol is designed to assess the concentrations and dispersion of PM2.5 and MSAT emissions at major highway locations in the United States. To meet this objective it is important to select study locations that are representative of common highway locations and are likely to yield useful data to establish pollutant concentration variations related to highway traffic. Criteria that should be used during selection of study locations have been established for the following parameters:
Annual average daily traffic (AADT)
Geometric considerations
Topography
Geographic location
Data availability
Climate and meteorology
PM2.5 nonattainment status
The criteria presented in this Protocol for selection of study locations is meant to provide guidance to agencies who will be conducting the monitoring studies, and should be considered as recommendations of features or parameters that would likely yield the most useful data. Locations that do not meet these selection criteria may be included in a monitoring study if there are other overriding considerations that favor their selection.
3.1 Study Location Selection Criteria
Selection of the study locations should take into consideration the data quality indicators defined above. Of particular interest for selection of study locations is the representativeness of the location. The locations selected for each of the monitoring studies should be representative of a typical high-volume highway. Representativeness should be established in terms of the AADT of the study location, the geometric construction of the study location, topographical features of the study location, as well as climate and historical meteorological conditions of the location. Additionally, locations should be selected for which appropriate traffic monitoring systems are in operation or can be installed for the study.
3.1.1 Average annual daily traffic
Only locations with more than 150,000 AADT should initially be considered for inclusion in a monitoring study. However, if no appropriate study locations with an AADT exceeding 150,000 can be identified, locations with smaller AADTs can be considered as potential study locations. Furthermore, study locations should be selected for which traffic count and/or fleet mix are expected to vary substantially on a time-of-day, day-of-week, or seasonal scale. This variation is the key to statistical analysis of results and influences the statistical power of the study. Historical traffic data from candidate study locations should be analyzed to assess variations in hourly, daily, and seasonal traffic patterns by vehicle type.
Locations with large temporal variations in traffic patterns of one or more vehicle types should be considered more attractive than locations with more uniform patterns assuming sampling schedules adopted for pollutant monitoring can adequately capture the expected temporal variations in pollutant concentrations. For example, Figure 3-1 shows a typical urban diurnal traffic pattern in which there are large temporal variations in the traffic patterns for cars on rural and urban roadways as well as for trucks operating during normal weekday business hours, but little variation in the traffic pattern for through trucks. Locations that show traffic patterns similar to that shown in this figure will likely be easier to interpret in terms of pollutant emissions and dispersion than locations showing less variation in traffic patterns.
Variations in the direction of traffic flow should also be taken into account. Since the monitoring stations for these studies will likely be placed only (or predominantly) on one side of the road, large variations in the direction of traffic flow may influence measured pollutant concentrations.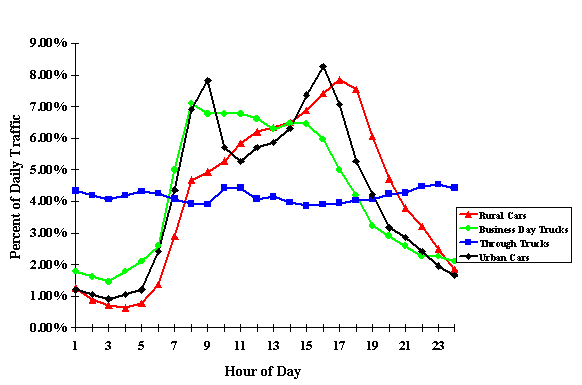 Figure 3. Illustration of typical urban diurnal traffic patterns.
3.1.2 Geometric Considerations
The physical layout of potential study locations, including the arrangement of roadways, ramps, and interchanges should be considered during the selection process. Greater geometric complexity (i.e., a location that includes two or more roadways with AADT exceeding 150,000 and multiple ramps or interchanges) makes a study location less attractive because of difficulty in properly locating the monitoring sites within the 300 m target distance from the roadway and in interpretation of the impact of roadway emissions. However, if an appropriate location of complex geometry meets the other selection criteria in this Protocol, it should be considered for inclusion in a monitoring study.
In general, the study locations should be selected to provide relatively easy interpretation of roadway source contributions. Study locations should not be selected for which other major sources are within 1 kilometer of any of the monitoring sites. Other major sources may include but are not limited to:
Large arterial roadways (AADT > 25,000)
Large industrial operations
Combustion sources (e.g., power plants, agricultural burning)
Furthermore, it is important to have appropriate candidate locations for the installation of the monitoring stations. Access to public land is likely to be advantageous for placement of semi-permanent (i.e., at least 1 year) monitoring stations. Recommendations regarding the monitoring sites are provided in Section 3.3.
3.1.3 Topography
Only locations that have relatively flat terrain around the roadway should be considered for selection as a study location. Relatively flat terrain is required to ensure that the mobile source emission plume impacts the monitoring sites in an unperturbed manner. Study locations should avoid features such as steep embankments close to the roadway. The study locations ideally will be selected such that the average terrain does not exceed 5% grade over any 100 m section of land within 300 m distance from the roadway where the monitoring sites are located. If study locations do not meet this criterion, every effort should be made to ensure that topographical features do not adversely impact the dispersion of pollutants from the roadway.
3.1.4 Geographic Location
Ideally, the selected study locations would be distributed across the United States, in large part to assure that representative meteorological conditions apply across the study locations. However, the voluntary nature of this effort may limit the applicability of this desired representation. Nonetheless, geographic distribution and diversity of traffic density, population, and meteorological regimes should be considered during final selection of the study locations. For example, selection of only coastal study locations in large urban areas might not be ideal, even if those locations were in widely different parts of the country, because of similarities in coastal meteorology at all such locations. To assure diversity in geographic locations, it is recommended that if possible, at least one study location be in each of the following areas of the United States:
West/Southwest
Pacific or Gulf Coast
Northeast urban corridor
Upper Midwest (Great Lakes)
Southeast
3.1.5 Data Availability
This selection consideration refers to supporting data needed not only for selection of the study location, but for performance of the air quality field study in that location. Such data might include AADT or other traffic measures, meteorological data, PM2.5 data, or MSAT concentration data from other monitoring programs. Study location selection should include considerations associated with not merely the existence or absence of such data, but the extent or quality of such data, if it exists. Thus it is recommended that for two sites equal in other ways, the site that provides greater access to current data of these types would be the preferred choice. Data resources might include:
Nearby airports
Nearby state or local air monitoring sites
State Departments of Transportation
Table 3-1 provides a summary of potential data types and data sources that may be useful
Table 3. Summary of Potential Sources of Available Background Data

| Data Type | Data Source and Type | Comments (availability) |
| --- | --- | --- |
| Traffic | | |
| Volume | State DOT | Counts, HPMS, historic records |
| Type | State DOT | Registration data, surveys |
| Speed | State DOT | Traffic Monitors |
| Meteorological | | |
| Wind Speed | State Air Agency/Airport | Historic records |
| Wind Direction | State Air Agency/Airport | Historic records |
| Temperature | State Air Agency/Airport | Historic records |
| etc | State Air Agency/Airport | Historic records |
| Air Quality | | Historic records |
| MSATs | State Air Agency/EPA | Historic records |
| Others | State Air Agency/EPA | Historic records |
3.1.6 Climate and Meteorology
This factor refers not only to the broad meteorological regime characteristic of each location, which is applicable to the Geographic Location criterion above, but also to local meteorology. Such local meteorological effects are often tied to local geography, e.g., nearby mountains or coastal locations. Consequently, selection of study locations must include an assessment of the large-scale geography, in addition to local-scale topography.
Historical meteorological data should be reviewed to assess the following important parameters:
Prevailing seasonal wind direction
Diurnal wind patterns
Annual average rainfall
Two examples of potential study locations are shown in Appendix B. One location is along a section of U.S. 95 in Las Vegas, Nevada. The second location is in Denver, Colorado. For each candidate study location, historical traffic and meteorological data were collected and evaluated against selection criteria described above. Also, topographic and geometric information was obtained from topographical maps and from aerial photographs and used to evaluate the suitability of these sites as potential study locations.
Prior to actual site selection it may be necessary to conduct short-term meteorological measurements to ensure that study location and monitoring site selection is appropriate. NCHRP Report 479 "Short-Term Monitoring for Compliance with Air Quality Systems"4 may be helpful in determining the length of a short-term measurement program.
3.1.7 PM2.5 Nonattainment Status
The status of the potential study locations regarding attainment of the PM2.5 National Ambient Air Quality Standard (NAAQS) should be considered during the selection process. Locations that are in non-attainment for the PM2.5 NAAQS should be considered as preferred locations. However, locations that are in attainment should not be excluded from consideration solely on this factor.
3.2 Monitoring Site Selection
Once a study location has been selected, the siting of each monitoring station must be carefully considered. Selection of the individual monitoring sites within a study location is critical for the successful completion of a monitoring study. It should be noted that the chemical reactivity of the target MSATs and surrogate compounds is of no consequence to the study design because of the small spatial scale of the studies. That is, even with wind speeds as little as 2 mph, the transport time of the MSATs and surrogates from the roadway to the most distant monitoring site is only a few minutes. That transport time is insufficient for atmospheric processes to substantially affect the emitted chemicals.
Considerations for selection of monitoring sites include the general area-wide factors described above as well as more site-specific issues described below.
3.2.1 MSAT/Surrogate and Meteorological Monitoring Site Locations
For each of the monitoring studies, a minimum of four monitoring sites should be selected at which pollutant monitoring (MSAT and surrogate) should be conducted. The monitoring sites should be selected such that one site is within 10 m of the roadway, a second site is between 50 and 150 m of the roadway, and a third site is between 250 and 350 m of the roadway. These three sites should be oriented in a line that is perpendicular to the section of roadway being studied. Figure 3-2 illustrates the recommended orientation of the monitoring sites relative to the roadway. A fourth monitoring site should be located at least 1,000 m from the roadway and from any other significant source of pollution.
Since site operators will be required to visit the sites frequently, sites should be selected that allow for limited public access but relatively easy access for the site operator. If sites with easy public access are selected for the placement of the monitoring stations, these sites may be targets for vandalism and may require the installation of security fencing to protect the monitoring stations.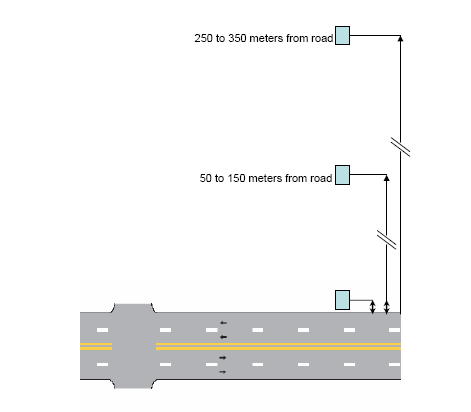 Figure 4. Illustration of recommended monitoring site locations.
Exact placement of the monitoring stations should be based on considerations of a variety of site specific factors in addition to those described in Section 3.2.3. Factors that should be considered include:
Availability of existing structures that may be used to house monitoring equipment
Availability of electrical power and telephone service
Obstructions which may alter air flow patterns at the site
Ease of access
Security of the site
Local traffic near the site.
Continuous monitoring and integrated sample collection should be conducted at each of the monitoring sites as described in Section 4 and Section 5 of this Protocol. In addition, wind speed and wind direction should be monitored at each monitoring site. Monitoring for the complete suite of meteorological parameters should be conducted at a minimum of one of the downwind monitoring sites. To avoid localized influences from traffic, the meteorological monitoring should not be conducted at the monitoring site closest to the road, unless this monitoring is augmented by meteorological monitoring at one of the further downwind monitoring stations. It is recommended that the meteorological monitoring be conducted at the monitoring station positioned 50 to 150 m from the roadway. Table 3-2 summarizes the measurements to be taken at each monitoring site. Descriptions of the measurement techniques are presented in Section 4.
Table 4. Summary of Measurements Made at Each Monitoring Site
Monitoring Site
Measurements
0-10 m from roadwaya
TO-11A Cartridge sampling
TO-15 Canister sampling
Continuous gas monitoring (CO, NOx)
Continuous black carbon monitoring (Aethalometer)
Continuous fine particle (TEOM or BAM)
Integrated PM2.5 (FRM)
Wind speed/wind direction
50-150 m from roadwayb
TO-11A Cartridge sampling
TO-15 Canister sampling
Continuous gas monitoring (CO, NOx)
Continuous black carbon monitoring (Aethalometer)
Continuous fine particle (TEOM or BAM)
Integrated PM2.5 (FRM)
Wind speed/wind direction
Meteorological monitoring (temp, RH, etc.)
250-350 m from roadway
TO-11A Cartridge sampling
TO-15 Canister sampling
Continuous gas monitoring (CO, NOx)
Continuous black carbon monitoring (Aethalometer)
Continuous fine particle (TEOM or BAM)
Integrated PM2.5 (FRM)
Wind speed/wind direction
Background
TO-11A Cartridge sampling
TO-15 Canister sampling
Continuous gas monitoring (CO, NOx)
Continuous black carbon monitoring (Aethalometer)
Continuous fine particle (TEOM or BAM)
Integrated PM2.5 (FRM)
Wind speed/wind direction
a. Traffic measurements are to be made at the roadway but are not included in this table.
b. Meteorological monitoring can be conducted at any of the three sites that are removed from the roadway.
3.2.1.1 Instrument Shelter Requirements Placement
To help ensure proper performance, the analyzers and supporting equipment should be installed and operated in a temperature-controlled environment. An insulated instrument shelter should be used to protect the analyzers from precipitation and adverse weather conditions, maintain operating temperature within the analyzers' temperature range requirements, and provide security and electrical power. The environmental control of the shelter should be sufficient to minimize fluctuations in shelter temperature. The recommended shelter temperature range is 20° C to 30° C, and daily changes in temperature should not exceed 5° C over a 24 hour period. Condensation of moisture must be prevented, and it may be necessary to impose seasonal temperature ranges to assure remaining above the ambient dewpoint.
Small office trailers may be suitable for use as instrument shelters. The instrument shelters may be permanent structures, temporary shelters, or mobile facilities. Each shelter will require electrical power and may require telephone access. Security fences may be required if the monitoring stations are located in areas with unrestricted public access.
3.2.1.2 MSAT/Surrogate and Meteorological Monitor Siting
Once the instrument shelters are installed, the pollutant monitors should be installed to ensure representative sampling of the ambient air. Siting of the pollutant monitors should follow the criteria in Chapter 40 of the Code of Federal Regulations (CFR), Part 58, Appendix E. The installation of the instrument shelter should allow for the sample probe inlets for the gas monitors and the continuous aerosol instruments these monitors to be 3 ± 1/2 m above ground level, with at least 1 m of vertical and horizontal separation from supporting structures. The probes should be positioned with at least 270° of unrestricted airflow including the predominant wind direction that should be from the roadway to the monitoring site. The probes should be separated from the drip line of nearby trees or structures by at least 20 m and be positioned at least twice as far from nearby obstacles as the height of the obstacles. See Section 5.1.1 for a discussion of the sampling probe and other sampling requirements.
Installation of the PM2.5 samplers should allow for the inlet of the samplers to be 2 to 3 m above ground level. If the sampler is located on a roof or other structure, then there should be a minimum of 2 m separation from walls, parapets, or other obstructions. The samplers should be placed at least 20 m from the dripline of nearby trees and must be 10 m from the dripline when the tree(s) acts as an obstruction. The sampler should also be located away from obstacles such as buildings, so that the distance between obstacles and the sampler is at least twice the height that the obstacle protrudes above the sampler. There should be unrestricted airflow in an arc of at least 270??around the sampler. Since the intent of these studies is to measure the pollutant concentrations at various distances from a road, there should be no significant obstruction between the road and each of the monitor stations (with the exception of the background site), even though other spacing from obstruction criteria are met. Furthermore, the predominant wind direction based on historical data should be included in the 270??arc. Figure 3-3 shows an illustration of an acceptable installation of three monitoring stations in the vicinity of potential obstructions.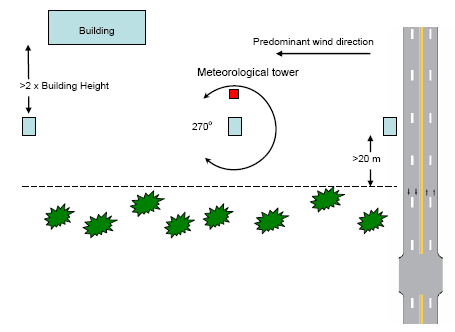 Figure 5. Illustration of acceptable installation of monitoring stations near potential obstructions.
The meteorological sensors should be installed on a meteorological tower at a position 10 m above ground level. Ideally, the meteorological tower and sensors should be located over level, open terrain at a distance of at least ten times the height of any nearby obstruction. However, for these studies this criterion may not be met, in which case the placement of the meteorological tower should ensure that the horizontal distance to obstructions (e.g., buildings, trees, etc.) is as great as is feasible. Many of the siting criteria for the monitoring stations should also be considered when selecting a location for the placement of the monitoring tower.
Figure 3-4 shows an example of a monitoring station with an instrument trailer, meteorological tower and particulate matter samplers.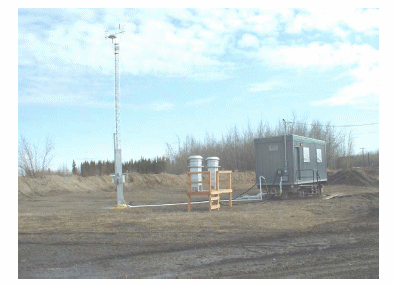 Figure 6. Photograph of an example monitoring station.
3.2.2 Traffic Monitoring Site Locations
It is recommended that sites that have ongoing continuous traffic monitoring programs be given primary consideration for inclusion in these studies. Unlike for meteorological and pollutant monitoring, for which monitoring systems will almost certainly need to be installed for the studies conducted under this Protocol, it is likely that many study locations have the existing traffic monitoring systems already installed. In fact, every effort should be made to select a study location with existing an traffic monitoring infrastructure. Many states have deployed Intelligent Transportation Systems (ITS) on major roadway corridors to help address congestion and improve incident management. As a consideration in the study selection process, it is recommended that a comprehensive inventory of the existing detection infrastructure at the potential study locations to be compiled and evaluated.
It is likely that in evaluating these inventories, three distinct scenarios will present themselves and can be considered during the study location process:
Roadways with ITS equipment that provide all detection and monitoring capabilities
Roadways with ITS equipment that provide only partial detection and monitoring capabilities
Roadways with no ITS equipment deployed
3.2.2.1 Roadway with ITS equipment - all detection and monitoring capabilities
Locations selected along a corridor that has full ITS detection and monitoring capabilities, including video detection, should become priority locations for consideration. No additional equipment would be required and minor operational costs for data collection would be incurred.
A typical freeway ITS deployment will focus on addressing roadway congestion by improving incident management capabilities of the operating and responding agencies. Systems most often include closed circuit television cameras (CCTV) for incident verification and some type of roadway detection to provide enhanced incident detection capabilities. Options that are most prevalent, and most cost effective, include inductive loop detectors or microwave/radar devices. Spacing of these devices are typically one quarter to one half mile and the data collected can be used for automated incident detection algorithms within central operating software. The spacing of the monitoring devices is sufficiently close that exact placement of the monitoring stations relative to the traffic monitors should still allow for accurate correlation between the traffic data and the pollutant data.
With this typical ITS deployment, traffic volume and speed data is likely being collected and stored at a regional operations center. However, vehicle classification data can often be a missing element. Spacing of loop detectors is often greater than required to develop this parameter and vehicle classification information based on the length of a vehicle from newer type radar/microwave detectors at a spot location is limited at best. Since vehicle classification is considered an important parameter for the studies to be conducted under this Protocol this capability should be available for each of the monitoring studies.
An ideal candidate study location would be one that utilizes video incident detection equipment as an element of the ITS deployment rather than or in addition to loops or microwave/radar devices. All of the required data - speed, volume, and vehicle classification - can be collected from this system. Data could easily be accessed from existing databases and also correlated against historical system data. CCTV recording could be achieved through the VIDs equipment or utilizing the separate CCTV coverage along the roadway.
Under this scenario, existing detection equipment would allow for the collection of all required vehicular data. Quality Assurance can be achieved through a comparison of sampling periods to historical data as well as visual verification. Operational costs would be minimal and include accessing existing databases and extracting sampling data as well as a manual review of the recorded CCTV images.
3.2.2.2 Roadway with ITS equipment - partial detection and monitoring capabilities
A second scenario is a roadway that has some ITS deployment, but not in a configuration that would provide all of the required traffic data. This scenario would require an expansion of the existing detection infrastructure with one or more additional pieces of equipment to obtain all of the necessary data. Site specific issues will need to be addressed that would consider geometry, utility connections and security for example. Prioritization can be done considering implementation and operating costs at each specific location.
As described in Section 3.1.5.1, many ITS deployments are designed to provide enhanced incident management capabilities to help address congestion. CCTV coverage for incident verification is most prevalent; however, the level and sophistication of vehicle detection can vary. Options that are most common include inductive loop detectors or microwave/radar devices. Unfortunately, many deployments have single detector stations at spot locations rather than spaced for automated detection algorithms or in a configuration necessary for accurate vehicle classification sampling.
Various options can be considered to supplement the typical ITS deployment described under this scenario. In each of these options, recorded video from installed permanent CCTV should be evaluated to ensure verification of data.
One option to supplement the existing infrastructure is to deploy additional loop detectors. Vehicle classification data can be collected by spacing sampling loop detectors in a paired configuration. A second inductive loop could be installed and configured to capture vehicle classification data. Depending on the controller platform in use, vehicle classifier equipment may also need to be installed.
A second option involves the addition of radar/microwave devices. Limited vehicle classification data can be collected by adding radar/microwave devices. Several manufacturers' equipment can be easily mounted and configured on existing highway light poles or other structures and are provided as stand alone, portable battery powered units. Height and offset requirements would need to be considered in the placement of this equipment.
A third option is to use permanent count station data with existing CCTV coverage. Permanent count stations are installed along major roadways in most states to collect data for the Highway Performance Monitoring System (HPMS). Stations typically include inductive loop detectors and piezoelectric sensors which, when combined, record traffic volumes, speeds and vehicle classifications.
3.2.2.3 Roadway with no ITS equipment
A third scenario is implementation on a roadway with no existing detection or ITS capabilities. Deployment of a portable, trailer-mounted unit with detection and video recording capabilities is one approach. A second would be to add video recording capabilities to a permanent count station already collecting traffic data along the corridor if available.
Implementing temporary sampling and monitoring capabilities along with video recording capability along the facility would be a challenge. One option would be to deploy trailer mounted devices similar to a portable variable message sign configuration. Detection equipment and CCTV are mounted on the trailer unit and data and video images can be stored locally within the unit or sent to a remotes site using wireless communications. Security of this unit will need to be considered.
Another option would be to utilize a location which currently has a permanent count station, but unlike Scenario 2, does not have an adjacent permanent CCTV installation. A portable video camera system would be required under this scenario for the visual verification and also provide QA/QC capabilities at this site. Site specific camera mounting and security issues would need to be considered.