Beyond the Short Term: Transportation Asset Management for Long-Term Sustainability, Accountability and Performance
Executive Summary
Asset Management: Linking Accountability and Sustainability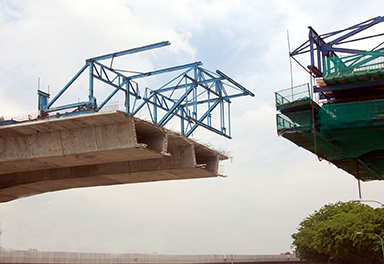 Transportation agencies face increasing pressures from Congress and state legislatures to demonstrate results, accountability and transparency in their management of highway assets. The National Surface Transportation Policy and Revenue Study Commission issued a clarion call for performance accountability in the federal transportation programs. Senior members of Congress are examining how to tie federal transportation funding to state accountability. The Government Accountability Office called for greater linkage between federal transportation expenditures and transportation agency results.
As transportation agencies consider how to respond to these calls for accountability and transparency, the appeal of Transportation Asset Management (TAM) becomes increasingly apparent. Asset Management provides agencies with a proven framework to demonstrate long-term accountability and accomplishment in the management of highway networks.
As Asset Management matured in the past decade, it became increasing clear to its practitioners that it provides a systematic, data-driven and continually improving framework for managing assets. In this maturation, Asset Management has come to closely resemble many other "quality systems" that major corporations use to meet customer goals, achieve performance targets and to continually improve their products. "Quality Systems such as ISO, Six Sigma, the Balanced Scorecard, Baldrige, Total Quality Management and Performance Management all have elements which resemble Asset Management. All of these systems rely on variants of the famous Plan, Do, Check, Act processes first recommended by quality guru W. Edwards Deming in the 1950s and 1960s, and shown in Figure 1. His writings lie at the heart of most major quality programs in use globally today. General Electric uses Six Sigma to ensure the quality of its jet engines. Award-winning hospitals rely on the Baldrige Process to ensure high levels of patient care. More than 17,000 ISO standards were developed to ensure quality in technical processes. A highway agency's embrace of Asset Management allows it to demonstrate that strategies similar to those which ensure the success of Fortune 500 companies ensure the long-term, sustainable quality of its highway network.
Figure 1: The 'Plan, Implement, Evaluate, Act' cycle is inherent in 'quality systems' and essential in asset management.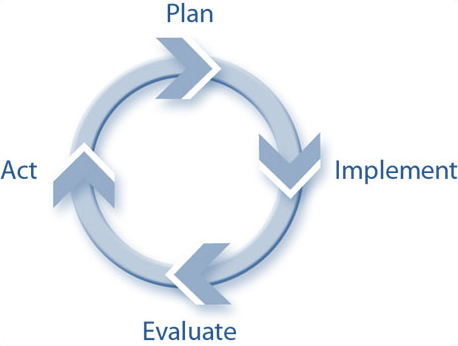 As these "quality" systems do for major corporations, Asset Management does for transportation agencies. It helps them manage scarce resources, articulate rational investment policies, measure the effects of past decisions and provide alternative scenarios to improve future performance. Asset Management allows highway agencies to document that their investment of scarce resources is made within a logical, comprehensive and systematic framework. Agencies that use Asset Management are so data driven, results focused and policy based, that, for them, producing performance metrics to demonstrate results is practically incidental. The agency officials reviewed in the following case studies expressed little trepidation about producing performance metrics because their Asset Management frameworks produce metrics as a matter of course.
This report addresses three major areas of Asset Management.
First, it examines Asset Management as a framework for demonstrating accountability - both in the short-term management of current transportation programs but also for the long-term sustainability of a state highway network. In describing Asset Management as a framework for demonstrating accountability, this report also spends considerable time addressing similarities and differences between Asset Management and Performance Management. To the uninitiated, the differences between the two management frameworks or philosophies may not be clear. The growing movement for accountability has led to a significant emphasis upon Performance Management and this report examines how it and Asset Management complement and enhance each other. The report also briefly compares and contrasts Asset Management to the other highly respected quality systems such as the Balanced Scorecard, ISO and Six Sigma.
Second, this report examines successful organizational structures and leadership strategies for instilling Asset Management into transportation agencies. Implementing Asset Management requires much more than buying a new software package or adopting new terminology. It involves creating new cross-cutting collaboration between traditionally separate disciplines within a highway agency. When a highway agency is optimally structured or managed to fully capitalize on Asset Management, the formerly separate functions of planning, design, construction, maintenance and information technology all must work together more closely. Instead of operating strictly within their own silos, they need to collaborate to carefully manage assets throughout each phase of the asset's life. Successfully creating such cultural and organizational change requires skills in areas such as Change Management, Organizational Communication and Organizational Theory. These fields are seldom discussed in transportation literature but their practice can be essential to change the approach, the attitude and the culture of large organizations which are trying to embrace Asset Management. Shifting the direction of a large organization requires consistent, sustained leadership, communication, education and the creation of a common consensus among the different subcultures within a large organization.
Third, this report examines case studies of successful Asset Management programs across the United States and internationally. Although these transportation agencies differ significantly in their size, political structure, and resources, certain principles of how to instill Asset Management within them appear to be universal. Examples as diverse as North Carolina, Sweden, New Zealand, Utah, Maryland, Australia and Oregon are examined. Despite the significant geographic, cultural and governmental differences between these examples, their underlying strategies for successfully ingraining Asset Management into their organizations are strikingly similar.
Management trends come and go, creating a degree of skepticism among some that the lasting benefits of them may not be worth the effort to adopt them. However, the results of Asset Management are difficult to dispute, particularly during an era of accountability.
In Utah, the agency has successfully convinced its Legislature and its Transportation Commission of its sound stewardship by demonstrating the systematic and comprehensive way it manages the state's highway assets. As a result, Governing magazine rates it an A for infrastructure management and its Legislature has bestowed unprecedented levels of funding upon the agency;
In New Zealand, the national transportation agency has ingrained Asset Management into legislation. Now, it is a basic principle of national transportation policy that assets should be preserved at a high level, and be sustained into the future. More than 98 percent of the New Zealand pavements meet smoothness targets;
In North Carolina the Department of Transportation has successfully made organizational changes to improve and sustain the performance and condition of its assets to meet the needs through the 21st century. It has aligned and assigned ownership, roles, responsibility and accountability for performance of the system across business units, eliminating silos and forcing collaboration. Accountability for system performance is clear and transparent, starting at the highest level and cascading down to all employees. These approaches have been integrated into the agency's day-to-day operations and are expected to continue irrespective of changes to the leadership of the agency.
In New South Wales, Australia, the state transportation agency has ingrained Asset Management into all levels of its operations. It produces a Total Asset Management Plan which functions like a parallel budget document to ensure that agency expenditures and agency efforts achieve its long-term Asset Management targets. It has sustained 87 percent of its pavements in good ride condition for at least a decade, and is forecast to maintain those levels into the future. It reports having only one load-limited bridge in its populous and urbanized state.
In Sweden, the nation's Road Authority has used Asset Management and a Balanced Scorecard framework to keep more than 95% of major routes above acceptable pavement conditions for more than a decade despite its harsh climate and diminishing purchasing power.
The Oregon DOT has developed a comprehensive asset management process which guides decision making while also providing legislators with performance information to assure them of the agency's direction.
These diverse agencies relied on several common management tactics for deploying Asset Management into their agencies.
Leadership Driven
In all of the examples, the use of Asset Management has evolved from an isolated technical or planning effort to a department-wide focus which was embraced by senior leadership. The leadership impetus came in different forms. In some cases, it came from a strong individual executive who was personally committed to Asset Management. In other cases, strong legislative emphasis led to the embrace of Asset Management. While there are variations across agencies, it is clear that a strong leadership focus underlies sustained efforts to adopt Asset Management.
Performance Focused
Another key finding is that departments that have successfully embraced Asset Management tend to have a strong systems approach to managing. That is, the department has embraced the Goal-Setting-and-Performance-Measurement processes inherent in the "quality systems" such as Six Sigma or ISO. In most of these cases, the focus upon systematically measuring and improving assets conditions was not unique. Similar strategies were applied to other department functions such as reducing crashes, delivering projects, or responding to customers. It appears that once Asset Management is ingrained in an agency, expanding a performance focus to other agency programs becomes simpler.
Transparent
A strong sense of transparency seems to accompany agencies that have embraced Asset Management. These agencies were able to document to the public and to policy makers that they have embraced a rational, systematic, long-term approach to managing assets, often for the lowest life-cycle costs.
Data-Driven
The journey to long-term Asset Management has led to a steady improvement in inventory data and forecasting tools. As the agencies become more focused upon asset performance, they become more data hungry and tend to improve their asset inventories and data systems.
Formally Structured
Formality marked many Asset Management systems. Asset Management was rooted in official policies, ingrained into agency standards, manifested in agency manuals and articulated in agency publications.
System Based
Although the management structures of these agencies vary widely, they appear to have evolved similar management strategies including the primary strategy of adopting a systems approach to managing their agencies. In these states and countries, the Asset Management framework does what virtually all management systems are supposed to do it provides a process, a logic, and a feedback cycle to methodically and comprehensively get things done with ever-improving results. By adopting Asset Management, these agencies find themselves well positioned to respond to the growing demands for performance and accountability.
This report does not replicate the excellent work in the Asset Management Guide, either the earlier 2002 guide or the current update. Nor does it seek to supplant any technical or procedural guidance on Pavement Management, Bridge Management or Maintenance Management. It relies very little on engineering but instead addresses organizational change management, institutional communication, organizational theory and systems approaches to managing. It examines the management strategies, the organizational structures and information needs of transportation executives who seek to lead their agencies to the next generation of Asset Management. The Asset Management Guide and its related reports explain the what of implementing Asset Management. This report examines how executives have instilled Asset Management and its related practices within their departments. It also explains how in an era of accountability, they can rely on Asset Management to demonstrate their agency's efficiency, effectiveness and transparency.
Table 1: The table provides definitions for the management systems commonly referenced in this report.
Management Frameworks Defined
Asset Management is a strategic and systematic process of operating, maintaining, upgrading and expanding physical assets effectively throughout their lifecycle. It focuses on business and engineering practices for resource allocation and utilization, with the objective of better decision making based upon quality information and well defined objectives.
Pavement Management provides decision makers at all management levels with optimum strategies derived through clearly established rational procedures. A Pavement Management System evaluates alternative strategies over a specified analysis period on a basis of predicated values of quantifiable attributes, subject to predetermined criteria and constraints.
Bridge Management includes the establishment of optimal investment funding levels and performance goals for an inventory of bridges, as well as identification of the appropriate combinations of treatment scope and timing for each individual bridge over the lifecycle.
Performance Management is an on-going process which translates strategic goals into relevant and detailed measures which are then tracked to ensure uniform achievement of institutional goals. Performance Management Systems include an "institutional learning" function in which the agency analyzes the root cause of failure or success to achieve its performance targets, and disseminates the lessons of that analysis to perpetuate continuous improvement.