The Ohio-Kentucky-Indiana Regional Council of Governments Experience
Moving Ahead
Commitment to Pursue Economic Analysis to Support Transportation Planning
OKI's experience with STEAM to date has largely been experimental. OKI has invested the staff time necessary to master the underlying economic concepts, extract and format the travel demand outputs, and to master the STEAM software itself. Hard work, creativity, and persistence have been key ingredients in this effort. The return for this investment is a potentially strengthened analytical and review process for its long range transportation plan and TIP development. Now that it has the skills and tools to undertake future STEAM analyses with much less effort, OKI reports that it will consider the application of STEAM in the future to appropriate large-scale projects and clusters of related individual projects as part of its planning process.
OKI recognizes that it also needs economic analysis tools that can be applied to smaller scale transportation projects. Smaller projects, or projects intended principally to improve safety, have limited effects on regional traffic that cannot be modeled accurately with the current travel demand models needed to support STEAM. Accordingly, OKI is investigating the use of a variety of economic analysis tools that focus only on the immediate effects of a transportation project on traffic volumes and safety of the project in question. These tools do not need the intermediate processing support of a travel demand model. OKI hopes to use the economic data developed for STEAM to support this more localized form of economic analysis of surface transportation projects.
Was It Worth It?
OKI is continually striving to provide better transportation planning to the citizens of the eight counties the agency serves. Accordingly, OKI has devoted a significant amount of staff time and resources to the evaluation of economic analysis tools and data, and the integration of the STEAM model with OKI's travel demand model. To date, over 1,500 staff hours have been devoted to this effort. These staff hours were provided even though there are significant competing demands for OKI staff time and only limited Federal requirements for economic analysis of most surface transportation projects.
The successful trial of the STEAM model, as well as the research into economic analysis that OKI undertook to select and provide data to STEAM, has significantly advanced OKI's agenda of incorporating more economic analysis into its transportation planning process. For instance, OKI can interpret travel demand model output from an economic standpoint; determine appropriate monetary values for travel time and vehicle miles traveled; adjust them for inflation as needed; and interpret the results of economic analysis models. The OKI staff now possesses a body of economic analysis skills and information that can be readily used to support the planning process.
In addition to meeting its own needs, OKI has contributed important feedback to the FHWA on the STEAM model. This feedback has already yielded improvements to STEAM and the technical support for the software. Moreover, based on the experience of OKI, the FHWA has commissioned an improved guidance document for STEAM that will benefit OKI and all other users of STEAM.
The new STEAM guidance will more thoroughly address what types of projects are appropriate for analysis by STEAM; how to develop the appropriate STEAM inputs from the travel demand model for these projects; how to determine if the results of the travel demand model analysis constitute valid input into the STEAM model; and use of the STEAMStream spreadsheet. The guidance will draw upon OKI's experience and research to provide a presentation of the individual steps required to accomplish these objectives.
What Has OKI Learned?
OKI's recent experience reveals the following factors that are essential to the successful development and implementation of economic analysis techniques:
Leadership: OKI's commitment of staff resources to this effort has only been possible through the direction and support of top OKI and regional leadership. All leadership levels have been fully committed to the development of improved transportation planning techniques, of which economic analysis is deemed to be of major importance.
Staff participation: Staff commitment and skills are also critical. OKI employees aggressively pursued the identification of economic analysis tools and data. They initiated contacts with relevant Federal, State, MPO, and private experts and followed through with these personnel to obtain the information needed by them. The OKI modeling staff demonstrated strong skills and innovation in integrating the OKI travel demand model with STEAM. The stability of OKI's employee base has also been vital, as this effort has been ongoing since 2004 and disruptions caused by staff turnover would have been difficult to overcome.
Other Agency and Contractor Support. OKI received support from the FHWA and State and local planning partners during the development of its STEAM and other economic analysis capabilities. In turn, through an FHWA technical support contract, the FHWA and OKI received essential support from the contractor that initially developed STEAM. It is unlikely that OKI could have succeeded without this technical support from the model's developer.
Public outreach. OKI has done an excellent job of informing the public of its efforts and progress. This effort helped to generate support for implementing economic analysis tools, which was demonstrated by acceptance of the effort in an April 2006 Board of Directors meeting. OKI has also produced publicly available documentation of its progress, reassuring the public that progress is being made.
Off-ramp intersecting with Pete Rose Way, Cincinnati, OH.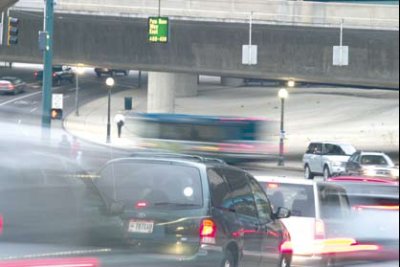 Newport Southbank Bridge connecting Cincinnati, OH and Newport, KY ("Purple People Bridge").