Public road mileage in 1997 reached 3.95 million miles. This mileage was overwhelmingly local and rural. However, while locally owned mileage increased between 1987 and 1997, rural mileage has decreased as metropolitan areas have expanded to incorporate mileage that was formerly rural.

About 3.11 million miles were in rural areas in 1997, or 79 percent of total mileage. The share of rural mileage decreased by about 0.2 percent annually between 1987 and 1997.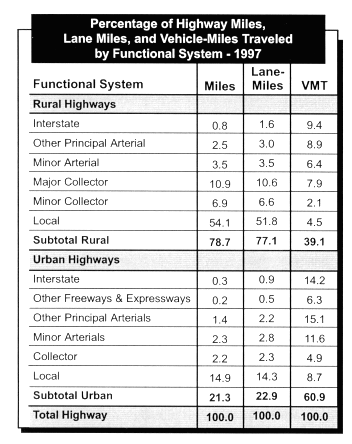 About 2.97 million miles were locally owned in 1997, 75.3 percent of the national road system. Federally owned roads comprised 169,000 miles in 1997 (4.3 percent), and State-owned roads comprised 808,000 miles (20.4 percent). Locally owned road mileage has steadily increased, by an average of 0.4 percent annually. State road mileage has remained relatively constant.
Federal ownership has dropped by about 2.3 percent annually largely because of reclassification of some routes to non-public road status.
While highway mileage is mostly rural, a majority of highway travel occurs in urban areas. Overall, nearly 61 percent of total vehicle miles traveled (VMT) of 2.5 trillion miles in 1997 was urban travel. Urban travel grew at an average annual rate of 3.2 percent since 1987, while rural travel increased by about 2.6 percent annually. VMT increased on every highway functional system.
VMT for combination trucks has grown faster than VMT for passenger vehicles since 1987, increasing at an average annual rate of 3.8 percent.
The 582,976 bridges in the Nation are a critical element of the infrastructure network. Approximately 47 percent of bridges are State-owned, while 51 percent are locally owned. The remaining 2 percent are federally owned, privately owned, or their ownership is unknown or unclassified.