U.S. Department of Transportation
Federal Highway Administration
1200 New Jersey Avenue, SE
Washington, DC 20590
202-366-4000
---
Heavy Vehicle Use Tax
Funding Our Nation's Highway Programs and Leveling the Playing Field

The Electronic IRS HVUT System
An enforcement benefit of the electronic filing process mandated by SAFETEA-LU – once the system becomes fully operational – is that it could store vehicle identification number (VIN) level information for later use by IRS agents conducting audits, state agents checking for proof of payment, and FHWA staff conducting compliance reviews. The figure shown below demonstrates what the HVUT automated payment process might ultimately look like.
Note that the IRS is currently working with the American Association of Motor Vehicle Administrators, the U.S. DOT, and ITS America to design this system. At the present time, the electronic verification database is not yet operational.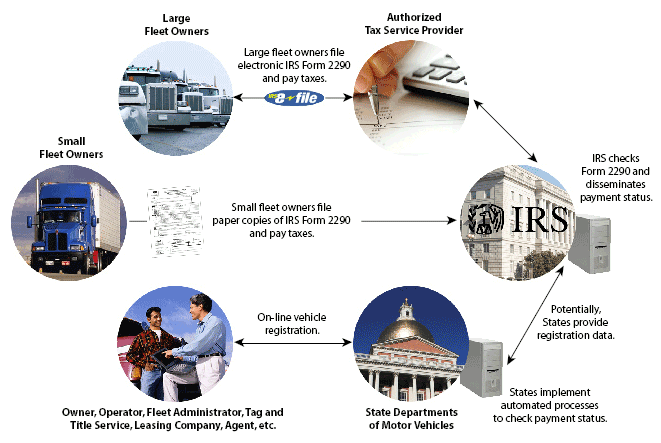 Page last modified on November 7, 2014.