U.S. Department of Transportation
Federal Highway Administration
1200 New Jersey Avenue, SE
Washington, DC 20590
202-366-4000
---
Heavy Vehicle Use Tax
Funding Our Nation's Highway Programs and Leveling the Playing Field

Conducting the Preliminary Meeting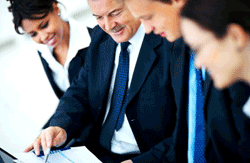 The purpose of the preliminary meeting is to resolve any differences in understanding among the parties. Meeting participants should include state agency staff [Department of Transportation (DOT), DMV], FHWA HQ staff, FHWA division staff.
At the preliminary meeting you should:
Review the guidelines to ensure that state, FHWA division, and FHWA HQ staff are clear in their interpretation.
Discuss the results of the preliminary risk assessment and identify any follow-on actions that are required.
Discuss any changes in the HVUT regulations or codes and how those changes affect the previous recommendations and the current risk assessment.
Present an overview of the last compliance review completed for the state, including FHWA recommendations for enhancing HVUT enforcement.
Review the sample procedures to be used for determining proof of compliance to ensure that the sample drawn will reflect the population of carriers. The sample can be used to detect evasion techniques that are identified later in this course.
Present an overview of data requests and information requirements for the review.
Identify the staff that will be assisting in the compliance review.
Make sure that all parties resolve any differences in understanding.
Discuss a timeline for conducting the review and make sure that points where state involvement are required are interwoven into the project schedule and clearly specified.
More Information
Link to HVUT Compliance Review Checklist
Page last modified on November 7, 2014.