U.S. Department of Transportation
Federal Highway Administration
1200 New Jersey Avenue, SE
Washington, DC 20590
202-366-4000
---
Heavy Vehicle Use Tax
Funding Our Nation's Highway Programs and Leveling the Playing Field

Data Available to Support
Compliance Reviews
There are federal and state sources of data that could be used to assist FHWA division staff in the compliance review process. These data sets could be used to verify proof of payment, conduct a portion of the risk assessment, or to generally assess whether the state has a system in place to meet HVUT requirements.
The table below presents sources of data and their potential application in the compliance review process. State and county registration data could be used to detect evasion associated with motor carriers who fail to remit the HVUT payment or those who claim to operate a vehicle at a weight lower than its actual operating weight. Motor carrier enforcement data could also be used to verify a vehicle's taxable weight. IRP and IFTA data could be used to verify annual miles traveled and detect evasion associated with false claims of a low-mileage exemption (fewer than 7,500 miles for agriculture vehicles and 5,000 for all other commercial vehicles).
Carrier records that include data by VIN could be cross-referenced with IRS HVUT tax data to verify proof of payment. The close examination of IRS Form 2290 Schedule 1 included in carrier records could also detect evasion tied to falsified or forged IRS 2290 forms. These evasion techniques and methods of detection are explored in greater detail in the next module of this training course.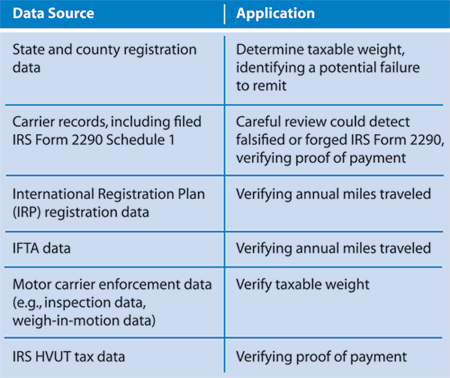 More Information
Link to International Fuel Tax Association website: http://www.iftach.org/
Link to International Registration Plan, Inc. website: http://www.irponline.org/
Page last modified on November 7, 2014.