High way Finance Data Collection
Our Nation's Highways: 2010
Figure 4-5. Trip Length as a Percentage of Daily Vehicle Trips and Daily Vehicle Miles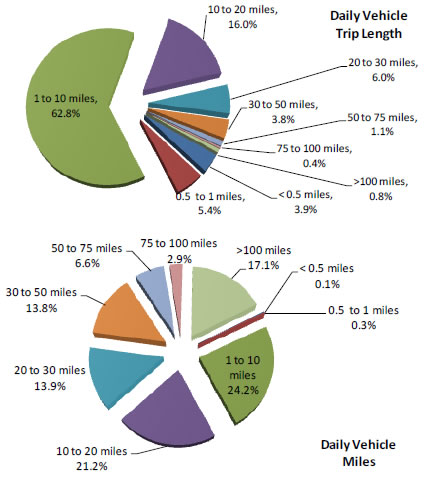 For household-based travel, short trips account for the vast majority of trips. Over half of all vehicle trips are between 1 and 10 miles. However, Daily Vehicle Miles in this category only accounts for 24.2 percent of household based travel.
Conversely, trips of 100 miles or more account for less than one percent of all vehicle trips, but over 17 percent of all household-based vehicle miles travelled.
Data Source: US Department of Transportation, Federal Highway Administration, Office of Highway Policy Information, Highway Statistics.