The FHWA 2015 R&T Story
Improving the Mobility of People and Goods

Vehicle-to-infrastructure technology for connected vehicles can help motorists safely navigate busy intersections.
Examples of FHWA research and innovation delivery activities:
Streamlining Traffic Flow with Adaptive Signal Control Technology
Reducing Congestion with Cooperative Adaptive Cruise Control
Improving Mobility and Safety with Automated Vehicles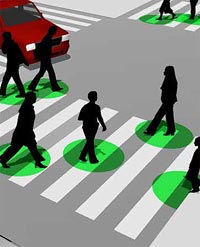 Cameras on traffic signals linked to connected vehicles can alert drivers to pedestrians or bicyclists in a crosswalk, improving safety and mobility for all. (Images: FHWA)
A growing economy needs highways that safely and reliably move people and goods where they need to go.
Traffic congestion on urban roads and highways has become increasingly problematic. Roughly 40 percent of average travel delays now occur outside normal rush-hour periods.6 Traffic conditions are becoming less consistent from day to day, forcing commuters to factor even more "buffer time" into their trips to ensure on-time arrival, according to an annual nationwide study by the Texas A&M Transportation Institute.7 In 2010, congestion and delay on the Nation's highways accounted for more than $100 billion in lost time and wasted fuel, and in 2012, the average commuter wasted 38 hours in traffic and spent an extra $818 in fuel costs due to congestion. These congestion delays increase driver dissatisfaction and adversely impact the ability of businesses to deliver goods and services.
Agencies have a limited ability to add new roads to relieve growing congestion; therefore, they must look to new technologies that help maximize the capacity of existing roadway infrastructure and make transportation more reliable. A reliable highway system helps set commuter expectations of travel times so that they can plan their trips more effectively. Reliability also ensures the just-in-time delivery of goods that drives the Nation's retail and manufacturing economy. Improved system operations and reliability better enables people to access jobs, deliver key services and products, reach needed amenities, and contribute to the national economy.
Through operations research, development, and testing, FHWA is advancing new technologies and innovative processes to increase highway capacity, reduce traffic congestion and unreliability, and improve traffic analysis techniques. FHWA sponsors research on automated and connected vehicle applications that could potentially double the practical capacity of dedicated freeway lanes8 and save fuel. FHWA's research includes simulation studies of the benefits of these applications, and efforts are underway to develop prototype applications for field testing.
Research and traffic management best practices give State and local agencies the tools to solve operational challenges. Improved, real-time management of disruptions, such as adverse weather and crashes, enables transportation agencies to maintain a reliable highway system even when traffic volume is high or when incidents occur. FHWA helps agencies employ innovative tools to assist with real-time management, including traffic and weather sensors, wirelessly connected vehicles, remote management of traffic signals, automated vehicles, and adaptive cruise control. At the forefront of bringing these innovative technologies into the mainstream, FHWA is helping transportation agencies incorporate 21st century tools and policies in their own practices.
Research Activities
The activities described in this section are examples of research, tools, and innovative technologies that FHWA is supporting to improve mobility and sustain the Nation's highway system. One of FHWA's primary objectives is to manage congestion by improving highway reliability and operating the system at peak performance.
Streamlining Traffic Flow with Adaptive Signal Control Technology
The goal of traffic signal timing is to maintain the safe and efficient flow of vehicles at intersections. Poor traffic signal timing accounts for more than 10 percent of all traffic delay and congestion on major routes. Conventional signal control systems rely on preprogrammed, daily signal timing schedules, which require an extensive amount of traffic data that must be collected manually. Conventional signal control systems also do not accommodate variable and unpredictable traffic demands, such as special events. Older signal timing systems cause substantial losses for businesses and consumers due to decreased productivity and increased labor costs.
Adaptive signal control technology (ASCT) adjusts the timing of red, yellow, and green lights to accommodate changing traffic patterns. ASCT uses realtime traffic information to reduce congestion by determining which lights should be red and which should be green. The main benefits of ASCT are that it:
Equitably distributes green light timing for all traffic movements.


Improves travel time reliability by progressively moving vehicles through green lights.


Prolongs the effectiveness of traffic signals and their associated timing.


Reduces emissions due to improved traffic flow.
On average, ASCT improves travel time by more than 10 percent. In areas with particularly outdated signal timing, improvements can be greater than 50 percent. Starting in the early 1990s, FHWA developed and demonstrated four ASCT approaches for dynamically updating signal timing. Following the positive results of this foundational research, FHWA initiated an effort to expand the deployment of ASCT systems across the Nation. This deployment effort has contributed to a 192 percent increase in implementation from 2009-2014, with multiple ASCT products now available in the marketplace.9
Reducing Congestion with Cooperative Adaptive Cruise Control
FHWA researchers envision that drivers will share vehicle control with an automated system that includes pervasive vehicle-to-vehicle (V2V) and infrastructure-to-vehicle (V2I) connectivity via Dedicated Short-Range Communications (DSRC). DSRC are one- or two-way short- to medium-range wireless communications designed specifically for use in vehicles. Cooperative Adaptive Cruise Control (CACC) allows vehicles to use DSRC to broadcast their speed, following distance, and acceleration and deceleration rates to other CACC-equipped vehicles. Vehicles equipped with CACC use this information to automatically apply the brakes as needed to maintain a safe distance from the vehicles ahead, allowing for closer following distances and for more vehicles to safely use the existing roadway. FHWA is conducting research to identify and analyze early CACC concepts and assess the range of possible benefits, which the agency anticipates will include increased vehicle efficiency and reduced fuel use. FHWA is also funding research on CACC specifically for trucks, called "truck platooning."
Connected vehicles can also use DSRC to broadcast performance data to roadway infrastructure to track traffic flow and crashes or incidents. FHWA will use the performance data to develop predictive traffic models for more effective traffic management.
Improving Mobility and Safety with Automated Vehicles
Automated vehicle technology has the potential to streamline mobility, lower the number of traffic crashes, decrease congestion, and reduce the high costs associated with lost time and wasted fuel. The technology also could create safer and more efficient travel for those with mobility issues.
Automated vehicles are precisely controlled, using advanced wireless communications, onboard computers, advanced vehicle sensors, and Global Positioning System (GPS) navigation. FHWA has identified opportunities where automation can significantly enhance the operation of the highway transportation system. Research sponsored by FHWA suggests that significant public benefits in terms of mobility, fuel use, emissions, and safety can be achieved through the introduction of some partially automated systems where drivers maintain control of the steering function while automated systems control the vehicle speed. Several States are testing automated vehicle technologies that could lead to future innovations.
Creating a Safer, More Reliable Transportation System
As more drivers put pressure on the transportation system, FHWA is identifying solutions to make roadways safer and travel times more reliable for everyone. Streamlining the movement of vehicles is about more than improving driver experience; it affects the Nation's ability to remain economically competitive. FHWA works diligently to provide tools and promote innovations that will solve the challenges of traffic congestion and delay. Ensuring that people are able to travel reliably and that goods and services are delivered efficiently is paramount. To be successful in this area, FHWA is looking at 21st-century technologies and tools that will bridge the gap between old and new traffic management strategies.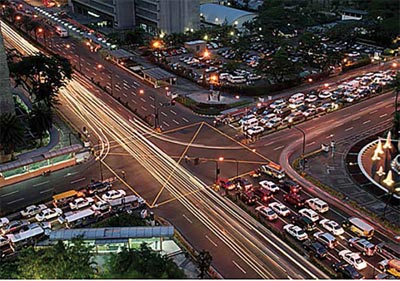 FHWA research in arterial management seeks to improve traffic flows in congested intersections. (Source: FHWA Adaptive Signal Control Program)
For More Information
The following Web sites are provided for additional information, and further highlight the transportation challenges and FHWA activities discussed above.
Exploratory Advanced Research (EAR) Program Fact Sheet - Beyond Traffic Signals: A Paradigm Shift: https://www.fhwa.dot.gov/advancedresearch/pubs/10023/10023.pdf.
Cooperative Adaptive Cruise Control: Applications Development and Research: http://www.its.berkeley.edu/publications/UCB/2011/PRR/UCB-ITS-PRR-2011-9.pdf.
Cooperative Adaptive Cruise Control: Human Factors Analysis: https://www.fhwa.dot.gov/publications/research/safety/13045/index.cfm.
Adaptive Signal Control: https://www.fhwa.dot.gov/everydaycounts/technology/adsc/.
FHWA R&T Research Technology Agenda: https://www.fhwa.dot.gov/research/fhwaresearch/agenda/index.cfm.
---
6 Jones, S (2013). Cooperative Adaptive Cruise Control: Human Factors Analysis. Federal Highway Administration, Washington, DC.
7 Texas A&M Transportation Institute (2012). 2012 Annual Urban Mobility Report. College Station, Texas. Accessed online: July 30, 2014. (http://mobility.tamu.edu/ums/)
8 Kuehn, David and Fitzgerald, Mark. (November/December 2013). "Breakthroughs to the Future." Public Roads. https://www.fhwa.dot.gov/publications/publicroads/13novdec2013/01.cfm
9 Federal Highway Administration (2014). Unpublished, raw data. For additional information, contact the FHWA Resource Center and Office of Operations: http://ops.fhwa.dot.gov/arterial_mgmt/index.htm. Washington, DC.