The FHWA 2015 R&T Story
Enhancing System Performance

A design drawing for a diverging diamond interchange shows how the novel design reduces turning conflicts in an intersection. Starting from the left, the yellow arrows show a vehicle's progress through the intersection. The red arrows show how the vehicle would merge onto the freeway while the green arrow shows its progress across the overpass.
Examples of FHWA research and innovation delivery activities:
Developing Better Intersection Design Saves Lives and Money: Diverging Diamond Interchanges
Improving the Freight Network for Economic Growth and Commerce
Fostering Better Transportation Decisions through Better Data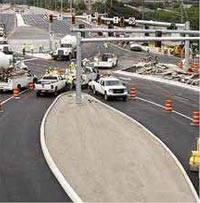 Workers finish construction on a new diverging diamond interchange. (Images: FHWA)
Promoting effective tools and research to help decrease highway congestion, safety risks, and wear and tear on roadways.
With limited space and budgets to build more lanes or roads, today's transportation agencies are looking for innovative ways to get the most out of existing roadways.
FHWA is providing the research and tools needed to effectively plan for increased traffic, measure and evaluate roadway performance, and identify desired outcomes that respond to congestion. Improving the performance of the highway system (particularly its safety, reliability, effectiveness, and sustainability) can reduce safety hazards, limit wear and tear on roadways and vehicles, and minimize driver frustration and delay.
Research Activities
FHWA is enhancing system performance through diverse research projects. Examples include studying safer and more efficient ways to merge highway traffic, providing up-to-date freight data that help lower shipping costs, and helping predict future travel demand and driver habits.
Developing Better Intersection Design Saves Lives and Money: Diverging Diamond Interchanges
Highway intersections can cause congestion and are dangerous for through traffic and vehicles turning to access or exit a highway. To improve traffic flow and reduce incidents in these areas, FHWA transportation engineers designed diverging diamond interchanges (DDI). FHWA also commissioned a research study to evaluate DDI installations to better understand the operational efficiency and safety of the design, and tested the design in the human factors laboratory at TFHRC.
The DDI design (see illustration to the right) moves through traffic and left-turning vehicles to the left side of the road at highway intersections. This configuration reduces the number of potential conflict points in an intersection. Conflict points are the point at which a roadway user can cross, merge, or diverge with another roadway user. Reducing the number of conflict points will lead to safer intersections for motorists, pedestrians, and bicyclists.
The first DDI in the U.S. was completed in June 2009 at I-44 and MO 13 in Springfield, Missouri. Historically, this interchange had mile-long traffic backups and serious left-turn crashes. When the DDI was completed it eliminated rush hour congestion, proving the validity and effectiveness of the design. Installing a DDI costs roughly 60 percent less than conventional designs and can be completed in 6 months, rather than the typical 18-month period using traditional construction techniques.16 Based on the proven success of the Springfield DDI, more than 30 DDIs interchanges have been built since 2009. The State of New York saved $4.9 million and reduced total construction time in half by using a DDI rather than the partial cloverleaf configuration alternative, Colorado and the city of Grand Junction doubled the capacity for left turns and saved 70 percent in construction costs over other alternatives for the DDI at I-70 and U.S. 6/50.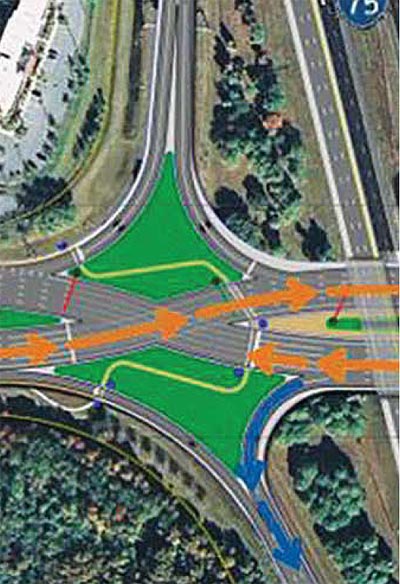 Diverging diamond interchanges reduce pedestrian conflicts at busy intersections near freeway ramps. (Source: Missouri DOT)
FHWA continues to conduct research to evaluate the operational and safety impacts of DDIs, identifying strategies to improve safety and accommodate pedestrians and bicyclists who travel along the same roads and highways.
Improving the Freight Network for Economic Growth and Commerce
The volume of freight on the Nation's highways has grown dramatically while shipping methods and materials have also changed. Freight professionals need accurate, current, and comprehensive information to effectively plan for goods movement. States and localities need information to perform economic analyses about major trading partners and the volumes and sources of traffic coming to their jurisdictions.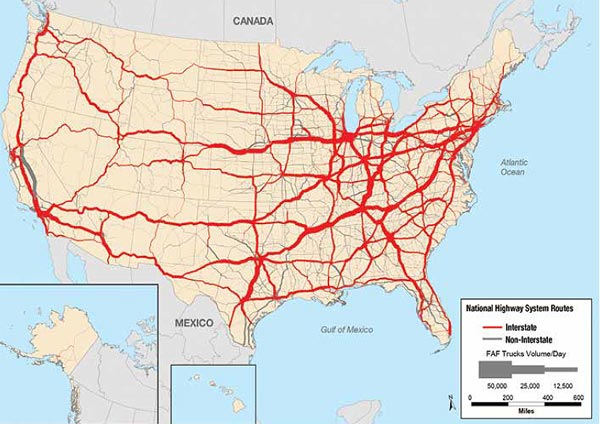 Long-haul freight traffic in the U.S. is concentrated along major routes between population centers, ports, border crossings, and other major activity hubs. (Image source: FHWA)
An important aspect of enhancing system performance is supporting efficient movement of freight. FHWA developed the Freight Analysis Framework (FAF), an inventory that integrates data from several sources to create a comprehensive picture of freight movement for all modes of transportation, within and between States and major metropolitan areas. FAF also provides a tool that tabulates shipping data by mode and commodity to help decisionmakers manage national freight policy. Now freight analysts and planners can use FAF to better understand complex freight movements. By combining FAF estimates with other data and models they can examine relationships and make cost-effective decisions that improve freight flows and safety; reduce environmental impacts; promote economic activity; and support better integration of freight into transportation system operations.
Fostering Better Transportation Decisions through Better Data
FHWA is also enhancing system performance by promoting the efficient, systematic, and comprehensive collection and utilization of national transportation data to improve highway management and investment decisions. National transportation data provide a breadth of systematic and related information on transportation systems, including temporal, geospatial, behavioral, and socioeconomic aspects. While parameters such as vehicle miles traveled (VMT), fuel efficiency, fuel consumption, population, aging, immigration, and greenhouse gas emissions are interlinked, such critical relationships are often poorly understood.
FHWA is conducting research to develop national specifications for multiple transportation datasets, including vehicle classification; roadway functional classification; highway performance and monitoring; traffic monitoring; and household travel surveys. These efforts are expected to increase the effectiveness of agencies' data collection and analysis efforts resulting in better consistency among datasets and improved data compatibility among government agencies and the private sector.
Recent advancements in modeling, statistical analysis, and computing speed have enabled more detailed analysis of the interrelationships among these datasets. FHWA seeks to apply advancements to national transportation data to help answer questions about the extent of demand for travel and how and why people travel. A greater understanding of the relationships between various data and parameters can help the transportation community devise effective strategies, programs, and policies to anticipate and meet the public demand for transportation, and ensure a higher-performing system now and into the future. The research paper Exploring the Relationship between Travel Demand and Economic Growth 17 helps States understand the relationship between travel demand and economic growth, examining if shifts in automotive and freight travel to other transportation modes would have any impact on the economy. The research paper found that there is no basis in current literature to suggest that efforts to increase environmental sustainability in transportation over the short term would require or depend on reducing VMT. In addition, no strong evidence exists to argue that policies enacted by States or MPOs to reduce VMT will negatively impact economic growth.
Making it Last Longer: Getting the Most Out of Existing Roadways
With constrained space and budgets, it is more challenging than ever for transportation agencies to gain funding and approval for projects to add capacity, or additional lane-miles, to existing highway systems. Therefore, transportation stakeholders need data and tools to maximize the performance of existing infrastructure by effectively planning for and reducing congestion to move more vehicles. Other stakeholders, such as freight professionals, also need tools to effectively plan for expanding travel demand on the Nation's roadways. FHWA's research activities help meet the challenge of enhancing system performance by providing standardized measurement and data-driven solutions to help the transportation community make important decisions about current operations and future system needs.
For More Information
The following Web sites are provided for additional information, and further highlight the transportation challenges and FHWA activities discussed above.
Driving the DDI at American Fork Main Street YouTube Video: https://www.youtube.com/watch?v=LqE1Z77ccwQ.
FHWA Freight Analysis Framework: http://www.ops.fhwa.dot.gov/freight/freight_analysis/faf/index.htm.
FHWA Office of Highway Policy Information: https://www.fhwa.dot.gov/policyinformation/pubs/pubsandprods.cfm.
Final Report – Exploring the Relationship between Travel Demand and Economic Growth: https://www.fhwa.dot.gov/policy/otps/pubs/vmt_gdp/vmt_gdp.pdf.
---
16. Bared, Joe and Saiko, Don. (November/December 2010). "The Double Crossover Diamond." Public Roads.
17. Federal Highway Administration (2012). Exploring the Relationship between Travel Demand and Economic Growth. Washington, DC. Accessed online: February 18, 2015. (https://www.fhwa.dot.gov/policy/otps/pubs/vmt_gdp/vmt_gdp.pdf)