U.S. Department of Transportation
Federal Highway Administration
1200 New Jersey Avenue, SE
Washington, DC 20590
202-366-4000
---
Federal Highway Administration Research and Technology
Coordinating, Developing, and Delivering Highway Transportation Innovations
REPORT
This report is an archived publication and may contain dated technical, contact, and link information
14091 >
Research Moves The Nation Forward
Publication Number: FHWA-HRT-14-091 Date: September 2014
Publication Number: FHWA-HRT-14-091
Date: September 2014

The FHWA 2015 R&T Story
Research Moves the Nation Forward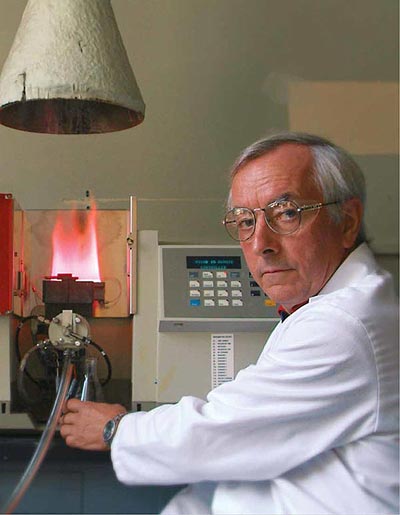 Laboratory assessment and research are critical pieces of FHWA's work in ensuring that the Nation's roadways and infrastructure are safe, sustainable, and cost-effective in the years ahead. (Image source: FHWA)
Conclusion
To continue economic growth and serve a growing population, the U.S. must invest not only in its transportation system but also in research to improve safety, protect the environment, reduce congestion on crowded roadways, and provide alternative methods of moving people and goods.
The results and benefits of FHWA's research efforts can be seen across the country in many of the projects discussed in this report. Within FHWA, hundreds of research projects are underway to develop innovations and solve the country's pressing transportation problems. Because transportation comprises many disciplines, from human factors to structural impacts to environmental and safety impacts, an extensive depth and breadth of knowledge is necessary to address the challenges facing our transportation system.
FHWA professionals are known worldwide for their expertise, and they collaborate with national and interna­tional transportation agencies and communities to conduct and review research projects and technology transfer initiatives within a highly collaborative system. Because of the complexity of the system, setting the right research agenda is critical to making an impact across the entire transportation system. As public expectations change and demand on the highway system continues to increase, FHWA's R&T leadership will play a critical role in anticipating future challenges and providing the highway community with innovations to maintain and improve the safety and mobility of the highway system and economic prosperity of the Nation.
For more information or to provide feedback, please visit the FHWA research Web site at www.fhwa.dot.gov/research.