The FHWA 2015 R&T Story
Preparing for the Future

Pre-cast concrete deck panels are aligned on top of steel bridge girders as part of an FHWA Highways for LIFE project implemented by Minnesota DOT to replace a deteriorated bridge using ABC techniques.
Examples of FHWA research and innovation delivery activities:
Creating Productive Roadways—Developing an Advanced Energy Production, Storage, and Distribution System
Developing Connected Vehicle Technology to Improve Safety and Mobility
Training Transportation Decisionmakers and Practitioners
Studying the Next Generation of Travelers
Finding New Ways to Fund Transportation Projects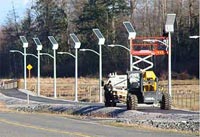 Solar-powered lamps are installed along a pedestrian walkway in proximity to a busy highway. (Image source: FHWA)
Looking beyond today's challenges to anticipate the emerging issues of tomorrow.
FHWA is the agency within the USDOT that supports State and local governments in the design, construction, and maintenance of the Nation's highway system (Federal Aid Highway Program) and various Federal and Tribal-owned lands. Through financial and technical assistance to State and local governments, FHWA is responsible for ensuring that America's roads and highways continue to be among the safest and most technologically sound in the world.
The challenges facing transportation agencies are continuously changing as technology, demographics, the environment, and the economy evolve. FHWA forecasts transportation change by examining evolving passenger and freight transportation needs against a range of scenarios. FHWA assists the transportation workforce by identifying emerging trends such as innovative finance and program delivery methods, and new techniques for long-range policy planning. This is accomplished, in part, by building strong relationships with researchers to more quickly track and identify the benefits of new scientific discoveries.
Research Activities
From developing infrastructure that will help meet future energy demands to improving safety and mobility through connected vehicle technology, highway finance, and taxes—FHWA research anticipates tomorrow's highway challenges through industry study and engagement.
Creating Productive Roadways—Developing an Advanced Energy Production, Storage, and Distribution System
Imagine using the public right-of-way as a source of energy. The EAR Program has done just that, funding the Roadway Wind/Solar Hybrid Power Generation and Distribution System (RHPS). Cre­ated in partnership with the University of Nebraska, the project is developing an intelligent power system that may provide cost-effective, efficient, and reli­able renewable electric power production, storage, and distribution. RHPS has the potential to reduce highway maintenance and operating costs, and pro­vide backup for traffic control systems during power outages, thereby improving operational efficiency and reliability.
RHPS has at its core a wind and solar hybrid power system that can attach to existing structures for traf­fic signals, roadway lighting, and overhead road signs. Each signal will feature solar panels and a wind-turbine generator to produce power for onward distribution through the electric power grid. A pow­er-management system will be developed to manage production, storage, distribution, and consumption of energy based on demand interacting with roadway communication and networking infrastructure.
The project represents significant technological advancement in renewable energy and production, storage, and distribution. By utilizing existing infra­structure to produce and distribute power, RHPS is expected to have an impact on the development of next-generation smart electric power grids. RHPS will significantly reduce the overall power needed to operate roadway systems, and create a more efficient network. It will also offer a source of backup power for the transportation system, thus reducing the risk of blackouts.
At a field test site in Lincoln, Nebraska, RHPS equipment was installed on 1 of 4 of the traffic signals in an intersection, and the lifecycle savings at the intersection was estimated at $15,000 over 20 years with a break-even time of roughly 10 years.
FHWA is also researching ways to harvest piezo­electric energy through pavement applications in the public right-of-way that will capture the excess energy lost in pavement deformation and vibration created by cars, trucks, and other vehicles on the Nation's highways. Currently, FHWA is studying the feasibility of piezoelectric generation technologies as an energy harvesting option through laboratory testing, analytical modeling, and field testing. Results of this work will be evaluated to determine the appropriate applications for this technology.
Developing Connected Vehicle Technology to Improve Safety and Mobility
In an effort to improve safety and efficiency for freeway merging, FHWA funded a project to develop and evaluate three algorithms related to dynamic lane control, gap-responsive metering, and merge control using connected vehicle communications. Researchers used an enhanced simulation environment to evaluate the algorithms' safety and efficiency impacts under different scenarios of vehicles with and without vehicle-to-vehicle and vehicle-to-infrastructure communication equipment.
The freeway merge assistance algorithms are part of a larger network of USDOT initiatives. The goal of the initiatives is to develop connected vehicle technology that improves the safety, mobility, and sustainability of roadways. FHWA R&T also sup­ports this important effort in areas of safety and the development of connected vehicle research.
Training Transportation Decisionmakers and Practitioners
Recognizing that tomorrow's innovative project designs come from a knowledgeable and confident workforce, FHWA created the IPD (Innovative Program Delivery) Academy. The IPD Academy provides decisionmakers and practitioners with the tools and knowledge needed to explore and imple­ment innovative strategies to deliver transportation programs and projects.
Launched in 2009, the IPD Academy provides a comprehensive selection of courses and curricula, including webinars, workshops, and expert assistance. The IPD Academy helps USDOT's professional staff integrate innovative delivery strategies into their specific disciplines and focus areas. Attendees learn strategies for overcoming resource constraints, addressing energy and environmental considerations, and promoting efficiencies in program delivery. The IPD Academy also delivers training to professionals at State and local transportation agencies. The IPD Academy has delivered more than 140 webinars registering 27,000 participants representing all 50 States, the District of Columbia, and Puerto Rico. Webinar participants have included financial manag­ers and specialists, major project engineers, Federal Transit Administration regional offices, the Federal Railroad Administration, and industry experts in freight, legal, planning, and civil rights.
Studying the Next Generation of Travelers
What will personal travel look like in the future and how will it influence system demand down the road? As part of a strategic objective to evaluate and analyze current and emerging issues that will affect surface transportation, the FHWA Transportation Futures Team finalized a report that examines trends related to the travel behavior of young people between the ages of 15 and 26. This information will be used to develop policy recommendations. The desired outcome will be improved travel forecasts of demand, vehicle usage, and how new transportation technologies impact personal travel. The team understands that personal travel will be influenced by a combination of vari­ous events, demographic and socioeconomic factors, generational social norms, and adaptation of people to new technologies and travel options. This comprehensive research incorporates a broad spectrum of perspectives.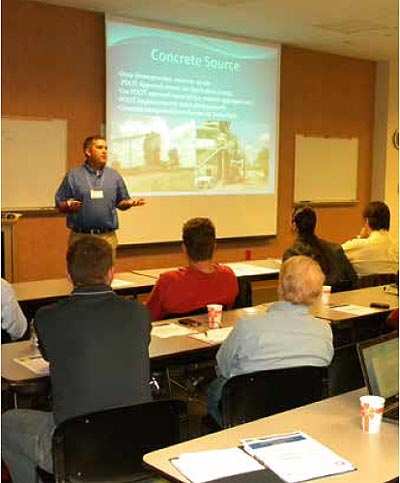 Jeremy Walcott, P.E., gives an overview of a FHWA Highways for LIFE construction project at a showcase held at the Florida DOT District 5 office. (Image source: FHWA)
The work completed under the travel behavior study provides both a quantitative and qualitative evalua­tion of current and emerging travel shifts by genera­tion. Of particular interest are the impacts of new technologies and social trends that may influence mode choice, trip making, trip planning, and overall perceptions of vehicle travel among youth in the U.S. The results of the analyses will be used to develop profiles of the next generation of travelers, and will be considered in future travel trend forecasts and travel scenario development. The information pre­sented is ultimately intended to be used as a guide in the development of current and future transportation policies regarding personal travel.
Finding New Ways to Fund Transportation Projects
Despite record levels of investment in surface trans­portation infrastructure in recent years, traditional funding sources have not kept pace with the invest­ment demands of an aging and increasingly complex U.S. transportation system. Transportation officials at all levels of government will continue to seek innovative ways to fund improvements to the Nation's transportation system.
For almost two decades, the federal government has responded to this investment gap by providing new techniques that complement and enhance exist­ing grant reimbursement programs. By providing individualized tools and technical assistance, FHWA helps State and local agencies assess the applicability of available financing options for complex projects so that they can build the highways and bridges neces­sary to keep pace with a growing Nation.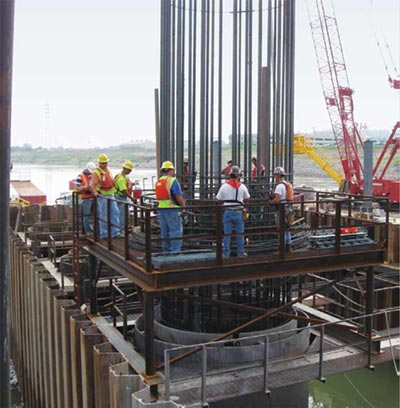 FHWA's Highways for LIFE program supported the Missouri DOT's construction of the Christopher Bond Bridge through an innovative design build procurement process. The bridge foundations were designed and constructed using cost-effective technical engineering solutions that led to significant savings in time and money. (Image source: FHWA)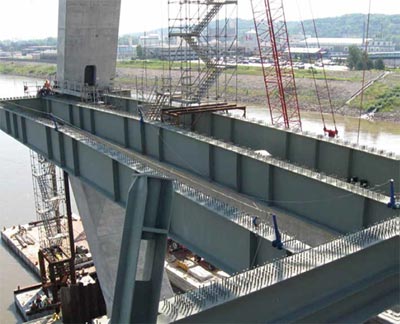 FHWA's Highways for LIFE program supported the placement of the pier table on the deck of the Christopher Bond Bridge through an innovative design build procurement process, providing cost savings and flexibility in the bridge construction schedule. (Image source: FHWA)
FHWA's Project Finance Primer describes those techniques and provides examples of their application by State and local partners. The Primer will continue to evolve and lay the groundwork for the identifica­tion of additional innovative strategies for financing surface transportation investments into the future.
The Ohio River Bridges project, a bi-State collaboration between Kentucky and Indiana, is one example of how State and local partners can use innovative financing strategies to complete complex highway infrastructure projects. Developed via a joint planning effort, the two States approached their respective bridge projects from different financial perspectives. Kentucky chose to finance its toll bridge using bonds, including Grant Anticipation Revenue Vehicles, while Indiana committed to make availability payments to a long-term concessionaire that obtained financing in part with Private Activity Bonds. When completed in 2018, the two new bridges over the Ohio River will link Louisville and southern Indiana. The new bridges are expected to improve traffic flow, reduce congestion, improve safety, and enhance transit service. Innovative financing accelerated project delivery, evenly distributed project costs, provided additional financing options, and leveraged federal grant funds using private-sector equity and expertise.
For more information on the project financing, please visit FHWA's project finance Web site, which focuses on alternative financing mechanisms. In addition, the IPD Web site has information detailing Public-Private Partnerships, and the Transportation Infrastructure Finance and Innovation Act, which provides credit assistance for significant projects.
Anticipating Tomorrow's Highway Challenges
FHWA R&T is transforming today's big ideas into the innovations to meet future transportation challenges, ensuring that they are incorporated into the construction, maintenance, and operation of the Nation's highway system. FHWA's strategic approach to innovation means that preparing for the future is an essential part of the Agency's efforts.
For More Information
The following Web sites are provided for additional information, and further highlight the transportation challenges and FHWA activities discussed above.
EAR Program Fact Sheet—Creating Productive Roadways: https://www.fhwa.dot.gov/advancedresearch/pubs/12063/index.cfm.
Fact Sheet—Efficient and Safe Merging Solutions—Advanced Freeway Merge Assistance: Harnessing the Potential of Connected Vehicles: https://www.fhwa.dot.gov/advancedresearch/pubs/14045/index.cfm.
IPD Academy: An Introduction: https://www.fhwa.dot.gov/ipd/pdfs/fact_sheets/h_pdi_academy_1_19_12.pdf.
FHWA Transportation Futures—Future Uses of Highway Rights of Way: https://www.fhwa.dot.gov/policy/otps/transfutures.cfm.
FHWA Project Finance Primer 2010: https://www.fhwa.dot.gov/ipd/finance/resources/general/default.aspx.